Key Points:
Boston Terriers are slightly larger than Pugs and typically weigh between 10-25 pounds, while Pugs usually weigh between 14-18 pounds.
Both Boston Terriers and Pugs are known for their friendly, affectionate personalities and make excellent family pets.
Boston Terriers are at risk for eye problems, allergies, and skin issues, while Pugs are susceptible to respiratory problems, eye issues, and joint problems such as hip dysplasia.
While the two dog breeds may look similar, to begin with, there are a great number of differences between a Boston terrier vs pug. Both of these small dog breeds are extremely popular for a wide number of reasons, but what differences separate them from one another, and what similarities bring them together? 
In this article, we will discuss all of the differences between Boston terriers and pugs so that you can learn to tell them apart based on their physical appearance alone.
We will also discuss what purebred dogs were originally bred for as well as their behavioral differences and overall health differences. Let's get started and learn about these two dogs now! 
Comparing Boston Terrier vs Pug
| | Boston Terrier | Pug |
| --- | --- | --- |
| Size | 15-25 pounds; 13-17 inches tall | 13-20 pounds; 12-15 inches tall |
| Appearance | Found in a variety of colors including black, white, brown, gray, red, and tan. Ears stick up and they have a mark on the center of their face | Only found in fawn and black colors; squished face and ample wrinkles. The ears end near the eyeline and are floppy. Dark markings around the face and ears |
| Originally Bred For | Originally bred for hunting rats and were used illegally in dog fights | Originally bred for royalty and as lap dogs; purebred dogs and popular pet |
| Behavior | Loyal and protective; loves taking care of their families | Calm and mellow; used to sleeping frequently near their humans |
| Lifespan | 13-15 years | 12-14 years |
Boston Terrier vs Pug: Origins
Boston Terriers and Pugs are two popular dog breeds with unique histories and origins. Understanding their background can help you appreciate their unique qualities and characteristics.
Boston Terrier Origins: The Boston Terrier is a breed that originated in the United States during the 19th century. The breed was created by crossing a Bulldog with a white English Terrier, resulting in a dog that was smaller and more agile than the Bulldog but with similar physical characteristics.
Originally bred for fighting, the Boston Terrier was eventually refined into a companion dog and became popular among the middle class in the early 1900s. The breed was recognized by the American Kennel Club (AKC) in 1893 and has since become a beloved family pet known for its intelligence, loyalty, and playful personality.
Pug Origins: The Pug is a breed that originated in China over 2,000 years ago. They were bred as companion dogs for Chinese emperors and were highly valued for their affectionate and loyal nature. Pugs were brought to Europe in the 16th century and became popular among the nobility, including the Dutch royal family.
The breed was recognized by the AKC in 1885 and has since become a popular pet due to its small size, playful personality, and distinctive facial features. However, their popularity also led to overbreeding, which has resulted in certain health problems such as breathing difficulties.
Key Differences Between Boston Terrier vs Pug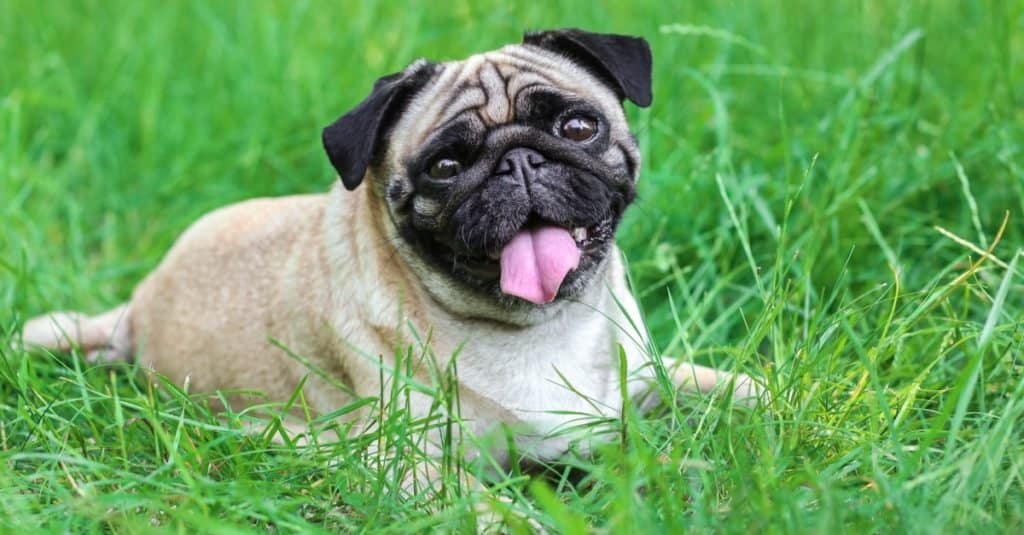 There are many key differences between Boston terriers and pugs. Boston terriers grow larger than pugs do on average, in both size and weight. The Boston terrier is found in a variety of colors and markings, while pugs are only found in fawn and black colors.
Finally, pugs were originally bred as lab dogs for royalty, while Boston terriers were bred for the illegal act of dog fights. 
Let's discuss all of these differences in more detail. 
Boston Terrier vs Pug: Size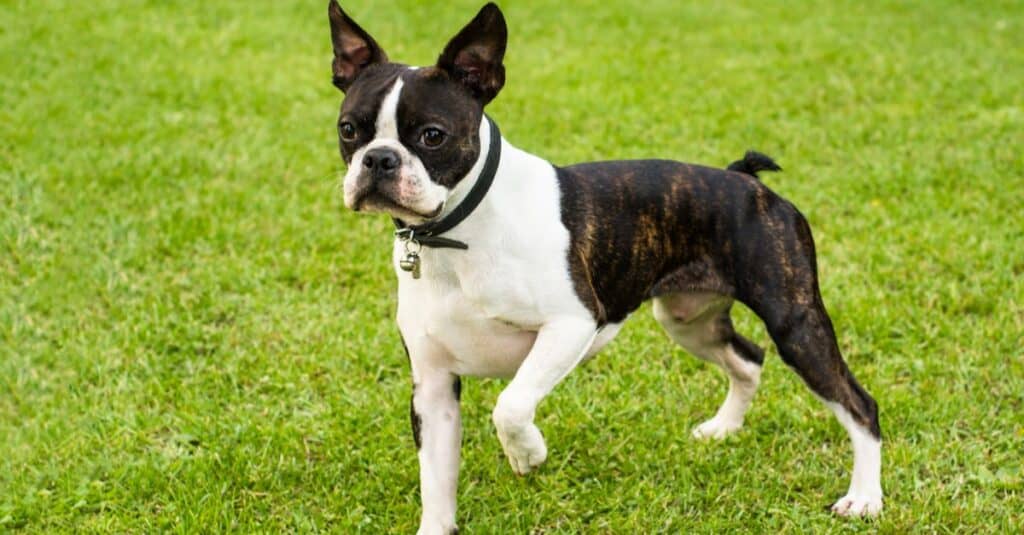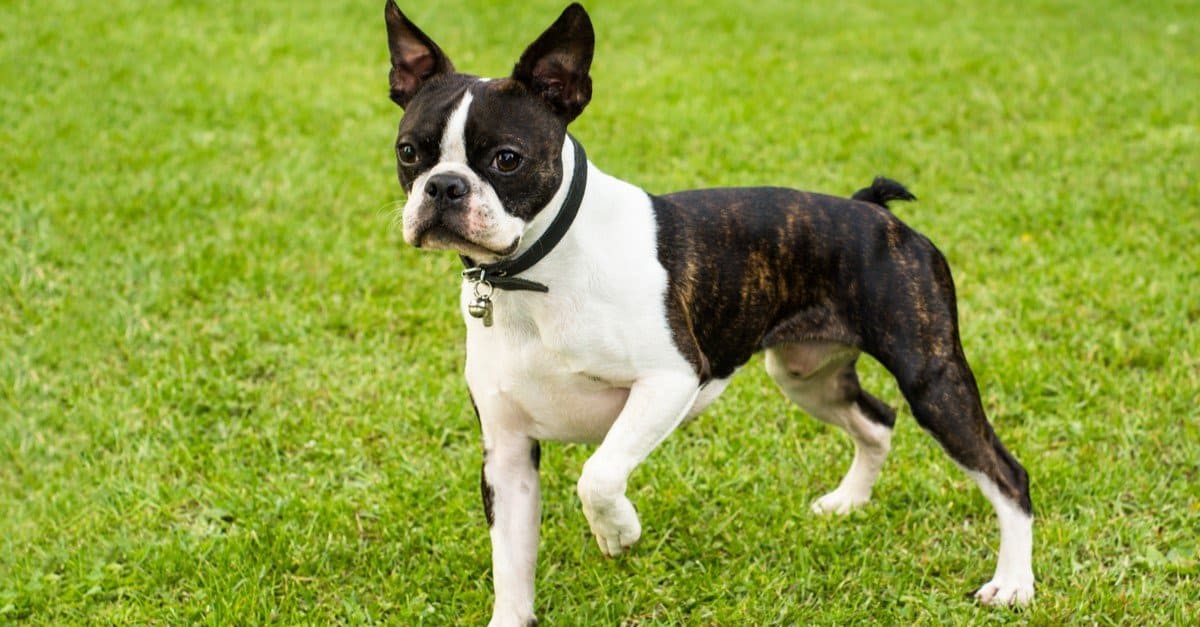 While it can be difficult to tell at first glance, the Boston terrier outgrows pugs more often than not. However, both of these dogs are considered small to medium-sized dog breeds and their size and weight often overlap. Let's discuss this in more detail now. 
The average Boston terrier weighs anywhere from 15 to 25 pounds, while the average pug only weighs 13 to 20 pounds. This also means that most pugs grow to 12 to 15 inches tall, while Boston terriers often reach 13 to 17 inches on average. 
Boston Terrier vs Pug: Appearance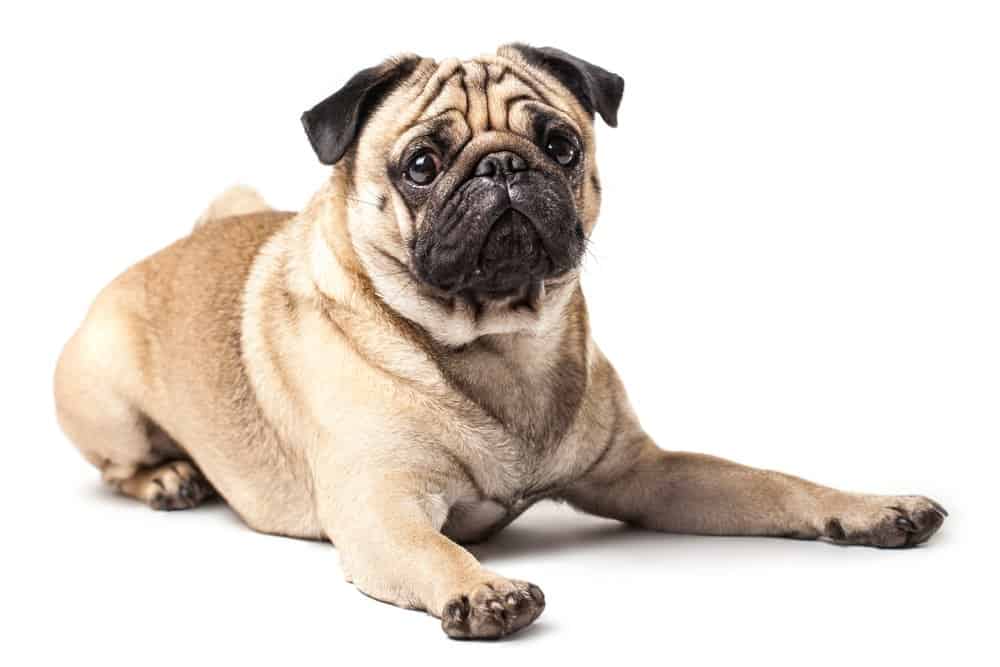 You can easily tell the difference in appearance between a Boston terrier and a pug. For example, Boston terriers have ears that point upwards, while pugs have floppy and long ears that hang near their eyes. Boston terriers also have distinct stripes or markings on their faces, in between their eyes, while pugs do not have the same markings. 
The amount of colors that a Boston terrier comes in far exceeds the number of colors that a pug comes in. Pugs are found in black and fawn only, while Boston terriers are found in black, white, brown, gray, red, and tan. Finally, Boston terriers only have short and stubby tails, while pugs have their trademark curly tails.
Both of these dog breeds have squished faces and noses, which can lead to health issues down the line. While their appearances are adorable, it is important to always keep this physical appearance in mind. Both pugs and Boston terriers need to be cared for and kept healthy to avoid any issues with their respiratory systems.
Boston Terrier vs Pug: Original Reason for Breeding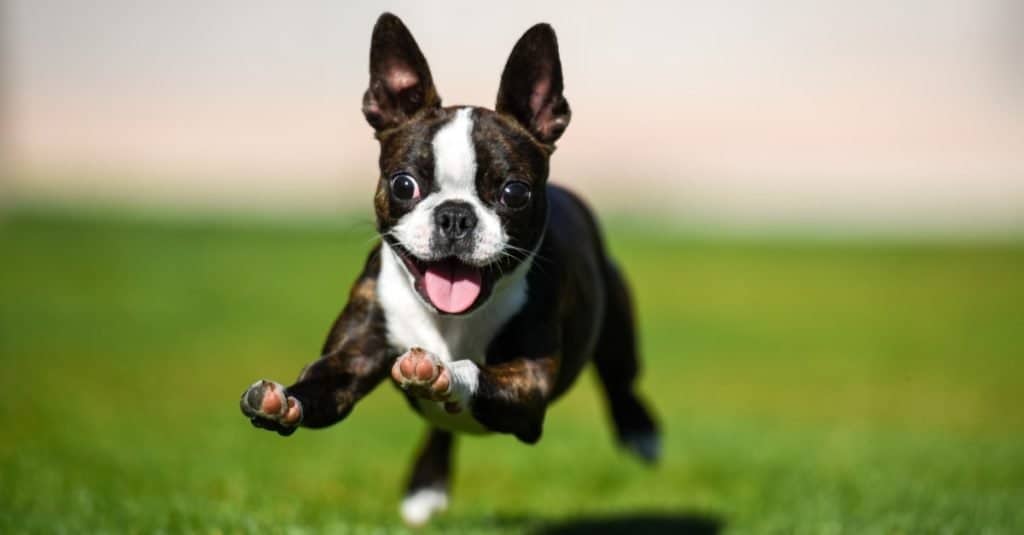 While the answer may surprise you, Boston terriers and pugs were bred for very different purposes. Pugs are considered one of the oldest dog breeds that still exist in the world today, and Boston terriers are a fairly old breed too. However, pugs were bred for the nobility of the time and were praised as lap dogs. Boston terriers were used to hunt rats in factories as well as in the illegal act of dog fights. 
Boston Terrier vs Pug: Behavior
Despite both of these dogs having similar energy levels and needs for their sizes, there are some behavioral differences between Boston terriers and pugs. For example, pugs are still lap dogs to this day, preferring to be close to their humans at all times, while Boston terriers enjoy a level of independence and freedom from their people. However, even the average Boston terrier remains loyal and protective of their family, while pugs have a more laid-back approach.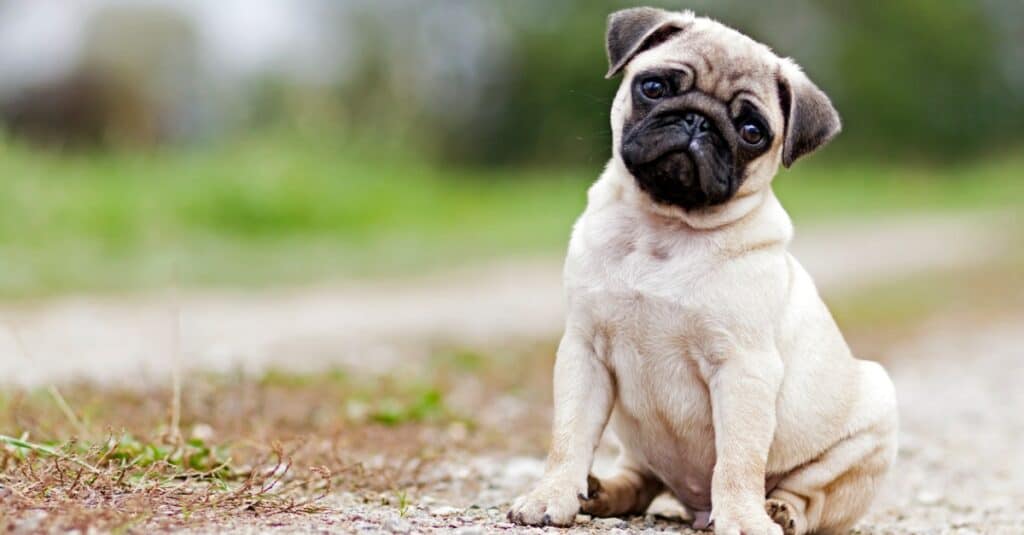 Boston Terrier vs Pug: Lifespan
A final difference between Boston terriers and pugs is their lifespan. The average pug lives anywhere from 12 to 14 years, while Boston terriers live anywhere from 13 to 15 years. However, both of these dogs suffer from very similar health issues and concerns. Some of those health concerns include Brachycephalic Syndrome due to both of these breeds having smushed faces.
Ready to discover the top 10 cutest dog breeds in the entire world?
How about the fastest dogs, the largest dogs and those that are -- quite frankly -- just the kindest dogs on the planet? Each day, AZ Animals sends out lists just like this to our thousands of email subscribers. And the best part? It's FREE. Join today by entering your email below.
Up Next:
More from A-Z Animals
---
The Featured Image
---