The Best Dog Food for Weight Loss and Weight Control for 2022
Key Points
Maintaining the proper weight is vital to keeping your pet healthy.
High quality protein is important for weight loss.
Good choices for weight control food utilize high quality protein and fiber to help your dog feel full with fewer calories.
As pet owners, we adore feeding our dogs goodies for just about everything. Before you know it, you're looking at your pet and realizing they've gained weight. If your pup has a thick hair coat, it can hide their true body condition so it is a good idea to know your dog's ideal weight and check it regularly. It might be difficult for dog owners to tell if their dog is overweight but nearly all veterinary offices will allow you to check your pooch's weight for free. It is never a bad idea to stop in at your vet's office just for a few treats (in moderation) and a weigh in. Easy trips like this can help ease anxiety about other trips to the vet as well.  
Veterinarians will inform you that your pooch should eat less, have fewer treats, or take a long stroll around the block. It doesn't matter how your dog becomes overweight; what's important is that he stays at a healthy weight. If your pup struggles with keeping the pounds off, there is food available to assist him to lose weight. These foods are well balanced to provide good nutrition without adding extra calories. Good weight-loss food will use high-quality proteins, fats, and fiber to achieve this.
To support your dog in losing weight, you don't need to be an expert in canine nutrition. The four finest kibble alternatives for weight reduction and weight control have been discovered and we're here to share them with you! While researching these options, we discovered a number of useful recommendations to help you.
#1. Overall Best: Merrick Healthy Weight Dry Dog Food
Merrick Healthy Weight Dry Dog Food is at the top of the list when it comes to the best dog food that will help your pooch lose weight. One of the primary reasons we picked this meal is that it contains no additives or animal by-products that are either inexpensive or unneeded. 
Merrick is noted for employing all-natural ingredients to aid in the weight management of dogs. Foods high in fillers are high in empty calories, which may rapidly mount up on the scale. Merrick's has a lot of protein, which could help your dog burn fat and stay satisfied for longer.
Deboned beef, turkey meal, chicken meal, and chicken fat are the major components. Your dog will benefit from the extra glucosamine because it is extremely beneficial to their joints. Excess weight can rapidly lead to joint discomfort, which glucosamine can help to reduce. 
The kibble also contains enough probiotics to keep your dog's digestive tract working properly. Overall, we can't think of better dog food to take the top slot from Merrick 3836 Healthy Weight Dry Dog Food.
#2. Best Dog for Senior Dogs: Blue Buffalo Wilderness Healthy Weight Dog Food
Blue Buffalo Wilderness Healthy Weight Dog Food is a great choice to help older dogs control or lose weight. As dog's age, their diet needs to be adjusted slightly as they often become less active.
Omega fatty acids included in flaxseed and fish meal are beneficial to a dog's hair, skin, joints, and eyesight. Blue Buffalo also includes chicory root, which is high in fiber and helps to keep your dog's digestive tract healthy.
Pet parents agree that the Blue Buffalo Wilderness line is quite outstanding. It's high in protein thanks to the chicken meal and chicken. There's also pea protein in there, and all of these tasty components can help your dog lose weight.
#3. Best for Puppies: Wellness Complete Health Dog Food
Though puppies should start out with soft food according to most vets, once they're able to have kibble WellnessComplete Health Dog Food is our favorite option. Just because a dog is young doesn't mean it can't quickly become overweight.
Wellness Complete Health differs from other small dog food in that it contains salmon meal, chicken meal, and poultry. Each mouthful has a lot of protein, which can help your dog lose weight and gain muscle. 
Rice and oats are the major carbohydrates in this meal, which is great for dogs with sensitive stomachs. Flaxseed and salmon oil are used in Wellness Complete Health to offer vital omega fatty acids.
Young dogs will benefit from the kibble, which comes in bite-sized bits that are simple to chew and digest. The salmon oil has a pronounced fish odor, according to some pet parents. When you're not pouring a bowl for your dog's next meal, make absolutely sure the bag is closed.
Best for Puppies
#4. Best for Adult Dogs: NUTRO Wholesome Healthy Weight Dry Dog Food
NUTRO Wholesome Healthy Weight Dry Dog Food is an excellent choice in terms of value weight control dog food, whether you're wanting to save cash or you're on a limited budget. 
The nutrients in this dog chow are fantastic. Lentils, chicken, and sweet potatoes are included, giving your adult dog a delightful supper that won't add to his weight gain. There are also lamb and chicken meals that are high in amino acids and glucosamine, which are good for your dog's joints and digestion.
NUTRO employs satisfying complex carbohydrates like hardly and rice that doesn't irritate the stomach. One thing to keep in mind about this choice is that it contains a lot of salt. If your dog has hypertension, you might want to try a different option from our selection.
Best for Adults
Choosing the Best: What to Look For
There are a variety of weight-loss dog foods for sale sale, but not all of them are nutritious. The following are among the things to consider while selecting a weight-loss food for your four-legged friend.
Healthy Fats and Probiotics for Gut Health
Probiotics are beneficial bacteria that help your dog's digestive tract work properly. If you pick meals that contain probiotics, your dog may be less likely to have stomach pain while switching diets, and his stomach will be better suited to digest his food. 
Search for food that has omega-3 or omega-6 fatty acids, which are good for your dog's health. Healthy fats provide several advantages, including healthier joints, enhanced vision, and a lustrous coat.
Your pup's food has to include the vitamins, minerals, and appropriate levels of important macros such as proteins, fats, carbohydrates, and fatty acids that he needed to keep healthy. Look for the AAFCO seal of approval to make sure the food meets all the well-established dietary guidelines.
Lower Calorie Count 
The bulk of weight-loss foods are lower in calories than typical dog food. In principle, such meals should have the same amount so that your pup gets full after eating. This is normally accomplished by increasing the amount of fiber in one's diet. 
Fiber has very few calories, but it fills up a lot of space in your dog's stomach. In addition, many weight-loss meals are richer in protein and lower in fat. 
Because fat provides more calories per weight than proteins or carbs, this decreases the caloric value of the meal. Your dog will get the nutrition it needs thanks to the additional protein.
Overall Taste 
Your dog will stop eating if weight-loss food does not appeal to her taste buds. As a result, to discourage your dog from embarking (pun intended) on a hunger strike, look for foods that contain appetizing proteins and fats.
The Different Types of Dog Food for Weight Loss and Weight Control: Pros and Cons Compared
Let's talk a little bit about the advantages and disadvantages of the most common types of dog food that are designed to help your pooch lose weight. ​​
| | |
| --- | --- |
| Pros  | Cons |
| Available in bigger quantities | Goes bad quicker than other options |
| Usually more affordable  | Can be hard for some dogs to chew |
| Several flavor options available | |
| Helps with dental health | |
Soft Canned Food
| | |
| --- | --- |
| Pros | Cons |
| Easier for dogs to eat | Doesn't get rid of tartar or plaque |
| Can be used to hide medication | |
| Tends to be tastier than dry food | |
Our Criteria: How We Choose the Best Options
Quality ingredients: Overweight dogs need a good quality food that meets all of the nutritional needs without adding any extra calories. We look for high quality proteins, low levels of health fats, and complex carbs that provide heathy fiber without any unhealthy fillers. The products that we have recommended contain healthy amounts of protein such as chicken, beef, fish, or pork along with natural ingredients like pumpkin, and vitamins and minerals which help keep you pup full and happy.
Flavor: In our research, we've found that dogs prefer foods that have some sort of meat component in the ingredients. Most of our recommendations contain lean meats and healthy fats that provide Omega 3s.
Freshness: We've included several types of dog treats on our list so you can have an option that works best for you. Our overall best is a freeze-dried option, which seals in meat flavors very well. We also included a chewable treat and a cookie treat. All treats fit our criteria for freshness.
Value for Money: While these foods are not the cheapest out there, they are made from very high quality ingredients to ensure your best friend can shed some pounds in the safest, healthiest way possible.
Summary
Dogs need to be at a healthy weight to stay healthy, happy, and active. These are our top 4 choices in weight management food for dogs:
Related Images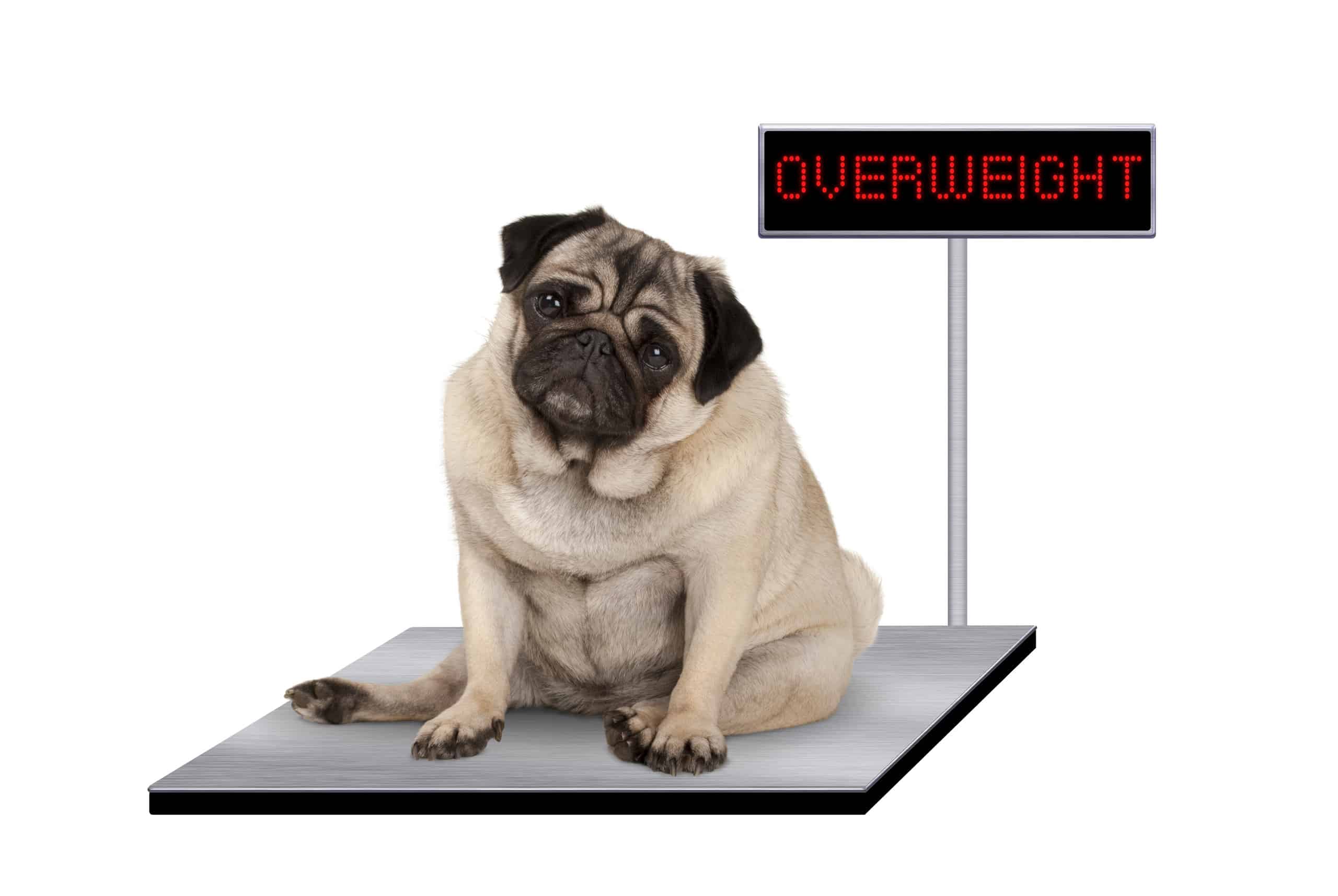 Up Next…