Deer season is typically open in Missouri from mid-September to mid-January. The specific dates depend on the year, the county in Missouri in which you plan to hunt, and the season type (archery, firearms, alternative methods, etc). 
The bag limits for bucks and does depend on the season and the county that you hunt in. Before hunting, you should check the current Missouri Department of Conservation requirements for permits, seasons, regulations, and other requirements.
Hunting License Requirements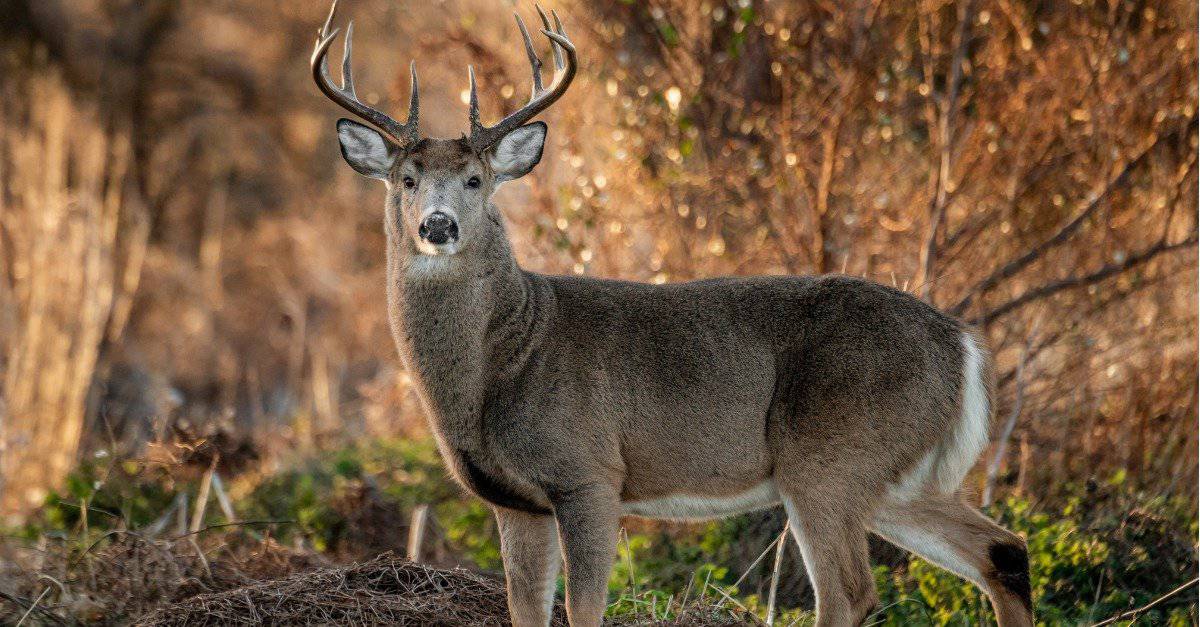 Everyone must obtain a permit to deer hunt in the state of Missouri. You can purchase a permit on the Missouri Department of Conservation's (MDC) website or at many sporting goods and hunting supply retailers in the state. They can also be purchased on the MDC MO Hunting mobile app. 
If you live outside of Missouri, you must purchase a MO Non-Resident Hunting permit.  There are different permits depending on the season you prefer to hunt in and, in some cases, on the type of deer you would like to harvest. Before you purchase your permit, check to see if there are other special discounted permits or requirements and if they apply to you. 
Hunters born after Jan 1, 1967, must also have completed a hunter education course and be able to show proof in the field. In some cases, courses from other states are accepted. Youths ages 11-16 must take a two-step format course with an in-person skills assessment. Hunters aged 16 and older only have to take the online course.
Deer Season Types
Missouri has a few different season types: archery, November portion, antlerless portion, alternative methods, youth, and managed deer hunts. Archery season usually starts in mid-September and continues through early November. Archery equipment can usually be used during all seasons.  
The November portion season opens in mid-November and usually lasts about 10 days. This season is open to all approved hunting devices. The antlerless portion is usually the first whole week in December.  This season is also open to all hunting devices however only antlerless deer may be taken. The alternative methods season is open for 10 days in late December around the holidays. During this season, most hunting devices except Rifles can be used.
The youth season is typically open for two weekends, one in late October and one in late November. This season is closed to adults and open to only juveniles 6-15 years of age. Youths may hunt alone if they have completed a hunter education course. 
If the youth hunter has not completed a hunter education course, they must be accompanied by an adult that has completed a hunter education course. The adult must always stay with the youth so they can take control of the hunting device if needed. This season is only for youths, so the number of hunters is limited. There is no competition from adults.  
The MDC holds managed hunts in particular areas, and the number of hunters is limited. A hunter must apply for these special hunts, and a drawing is held to select who receives the permit. There is a list of these hunts published by the MDC each year. Each managed hunt has specific dates, areas, and bag limits each year.
Season Type Regulations
Depending on the season, hunters must understand how many and what type of deer they can harvest and which hunting devices are approved to use.  The permit purchased will be for a particular season or may be used over a combination of seasons.
Archery Season
During this season, archery equipment can be used. These devices use an arrow as a projectile, such as compound bows, longbows, recurve bows, and crossbows. Atlatls, a type of spear-throwing device, may also be used. No firearms are allowed during this season. Using an archer's hunting permit, two deer of either sex can be harvested. However, only one antlered deer may be taken before the November portion season starts.
November Portion Season
During this season, most hunting devices are allowed, including archery, rifles and handguns, shotguns, air-powered guns, and muzzleloaders. Rifles and handguns must use centerfire ammunition with expanding-type bullets such as lead or copper.
Full metal jacket ammunition is not allowed. Shotguns must only use slugs; buckshot is not allowed. Air-powered guns .40 caliber or larger are allowed, but they must be charged from an external high-pressure power source. 
Muzzleloading rifles, handguns, and shotguns may be used. They must be at least .40 caliber or larger and only fire one projectile at once. These firearms must only allow the projectile to be loaded from the barrel's muzzle (front) end, and they must not allow projectiles to be loaded from the barrel's breech (rear) end. Using any deer hunting permits, a hunter may take either one antlered or one antlerless deer during this season.
Antlerless Portion Season
This season is similar to the November portion season with a few exceptions. The same hunting devices may be used. However, only antlerless deer may be taken during this season. Some counties are closed this season, so review the MDC hunting guide first. 
Each antlerless permit is only suitable for harvesting one deer, but you can purchase as many permits as you like. This season is only open for one week, but if you want to harvest deer to stock your freezer, this season is for you.
Alternative Methods Season
This season is open to the same hunting devices as the November portion, except rifles and shotguns are not allowed. Handguns are allowed during this season. The same permits (any-deer and antlerless) are valid during this season.
Overall Regulations and Safety
These are some of the critical regulations to take note of.  This list is not complete or extensive, so review the MDC hunting guide before heading to the field.  
The use of bait or food to attract game to an area is not allowed. Feeders for deer in general can be used, but you cannot hunt an area with a feeder until it has been removed for at least 10 days.
Deer may not be harvested from or across a public roadway, nor may they be taken from a vehicle or an aircraft. 
Deer may not be harvested while in the water, and you may not hunt from a boat with a motor, regardless of whether the motor is in the water.
Hunters must wear a hunter-orange hat, shirt, vest, or coat. The color must be visible from all sides, and camouflage orange does not satisfy this requirement. The only exception is during the archery-only season. If you are hunting with a bow while any firearms season is also open, you must wear hunter orange.  
In Missouri, an antlered deer is defined as a deer with at least one antler that is a minimum of 3 inches in length. Antlerless deer is a deer with no antlers or antlers less than 3 inches in length.
You may take only two antlered deer combined during the archery and firearms seasons.  Hunters using the Archery-only permit may only take one antlered deer before the November portion of firearms season. Also, only one antlered deer may be taken during all the firearms seasons. Limits may be different in some cases; always review the regulations.
In some Missouri counties, only bucks with at least four antler points on one side of their rack may be harvested. Make sure you are aware of these counties and where you are hunting. This requirement is currently waived for youth hunters.
The use of dogs to hunt deer is prohibited in Missouri.  This applies even if the dogs do not belong to you, so be sure not to take a deer if it is running from dogs.
While hunting, safety should always be first and foremost in the hunter's mind. When handling firearms, always treat them with respect and be sure of your target, and just as important, what is beyond your target. If you are using a tree stand, injuries from falling are a risk. Be sure to use a safety strap to prevent a fall when you are in a tree. Injuries from falling while deer hunting are more common than injuries from firearms.
Chronic Wasting Disease Concerns in Missouri
Chronic Wasting Disease (CWD) is a fatal and contagious disease that affects deer, elk, and members of the deer family in the United States. The main symptom is weight loss over time. An infected deer can also appear to have difficulty moving and be confused. 
Chronic Wasting Disease has been detected in various counties in Northern Missouri and Southern Missouri. Refer to mdc.mo.gov/cwd for an interactive map of the CWD areas. If you hunt in these areas and harvest a deer, you may be required to take it to a CWD sampling station. 
Also, any deer harvested in the CWD counties may not be transported out of the county that it was harvested in (there are a few exceptions to this requirement, review the CWD hunting guide). Any feed, bait, or salt product used to attract deer is not allowed year-round in the CWD counties – even if the deer are never intended to be harvested. 
What to do After a Deer is Harvested?
After harvesting a deer, hunters should immediately notch your permit. To notch your paper permit, simply tear a small notch on the month and day of the harvest. Once you do this, the permit becomes invalid, so do not notch it until you are sure. This can also be done in the MO hunting app if you don't have a paper permit. Then it may be field dressed in the field, and you can transport your deer within Missouri.
On harvesting your deer, you must telecheck it by 10 pm. Before you process the deer or take it out of state, this must be done. If you harvested your deer in a CWD zone, you must report it through the Telecheck system before leaving the county. If you are using a paper permit, you can do this by phone or on the internet at mdc.mc.gov. A few questions will be asked, so make sure you are ready before calling. 
A few measurements for both does and bucks are needed, so if you call from the field, make sure you have something to measure with. Also, make sure you have a pen to write with to record your confirmation number on your permit. You can also do Telecheck on the MO Hunting app; follow the prompts after tapping "Telecheck."
As long as you stay with your harvested deer, you don't need to tag it physically.  If you leave your deer, for example, at a processor, you need to tag it. You can simply attach your notched permit to the deer if you have a paper permit. Be sure to protect the paper from getting wet, and put it in a plastic bag before attaching it. If you used the MO hunting app, attach a label with your full name, address, permit number, and harvest date.
Fines for Not Following Regulations
Ensure you understand the regulations before heading to the field, as fines and court costs can be significant. 
For example, harvesting a deer out of season or with a non-approved device or manner can carry a $1,000 to $5,000 fine. There is also a violation point system. Depending on the violation, a certain number of points will be charged.  Once an individual reaches 16 points, their permit privileges may be revoked for up to one year.
Up Next
---
Sources

Missouri State, Available here: https://mdc.mo.gov/sites/default/files/2022-06/2022FDT.pdf
Missouri State, Available here: https://mdc.mo.gov/hunting-trapping/species/deer