The Galapagos Islands refers to a stretch of smaller islands located in the Pacific Ocean. Here, there are active volcanoes, abundant wildlife, and lots of opportunities to enjoy the clear blue waters. Discover the best time to visit the Galapagos Islands, including what the weather is like and what activities you can enjoy!
Best Time to Visit Galapagos
Galapagos Islands is a location best appreciated when the seas are calm, and the temperatures are warm. This period is short, covering the span of two months: November and December. That's not to say this location isn't gorgeous year-round. You could enjoy hiking and wildlife anytime from December through May when there are some short showers, and the temperatures are comfortable between the 70s and 80s. During June through December, it's best to avoid the water. It can get rough.
November in Galapagos Islands: Weather and Things to Do
The best time to visit the Galapagos is in November. It's a quiet month — both on land and in the water. This is considered part of the islands' off-season and you're less likely to encounter other tourists. The average temperatures this month are between 66 °F and 78 °F. If you're interested in taking a dip in the water or going snorkeling, you'll be a bit cold at first but just fine overall because the water temperature is usually about 72 °F.
Snorkeling is a must due to the active marine life. You may even want to head over to Fernandina Island to take a dip around some gorgeous marine iguanas and enjoy the water alongside some penguins. That's not all, though. You could also spot some dolphins during this time. For an on-land exploration, head to Santiago Island (the eastern coast specifically).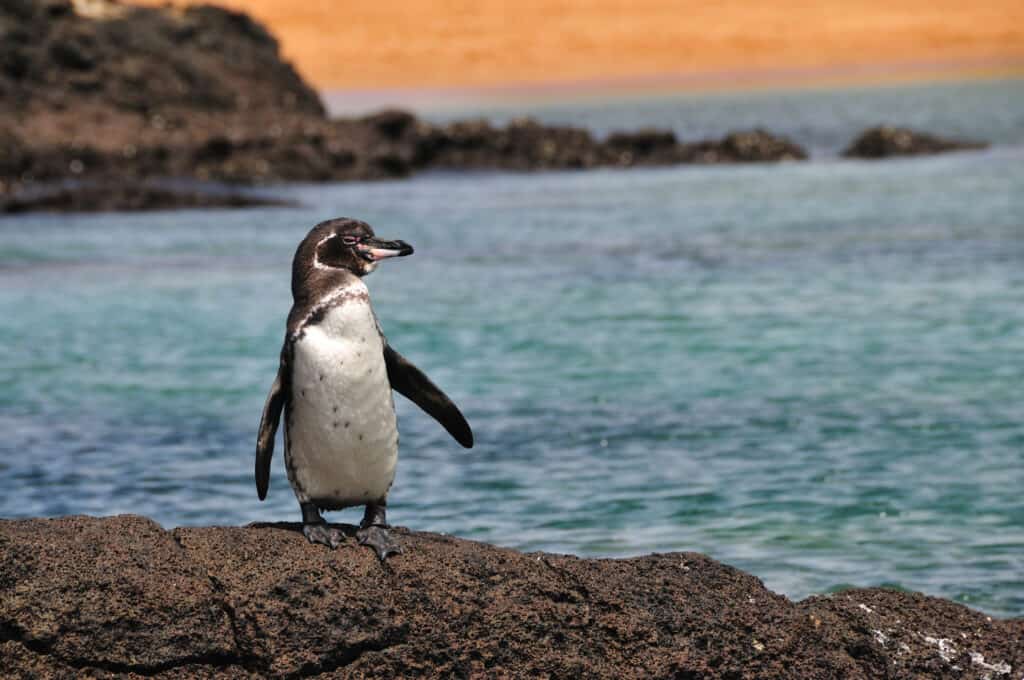 One of the main attractions that draw people forth is Devil's Crown. This is a volcanic crater that you can explore underwater because it's almost entirely submerged. It's over by the northern coast of Floreana Island. Grab your snorkel and dive in. There's plenty to see, including a coral reef that makes for an incredible experience. You're sure to spot gorgeous tropical fish along with dolphins and even hammerhead sharks.
December in Galapagos Islands: Weather and Things to Do
The other best time to visit the Galapagos is in December. The average temperature is between 68 °F and 80 °F and the temperature warms up a tinge from the previous month. When you dive into the water, you can expect it to be right around 74 °F. There's not a lot of rainfall this month, with only about 0.3 inches falling on average. It's great for celebrating the holidays and making it unique — alongside sea turtles.
Enjoy your vacation by doing something different and taking a dip with sea lions. During this time of the year, tortoise hatchlings abound, and the waters are clear, allowing you to take in all this underwater splendor while weightless. You might want to hop on a cruise to visit the various islands. During this time, you can enjoy more leisurely activities like sunbathing on the beaches. If you're up for a hike, go for it. The wildlife is abundant.
When Christmas comes, you see the islands light up. This is a highly revered time in Ecuador and the islands are not left behind when it comes to festivities. You get to experience liveliness during this time and again on New Year's Eve. The tradition here is a little different. There's no ball dropping — instead, the local families burn life-size dolls (usually made of paper). This is a way to symbolize the year's end as the neighborhoods band together to welcome the new year.
January to May in Galapagos Islands: Weather and Things to Do
In January, average temperatures range from 70 °F to 84 °F. It's a little wetter this month with an average rainfall of two inches. February is a bit of the same with slightly more rainfall. March is warmer with average temperatures between 77 °F and 88 °F. It gets wetter this month as well, with an average of 3.3 inches of rainfall. April rainfall is less than March and the weather ranges from 72 °F to 88 °F. In May, the highs drop to 82 °F and rainfall is less than one inch.
In January, enjoy the weather and head out to birdwatch. Underwater adventures are still a go, and you can also spend your time hiking. Penguins return to the islands in February, which makes for a unique experience. Even though it's warm, a light jacket is helpful if you're hopping aboard a boat. In March, April, and May, you still have the opportunity to enjoy water-based activities, with holiday celebrations in April adding some extra flair to your overall trip.
The photo featured at the top of this post is © Maridav/Shutterstock.com
---