Maricopa County is in south-central Arizona and is the country's fourth-most populous county. Around 62% of Arizona's population is in Maricopa. Phoenix, the county seat, is the capital of Arizona.
Of the total 9,224 square miles, 24 square miles are covered by water. These waterways include the Gila River, a tributary of the Colorado River, and the Agua Fria River. These streams flow south into Lake Pleasant, located near Peoria, a city in Maricopa County. The territory is also crossed by the Salt River, which is, in fact, the largest tributary of the Gila River.
Besides rivers, Maricopa is home to many other aquatic ecosystems, lakes included. However, the state has no natural lakes, only reservoirs, which are enlarged lakes behind artificial or natural formations.
If you're living in or planning to visit Maricopa County and are a nature enthusiast, you may be wondering about the territory's deepest lake or reservoir. We've got the details!
What Is the Deepest Artificial Lake in Maricopa County?
Although we couldn't find an officially confirmed answer to this question, our research on the largest lakes in Maricopa County revealed the deepest artificial lake is Theodore Roosevelt Lake. However, there's a catch!
Theodore Roosevelt Lake is, in fact, primarily located in Gila County, Arizona. However, a small portion is found in Maricopa County, so we can safely include it in the county's lake list. The county's border crosses right through Theodore Roosevelt Dam, where the Roosevelt Lake Bridge is located.
The lake can be found around 4 miles upstream from Apache Lake, covering much of Tonto Basin's southern portion. It is formed by the Theodore Roosevelt Dam northeast of Phoenix. If you plan to visit it, remember that the lake is approximately 80 miles northeast of Phoenix, the county seat.
Among the six reservoirs operated by the Salt River Project, Theodore Roosevelt Lake has the largest storage capacity. In fact, it can store as much as 1,653,043 acre-feet of water. According to a study, the Salt River Project water comes from the Salt and Verde Rivers, and the six reservoirs form a continuous chain of lakes.
Today, the lake is a popular recreational attraction, as it features several hiking trails, a general aviation recreational airstrip, and amenities for fishing. 
How Deep Is the Deepest Lake in Maricopa County?
Theodore Roosevelt Lake is the deepest lake or reservoir in Maricopa County, with a maximum depth of 349 feet. Compared to the deepest lake in the United States, Crater Lake in Oregon, with a depth of 1,943 feet, Roosevelt Lake seems like a small pond.
However, for Maricopa and Gila counties, it's a rather significant body of water, especially since it has a shore length of 128 miles. The lake's maximum length is 22.4 miles, while its maximum width is 2 miles. Moreover, it has a surface area of 21,493 acres.
Where Is Theodore Roosevelt Lake on a Map?
Theodore Roosevelt Lake is located roughly 80 miles northeast of Phoenix in the Salt River Valley. It takes around two hours to drive there from downtown Phoenix.
What Fish Live in Maricopa County's Deepest Lake?
Theodore Roosevelt Lake hosts a myriad of fish, especially game fish, which is why the area is such a popular recreational site. These fish include carp, sunfish, crappie, channel catfish, largemouth bass, and smallmouth bass. Luckily, the authorities permit anglers to catch only one bass per day.
However, fish aren't the only ones inhabiting the lake, or, at least, they haven't been until 2005. The southwestern willow flycatcher's most significant population inhabited Lake Roosevelt's ecosystem. Unfortunately, since the heavy rains in 2005, the population density remains unknown.
What Is the Second-Deepest Lake in Maricopa County?
Since only a very small portion of Theodore Roosevelt Lake is located in Maricopa County, we've decided to discuss another deep lake, Apache Lake, which is entirely within the county. It is located along the Apache Trail, roughly 65 miles northeast of Phoenix and 5 miles downstream from Theodore Roosevelt Lake. Its average depth is 240 feet. However, some sources report that the maximum depth can reach around 266 feet. Its surface area is 2,568 acres.
The reservoir is formed by Horse Mesa Dam. The area is another popular recreational site in the county, featuring three motels, a gas dock house, an RV park, a general store, a restaurant, and a bar.
The lake is home to numerous fish species, including largemouth and smallmouth bass, crappie, yellow bass, channel catfish, flathead catfish, walleye, and carp. In short, this reservoir hosts roughly the same species that live in the larger Roosevelt Lake.
What Is the Deepest Lake in Arizona?
The deepest lake in Arizona is a reservoir, too – we're talking about Lake Mead, which is formed by the Hoover Dam on the Colorado River. It is located in Arizona and Nevada, providing water to the two states, as well as to Mexico and California. Lake Mead has a maximum depth of 532 feet, a surface area of 247 square miles, and a shore length of 759 miles. The maximum water volume it can hold is 26,134,000 acre-feet!
It is an important recreational site, providing amenities for fishing, swimming, boating, water skiing, and sunbathing. Besides, there are several islands on the lake and a garden of cacti and other unique plants. The most famous recreational area is called Grand Wash. 
Up Next:
More from A-Z Animals
---
The Featured Image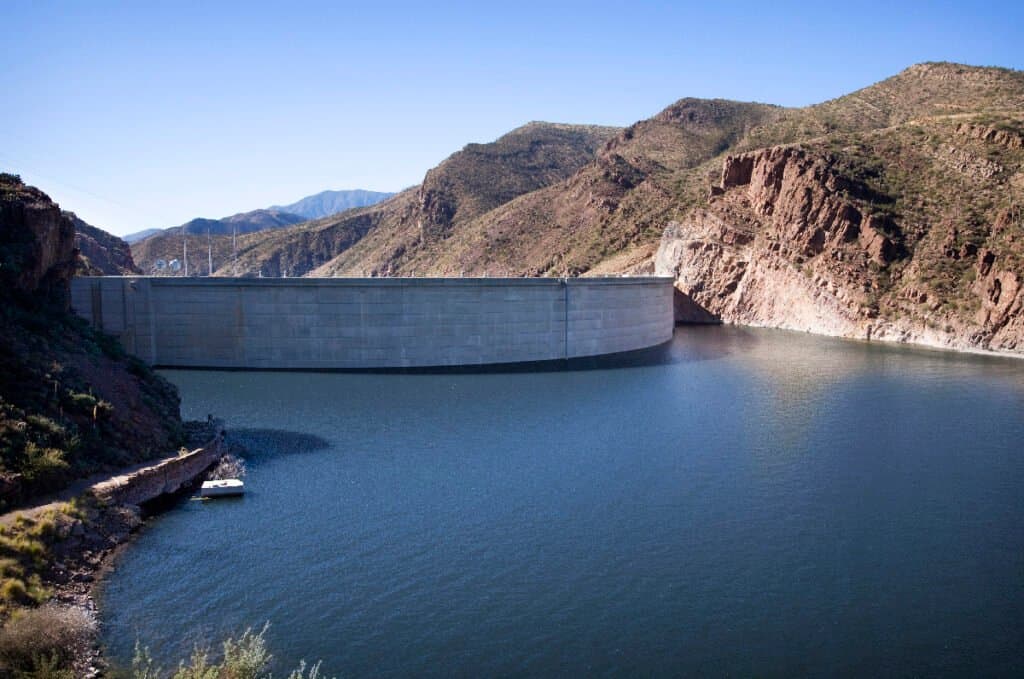 ---