Have you visited the United Kingdom? Do you live there? Either way, do you know where the highest point in the United Kingdom is? The United Kingdom is an island nation that sits in the waters off the northwestern European mainland. This nation is made up of four smaller countries – England, Wales, Scotland, and Northern Ireland (not to be confused with Ireland). It also encompasses several smaller islands, such as the Isle of Wight and Barrow Island. Today, we're going to find the highest point in the United Kingdom and learn about the region that surrounds it. So, without further ado, let's answer the question: "What is the highest point in the United Kingdom?".
What is the Highest Point in the United Kingdom?
At a whopping 4,413 feet in elevation, Ben Nevis in Scotland is the highest point in all of the United Kingdom. This mountain has a prominence of 4,409 feet, meaning that most of the surrounding area sits at about four feet above sea level. Let's compare that to the highest points of Wales, England, and Northern Ireland. Wales is home to the second-highest point in the UK, which is Mount Snowdon at an elevation of 3,560 feet and a prominence of 3,409 feet. Let's check out the stats on the other highest peaks in a table.
| Country | Highest Point | Elevation | Prominence |
| --- | --- | --- | --- |
| Scotland | Ben Nevis | 4,413 feet | 4,409 feet |
| Wales | Snowdon | 3,560 feet | 3,409 feet |
| England | Scafell Pike | 3,209 feet | 2,992 feet |
| Northern Ireland | Slieve Donard | 2,790 feet | 2,697 feet |
As you can see, there's quite a difference between the four peaks. Ben Nevis towers above all of them, but how tall is it in comparison to other highest points in other countries? Well, actually, Ben Nevis isn't all that tall of a mountain. The highest peak in the United States, Mount Whitney, is 14,505 feet in elevation. It has a prominence of 10,079 feet, which is over double the height and prominence of Ben Nevis. Mount Elbrus, the highest point on the European continent, would tower over Ben Nevis. This mighty mountain in the Russian Caucasus has an elevation of 18,510 feet and a prominence of 15,554 feet – well over three times the prominence of Ben Nevis. While Ben Nevis is the highest point in all of the United Kingdom, it cannot stand with the global greats in terms of height.
Where is Ben Nevis on a Map?
Ben Nevis sits on the more western side of Scotland, only 31 miles from the coastal bay town of Roshven. What about the distance to more major cities? Ben Nevis is 109 miles northwest of Glasgow – about a two-and-a-half-hour trek by car. Edinburgh is also not too far away – only 147 miles southeast of the mountain.
The nearest town to Ben Nevis is Fort William. It rests on the shores of Loch Linnhe and is called "The Gateway to Ben Nevis". It has a population of over 10,000 people and boasts hotels, grocery stores, and some restaurants. This town is well-known as a stop for tourists and hikers. It rests just west of Ben Nevis, providing access to comfort and amenities.
Can I Hike Ben Nevis?
You can absolutely attempt the hike up the United Kingdom's tallest point. In fact, tens of thousands of people attempt the hike every year. Considered a difficult climb for beginner and intermediate climbers, the average time to reach the summit is seven to eight hours. A fantastic aspect of this smaller mountain is that even hiking amateurs can take it on with enough preparation and the proper gear.
According to AllTrails, the summit hike is a 9.9-mile out-and-back route with a 4,402-foot elevation gain. Hikers who have completed the hike describe it as an easy path to follow but very steep and rocky. The elevation gain causes changes in temperature and weather, which often leads to cold, slippery climbs near the summit. Dogs are allowed on the hike, but many people warn that the rocky trail is quite hard on the paws. A number of hikers recommend outfitting your dog with boots or other protection if you bring them along.
The trail has little shade, a lot of rocks, and a number of scrambling opportunities. There is water access on part of the trail – a lake and a waterfall. This is a very popular hiking trail so you'll see plenty of other people when you attempt or complete it. A visitor center sits near the bottom, offering information and fee parking for the route.
Make sure to bring plenty of water, snacks, and weather protection. You'll want multiple layers, sunscreen, and some weatherproof gear for the higher altitudes. Remember to bring a receptacle for your trash – there are several complaints of trash and food waste on the trail. Remember that throwing the peels of your fruit away can be disruptive to the environment. Pack in, pack out.
Ben Nevis Visitor Centre
The Ben Nevis Visitor Centre is the start and end point of the Ben Nevis summit hike for most visitors. It's a comfortable and informative stop for many travelers. The visitor centre has restrooms that are open from 8 am to 4 pm daily. It also has a massive amount of information about the walk to the top of Ben Nevis. Much of the information is presented on touchscreen computers in the form of short films and quizzes. The visitor centre also has up-to-date information about the weather, which is a key component of safely completing the hike. Their website is careful to inform readers that it is absolutely imperative to hike Ben Nevis in good weather to avoid injury or catastrophe.
The visitor centre also provides paid parking for visitors to the area. The parking lot can hold up to 120 vehicles. This location also provides pleasant outdoor seating and a small shop that offers snacks and hot or cold beverages. Ben Nevis memorabilia is also available at the site. This location is currently open seven days a week from 8 am to 4 pm. You can reach employees during business hours using this phone number: 01349 781401.
The full address of the visitor centre is:
Ben Nevis Visitor Centre
Glen Nevis
Fort William
PH33 6PF
Wildlife at Ben Nevis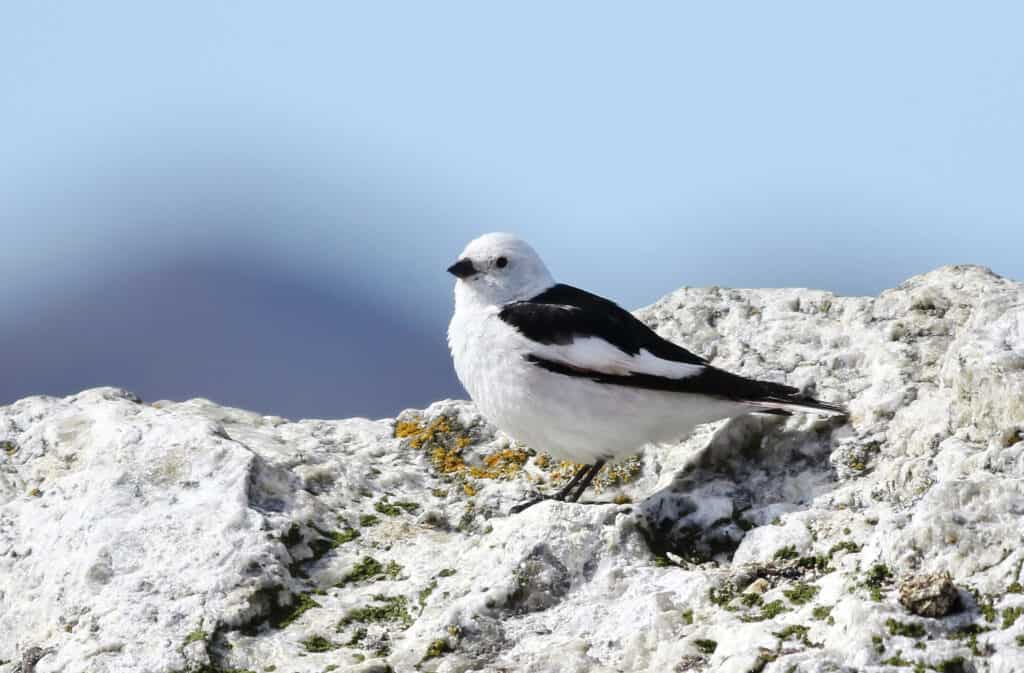 You'll likely spot a lot of birds when you visit Ben Nevis. Visitors to the mountain have spotted snow buntings, ptarmigans, and golden and white-tailed eagles. Woodpeckers, bullfinches, and buzzards are quite common to spot in the area as well. Snow buntings are actually the most prized spot on the mountains due to their rarity and amber status in Scotland. Nearly one-third of Scotland's snow bunting population lives in Ben Nevis and in the surrounding area.
Historically, several larger animals used to live on Ben Nevis, such as wolves, wild boars, beavers, brown bears, and the Northern lynx. None of these animals survive there any longer, with some of them being hunted to extinction in the area as far back as the 10th century. Now, the most common mammal in the area is the red deer. Other species are also evident, including foxes, badgers, otters, pine martens, red squirrels, and a number of butterflies and dragonflies.
Remember that all wildlife depends on us to ensure its safety and survival. When we put ourselves on top of the food chain, we assume responsibility for all animals we perceive as below us. Natural habitats for many forms of wildlife are dwindling, creating a high risk to the survival of thousands of species worldwide. You can do your part by always picking up after yourself, staying on designated trails to prevent habitat destruction, and leaving wildlife alone. Don't approach wild animals unless you are an expert with good reason. Don't feed wild animals. Be careful to make sure any pets you bring along to natural areas aren't chasing the wildlife that lives there and that you are cleaning up after them, too.
You can be a protector of wildlife just by working to respect it. If you'd like to go further, there are several ways to get involved in habitat protection and wildlife conservation. Look for your local authorities and resources on wildlife conservation to find the best ways to get involved in your area.
---
The Featured Image
---