With its fantastic track record in the ecosystem, year-round scenery, education, and median income, Massachusetts can be described as the blueprint. It's a state of many firsts and rarely falls behind other states.
Massachusetts is densely forested; 62% (3.1 million acres) of its land is covered in trees. Thus, it's the 8th most forested state by percentage of forest cover. In addition, 90% of some towns in western Massachusetts are covered with forests.
Massachusetts has the country's third-highest population density after New Jersey and Rhode Island. There aren't many places on the planet with such a dense population of residents living alongside many trees.
According to the 2020 U.S., an estimated 7 million people live in the Bay State. This equates to less than 1/2 acres of forest per person. 
The forests offer a plethora of benefits to people, including picture-perfect backgrounds, wildlife habitats, recreational activities, and clean water. However, more than 70% of the forests are privately held, with families and individuals having most of the ownership.
As represented by the Department of Conservation and Recreation and the Department of Fish and Game, the state government owns 10%. About 20% of Massachusetts forests are off-limits to construction.
Temperate deciduous forest is the primary biome of inland Massachusetts. However, several rural regions in Massachusetts have experienced the return of secondary growth due to abandoned farms. 
Despite much of Massachusetts being cleared for agriculture, this leaves only isolated pockets of the first-growth forest as a remnant. Many of the forests in the state are above 80 years old.
Five different tree species dominate the forests of Massachusetts. They include white and red pine, elm/ash/red maple, oak/hickory, mixed oak/white pine, and northern hardwoods.
The Largest Forest in Massachusetts
The 16,500-acre October Mountain State Forest is the largest state forest in Massachusetts. The forest and recreational preserve is mainly situated in Washington town but has neighboring parcels in Becket, Lee, and Lenox. The Massachusetts Department of Conservation and Recreation oversees its operations.
The forest's highest point is on the ridge, October Mountain; it rises sharply above the Housatonic River valley to the west. Washington Mountain is a second, lower mountain that runs along the forest's eastern side. 
Many reservoirs and the Washington Mountain Marsh can be found on the uplands that make up the forest's central region. In the western outskirts of the central Berkshires, the Hoosac Range is partially covered by the forest.
October Mountain State Forest History
Herman Melville, a writer, is credited with giving the forest its name; his Pittsfield home had a view of it. Melville is probably best remembered for his work Moby-Dick, but he also authored short stories. 
In one of these stories, titled Cock-A-Doodle-Doo!, he described "…a densely wooded mountain on one side (which I call October Mountain, on account of its bannered aspect in that month)…"
William C. Whitney, Secretary of the Navy under President Grover Cleveland, left behind an estate that led the state to acquire forest ownership. In the 1890s, the October Mountain region was a part of William C. Whitney's estate before it became a state forest.
In 1922, the Commonwealth of Massachusetts bought the Whitney Estate and changed its name to October Mountain State Forest. 1921 House Bill 0015, an act authorizing the takeover of October Mountain in the county of Berkshire as a State Forest, permitted this acquisition.
The public has year-long accessibility to the forest; it's an enduring testament to the conservation initiatives of the early 20th century enjoyed for generations. 
 In 1915, $60,000 was paid for the initial 11,000 acres (4,500 ha), with a portion coming from a pledge from a group of Berkshire locals. Public access to the area was granted in the same year.
Recreational Activities at the October Mountain Forest
A visit to October Mountain State Forest provides a lovely gateway to nature. It's not only remarkable for its size but also for the myriad of options it offers. There's a lot to enjoy, and you certainly need more than a day to explore its expansive views, hiking paths, plants, and wildlife species. Is it just us, or this sounds like a bucket list-worthy destination?
Visitors can engage in hiking, kayaking, canoeing, mountain biking, hunting, non-motorized boating, camping, fishing, snowmobiling, and cross-country skiing, among other leisure pursuits. Off-road vehicles may also be used on paths that have been authorized.
There are trails for hikers of all skill levels, including a section of the famed Appalachian Trail, a 2.7-mile (4.3 km) interpretive trail around Washington Mountain Marsh, and a picturesque walk through Schermerhorn Gorge. Geologists have been long drawn to the 3-mile-long, steep Schermerhorn Gorge due to its stunning natural feature.
A sunny hillside is home to 47 campsites that provide an excellent starting point for exploring this vast forest. Visitors can also go to Tanglewood (a well-known music venue and the base of the Boston Symphony Orchestra) and other surrounding attractions in the Berkshire Area while taking in the fresh air.
Hiking
Whether a challenging hike or a family vacation, the best hiking routes in October Mountain State Forest have something for everyone. You can find the ideal trail for your upcoming visit no matter what you have planned for the day.
The 2.7-kilometer loop trail close to Lenox Dale, Massachusetts, is regarded as an easy path. The average completion time is 57 minutes. Aside from hiking, there are various opportunities for running and camping along this trail, and you probably won't run into many other people.
It takes an average of 1 hour and 12 minutes to finish the 5.8-km Washington Mountain Marsh trail near Becket, Massachusetts, which is another route that is regarded as being easy. You can hike and bird watch on this trail.
Want to go on a more adventurous hike? There are paths with elevation gains of 52 to 815 meters. However, many people perceive the 11.3-km circular trail close to Lee, Massachusetts, as a moderately difficult path.
On average, it takes 3 hours and 35 minutes to finish. There won't be many other hikers, mountain bikers, or off-road vehicle enthusiasts along this track, which is perfect for all these activities. This trail is most enjoyable from March through November. Dogs are permitted but must be leashed.
Fenton Lake Loop via Gorge Trail, Finerty Pond via Appalachian Trail, and October Mountain Loop are some other hiking paths at the largest forest in Massachusetts. Only intermediate to experienced riders should attempt the OHV trails of October Mountain due to their difficulty.
Camping
There is always camping, if you plan to stay at the October Mountain State Forest for several days. 43 campsites, including tent and RV sites, and three yurts are available for reservation. However, only eight of the 43 campsites are equipped for recreational vehicles. 
The designated campgrounds are open to visitors during the camping season, typically from mid-May to mid-October. 
The RV sites are near the park's lower loop, not far from the entrance. There are two restrooms, each with a hot shower and a sink outside. Although each RV site has a picnic table and a fire ring, they don't provide much privacy. There is room for up to 34-foot-long rigs.
Residents of Massachusetts pay $17 per night for tent and RV camping, while non-residents pay $54 per night. Small yurts cost $120/night for non-residents of Massachusetts, while locals pay $45/night. Electricity is not available in RV campsites, but generator use is permitted outside of the quiet hours, between 10 p.m. and 8 a.m.
Huge yurts cost $140 per night for non-residents of Massachusetts and $55 per night for Bay Starters. The license plate of an automobile reveals whether a person is a resident or not.
The camping entrance is across the street from an electric power station, so visitors might hear a low-frequency hum. All areas of the park except the yurt campsites are pet-friendly as long as your pet is leashed to a six-foot length or shorter. Black bears are common around the forest, so ensure you store your food safely.
Tourist campers who intend to start a fire are required to source firewood locally due to the ban on transporting firewood from other states. The prohibition aims to curb the spread of the destructive Emerald Ash Borer. 
Cross-Country Skiing
In October Mountain State Park, many of the usual hiking trails transform into spectacular cross-country skiing trails when it snows. It offers the chance to enjoy the park's more serene, majestic grandeur accentuated by a thick blanket of snow.
Although bears often hibernate throughout the winter, deer, raccoon, and bobcats sightings may still be possible. In addition, the views are as impressive in the winter as you would find during summer. So what are you waiting for? Pack your ski gear in your campervan already. 
Mountain Biking
If you enjoy the thrill of riding bicycles off-road, don't hesitate to pack a mountain bike in your camper. Mountain bikers can ride on many paths that wind through the sizable state forest; there are clearly signposted trails. Only foot traffic is permitted on the pathways identified by blue signage.
Follow the white signs along the trees to traverse parts of the Appalachian Trail. Set off on the yellow or orange designated trails for multi-use routes.
Hunting
Both locals and tourists enjoy hunting in October Mountain State Forest, particularly well-known for its white-tailed deer populations. In Massachusetts, shotgun and primitive firearms seasons are usually in December, while the archery season lasts from October through November. 
Hunting is allowed every day, except Sundays, from 30 minutes after sunrise until 30 minutes before dusk. A big game hunting permit is necessary for deer with antlers, while a separate antlerless deer permit is needed for deer without antlers or antlers smaller than three inches long.
Following a deer trail through the woods might be challenging, so take your compass on every hunting expedition. 
Fishing
Many small lakes and ponds are suitable for fishing throughout October Mountain State Forest. You can fish from the shore or small, non-motorized boats. Unfortunately, motorized boats aren't allowed on the small water bodies.
Largemouth bass are abundant in October Mountain Reservoir, close to West Branch Road. The bass are said to be aggressive and a lot of fun to catch, despite being relatively small, with an average length of 13 to 15 inches. 
Wildlife in October Mountain Forest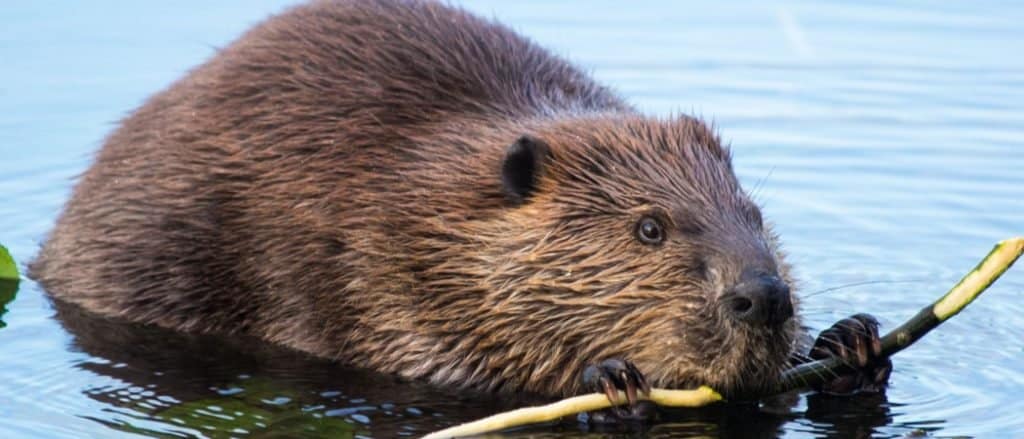 The October Mountain Forest is the go-to for every wildlife enthusiast. Imagine you've been teleported to the state forest with a pair of binoculars and a camera because you're about to explore the home of diverse animal species.
Together with various different varieties of ducks and geese, you might see beavers working on their dams close to the lakes. In addition, you can count on seeing foxes, deer, woodchucks, raccoons, songbirds, and many squirrel species. You can also see black bears, bobcats, and fishers. 
Where is October Mountain State Forest Located on a Map?
Spanning across 16,460 acres and encompassing the town of Washington along with portions of Becket, Lee, and Lenox, October Mountain State Forest is the largest state forest in Massachusetts, serving as a scenic and recreational haven. Managed by the Massachusetts Department of Conservation and Recreation, it offers diverse natural landscapes and abundant opportunities for outdoor activities.
Here is October Mountain State Forest on a map:
Up Next:
More from A-Z Animals
---
The Featured Image
---