Key Points:
Hellebore, Christmas rose, winter rose, and lenten rose are all names referring to the same plant, the Helleborus orientalis or more modern Helleborus x hybridus.
This beautiful evergreen perennial got its name because it flowers during lent.
Lenten roses are a plant that is easy to care for, comes in a variety of bloom colors, and thrives in the shade.
Helleborus orientalis goes by many names. It is called Lenten Rose, Winter Rose, and Hellebore. They are all the same plant! The hybrids of this plant are sold under the name Helleborus ×hybridus, which you will commonly see on nursery tags. These names can be confusing, but rest assured, they all refer to the same plant. 
Hellebore vs Lenten Rose: Origins
The plant was originally named lenten rose after its bloom time. It blooms between Ash Wednesday and Easter Sunday, the period known as lent.
 The legend behind the name Christmas rose is also very interesting. It is said that a shepherd traveling to Bethlehem did not have a gift to give to the baby Jesus and broke down in tears. His tears fell to the ground as he wept, and a beautiful rose immediately sprung from the ground.
Hellebore vs Lenten Rose: Growing Season
Many people love this plant because it is a very early spring bloomer, coming up as early as February in some areas. It usually blooms right alongside your daffodils and tulips, making for a wonderful bright splash of color after a long winter. 
Hellebore vs Lenten Rose: Appearance
The Lenten Rose looks a lot like a wild rose but is not a member of the rose family. Helleborus orientalis is a member of the buttercup (Ranunculaceae) family and comes in a variety of colors, including white, green, pink, purple, lavender, and red. The bloom has five petals surrounding a ring of small, cuplike pods that look wonderful against the dark glossy green foliage. The plant grows to a size of 18-24 inches tall by 18 inches wide and looks best planted in a mixed bed or border. 
Hellebore vs Lenten Rose: Companion Plants
Plant together with snowdrops, crocus, daffodil, phlox, trillium, bleeding heart, or muscari. It also looks fetching under a flowering plum or cherry tree. Ornamental foliage plants, such as alum root or shrubby veronica, have virtually the same growing requirements as most Helleborus varieties.
Hellebore vs Lenten Rose: Habitat
Helleborus orientalis is an evergreen perennial. It will keep its leaves all winter in zones with a low temperature above 0 degrees Fahrenheit. Hellebores are hardy to USDA zone 4-9. It can withstand winter temperatures as low as -20 degrees! It prefers a partially shaded location, with 4-6 hours of morning or evening sun. 
Hellebore vs Lenten Rose: Plant Care
The lenten rose is easy to care for. Plant it in humus-rich soil in a site protected from the harsh afternoon sun. Don't plant too deep, or it will never flower. You want the crown of the plant equal to ground level.  
In the early spring, just as the plant is starting to wake up for the year, prune any old or damaged foliage, provide an application of manure or compost and sit back and wait for the flowers to show.
Hellebore vs Lenten Rose: Propagation
Hellebores are propagated by division. With age, they will spread and can be divided into two plants. They are quite fussy about being moved, so the process must be done with tender loving care and patience.
Hellebore vs Lenten Rose: Toxic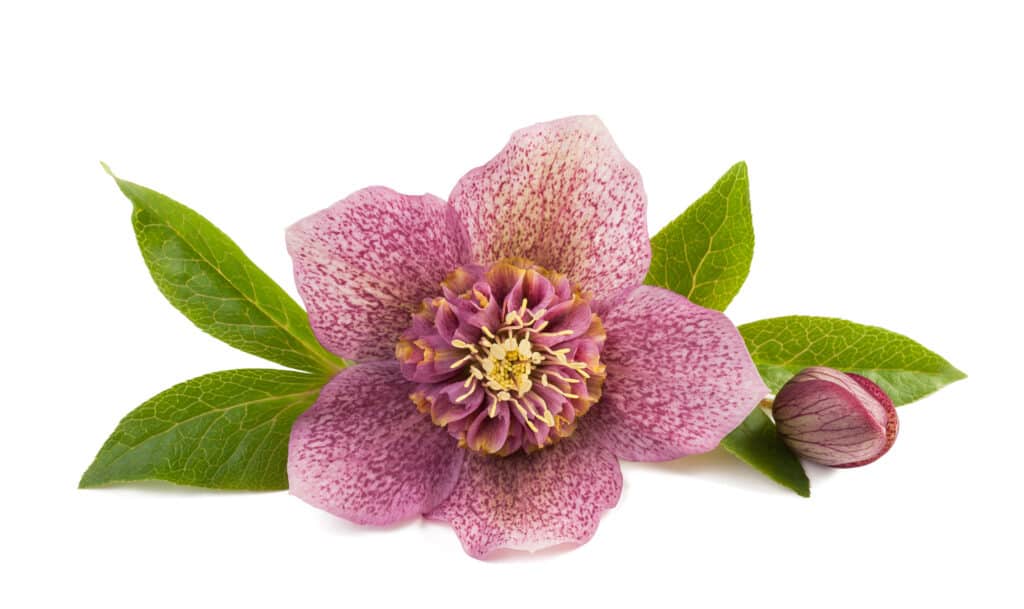 All members of the Hellebore family are toxic to both pets and humans. It has a terrible bitter taste, so this is not often a problem. But even the sap, when touched, can cause stinging, burning, or numbness of the skin. Eating any part of the plant can cause vomiting and diarrhea. A large quantity, if consumed (very rare), can cause convulsions, difficulty breathing, or paralysis. It is best to use gloves when handling this plant and keep it in an area away from children and pet play areas.
NEXT UP…
---