Key Points:
Lake Conroe forms the west fork of the San Jacinto River and meets with its east branch at Lake Houston.
In spite of its impressive surface area, it is relatively shallow compared to several larger lakes.
The Sam Houston National Forest, one of Texas' four national forests, lies to the northwest of the lake.
Lake Conroe is close to the bustling Houston city center. This thriving outdoor destination has grown tremendously in the past few decades and includes stunning residential developments such as Del Lago, Grand Harbor, and Seven Coves. With forested surroundings and pristine shorelines, it's easy to see why so many are drawn to this magnificent lake. Further south you'll find the equally impressive community called The Woodlands.
The community around Lake Conroe provides opportunities for businesses and residents to enjoy a finer quality of life with the lake nearby. We'll discuss some of the facts about Lake Conroe below and discover why so many people travel here to enjoy all the lake has to offer.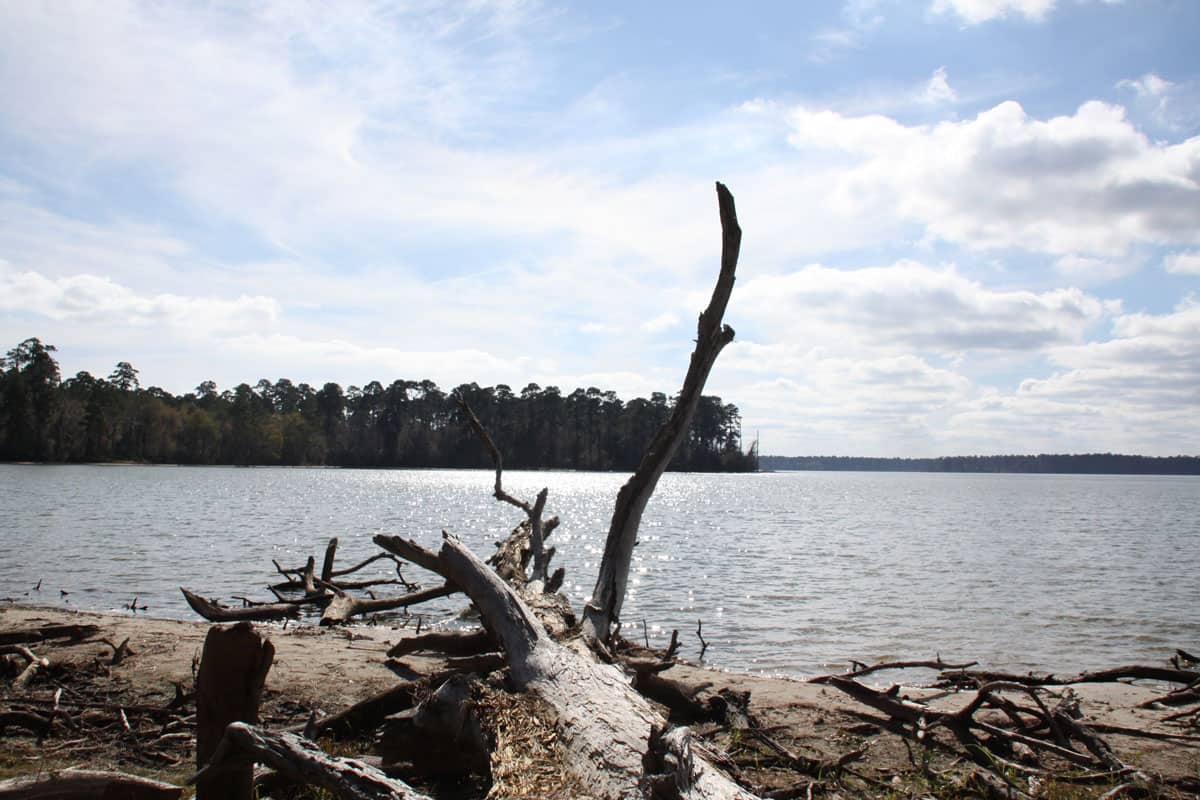 How Deep is Lake Conroe?
At the river channel, the depth of Lake Conroe reaches 75 feet; however many portions of the lake are around 20 feet deep. The surface water of the lake is over 20,000 acres and it boasts 157 miles of picturesque shorelines. The maximum storage capacity of the lake is 412,200 acre-feet or 134 billion gallons. The normal elevation of the lake is 201 mean feet above sea level and in the event of a flood the water level can be raised to 207 feet mean sea level. 
In 2017, the lake reached its highest level at 206.24, in comparison the lowest level recorded was 192.68 in 2011. Lake Conroe is part of the West Fork of the San Jacinto River, which flows 90 miles south to join the East Fork of the San Jacinto River at Lake Houston. 
Where Is Lake Conroe Located on a Map?
Lake Conroe is primarily located in Montgomery County, with a smaller portion in Walker County. It is around seven miles northwest of Conroe. Montgomery and Willis are other cities close to the lake. The lake is about one hour's drive north of Houston.
Is Lake Conroe a Natural Lake?
Lake Conroe is one of many reservoirs in Texas that were conceptualized after the historic seven-year drought that occurred in the 1950s. The goal was to avoid water shortages like the ones experienced during the drought by creating water supply developments. The lake provides an alternative water supply source for the city of Houston which has a population of 2.31 million as of 2023. 
Since 1937, the San Jacinto River Authority (SJRA) has been responsible for the conservation and development of water resources in the San Jacinto River basin. Responsible for seven counties, they also manage 27 canal systems that provide water to industrial clients, drinking and wastewater for The Woodlands, implement flood control, as well provide soil conservation resources to ranchers and farmers.
How Was Lake Conroe Created?
Conroe Dam is the result of an earth-fill embankment that is 11,300 feet in length. The dam's highest elevation is 212 feet above mean sea level and has a managed emergency spillway located at the center of the embankment. At its current levels, it resides 82 feet above the previous riverbed that existed before the dam's construction. 
The project began in 1968 and was completed by 1973, which is when Lake Conroe was filled. The project was designed by Freese, Nichols, and Endress Engineering Inc. and executed by H.B. Zachery Company. The lake and dam are managed by the San Jacinto River Authority which, along with the City of Houston, owns the water rights to the lake. 
What Surrounds Lake Conroe?
Surrounding beautiful Lake Conroe in the northwest region is the Sam Houston National Forest. It is one of four National Forests in Texas. Owned by the U.S. Dept of Agriculture as well as privately owned land and small farms, this 163,037 acres of forest spans Walker, Montgomery, and San Jacinto counties. There is evidence that human occupation dates back more than 12,000 years after various archaeological sites were discovered within the forest.
These lands were home to the Atakapa, an indigenous group of hunter-gatherers who may have even practiced some type of agriculture. Due to disease and the strain of European settlers, the Atakapa were extinct by the early 1800s. Today there are sites, structures, and cemeteries still present in the forest which you may encounter while hiking. 
A popular trek is the Lone Star Hiking Trail which is 128 miles long. Though it can be enjoyed year-round most hikers take advantage during winter and spring when the climate is coolest. Additionally, there is a Big Creek Scenic Area consisting of 1,420 acres which is recognized for its diversity of vegetation and picturesque qualities. While you can't camp in the Big Creek Scenic Area there are plenty of spots to camp within the forest.
Cagle Recreation Area is a popular spot as it provides full-service hookups, showers, restrooms, a boat ramp, and more so you can have all the amenities from home available to you in the forest. Whether you're wanting to enjoy hiking, biking, boating, swimming, or viewing wildlife, there is no shortage of activities at the Sam Houston National Forest. 
What Can You Do At Lake Conroe?
Directly on the lake, you can boat, jet ski, kayak, canoe, and fish. With options to bring your watercraft to the public boat ramp or rent from any of the rental companies around, there's plenty of fun to be had on the water. At Lake Conroe Park you can swim, fish, barbecue, and more on the 13 acres of the park adjacent to the shoreline. There are playgrounds, an outdoor volleyball court, and access to restrooms as well. If you've worked up an appetite or need a cool drink there are plenty of choices for dining on the Lake so you don't have to miss out on those spectacular views. 
Lake Conroe also has 20 exclusive wedding venues which offer stunning settings to make your wedding unforgettable. With vendors available like caterers, florists, and photographers, you'll have all the resources and amenities to showcase your dream ceremony with beautiful backdrops such as verdant, towering pines, and scenic shorelines draped in sunsets. Additionally, they created a Wedding Planning Guide and offer complimentary services for all brides-to-be.
Does Lake Conroe Have Nearby Attractions?
Yes! In Conroe, there is a vibrant arts and theatre community. It has two unique theatres, the Crighton Theatre and Owen Theatre, at which you can enjoy live performances. If you have a love for music you can attend a concert by the Conroe symphony, and if you're a history buff you'll want to visit the Heritage Museum of Montgomery County. 
While downtown you'll find live music at local taverns and breweries as well as unique stores to shop. Besides the many year-round events held in Conroe, each May through September you can shop from local vendors at the Farmer's Markets. Additionally, if you want even more adventure, the big city of Houston is an hour away offering a lively downtown center with music, arts, museums, and more. 
Animals That Live In and Around Lake Conroe
Lake Conroe is well-stocked for fishing and includes a variety of sport fish. The following are just some of the fish that can be found:
White Bass
Largemouth and Hybrid Striped Bass
Black and White Crappie
Blue and Channel Catfish.
However, fish aren't the only things you will find in the lake. There are water moccasins and alligators as well. According to residents there have even been a few sightings of large bull sharks, which can live in both salt and fresh water. Along the shores, during the fall and spring months, you will find bald eagles and ospreys.
---