Minnesota is home to over 11,000 lakes that cover 7,326 square miles of the surface area of the state. Many of these lakes are small, some of them even more resembling ponds. But that can't be said of Lake Vermilion. This massive lake in northeastern Minnesota spans several thousand acres and is home to a variety of aquatic life forms. Lake Vermilion is one of Minnesota's largest, widest, and longest lakes and there is no end to the recreation and wildlife appreciation that can be done along its shores and in its waters. The lake has a reputation for beautiful open vistas and sunsets and people come from far and wide to enjoy it. We're going to explore this vast lake and learn more about its features while we answer one important question: How wide is Lake Vermilion?
About Lake Vermilion
Lake Vermilion is located in northeastern Minnesota, around 90 miles north of Duluth. The lake covers 39,271 acres and has a shoreline length of 341 miles, making it Minnesota's 5th largest lake by surface area. It extends 37 miles from east to west, forming irregular bays, peninsulas, and over 365 islands along its shore. It is relatively shallow, with an average depth of 25 feet and a maximum depth of only 76 feet. We have included an interactive map of Lake Vermilion in this section to help you learn a little bit more about it.
You can see on this map that Lake Vermilion is very close to the Canadian border and is a part of the Superior National Forest. This entire area is full of history and opportunities for exploration. French fur traders named the lake "Lake Vermilion" to honor its original name. The Ojibwe named the lake "Onamuni" which means "lake of the sunset glow". The word "vermilion" is a Latin word for a red pigment, so these French fur traders thought it was a suitable name.
Lake Vermilion rests mostly in St. Louis County, Minnesota, with its nearest communities being Tower, Minnesota and Cook, Minnesota. It is part of the same watershed as its giant lake neighbor – Lake of the Woods. Both of these lakes exist as a part of the Rainy River watershed which drains to the north in the great Hudson Bay. The nearest large city to this impressive lake is Duluth. Another city of note is the north shore town of Grand Marais, which rests 138 miles west of Lake Vermilion. You can reach Lake Vermilion by one of two highways – U.S. Highway 53 or Minnesota State Highway 169.
How Wide is Lake Vermilion?
Lake Vermilion is immense in size and reaches a maximum width of 37 miles across, according to the Minnesota Department of Natural Resources. Other sources cite a maximum width of 10.38 miles and some even claim as few as 7, but we made sure to check with the local authority on the matter to be sure we were getting you the correct information.
How Long to Swim Across Lake Vermilion?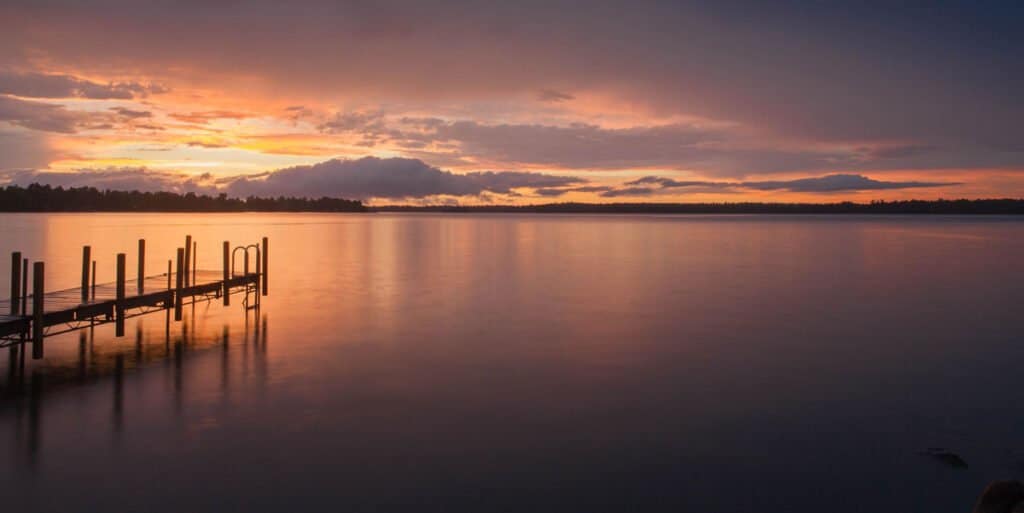 At its widest point of 37 miles, it would be an extremely taxing effort to swim across the entirety of the lake. A swimmer constantly moving at a speed of two miles per hour would spend 18.5 hours traversing the water. It takes even longer factoring in breaks and slower swimming. Most people prefer to enjoy the width of the lake by boat or other water vessel.
Swimming in general is encouraged. The lake has beautiful, clear waters that invite swimmers of all ages to take a dip on a hot day. Several areas along the lake have lovely swimming and boating accesses, including a public beach at Mckinley Park Campground.
Lake Vermilion's Size Compared to Other Minnesota Lakes
Lake Vermilion is among Minnesota's ten largest lakes by surface area. The state's largest lake is the huge Lake Superior, which borders Lake Vermilion to the east. Some sources claim that Lake Vermilion is even larger than Lake of the Woods, but this is only true within Minnesota. Lake of the Woods stretches far into Canada and the overall surface area of the lake greatly exceeds the surface area of Lake Vermilion. Still, the impressive size of the lake cannot be undersold, so we've created a table to show where Lake Vermilion sits in comparison to other large bodies of water in the state. For the purpose of clarity, we have only included lakes that rest wholly in Minnesota. You will not see Lake Superior or Lake of the Woods in this table for that reason.
| Lake | Surface Area |
| --- | --- |
| Red Lake (Upper and Lower) | 288,800 acres |
| Mille Lacs Lake | 132,516 acres |
| Leech Lake | 11,527 acres |
| Lake Winnibigoshish | 67,000 acres |
| Lake Vermilion | 39,271 acres |
This table shows the five largest lakes in Minnesota that exist completely inside of its borders. It's incredible to discover that the "Land of 10,000 lakes" actually contains 11,842 lakes over 10 acres and 21,871 lakes over 2.5 acres. It's also important to note that Minnesota is the state that is the 3rd most populated by lakes. Wisconsin claims 15,000 lakes and Alaska has over 3,000,000 lakes. You read that right – Alaska boasts over three million lakes (only 3,197 of which are officially named).
Recreation on Lake Vermilion
The size and beauty of Lake Vermilion make it a popular recreation destination. With its 39,000 plus acres of water, there is no end to the fun you can have exploring the area. Many resorts and outfitters operate on the lake, renting boats, kayaks, canoes, and fishing equipment. There are nearly 30 public boat launches providing access. Camping, hiking, swimming, birdwatching, and wildlife viewing round out the recreation options.
One of the most popular activities on this massive lake is fishing. Walleye fishing opportunities are abundant, but fishermen can also catch Northern Pike, smallmouth bass, and a variety of other fish. Walleye is the state fish of Minnesota and walleye fishing in the area is abundant and sought-after. Lake Vermilion boasts a record of the largest Muskellunge (muskie) caught in the state. This Muskie was 57 1/4 long and weighed in at 47 pounds. The fish was released back into the water and may still be alive today. Muskies live to 18-30 years and have no natural predators.
Lake Vermilion offers six backcountry campsites and eight day use sites around the lake. Every day use area is equipped with a dock, picnic tables, and fire grates.
Wildlife at Lake Vermilion
Lake Vermilion provides extensive wildlife habitat in the Superior National Forest. Common sightings include bald eagles, osprey, loons, ducks, geese, moose, black bears, beavers, and mink. Large lake sturgeon inhabit the lake, growing over 6 feet long. Game fish like Walleye, Northern Pike, and Smallmouth Bass thrive in the vast, clean waters.
Around the lake, several mammals make their homes. These mammals include skunks, raccoons, opossums, wolves, white-tail deer, and the American black bear. You can also see squirrels and chipmunks or even catch sight of a red fox.
Lake Vermilion Fun Facts
We thought we'd finish out with some fun facts about Lake Vermilion. Whether you have visited the lake, plan to visit, or are just curious about it, these fun facts help us feel more connected to the northern waters of the lake.
Lake Vermilion boasts 365 islands – one for every day of the year.
Lake Vermilion was once a part of the prehistoric Lake Agassiz.
The only outflow of this lake is the Vermilion River, which flows north to the Hudson Bay.
Lake Vermilion is considered one of the most scenic lakes in the entirety of the United States!
The photo featured at the top of this post is © W. Naze/Shutterstock.com
---