Montana may be a cold northern state much of the year, but its population growth rate is red hot! It's one of the fastest-growing states in the United States. In fact, it added 17,000 new residents in 2022 and now numbers 1.12 million residents. As for the future, the state is forecast to add another 161,000 people in the next couple of decades. Montana will achieve a population of 1,236,000 by the year 2040. And the largest city in Montana? That would be Billings, known since 1882 as "Magic City" for its booming growth. This growth continues today, and the city will stay the largest city in Montana for the next 20 years. What's the secret to Billings' success, and why should you visit it? Let's find out.
Fast-Growing Areas Of Montana
Several counties of Montana are experiencing rapid growth. Yellowstone County, of which Billings is the county seat, has over 167,000 people. Gallatin County has increased 39% since 2010 to 124,800 residents. And Missoula County with its capital of Missoula has grown 9.5% since 2010 to 120,000 residents.
The city of Billings numbered 117,116 in the 2020 census but already in 2023 its population is estimated at 121,000. And it is forecast to hold its leading place for the next 20 years. The second-largest city, Missoula, currently has 74,822 people and is unlikely to surpass Billings during that time.
History Of Billings
Lewis and Clark passed through the Billings area in 1806 on their famous expedition to the Pacific Ocean. As the territory was settled, the town of Coulson was created in 1877. It became a rough, lawless Wild West settlement. With the building of the Northern Pacific Railroad in 1882, the company founded a new town nearby. They named it after company president Frederic H. Billings. Coulson died out as most residents moved to the new town.
Billings was quickly dubbed "Magic City" because of its rapid growth. This growth was due to its access to transportation networks and its ability to adjust flexibly to economic changes. The city has been connected to an ever-expanding circle of business. This was originally due to the railroad. Later, it was due to a growing road system culminating in the interstate highway system, and international air travel. The lumber industry was a big early engine for its growth. As time went on, discoveries of oil, natural gas, and coal in the eastern part of the state and northern Wyoming further turbocharged its economy. It became the main distribution point for retail goods being transported to stores and warehouses in smaller communities. It soon developed a diversified economy offering financial, medical, and cultural services for much of eastern Montana.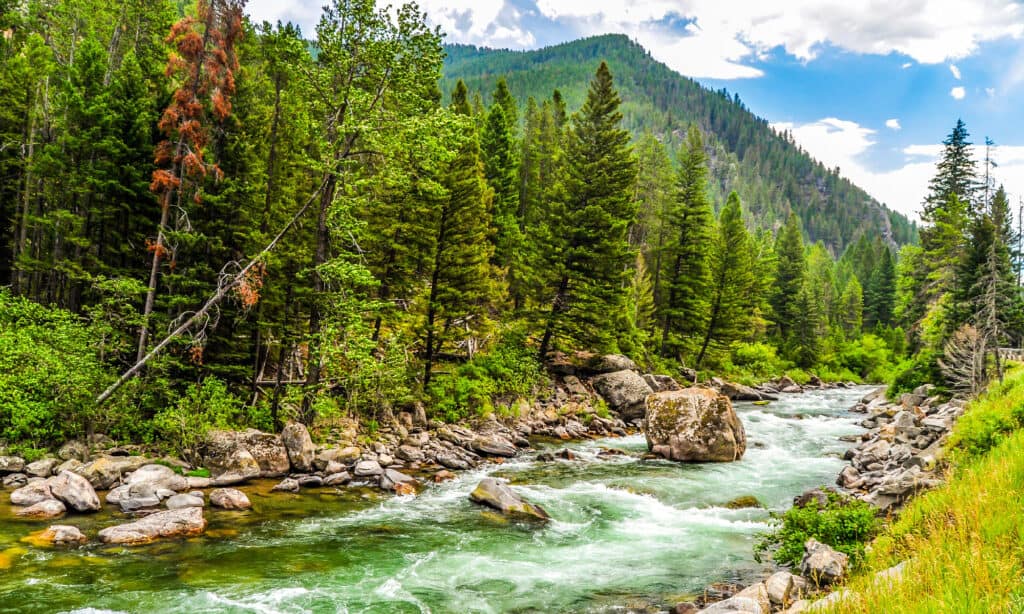 What To Do In Billings
Billings has a lot to do and see, including Pictograph Cave, Little Bighorn Battlefield National Monument, and, about 100 miles away is Beartooth Highway which connects to Yellowstone National Park. If you go hiking or horseback riding on local trails, be sure to check out the Rimrocks, a rock formation with incredible views. Pompey's Pillar is a national historical landmark where William Clark carved his name on the Lewis and Clark expedition. Clark named it for the son of Sacajawea, the expedition's Shoshone interpreter and guide. Sacrifice Cliff has a tragic story: Native Americans blindfolded themselves and rode their horses off cliffs in a sacrifice they hoped would end a smallpox epidemic. Some of the other historical sites in Billings are Boothill Cemetery, Black Otter Trail, and the Billings Depot.
The city has several museums where you can learn more about local history and creative arts, such as the Yellowstone Art Museum and the Western Heritage Center. Kids will appreciate ZooMontana. MetraPark hosts rodeos, concerts, motorsports, and ice shows. Shrine Auditorium and the Alberta Blair Theater are also popular venues for entertainment and cultural events. Dehler Park is a multi-use sports stadium with a seating capacity of 6,000+. Billings also has annual events every month of the year that you may want to take into consideration before planning your next trip.
The Future Of Billings
The future looks bright for Billings. It still benefits from its good location, which helps it serve the needs of over 500,000 people. Billings continues to attract business with zero sales tax. One out of every seven dollars consumers spend in the retail sector in the state occurs in Billings. It's in the largest coal, oil, and gas fields in the country. And it benefits from the ongoing migration of people from the overcrowded cities of the West Coast. City leaders forecast the population will grow to 250,000 over the coming decades, and no other city in the state will be able to catch up with it. Take a trip to Billings yourself and find out why it's the largest city in Montana now, and will continue to be so in 20 years.
Where Is Billings, Montana Located On A Map?
Billings, located in Yellowstone County, is in the south-central region of the state. Montana is located in the Mountain West region in the northwest of the United States. It shares a border with Idaho to the west, Wyoming to the south, North Dakota and South Dakota to the east, and the following Canadian provinces to the North: Alberta, British Columbia, and Saskatchewan.
The photo featured at the top of this post is © Leo_nik/Shutterstock.com
---