Introduction
The largest city in the United States is likely an easy guess, as people around the world are familiar with its longstanding fortune and fame. Brimming with buildings and bustling people, the city is sure to wow any visitor or resident that chooses to go there.
However, some wonder if the largest city in the nation will be the same nearly 30 years in the future. As the biggest city records an astonishing decline in population growth rate, is it possible that another U.S. town will surpass the centuries-old megacity?
Discover the largest city in the United States and find out the current and projected populations of the top five biggest cities in the nation.
What is the Largest City in the United States Today?
The largest city in the United States is New York City, New York. The population of New York City's metropolitan area numbers 19,768,458 as of 2021. The population of New York City alone, not including the surrounding area, is 8.468 million residents. In addition, the city covers an impressive 302.6 square miles, which translates to 783.7 square kilometers. Finally, the acreage of New York City measures 193,664 acres.
How did New York City Grow So Large?
Between 1781 and 1800, New York City grew incredibly in size. Trade was a large reason behind population growth in the city, and a boom in manufacturing brought jobs and residents to New York. By the year 1900, New York had risen to become one of the most economically stable and wealthiest cities on Earth. However, growth in New York did not come without challenges. Riots, lynchings, poverty, and crime were prevalent throughout the early days of New York.
During the late 1800s, a heated debate ensued over whether surrounding areas of New York should be incorporated into the city, including boroughs like Brooklyn and Queens. Eventually, these areas were added to New York City, resulting in Greater New York. While some opposed the merger, others welcomed it. As a result of the creation of Greater New York, officials prioritized creating New York's infrastructure, including the subway system, bridges, parks, and buildings.
After World War II, though, the attraction of New York began to fade. Families moved into the suburbs as New York dealt with problems of failing infrastructure and decreased manufacturing. Furthermore, New York City struggled with debates over politics and power until the 1990s. During the 1990s, though, the city again reached the stability it had previously attained in the year 1900. New York's population and economy grew steadily, as immigrants moved to the city and as Wall Street became a more powerful influence over New York.
Top 5 Largest Cities in the United States Today
The top five largest cities in the United States include New York City, Los Angeles, Chicago, Houston, and Phoenix. Los Angeles is located in the state of California and has a population of 4,085,014 people. The population of the metropolitan area of Los Angeles measures 9,829,544 residents. The median age of residents in Los Angeles is 37 years old, and the nicknames of the city include "La-La Land" and the "City of Angels."
Chicago, Illinois has a population of 2,670,406 residents with a metropolitan area population numbering 9.459 million. Thus, Chicago's metropolitan area is not far behind that of Los Angeles. However, the city of Los Angeles is much larger than Chicago, covering 501.55 square miles compared to Chicago's 234.53 square miles. The median age of Chicago residents is around 36 years old, and the city is known as "The Windy City."
The city of Houston claims a population of 2,378,146 residents and lies in the state of Texas. The Houston metropolitan area population measures 6.707 million people. In addition, Houston is one of the fastest-growing cities in the country due to its job availability and various thriving industries. Some key attractions in the city of Houston include the Space Center Houston, which is part of NASA; the Houston Ballet; and the Houston Texans professional football team.
Finally, the fifth largest city in the United States is Phoenix, Arizona, which has a population of 1,743,469 and a metropolitan area population of 4.948 million residents. The city of Phoenix is nicknamed "Valley of the Sun," or simply, "The Valley." In addition, the median age of people living in Phoenix is approximately 35 years old, and the city covers around 517.9 square miles.
Growth Rates of the Largest U.S. Cities
Perhaps surprisingly, nearly every city in the top five largest U.S. cities recorded a decreasing annual growth rate between 2022 and 2023. For instance, New York City saw a 3.48% decrease in population, and Los Angeles experienced a 1.04% population decrease. Both Chicago and Houston saw decreases in population, too, of 1.65% and 0.51%, respectively. Phoenix, Arizona was the only city to record population growth at a 0.82% annual increase.
While four of the five largest U.S. cities seem to be decreasing in population, it does not mean that they will lose their ranking. New York City is still far beyond the second-largest city, Los Angeles, in population. In fact, New York is nearly twice the size of Los Angeles. In addition, Chicago remains more than 1.1 million residents behind Los Angeles in population, so it's unlikely that Chicago would surpass Los Angeles, especially when Chicago's rate of decrease is greater than that of Los Angeles.
Houston, though, is less than 400,000 residents away from surpassing Chicago. Considering that Houston's rate of decrease is significantly less than Chicago's rate of decrease, it's possible that Houston could become the third-largest city in America. In addition, Houston's job availability and diverse industries make it attractive to potential residents. Therefore, Houston could see an increase in population in the coming years, as Chicago continues to decrease.
Phoenix, on the other hand, is likely to stay in rank #5. Phoenix has around 600,000 fewer residents than Houston, Texas, and while it is the only city with a positive population growth rate, Houston's potential population increase will leave this Arizona city behind. Overall, the top five largest cities in the United States are likely to hold their titles in the coming years with potential changes in the third and fourth place between Chicago and Houston.
Metropolitan Area Population
When considering metropolitan population, though, two growing cities could surpass Houston and Phoenix as the largest cities by the year 2050. Miami, Florida is projected to have a metropolitan area population of 7.531 million by 2050, and experts estimate that Philadelphia, Pennsylvania will have a metro population of 7.364 million. The metropolitan area population estimates for Houston and Phoenix for the year 2050 are 6.063 million and 4.877 million, respectively. Take note that both Phoenix's and Houston's metropolitan area populations will decrease by 2050 when compared to their current metro populations.
Therefore, if Houston were not to surpass Chicago, it would be replaced in the fourth spot by Miami. The same goes for Philadelphia, which would replace Phoenix in fifth place. However, this data only takes the metro population into account. It's possible that Miami and Philadelphia could have the fourth and fifth-largest metropolitan area populations but not surpass Houston or Phoenix in city populations by 2050.
What Will the Largest U.S. City be in 2050?
According to Ontario Tech University, the largest city in the United States in the year 2050 will be New York City. The metropolitan area population of New York is likely to grow to 24.769 million residents by 2050. While New York City is experiencing a 3.48% decrease in population now, it is still far more populous than any other city in the nation. Therefore, New York will hold its title as the largest city in the U.S. indefinitely.
Top 5 Largest U.S. Cities 2022 vs. Top 5 Largest U.S. Cities 2050: A Comparison
| City | Population 2022 | Metro Population 2022 | Annual Rate of Change | Nicknames | Attractions | Projected Metro Population 2050 |
| --- | --- | --- | --- | --- | --- | --- |
| New York City, New York | 8.468 million | 19.768 million | -3.48% | "The Big Apple" and "The City that Never Sleeps" | Times Square, Broadway, Central Park, and the Statue of Liberty | 24.769 million |
| Los Angeles, California | 4.085 million | 9.830 million | -1.04% | "City of Angels" and "La-La Land" | Hollywood and Griffith Observatory | 16.416 million |
| Chicago, Illinois | 2.670 million | 9.459 million | -1.65% | "The Windy City" | Willis Tower and The Bean | 11.926 million |
| Houston, Texas | 2.378 million | 6.707 million | -0.51% | "Space City" and "H-Town" | Space Center Houston (NASA) and Houston Zoo | 6.063 million |
| Phoenix, Arizona | 1.743 million | 4.948 million | 0.82% | "Valley of the Sun" and "The Valley" | Desert Botanical Garden and South Mountain Park and Preserve | 4.877 million |
| Miami, Florida | 439,890 | 6.167 million | -0.45% | "Magic City" | Everglades National Park, the Miami Heat, and beaches | 7.531 million |
| Philadelp-ia, Pennsylva-nia | 1.528 million | 6.245 million | -1.55% | "The City of Brotherly Love" and "Philly" | Independe-nce Hall and the Liberty Bell | 7.364 million |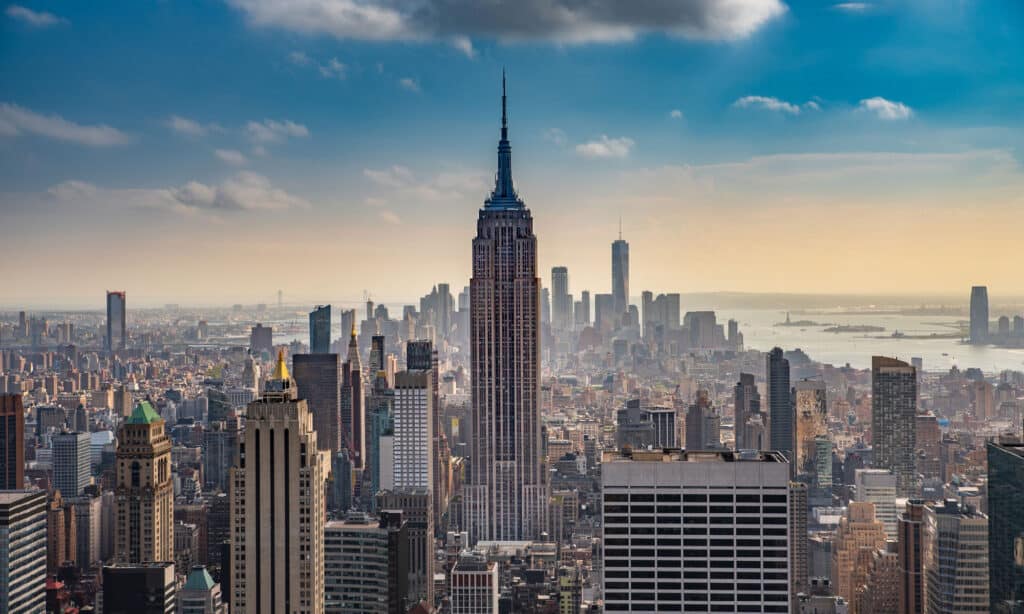 Where is New York City Located on a Map?
New York City, located at the confluence of the Hudson River and the Atlantic Ocean, it encompasses five boroughs. At its heart lies Manhattan, a densely populated area renowned as one of the world's primary hubs for commerce, finance, and culture. Iconic landmarks like the Empire State Building and the expansive Central Park overlook the looming cityscape. Times Square, illuminated by neon lights, sets the stage for Broadway theater productions, adding to the vibrant tapestry of this bustling metropolis.
Here is New York City on a map:
Ready to discover the top 10 cutest dog breeds in the entire world?
How about the fastest dogs, the largest dogs and those that are -- quite frankly -- just the kindest dogs on the planet? Each day, AZ Animals sends out lists just like this to our thousands of email subscribers. And the best part? It's FREE. Join today by entering your email below.
---