One of the best and largest park systems in the world is that of the United States. The unadulterated beauty of the US is undeniable, from the thousands of city parks that transport nature right into the heart of American communities to the national parks that protect the wildness and thrill of the wilderness. Below you'll find a combination of national parks and city parks that make this country even more beautiful!
Wrangell–St. Elias National Park
The huge national park of Wrangell-St. Elias rises 18,008 feet from the ocean. The park is the same magnitude as Switzerland, Yosemite National Park, and Yellowstone National Park put together at 13.2 million acres!
People still depend on the earth to survive in this untamed area, as they have done for hundreds of years. There are many options for adventure in this wild, gorgeous region. Large portions of Wrangell-St. Elias National Area and Preserve are only accessible by hearty explorers who jet into the park for wilderness hiking, mountaineering, and paddling due to the park's immense size and steep terrain.
In comparison to other large parks like Denali National Park and Preserve, this national park offers fewer visitor facilities, but those who are prepared to put in the extra energy and effort to reach it will find ample opportunities for climbing, camping, water sports, glacier trekking, wildlife watching, and traveling back in time to experience Alaska's mining history.
Gates of the Arctic
Vast, backcountry area in northern Alaska, United States: Gates of the Arctic National Park and Preserve. It is a portion of a huge region of national parks, sanctuaries, and monuments that extends hundreds of miles from west to east north of the Arctic Circle.
The region, which had been declared a national monument in 1978, underwent boundary adjustments in 1980 when it was designated as a national park and preserve. The preserve abuts the park in two parts. The first is in the northeast and the second is in the southwest area. These cover an extra 1,482 square miles, bringing the park's total area to 11,756 square miles.
The Endicott Mountains, a section of the central Brooks Range, are located in the center of the park. The mountains are distinguished by sharp peaks that soar to altitudes of over 7,000 feet, languid Arctic valleys, untamed rivers, and numerous lakes. In contrast to the arid northern tundra near the edge of Alaska's North Slope, the southern hillsides are covered in pine, aspen, and birch forests.
Chugach State Park
One of the most beautiful and easily accessible natural regions in the nation is Chugach State Park. It offers an authentic Alaskan experience at a short distance from Anchorage's conveniences. Numerous practical recreational options are available, many of which are close to parking and have well-kept amenities and trails.
With a little more than 280 miles of managed hiking and bicycling trails that depart from more than a dozen main trailheads dispersed from one end of Anchorage to the other, Chugach State Park is a perfect location. When there is enough snowfall, an additional 110 miles of paths are accessible during the winter for fat tire riding, skiing, and snowmobiling.
The eight-mile-long Eklutna Lake offers boating opportunities, and the 28 miles of canoeing in Eagle River Valley provide about every type of outdoor recreation option for those looking to get out on the water!
Denali National Park
Denali National Park and Preserve's granite towers and icy summits span 160 miles of the Alaska Range and have such a high elevation that they are frequently hidden by clouds. The tallest peak in North America dominates this skyline. One of Alaska's most spectacular views, Denali soars to a height of 20,310 feet.
Every year, over 400,000 adventurous visitors visit Denali National Park and Preserve, mostly in the months of late May and early September. The Riley Creek Campground, the Alaska Railroad station, the Denali Visitor Center, the intriguing Murie Science, and Learning Center, and the park's transportation hub and campground registration office are all located at the park's entrance.
The 92-mile Park Road departs at the entrance and travels west into the center of Denali. Along the way, it passes the Eielson Visitor Center and several backcountry campgrounds, featuring Wonder Lake Campground, where campers may see Denali reflected in the lake on clear days. The former mining town of Kantishna, where a number of wilderness lodges are now located, is where the route comes to an end.
Katmai National Park
Alaska's Katmai National Park and Preserve is home to magnificent and unusual volcanoes as well as a variety of species, like fish, wildflowers, and bears. The renowned Valley of Ten Thousand Smokes, a magnificent 40 square mile, 100 to 700-foot deep ash flow produced by Novarupta Volcano, was the inspiration for the establishment of Katmai National Monument in 1918.
Even though Katmai has been a national park and preserves since 1980, it is nevertheless well-known for its volcanoes as well as for its brown bears, pure waters teeming with fish, isolated nature, and rough shoreline.
In Katmai, which spans millions of acres of untamed rivers and streams, jagged coastlines, expansive emerald glacial hewn plains, dynamic glaciers and volcanoes, and Naknek Lake, there is enough area for a huge diversity of wildlife.
Scottsdale McDowell Sonoran Preserve
Visitors can enjoy a variety of activities at the McDowell Sonoran Conservancy, which is also home to several animal, plant, and bird species. This is another one of the largest city parks that the country has to offer!
All visitors will be safe and have fun, and the pure environment will be preserved for future years, according to their mission. The McDowell Sonoran Preserve in Scottsdale has a variety of amazing desert paths and award-winning amenities. The Preserve has a distinctive geology, beautiful landscape, thick cactus woods, and a wide variety of fauna.
Discover the 30,580 acres of the Sonoran Desert right now! Select one of the main trailheads from the list on their website to access the McDowell Sonoran Preserve's 225+ miles of trails in Scottsdale.
Death Valley National Park
This extraordinary and fabled terrain is distinguished by miles and miles of enormous sand dunes, technicolor cliffs and canyons, uncommon and unique animals, unique evaporative components, and majestic peaks soaring 11,000 feet above nearby valleys. It is alive with an unequaled beauty.
A lifetime of surprising discoveries is guaranteed by a trip to Death Valley National Park. Tourists of Death Valley National Park will also discover a slew of artifacts from the region's long history, such as metal ore mines, charcoal kilns, abandoned buildings, petroglyphs, and historic Shoshone foot trails.
These remnants provide a glimpse into the hard life of the region's early settlers and native inhabitants. The intriguing desert valley is located in the northern Mojave Desert, near the Great Basin Desert's eastern boundary, in south-central California. Death Valley National Park, which extends into Nevada and comprises 5,270 square miles (3.4 million acres), is the biggest national park in the Lower 48.
Glacier Bay National Park
Glacier Bay National Park and Preserve is home to some of Alaska's most breathtaking scenery, including towering high mountains, ice-sculpted fjords, a variety of aquatic life, and enormous tidewater glaciers. Every cruise ship traveling through the Inside Passage should always stop at the 3.3 million-acre park.
Cruise ships carry over 90% of park visitors, who often spend a full day enjoying the park's breathtaking landscape and diverse fauna, pausing in front of tidewater glaciers to keep an eye out for calving. National Park Rangers from the park offer talks and field questions from passengers as they board cruise ships.
For a range of experiences in the park, independent tourists can enter the park through the town of Gustavus and the park headquarters at Bartlett Cove. 27% of the park is still covered by glaciers today.
More than 50 glaciers have names, seven of which are tidewater glaciers that actively release icebergs into the water. The Fairweather Range, with peaks rising to a height of 15,000 feet, encircles the park to the west.
Timucuan Ecological and Historic Preserve
The Timucua were people who lived in the St. Johns River valley for hundreds of years and had settled there at the moment of the first contact with Europeans. The Timucuan Ecological and Historic Preserve was established in their honor.
Today, Jacksonville, the largest city by size in the continental United States, is surrounded by the Preserve, which spans 46,000 acres of diverse ecosystems. Both the St. Johns River and America's Great Waters have been designated as American Heritage Rivers, and they both flow through the Preserve.
The park provides a comprehensive tourist experience in the cultural and natural heritage of the region with over 200 archeological sites showing evidence of over 6,000 years of human existence.
In 1990, the 600-acre Theodore Roosevelt Area was made accessible to the general public, and there are trails for biking and hiking there. The boat ramp section at Cedar Point was established in the park in 1997. Private boats can launch here, and there are spots for fishing and birding as well.
Lake Clark National Park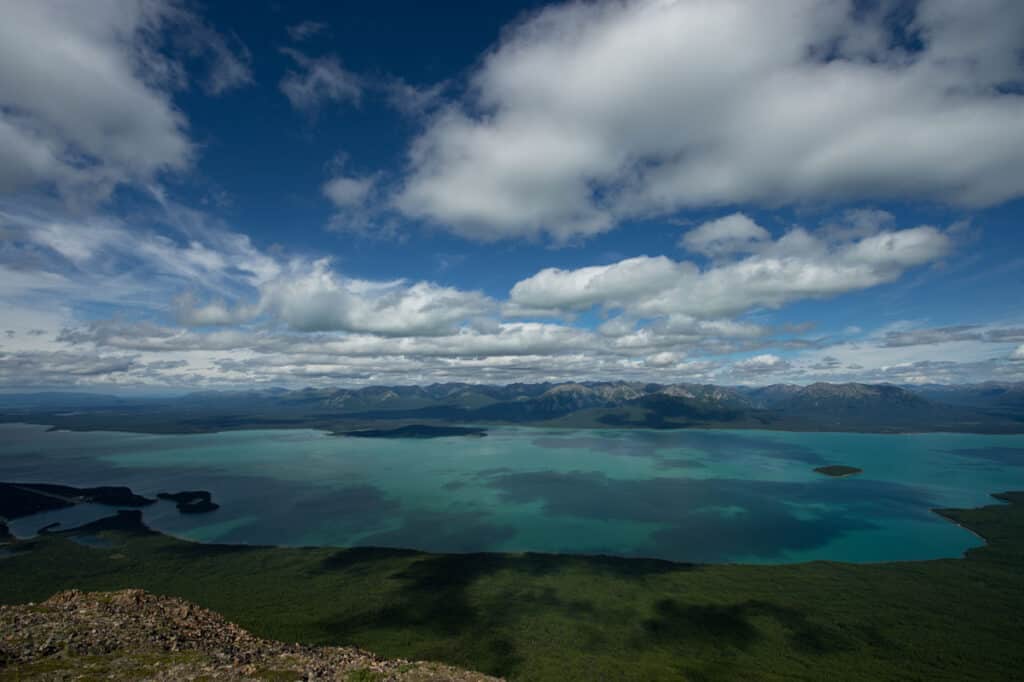 This park is a hidden gem with stunning landscapes, near proximity to Anchorage and Homer, and less than 20,000 annual visitors. Some of Alaska's most beautiful scenery may be seen in Lake Clark National Park and Preserve, which is only 100 miles southwest of Anchorage.
Incredible mountain ranges, glaciers, granite towers, roaring waterfalls, wave-washed beaches, and the state's biggest lake. The 5,625 square mile park extends from Cook Inlet's coastlines across the Chigmit Mountains to highlands blanketed in the tundra in southwest Alaska.
Beautiful Lake Clark, a 42-mile-long turquoise body of water encircled by mountains, serves as the park's focal point. Mount Iliamna and Mount Redoubt are located in the Chigmit Mountain Range, where the Aleutian and Alaskan Ranges converge. Mount Iliamna is 10,016 feet tall, and Mount Redoubt is 10,197 feet.
The meadow, lake, and foothill regions show evidence of glacially changed landscapes along either side of the Alps. Lower portions of the southwest region of the park are covered with forested areas, and white and black spruce comprise the majority of the coniferous trees. Mostly tundra can be found in the far north and west.
Yellowstone National Park
The nation's first national park, Yellowstone, provides genuinely one-of-a-kind experiences including magnificent hiking routes, breathtaking vistas, Old Faithful, and geysers that blast water 100 feet into the air.
Yellowstone National Park was discovered in 1872 and is primarily located in Wyoming. With millions of tourists each year, Yellowstone is still one of the nation's most visited national parks. Yellowstone has a length of approximately 3,500 miles and touches portions of Montana and Idaho.
Yellowstone National Park contains over 50% of the world's hydrothermal features, giving the impression that the ground is on fire. This authentically stunning national park is full of jaw-dropping scenery, from natural attractions like the Yellowstone Grand Canyon to fauna like America's largest herd of buffalo, brown bears, and wolves.
Don Edwards San Francisco Bay National Wildlife Refuge
A wildlife haven with 30,000 acres of refuge for millions of migrating birds and endangered animals can be found right in the middle of California's high-tech economy. The refuge was established in 1972 as a result of community action, and it offers chances for individuals to experience nature as well as vital habitats for rare and endangered animals.
Over 800,000 tourists are welcomed each year by miles of meandering trails. However, the wetlands tucked away in the heart of Silicon Valley weren't always this tranquil. Activists and environmentalists fought to preserve them for decades.
The second-largest metro area in terms of population west of the Mississippi River is the San Francisco Bay Area, which has a rich history. Staff members oversee intensive ecological training and community outreach initiatives to engage people with the refuge.
Kobuk Valley National Park
The Kobuk River's core section, the Great Kobuk Sand Dunes, which cover 25 square miles, as well as the Little Kobuk and Hunt River dunes, are all protected by Kobuk Valley National Park. Both wind and water have brought sand that was produced by the old glaciers' grinding activity to the Kobuk Valley.
Most of the southern Kobuk Valley is currently covered in dunes, which are naturally maintained by vegetation. Ice Age mammal fossils can be found on sand-filled river cliffs that can reach 150 feet in height.
Every year, during their northward and southward migrations, around 500,000 caribou pass through the Park. The Great Kobuk Sand Dunes' 25 square miles are covered in their footprints. The tall dunes are an artificial desert in the midst of a wetland ecosystem. The Kobuk River, which flows through the park for around 61 miles on the northern edge of the dunes, serves as a route for both people and animals.
Everglades National Park
Everglades National Park is an outdoor refuge where the grandeur and vulnerability of nature are always on show. It is located directly west of Miami's flashing lights. The River of Grass, a distant but easily accessible refuge, is located just outside Miami and spans 7,800 square miles of the area's rough terrain.
The third-largest national park in the lower 48 states, with its distinctive environment of mangrove swamps, tropical hardwood hammocks, freshwater grasslands, and dozens of bird, wildlife, and plant species, can be reached from Downtown Miami in just over an hour. Although Miami has a reputation for being chaotic, the Everglades are unquestionably wilder in the best way possible.
Alligators can almost always be seen laying out by the edge of the water. Kayak and canoe rentals, as well as hiking pathways, promote unhurried exploration. Several campgrounds provide warm places to stay if you intend to stay the night.
The photo featured at the top of this post is © Manamana/Shutterstock.com
---