Key Points
Darter fish are colorful and have lateral stripes that help them blend into rocky riverbeds for protection against predators.
Darter fish play an important role in their ecosystems by controlling populations of smaller prey species and providing a valuable food source for larger predators.
Climate change and habitat loss are major threats to darter fish, with several species listed as Endangered by IUCN Red List for Threatened Species.
Conservation efforts must focus on protecting vulnerable populations through measures such as restoring damaged ecosystems and implementing strict fishing regulations.
Etheostomatinae, commonly known as darter fish, is a subfamily of ray-finned fishes found in North and Central America. They inhabit rivers and streams with clean gravel or sand substrate, such as the Tennessee River, where they are natively endemic.
Darters have an interesting history. Some species were once believed to be "living fossils" due to their similarity to ancient fossilized remains. Darters range from two inches up to seven inches in length, depending on the species. They are carnivorous creatures that feed mostly on aquatic insects and invertebrates like crayfish, snails, worms, and other small organisms living in water bodies.
As members of the Perciformes order of fishes, they possess unique physical characteristics, including bright colors (often yellow or orange hues) along with lateral stripes running down their sides, which help them blend into rocky riverbeds for protection against predators like bass or catfish. Here are six beautiful types of darter fish. Let's discuss them all below!
6 Types of Darter Fish
Darter fish, also known as "sand perches," are found in freshwater habitats. They get their name from their habit of dashing through the water with quick movements that resemble a darting motion. Not only do they have interesting behavior when it comes to swimming, but they also display territorial behaviors by staking out territories and defending them against intruders. They will also form schools during spawning season for protection against predators.
1. Johnny Darters
Johnny darters (Etheostoma nigrum) are small, slender fish that live in freshwater streams and rivers. They have a pointed snout and two dorsal fins, the first one having spines. Their bodies are usually greenish-brown or golden-brown with black spots on their sides. There may also be yellow or pink stripes running along their back from head to tail. The males of this species can be recognized by the red margins of their anal fin during the spawning season.
Johnny darters feed mainly on insects such as midges and caddisflies, as well as some crustaceans and mollusks they find in the water column near them. They spawn between late spring to early summer when temperatures reach above 68 degrees Fahrenheit, laying up to 90 eggs per day over several days at depths of 1-10 feet, depending on water temperature, clarity, and flow rate. Johnny darters live for about five years but can survive longer in areas with colder temperatures because there is less competition for food sources in winter months compared to other warmer regions where there might be more prey, such as smaller fish species available year round.
2. Fantail Darters
Fantail darters (Etheostoma flabellare) are small freshwater fish native to the Eastern United States. They have a fan-shaped tail and can reach up to 4 inches in length. The body of these fish is typically silver, with yellowish spots on their sides and fins that may be outlined in bright orange or red.
Fantail darters live in swift, shallow streams and rivers, where they feed mainly on insect larvae, crustaceans, mollusks, worms, and other aquatic invertebrates. These fish prefer rocky habitats with plenty of vegetation for shelter but can also be found among gravel beds or sandy areas. Male fantail darters display brightly colored breeding colors during mating season, which lasts from late spring through early summer. During this time, they build nests near the water's edge using rocks as well as plants such as cattails or sedges to line them.
3. Tangerine Darters
Tangerine darters, or orange throat darters (Percina aurantiaca), are a species of fish native to the eastern United States. They have an olive-brown back with yellowish sides and white bellies and their namesake orange throat. The males also possess a bright red dorsal fin which is used during spawning season to attract mates. Tangerine darters prefer slow-moving water in streams and rivers over mud or sand bottoms, where they feed on small insects such as midge larvae, caddisflies, mayflies, aquatic worms, and crustaceans. These fish typically grow up to 4 inches long but can reach lengths of 6 inches when fully grown. They spawn from April through June by depositing eggs on submerged vegetation near shorelines or in crevices among rocks.
4. Rainbow Darters
Rainbow darters (Etheostoma caeruleum) are small fish found in North America and can be identified by their vibrant yellow, blue, and green hues. They grow up to 3 inches in length and inhabit shallow streams with gravel or sandy bottoms. Rainbow darters feed on insect larvae, crustaceans, mollusks, and other aquatic invertebrates. They spawn from late spring through early summer when the water temperature is around 63-68°F.
Male rainbow darters become more colorful during the spawning season as they compete for mates. Females choose males based on coloration rather than size or body shape. Because of its bright colors and small size, the rainbow darter has become a popular aquarium fish species among hobbyists due to its ease of care requirements.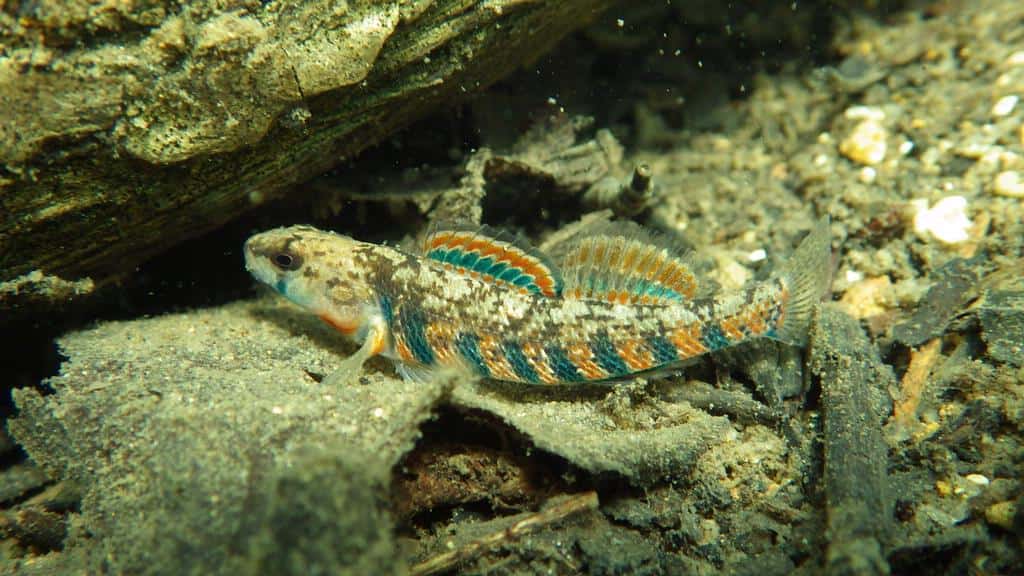 5. Slough Darters
Slough darters, also known as Etheostoma gracile, are small freshwater fish that can be found in the streams and rivers of the Appalachian Mountains. They typically grow to a length of about two inches and have an elongated body with a pointed snout and large eyes. Their coloring is typically yellowish-green or olive green with dark blotches. In addition to their attractive coloration, they have three long fin rays on both their dorsal and anal fins, which give them an elegant appearance when swimming in clear water.
These darters feed primarily on aquatic insect larvae such as mayflies and midges but will also eat some crustaceans like crayfish, which helps keep the ecosystem clean by controlling populations of these organisms. Slough darter populations are generally healthy, but they are threatened by habitat destruction due to mining activities in Appalachia. Therefore it is important for conservationists to work hard towards protecting this species so future generations can enjoy its beauty!
6. Greenside Darters
Greenside darters (Etheostoma blennioides) is a species of freshwater darter fish native to the Eastern United States. They typically inhabit rocky streams and rivers with moderate amounts of vegetation, as well as lakes and ponds. Greenside darters can reach lengths up to 4 inches and generally have olive-green backs with pale yellow sides. Some may even exhibit faint vertical bars along their sides. Greenside darters feed on aquatic insects, small crustaceans, snails, and other small invertebrates that they find near the bottom of their habitats. Males are known for having bright red fins during the spawning season, which makes them easy to distinguish from females at this time of the year.
Benefits to the Ecosystem
Darter fish are an important part of their ecosystems and provide many benefits. By controlling the populations of smaller prey species, they help ensure that food webs remain in balance. Their presence also provides a valuable food source for larger predators such as bass and catfish, helping to maintain healthy populations of these animals too. In fact, there are over 200 species of darter fish living in freshwater habitats around the world! They come in all sorts of shapes, sizes, and colors – from tiny two-inch-long dwarf pygmy darters to beautiful rainbow darters – making them fascinating creatures to observe.
Conservation
Climate change and habitat loss are two of the biggest threats to darter fish. As global temperatures rise, many species of darter will struggle to survive in their current habitats as they may not be able to adapt quickly enough. Additionally, due to the destruction of natural habitats from human-induced activities such as logging and urbanization, some species have seen a rapid decline in population numbers.
Currently, three species of darter fish – the Ozark bigeye (Ambloplites constellatus), the yellow cheek (Etheostoma moorei), and the bluebreast (Etheostoma camurum) – are listed as Endangered by IUCN Red List for Threatened Species, with several others also facing extinction. Conservation efforts must focus on protecting these vulnerable populations before it is too late. This includes measures such as restoring damaged ecosystems that provide suitable habitats for darters and implementing strict regulations regarding fishing practices that would reduce further population declines.
Summary of 6 Popular Types of Darter Fish
Johnny Darter – Etheostoma nigrum
Fantail Darter – Etheostoma flabellare
Tangerine Darter – Percina aurantiaca
Rainbow Darter- Etheostoma caeruleum
Slough Darter – Etheostoma gracile
Greenside Darter – Etheostoma blennioides
The photo featured at the top of this post is © Public domain / USFWS Fish and Aquatic Conservation, Flickr – License / Original
---