↓
Continue Reading To See This Amazing Video
Anglers in Virginia can enjoy freshwater fishing in the many scenic lakes and rivers as well as saltwater fishing off the capes and coast. Fishing in Buggs Island Lake (Kerr Reservoir) and the New River seem to produce some good-sized catches, as well as fishing off Virginia Beach. If you are out to set a new record, here are some of the records to beat. Read on to find out about the 10 biggest trophy fish ever caught in Virginia.
Freshwater Records
5) Muskie: 45 lbs 8 oz
The record-breaking fish was caught on the New River in southwestern Virginia. The New River starts in North Carolina and flows north through Virginia and into West Virginia. The biggest walleye, smallmouth bass, and muskie were all caught from the New River in Virginia. The muskie is one of the five biggest freshwater fish ever caught in the state.
The record holder for the biggest muskie goes to Shannon Hill, who caught a 45 lbs 8oz Muskie on June 1st, 2007. This is a good-sized Muskie but is about 5 pounds shy of the biggest muskie just caught in neighboring  Virginia. On March 19th, 2022, Luke King reeled in a 51-pounder below Burnsville Lake. Seems like there could be some rivalry brewing here!
4) Common Carp: 49 lbs 4 oz
Compared to Muskie, carp are full-bodied fish with distinct scales. According to the Virginia DWR, the best places to fish for carp are the Prince, Western Branch, and Claytor Lake. You can also find some good carp fishing in the Chickahominy, Potomac, and Rappahannock Rivers. The biggest common carp ever caught in Virginia was pulled from one of those popular lakes, Lake Prince. On June 25th, 1986, Jeff Graham caught an almost 50-pound carp. He's weighed in just shy of the 50-pound mark at 49lbs 4 oz.
3) Striped Bass: 53 lbs 7 oz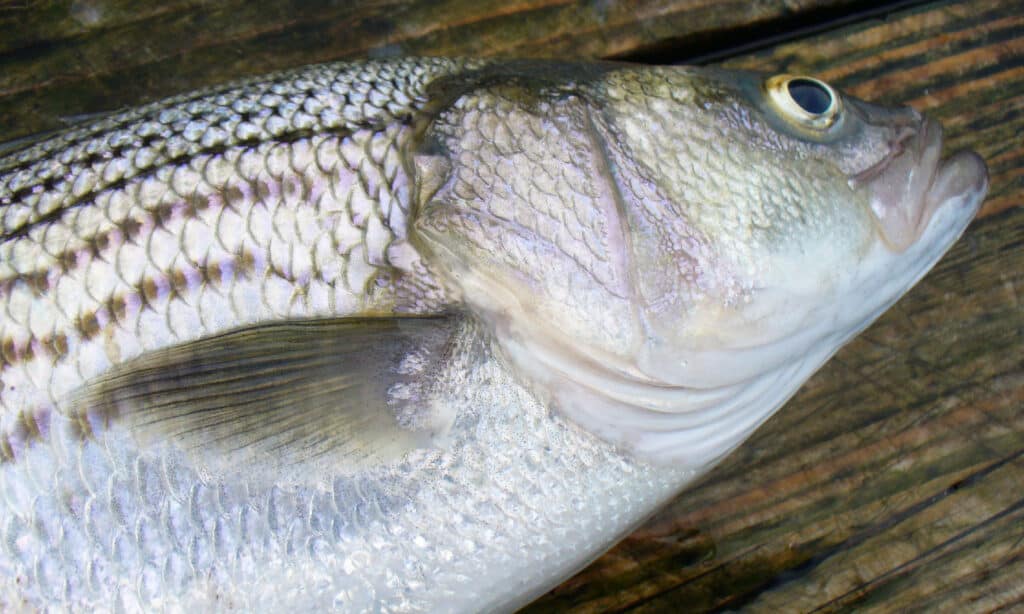 Our first record to break the 50-pound mark is the striped bass. Striped bass can be freshwater or saltwater fish and are in the temperate bass family (as compared to black basses like smallmouth and largemouth bass). The biggest freshwater striped bass to be caught in Virginia was caught by James B. Davis in the Leesville Reservoir. The reservoir is in central Virginia, about 140 miles west of Richmond. Davis' record striper weighed 53 lbs 7 oz, caught on March 16th, 2000. A 22-year-old record waiting to be beaten by the next lucky (or skilled) angler!
2) Flathead Catfish: 68 lbs 12 oz
Catfish are almost always on the list of "Biggest freshwater fish" in each state. Channel cats are the smallest, followed by flatheads, and then the biggest, blue cats. Catfish are considered both a sport fish and a tasty fish that fries up nicely for dinner (with a side of chips!).
The biggest flathead ever caught in Virginia was a 68 lbs 12 oz flathead from Lake Smith. Jeffery E. Dill caught this record-breaker on May 25th, 2018. His secret weapon? A fishing pole he reportedly got from Walmart for $20! Didn't seem to matter to this flathead. The Lake Smith/Lake Lawson Natural Preserve area in Virginia Beach, VA, is a popular place to fish, with 12,000 feet of shoreline to choose from.
1) Blue Catfish: 143 lbs
The biggest freshwater fish ever caught in Virginia is a massive blue catfish! Richard "Nick" Anderson bagged a 143 lbs blue cat on Buggs Island Lake on June 18th, 2011. The 29-year-old from Greenville, NC, was out fishing on Buggs Island Lake (also known as John H. Kerr Reservoir), which is on the border with North Carolina when he caught this blue cat on the Virginia side.
Another noteworthy blue catfish catch was a very recent Archery State Record Freshwater catch. Jason Emmel shot a 66 lbs 5 oz blue catfish with a bow and arrow to break the archery record on June 18th, 2022. Emmel was fishing on the Pamunkey River when he caught this beauty that measured 3 feet 6 inches long and had a girth of 35 inches. Mark your calendar for next June 18th, as that seems to be a lucky day for catching blue catfish!
Saltwater Records
5) Dusky shark: 673 lbs
When it comes to saltwater fishing, you can surf fish from shore, find a lucky pier to fish off or take out a charter boat for some deep-sea fishing. Sharks are often some of the biggest catches reported by anglers, with the Dusky shark being one of the more common catches. Dusky sharks have a classic shark look with a dusky coloration. They can be found as far north as Massachusetts and all the way down to Brazil.
The biggest dusky shark ever caught was a 673 lbs shark off the area called the southeast lumps. Two other record-breaking sharks were caught in this same area, a 131 great white and a tiger shark you will read about later. Michale J. Halperin caught this dusky shark in 1982.
4) Bluefin Tuna: 708 lbs
Bluefin tuna is a highly sought-after tuna for sushi and sashimi. Due to overfishing, many states regulate the fishing of Atlantic Bluefin tuna. The old record Bluefin tuna was a 606 lbs tuna caught by Chase Robinson in 2015, but just a couple of years ago, the record was broken by a 708 lbs Bluefin caught by Jake Hiles in the same area, SSE of Rudee Inlet. Get this, Robinson and Hiles are good friends, and Hiles was actually a crew member when Robinson made his catch back in 2015.
3) Mako shark: 728 lbs
Another 700+ pound catch was a mako shark caught off Virginia Beach by the Chesapeake Light Tower. Mako sharks are fast! Shortfin makos have been recorded at top speeds of 46 mph. Makes for an exciting fishing expedition for sure. The biggest mako ever caught in Virginia weighed 728 lbs and was caught in 1983 by Geoffrey H. Newbill.  
A record-breaking amberjack, although not one of the state's biggest fish overall, was also caught by the Chesapeake Light Tower. The biggest amberjack in Virginia was a 118 lb caught by Mark J. Roberts in 1986.
2) Blue Marlin: 1,093 lbs 12 oz
Now for a couple of trophy fish that break the thousand-pound mark! Talking about fast fish, marlins are some of the fastest fish in the sea. Marlins and swordfish often top the list of fastest fish, even faster than mako sharks. Blue marlins have a silvery blue back and white belly with a long sword-like snout. There are Atlantic blue marlins and Pacific blue marlins, with the Atlantic ones living off the coast of Virginia.
The biggest blue marlin ever caught in Virginia was a 1,093 lbs 12 oz caught in the Norfolk Canyon by angler Edward Alan Givens. This record has stood the test of time, dating back to 1978. How does this compare to the world's biggest Atlantic blue marlin ever caught? The world record goes to a 1,402 lbs 2oz blue marlin caught by Paulo Amorim in Vitoria, Brazil. Wow, around 300 pounds more than the Virginia one. That is a record catch!
1) Tiger shark: 1099 lbs 12 oz
Here is the other shark that was pulled from the southeast lumps off the coast of Virginia. John W. Thurston Jr. was lucky to snag a 1099 lbs 12 oz tiger shark on one of his fishing trips in 1981. Tiger sharks have dark grey stripes similar to tiger stripes. Because they prefer shallow waters, they have had several incidents with humans, including several fatal attacks. In general, shark attacks are rare, but tiger sharks, bull sharks, and white sharks are three of the most common sharks involved in attacks. While you can legally fish for tiger sharks, the state of Virginia lists the great white shark as a "Commercially prohibited shark." After 41 years, it might be time for a new state tiger shark record.
Up Next
---
The Featured Image
---
Sources

Virginia Department of Wildlife Resources, Available here: https://dwr.virginia.gov/fishing/trophy-fish/state-records/
Virginia Marine Resources Commission, Available here: https://mrc.virginia.gov/vswft/2020/MRC_2020_VSWFT_Brochure.pdf
Virginia Marine Resources Commission, Available here: https://mrc.virginia.gov/vswft/state_records/VA-state-record_bluefin-tuna_02-16-20.pdf
Field and Stream, Available here: https://www.fieldandstream.com/fishing/west-virginia-record-muskie/
International Game Fish Association, Available here: https://igfa.org/igfa-world-records-search/?search_type=CommonNameSummary&search_term_1=Marlin%2C+blue+%28Atlantic%29