Birdwatching originated from the efforts of conservationists in the late 1800s when a growing concern emerged from hunting birds as a means of using their feathers for the fashion industry. Appreciating birds in their natural habitat became a pastime that grew in popularity through the 20th century. Various publications began to capture the attention of everyday readers, and with developments in binoculars, it became easier and more accessible for anyone to partake in the growing pastime.
Birdwatching, or birding, has captured the hearts of many, and for most, it has become a lifelong passion. Often, enthusiasts will find themselves traveling to new cities, states, or even countries in hopes of capturing the sights and sounds of their beloved birds. Being the second-largest state in the U.S. by both population and size, Texas has numerous locations throughout the state that are perfect for experiencing the joy and passion of birdwatching. We've compiled a list of the best spots for capturing the various native and migratory birds which call Texas their home. 
1. Aransas National Wildlife Refuge
Established as a refuge in 1937, Aransas National Wildlife Refuge provides a crucial breeding ground for the last wild flock of endangered North American whooping cranes. This land provides a breeding haven for these migratory birds as they make their way from Canada to the warmer Texas climate, where they spend their winters. Dating back more than 120,000 years, this barrier island was created during the Pleistocene.
Today, more than 56,000 acres of natural area, known as the Matagorda Island Unit, help to conserve endangered species and support the national migratory bird management program. In addition to whooping cranes, more than 400 species of birds and other wildlife depend on this thriving and protected landscape, such as alligators, coyotes, reddish egrets, and Kemp's Ridley sea turtles. Whether you have a few hours or an entire day, there are numerous activities and opportunities for birdwatchers, young and old, to enjoy this diverse and unique wildlife refuge. 
 2. Laguna Atascosa National Wildlife Refuge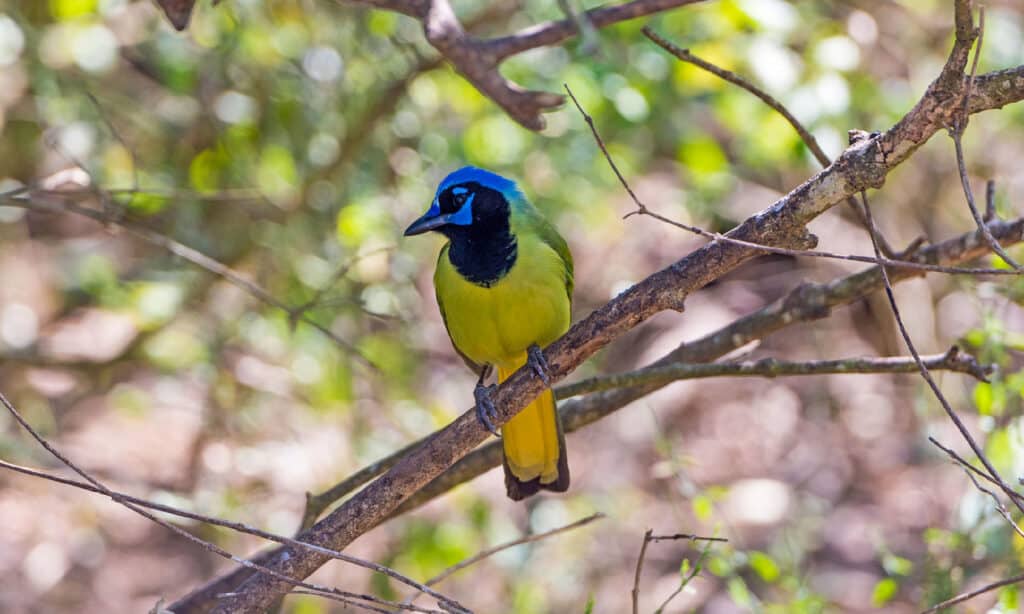 Laguna Atascosa National Wildlife Refuge (LANWR) is a birdwatcher's paradise, with the most documented species of birds compared to any other refuge in the National Wildlife Refuge System. Established in 1946, the sprawling 120,000 acres provides a habitat for migratory birds and wintering waterfowl, as well as a diverse array of reptiles, mammals, plants, and butterflies. The Bahia Grande Unit, located between Laguna Vista and Brownsville, was acquired by the LANWR in 2000 and contains 21,700 acres, half of which are wetlands.
Previously dry for nearly 70 years, restoration efforts were successful in linking channels to the basin from the previously cut-off Brownsville Ship Channel, Laguna Madre, and the Laguna Larga, all of which helped restore the tidal flow of the ecosystem. Additionally, the LANWR secured the South Padre Island Unit in 2000, which includes 24,532 acres from the northern portion of South Padre Island. LANWR is also home to the largest population of endangered ocelots in the United States. You can hike or bike the many trails, enjoy fishing and boating, as well as camp at their various sites. There is no shortage of opportunities to explore and experience the many diverse species which make this refuge their home. 
3. Mitchell Lake Audubon Center
Located south of downtown San Antonio, TX, is the Mitchell Lake Audubon Center, which is the final critical stopover for migratory birds before reaching the Texas coast. More than 98% of migratory birds in the U.S. will pass through this wetland habitat, making it the perfect destination for birdwatchers. Established in 2004, the 1,200 acres contain Mitchell Lake, upland habitats, as well as wetlands and ponds.
Over 300 species of birds have been documented, including shorebirds as wintering migratory fowl. The 3 distinct bodies of water: a lake, polders and basins, stormwater ponds, and drainage, all support the abundance of animal and plant life. In addition, the biodiversity of Michelle Lake Audubon Center also includes mammals, reptiles, amphibians, and a variety of plant species. With various nature educational programs, trails, and tours, birdwatchers can learn and enjoy all the center has to offer.
4. Big Bend National Park
In southwest Texas, bordering Mexico, lays the expansive 801,200 acres of Big Bend National Park. Due to the arid landscape of the Chihuahuan Desert, you might not expect many opportunities for birdwatching. However, the Rio Grande and its floodplain, along with the Chisos, provide a rich habitat. Over 75% of sightings occur near the river and springs. The riparian corridor at Rio Grande Village has documented over 305 species in this area alone, including the green kingfisher, northern cardinal, sora, and golden-fronted woodpecker.
Hiking the Window Trail through the Chisos will yield over 300 species of birds, including highland species and one of Big Bend's specialty birds, the Colima warbler. Additionally, the Cottonwood Campground, which is located near the river corridor, boasts a habitat of mesquite thickets and cottonwood trees. Over 248 species of bird have been recorded in this area, such as the great horned owl, vermilion flycatcher, yellow-rumped warbler, and the black phoebe. 
5. Lake Tawakoni State Park
Lake Tawakoni State Park, located on the shores of Lake Tawakoni, is situated approximately 50 miles outside of Dallas. It consists of 376 acres of woodlands and prairies. As the primary water source for Dallas, it's both a popular location for recreational and birdwatching. Boasting over 200 miles of shorelines, more than 340 species of birds have been documented at the lake.
During spring, you can find migratory flycatchers and warblers; in winter, there are pine warblers and rusty blackbirds. Around the Marina South of the park, you can see a variety of ducks, grebes, and loons. Various other species are found seasonally and along the woodlands of the Sabine River. Whether you're visiting for the day or staying at one of the many campsites, there are ample opportunities to enjoy the diverse species of birds that Lake Tawakoni State Park offers.
6. Anahuac National Wildlife Refuge
Consisting of over 34,000 acres, the Anahuac National Wildlife Refuge is a paradise for birdwatchers regardless of the season. Many passerine migrants and warblers will stop here to rest and refuel after their long trek from the Yucatán Peninsula. Large groups of raptors and waterfowl are found during the fall and winter months, such as owls, falcons, and bald eagles. Year-round avian residents include egrets, herons, ibis, and over 15 species of ducks, such as black-bellied whistling.
The abundance of flora and fauna provide countless opportunities to see migratory shorebirds, songbirds, and waterfowl throughout the refuge, with locations such as Smith Point, Willows Trail, and Shoveled Pond being a favorite amongst birdwatchers. 
7. Hornsby Bend Bird Observatory
Located in southeast Austin and a program of the Austin Water Utilities Center of Environmental Research, Hornsby Bend Bird Observatory is a prime destination for birdwatching and an integral part of Austin's sustainability efforts through studies in recycling and biosolids. Within the 1,200 acres are fields, four ponds, and heavily wooded areas along the Colorado River. There have been over 350 species recorded, and on any given day, a birder can spot 50 species.
The drying basins offer opportunities to see shorebirds. The wooded area is excellent for spotting migrant songbirds. The fields typically present raptors and more rare species. It should be noted the use of the land is dependent upon visitors respecting all rules and restrictions, and in the summer months, it can be particularly strong-smelling. Hornsby Bend Bird Observatory has monthly guided bird walks and second Saturday bird surveys, which offer wonderful recreational and educational opportunities. 
8. Santa Ana National Wildlife Refuge
The Santa Ana National Wildlife Refuge, while small, is considered the jewel of the wildlife refuge system. Strategically positioned where the arid climate of the great plains and subtropical climate of the Gulf Coast intersect, over 95% of the original semitropical forest habitat remains, creating a thriving, biologically diverse ecosystem.
The over 2,000 acres are positioned along two major migratory routes for various species whose territory stretches into Central and South America. Countless birds traveling from the Central and Mississippi Flyways pass through this riparian woodland which accommodates 400 varieties of birds and various other reptiles, mammals, and the endangered ocelot. It is also a haven for nearly 50% of all butterfly species in the U.S.
9. Hagerman National Wildlife Refuge
Established in 1946 to be a protected habitat for migratory birds and various native flora and fauna, the Hagerman National Wildlife Refuge includes over 11,300 acres of grasslands, creeks, marshes, and forested uplands. As a breeding ground and a refuge for migratory birds, over 300 species of birds and various wildlife have been recorded.
Most of the refuge is a part of the Blackland Prairie Ecosystem and provides significant ecological importance and vegetation diversity. Every Tuesday, a refuge bird census is conducted by a Master Naturalist, whose findings are reported to the Cornell Lab of Ornithology for further research and protection efforts. Hagerman National Wildlife Refuge offers various educational programs to educate and engage birdwatchers and hosts over 230,000 annual visitors.
10. Big Thicket National Preserve
Comprised of a variety of habitats, Big Thicket National Preserve is a biologically diverse ecosystem consisting of 113,122 acres and includes a large portion of the Piney Woods. Established in 1974, many migratory birds cross through Big Thicket on their bi-annual treks through the Central and Mississippi flyways.
Some species you will commonly see include yellow-billed cuckoo, Yellow-throated warblers, eastern bluebird, and hermit thrush. Sites within Big Thicket favored by birdwatchers include the 15-mile Turkey Creek Trail and a two-and-a-half-mile Kirby Trail. There are countless opportunities year-round to view the over 300 documented species of birds, of which 74 are known to nest within the reserve. 
Birds You Should Know in Texas
With over 600 species of birds, Texas has more variety of birds than any other state in the U.S. Below are some of the most common species you may spot.
Altamira oriole
Black-capped vireo
Brown thrasher
Carolina chickadee
Carolina wren
Great kiskadee
Green jay
Green kingfisher
Indigo bunting
Killdeer
Long-billed thrasher
Olive sparrow
Ovenbird
Painted bunting
Pyrrhuloxia
Scissor-tailed flycatcher
Wood thrush
Endangered Birds in Texas
Attwater's greater prairie chicken
Black-capped vireo
Eskimo curlew
Golden-cheeked warbler
Interior Least Tern
Northern Aplomado falcon
Red-cockaded woodpecker
Red-crowned parrot
Rufa red knot
Southwestern willow flycatcher
Western yellow-billed cuckoo
Summary of Texas's 10 Best Bird Watching Spots This Summer
| Rank | Location |
| --- | --- |
| 1 | Aransas National Wildlife Refuge |
| 2 | Laguna Atascosa National Wildlife Refuge |
| 3 | Mitchell Lake Audubon Center |
| 4 | Big Bend National Park |
| 5 | Lake Tawakoni State Park |
| 6 | Anahuac National Wildlife Refuge |
| 7 | Hornsby Bend Bird Observatory |
| 8 | Santa Ana National Wildlife Refuge |
| 9 | Hagerman National Wildlife Refuge |
| 10 | Big Thicket National Preserve |
Up Next:
More from A-Z Animals
---
The Featured Image
---
Sources

TPWD, Available here: https://tpwd.texas.gov/huntwild/wild/wildlife_diversity/nongame/listed-species/birds.phtml
FWS, Available here: https://www.fws.gov/refuge/aransas
National Park Service, Available here: https://www.nps.gov/bith/learn/nature/birds.htm
Friends of Hagerman, Available here: https://friendsofhagerman.com/Birds