While they are often grouped together into the same category, there are a number of differences between a succulent vs cactus. But what might some of these differences be, and what truly separates these plants from each other? Both of these popular houseplant varieties are beloved for their ease of care and attractive design, but are they truly interchangeable in terms of their similarities? 
In this article, we will compare and contrast succulents with cacti so that you can fully understand the differences between them. We will go over what they look like as well as the regions that they prefer to grow in, and what they are typically used for. Let's get started and talk all about cacti and succulents now! 
Comparing Succulent vs Cactus
| | Succulent | Cactus |
| --- | --- | --- |
| Scientific Classification | Roughly 60 different plant families have succulent varieties associated with them | Cactaceae |
| Description | Found in countless different shapes and sizes, but all parts of the plant are capable of storing water, including the leaves, roots, and stems. These components appear more swollen or full of water compared to the average plant, and the plant may be covered in small hairs or spines. Rubbery or fleshy in texture, though this varies | Found in a number of shapes and sizes, but all cactus varieties have spines. These spines range in size, thickness, placement, and frequency on the plant. Most cacti have a succulent-like stem or base. Beautiful flowers grow in many varieties, but only once per year. Most cacti do not have leaves but have unique areoles instead, which grow where spines will be |
| Uses | Extremely popular houseplant and ornamental plants in gardens; some succulents are rare and collected. Very rarely used medicinally or as food, except for aloe plants | A popular ornamental plant, but also extremely useful for food, psychoactive therapy, and even natural fencing or protective barriers |
| Origin and Growing Preferences | Native to Africa, though varieties exist around the world. Growing habits differ depending on the variety, but most succulents are at risk of being overwatered as well as overexposed to the sun | Native to North and South America, fossil records for cacti are nearly nonexistent; prefers dry regions and sandy soils, as well as completely drying out between waterings. Some varieties may need more shade than others |
| Special Features and Fun Facts | Succulents successfully grow on each and every continent, save Antarctica! | Cacti have been found growing in some of the driest regions on Earth, including the Atacama Desert! |
Key Differences Between Succulent vs Cactus
There are a few key differences between succulents and cacti. For example, cacti are a specific plant family, while succulents belong to multiple plant families. In addition, cacti rarely have leaves, while succulents have a number of varieties with leaves. The average succulent is typically only used as a houseplant, while cacti have a variety of other uses, including culinary ones. 
Let's go over all of these differences in more detail now.
Succulent vs Cactus: Classification
While it may surprise you to hear it, succulents and cacti are classified very differently. All cactus varieties belong to the Cactaceae family, while succulents belong to a number of different plant families. You could also argue that most cacti varieties are succulents, while not all succulent varieties are cacti. This is because the term succulent tends to address the way a plant stores water and grows in environments with very little moisture, rather than a specific type of plant. 
Succulent vs Cactus: Description
Given that there are countless varieties of both succulents and cacti, it can be extremely difficult to tell them apart. However, there are a few distinguishing features you can keep an eye out for if you are curious whether you are about to plant a succulent or cactus in your garden. For example, most cacti varieties do not have leaves, while the majority of succulents do. 
In addition, nearly all cacti have spines or spikes on them somewhere, while succulents rarely do. Some succulents may have hairs or small spines on them, but they remain rubbery in texture, while most cacti are too spiny to touch. Finally, cacti have unique nubs known as areoles that precede spike growth, while succulents do not have this. You can tell a succulent apart from other plants if the leaves or stem are swollen with water. 
Succulent vs Cactus: Uses
There are some distinct differences in the average use of a succulent versus the use of a cactus. For example, both of these plants are popular as house plants or in backyard landscaping, given their hardiness and moisture resistance. However, succulents are typically only used in an ornamental fashion, while cacti have practical uses. Many people use cacti varieties as fences or protection, given the spines and spikes found on these plants. 
In addition to this, cacti are frequently consumed or used as a psychoactive drug, while succulents are not consumed or used in any other fashion. However, aloe vera is an extremely popular variety of succulent, used both medicinally and in cuisine. Comparatively, there is no competition between succulents and cacti when it comes to culinary or edible uses! 
Succulent vs Cactus: Origin and How to Grow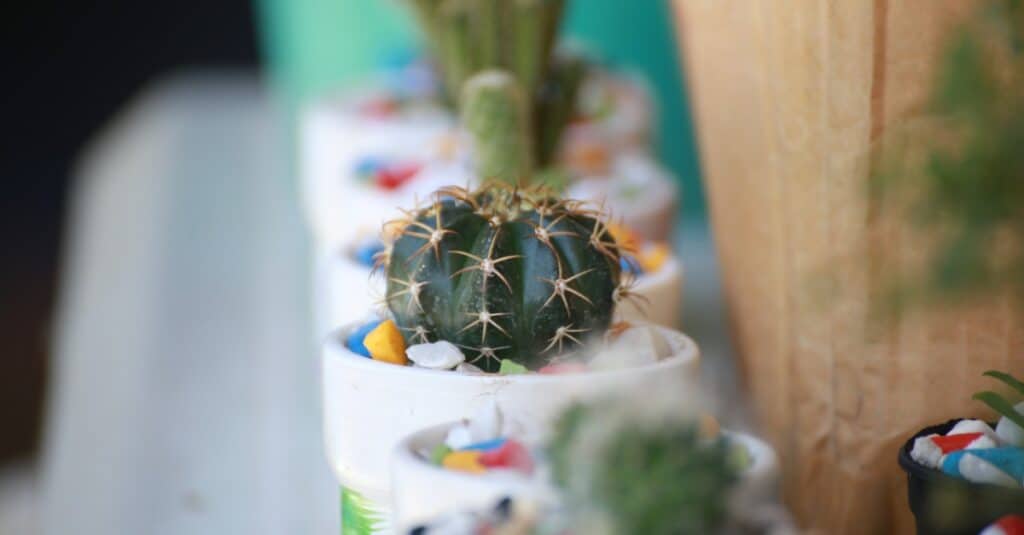 An interesting thing to note about succulents and cacti is their origins and how they best grow. For example, succulents are native to Africa though there are varieties found everywhere except Antarctica, while cacti are native to both North and South America. Depending on the specific variety you have, most cacti and succulent varieties thrive on less moisture than the average house plant. You should always make sure that your cacti or succulent has the opportunity to dry out fully before watering. 
Succulent vs Cactus: Special Features
Given their overall popularity and ease of growing, succulents thrive around the world, in a number of different varieties. They do not grow in Antarctica, but they grow outdoors literally everywhere else on the planet. Cacti are similar in that they thrive in environments that rarely keep plants well. In fact, cacti grow in the Atacama Desert, one of the driest and hottest regions on Earth!
Up Next:
More from A-Z Animals
---
The Featured Image
---