Getting a dog to keep your cat company while at work is an excellent idea! When you get home, you'll be greeted by two fluffy friends eager to play and cuddle!
However, choosing a dog breed that's good with cats is of utmost importance. Cats won't like all dog breeds around them. For instance, some dog breeds have strong herding instincts, meaning they'll spend their whole day chasing your cat around the house. This doesn't mean they'll hurt the cat, as long as they're properly introduced to each other. However, we're almost sure your cat will neither appreciate nor tolerate this.
On the other hand, if you have already chosen a dog breed and you're worried it won't get along well with your cat, you should remember that early training and socialization are crucial. Moreover, not all herding dogs have powerful instincts. Some have milder temperaments. Still, even the breed with the strongest predatory instincts can be trained if you're 100% up for it! All you need is perseverance and patience!
If you haven't decided on a dog breed yet, we've compiled a list of the best dog breeds that your cat will love!
1. Beagle
Beagle
Size
Height: 13 – 16 inches
Weight: 20 – 25 pounds
Coat
Short-haired
Life expectancy
12 – 15 years
Trainability
Eager to please but get bored rapidly
Beagles are small scent-hound breeds, meaning they primarily hunt by scent, not sight. These dogs have large eyes and long, soft ears. Most beagles are bicolored, having large black areas and brown shades. If the beagle is tricolored, it will have a white base color and spots of other colors, including light brown, dark brown, or black.
Beagles are friendly – not aggressive, but also not fearful. They love having someone to play with and are very sociable with strangers if early socialization isn't neglected. Moreover, they are intelligent, determined, and single-minded, which makes training sessions challenging. While they're eager to please their pet parents, eagles easily get bored and distracted.
On the other hand, they're great with kids and other animals.
2. Collie
Collie
Size
Height: 22 – 26 inches
Weight: 50 – 75 pounds
Coat
Short or long
Life expectancy
12 – 14 years
Trainability
Easy to train
Although collies are herding dogs, they are also very affectionate, gentle, loyal, and love spending time with children. Some collies extend these feelings to other dogs and cats. Moreover, they're smart and enjoy learning commands and pleasing their owners. If you plan to get a collie, you should use positive teaching methods.
However, since there are many types of collies, you should check the temperament and traits of the one you're getting. Border collies, for example, are very active dogs that need constant attention and exercise. Other collies, on the other hand, are more "relaxed."
3. Basset Hound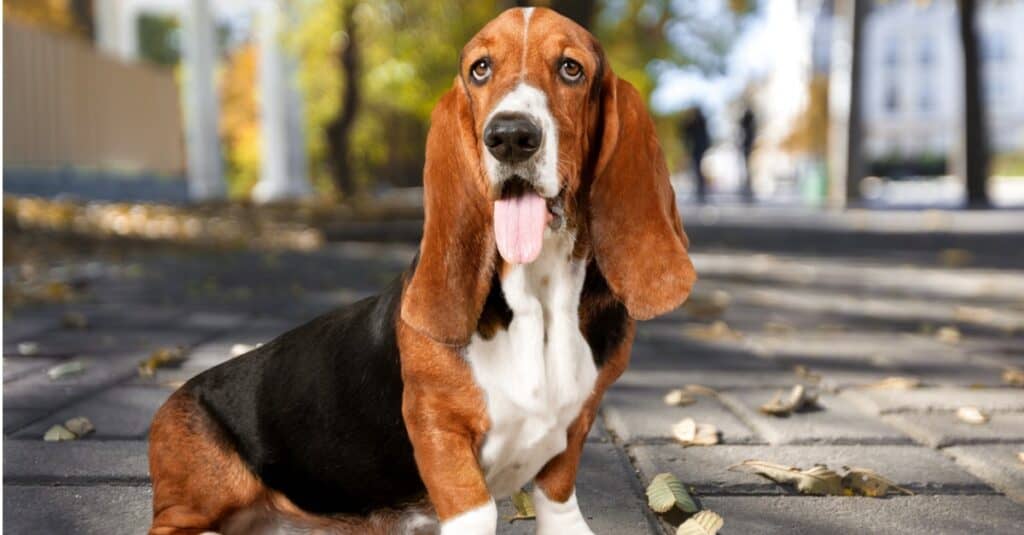 Basset Hound
Size
Height: 11 – 15 inches
Weight: 45 – 75 pounds
Coat
Smooth and short
Life expectancy
12 – 13 years
Trainability
Eager to please but stubborn
Basset hounds are short-legged scent hounds. Most basset hounds are bicolored or tricolored. They have a hanging skin structure and smooth, short coats. They are friendly dogs that will love a good playing session with their owners and other pets!
On the other hand, basset hounds are very stubborn. If you're planning to get one, gather all the patience you have, as you'll definitely need it during your training sessions!
4. Golden Retriever
Golden Retriever
Size
Height: 20 – 24 inches
Weight: 55 – 75 pounds
Coat
Flat or wavy double coat
Life expectancy
12 – 13 years
Trainability
Very easy to train
The golden retriever is a medium-sized dog with a long, flat, or wavy outer coat and a dense, weather-resistant undercoat. It can be yellow, gold, or cream.
Golden retrievers are intelligent and very affectionate. They're great with kids and other pets, including cats, as they're gentle, calm, and biddable. Golden Retrievers are among the easiest breeds to train, as they're eager to please their owners.
Furthermore, they're pretty slow and don't require much exercise, so they won't chase your cat around the house all day! They'll rather spend the time together cuddling and sleeping!
5. Papillon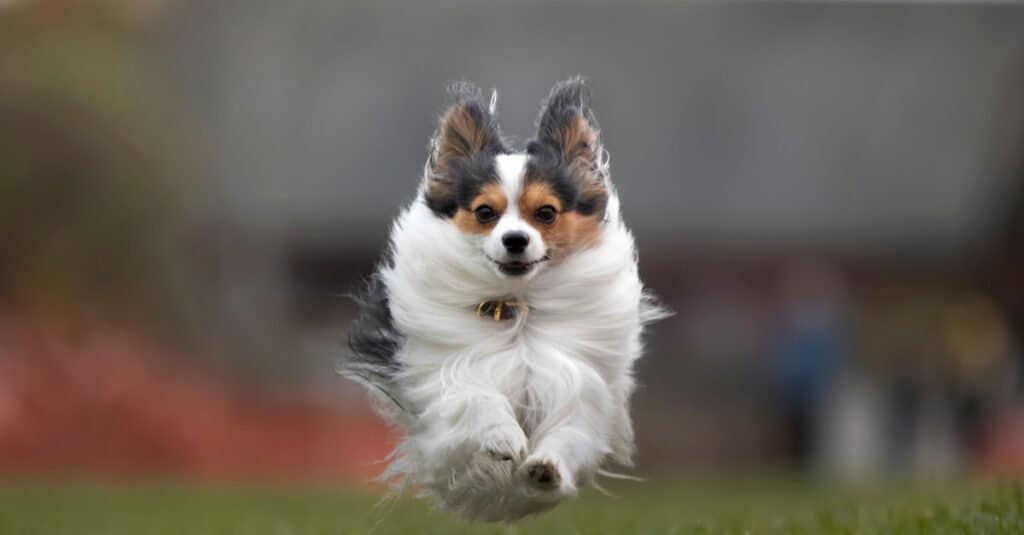 Papillon
Size
Height: 8 – 11 inches
Weight: 7 – 10 pounds
Coat
Straight and long
Life expectancy
12 – 15 years
Trainability
Very easy to train
Papillon dogs are toy spaniels with a butterfly-like look provided by their distinctive ears. These dogs are intelligent and eager to learn new commands and tricks. They have nothing against strangers, children, or other pets but may be somewhat reserved around them. However, if you devote time to socialization and training, they'll love spending time with the other fluffy ones! Once they get used to the household, papillons will join any fun activities, as they're very playful!
6. Pug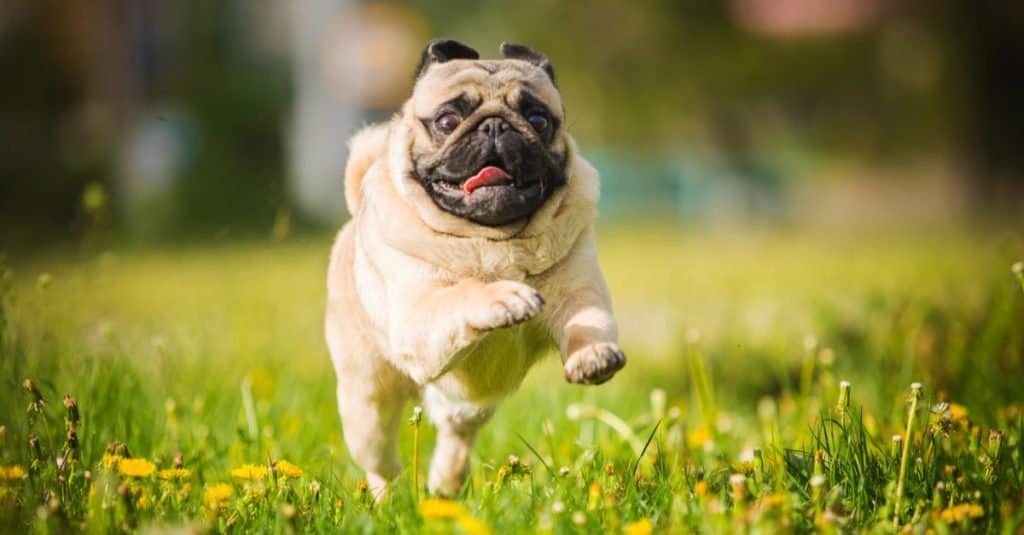 Pug
Size
Height: 10 – 13 inches
Weight: 14 – 18 pounds
Coat
Short, glossy coats
Life expectancy
13 – 15 years
Trainability
Easy to train
Pugs are known for their wrinkly, short-muzzled faces. They have glossy coats that are usually light brown. These dogs are strong-willed but very affectionate and loyal. Moreover, they love playing with children, so they'll definitely enjoy your cat's company, too! Besides this, pugs are very intuitive, sensitive, and eager to please their owners.
However, what makes them perfect for your cat is that they love sleeping, napping, and cuddling!
7. Labrador Retriever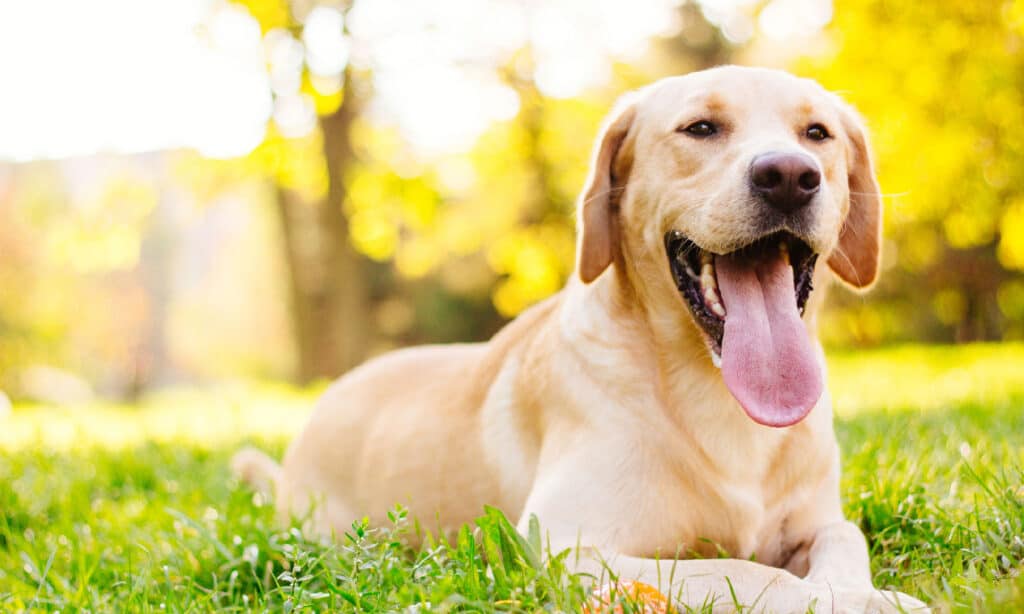 Labrador Retriever
Size
Height: 21.5 – 22.5 inches
Weight: 55 – 80 pounds
Coat
Short, dense double coat
Life expectancy
10 – 12 years
Trainability
Very easy to train
Labrador retrievers are excellent family dogs! They're among the most affectionate dogs worldwide and love playing with children and other pets! They're intelligent, willing to learn new tricks, and eager to please their pet parents. However, since they have high energy levels, it is important to start the training sessions early and introduce them to different people and environments.
8. Bulldogs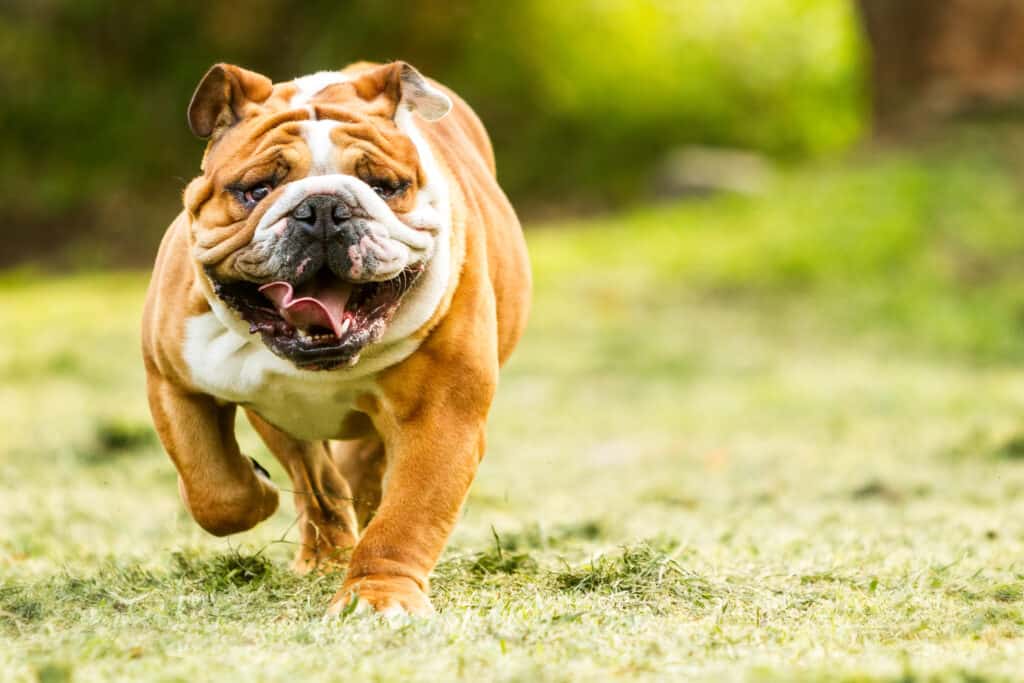 Bulldogs
Size
Height: 14 – 15 inches
Weight: 40 – 50 pounds
Coat
Short and flat
Life expectancy
8 – 10 years
Trainability
Easy to train, but stubborn
Bulldogs are great companion dogs. They have short, flat coats that can be red, white, fawn, brindle, or piebald. They have wide heads and shoulders and thick folds of skin on the brow. Bulldogs are also distinguished by their hanging skin under the neck, drooping lips, and pointed teeth.
Bulldogs aren't considered aggressive. They're friendly but have a stubborn nature. On the other hand, they're widely known for their tendency to have strong connections with children and other pets.
9. Cavalier King Charles Spaniel
Cavalier King Charles Spaniel
Size
Height: 12 – 13 inches
Weight: 12 – 18 pounds
Coat
Medium-length silky coats
Life expectancy
12 – 15 years
Trainability
Easy to train
Cavalier King Charles Spaniels are toy spaniel dogs. They have medium-length silky coats. Some coats may be slightly wavy.
These dogs are very affectionate and playful. They're easy to train, thanks to their patience and eagerness to please. Most Cavalier King Charles Spaniels' parents said they're very friendly with children and other pets and adapt easily to different environments and locations. While they love running around, playing, and exercising, they won't mind just spending time cuddling with their families.
On the other hand, they have the instinct to chase things around, so it's essential to train them not to disturb your cat. We all know that cats are the queens of the house!
Summary of 9 Dog Breeds That Are Good With Cats
If you have a cat and want to add a dog to your family – you can't go wrong with these breeds:
| Rank | Dog Breed |
| --- | --- |
| 1 | Beagle |
| 2 | Collie |
| 3 | Basset Hound |
| 4 | Golden Retriever |
| 5 | Papillon |
| 6 | Pug |
| 7 | Labrador Retriever |
| 8 | Bulldogs |
| 9 | Cavalier King Charles Spaniel |
The photo featured at the top of this post is © Burin P/Shutterstock.com
Secure a Lifetime of Wagging Tails: Get Pet Insurance!
Did you know some emergency surgeries for dogs can run upwards of $5,000? Don't put your dog or your wallet at risk! Click the button below to get a free and instant quote on a comprehensive plan for your pup.
A-Z Animals may earn a small commission from using this service.
Ready to discover the top 10 cutest dog breeds in the entire world?
How about the fastest dogs, the largest dogs and those that are -- quite frankly -- just the kindest dogs on the planet? Each day, AZ Animals sends out lists just like this to our thousands of email subscribers. And the best part? It's FREE. Join today by entering your email below.
---
Sources

American Kennel Club, Available here: chttps://www.akc.org/expert-advice/lifestyle/dogs-that-are-good-with-cats/
American Kennel Club, Available here: https://www.akc.org/dog-breeds/cavalier-king-charles-spaniel/
American Kennel Club, Available here: https://www.akc.org/dog-breeds/bulldog/
The Kennel Club, Available here: https://www.thekennelclub.org.uk/breed-standards/hound/beagle/