Fishing is almost synonymous with Massachusetts, and the coastal state has a long history of people earning a living on the water. Fishing is also a popular pastime in the region. Fortunately, people that enjoy freshwater fishing can also reap the benefits of traveling to Massachusetts since it has so many large lakes. Discover the 8 best fishing lakes in Massachusetts, see where they're located, and learn what fish are waiting for anglers to catch them!
1. Webster Lake
A lot of people know Webster Lake because of its official name, Lake Chargoggagoggmanchauggagoggchaubunagungamaugg. However, the lake is located in Webster, a town in Worcester County, Massachusetts, so that name will suffice.
Webster Lake is located in the southern and central part of the state, close to the border with Connecticut. The lake has a surface area of 1,442 acres. While it's not a huge lake, the body of water still contains a great number of different fish.
Specifically, people often fish in this lake in search of:
Smallmouth bass
Rainbow trout
Black crappie
The lake contains many other species of fish, too. People that come to this lake can fish from the shoreline, launch a boat, or even rent a boat. The accessibility of Webster Lake makes it one of the best fishing lakes in Massachusetts.  
2. Lake Monomonac
Lake Monomonac is in north-central Worcester County. The lake spreads across the borders of both New Hampshire as well as Massachusetts. About 183 acres of the lake lie in Massachusetts, more than enough for people to fish. People come to this artificial lake for fishing, boating, and swimming. So, the water may be crowded if visitors crowd one area.  
Anglers can catch a variety of fish in these waters, including:
White perch
Black crappie
Smallmouth bass
Largemouth bass
This lake is easy to reach. However, you need to follow the rules for putting a boat in the water and fishing since both are regulated in the area.  
3. Quabbin Reservoir
Quabbin Reservoir is a great place for anyone that enjoys fishing in massive bodies of water. This reservoir is the largest lake in Massachusetts! The lake has a surface area of about 39 square miles, meaning that there are plenty of places to enjoy the water.
Typically, people go to the reservoir for fishing, boating, and hiking. However, launching boats at this site is regulated to prevent the spread of any invasive species. Moreover, fishing is only allowed in certain parts of the reservoir.
In the places where a person can fish, they can expect to catch a variety of species like:
Lake trout
Landlocked Atlantic salmon
Brown trout
Quabbin Reservoir is a good place to go fishing. It's also a great area for wildlife to flourish. The forests near the reservoir are filled with a wide assortment of different animals including bald eagles, moose, black bears, and coyotes.
4. Lake Cochituate
Lake Cochituate is located in Middlesex County in the eastern central part of the state. Originally, the lake was constructed as a reservoir, but it's now just recreational water. The lake is made up of three different ponds comprising a surface area of about 1 square mile.
While this lake is not the largest in the state, many fish live in its water. Some of the ones that people love to catch the most are:
Yellow perch
Black crappie
Pumpkinseed
Largemouth bass
Aside from being a good lake in which to catch fish, the water is perfect for swimming and boating.
5. Norton Reservoir
The Norton Reservoir is a smaller reservoir that covers just 589 acres in Bristol County. This impoundment is smaller and shallower than other lakes on this list. However, it's also easier to get to than others given its location in the town of Norton.
The reservoir has a launching ramp for boats as well as many places for people to fish on the shore. At this lake, people can catch:
Chain pickerel
White Perch
Northern Pike
Largemouth Bass
The variety of fish in this body of water attracts anglers to this reservoir. The body of water is located in the southeastern portion of Massachusetts, not far from Rhode Island.
6. Wachusett Reservoir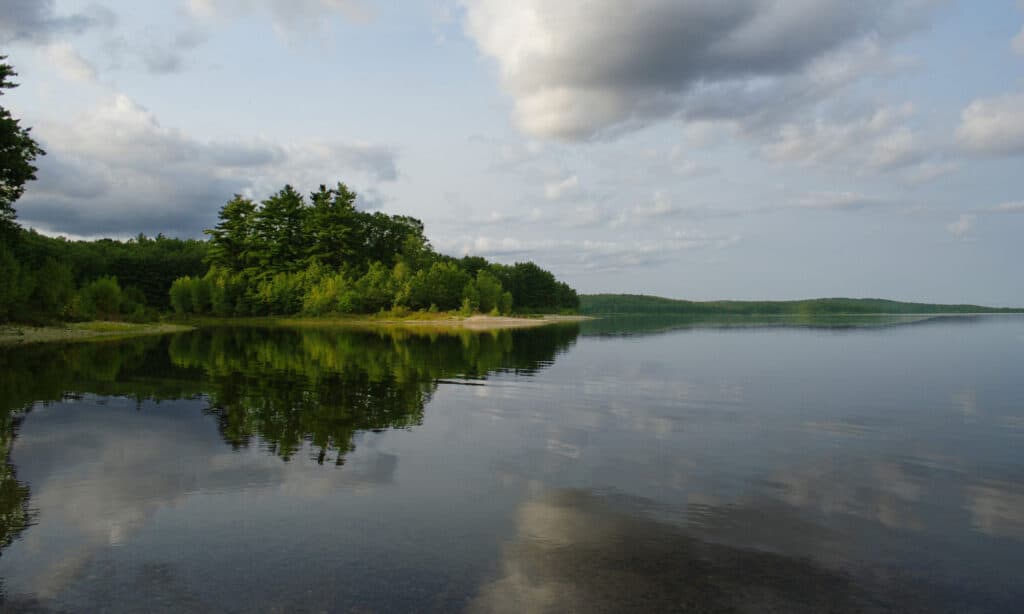 The Wachusett Reservoir is the second-largest body of water in the state! Located in Worcester County, the lake has a surface area of 7 square miles. Although this lake is a large body of water, people can only fish in it from the coast. Since this body of water supplies drinking water for millions of people, officials worry that allowing boaters will add undue pollution to the water.
Still, fishing from the shore can yield many fish, such as:
Atlantic salmon
Lake trout
Largemouth bass
These are just a few of the species that a person can catch in these waters. Others are available as well. Make sure you plan your fishing trip by following local regulations. Not all areas are open to fishing.
7. Lake Quinsigamond
Lake Quinsigamond is located near Worcester in Worcester County. The lake has a surface area of about 772 acres, meaning it has plenty of space for fish to thrive. The area is commonly used by people in non-motorized boats, so you'll probably see rowers, sailors, and canoers in these waters.
The most popular fish to catch in this lake include:
Tiger muskies
White perch
Northern pike
Rock bass
The lake is a great spot to catch fish, but it doesn't always make the list of the most popular places. For that reason alone, this lake is one of the best fishing lakes in Massachusetts.  
8. Pontoosuc Lake
Lastly, Pontoosuc Lake is a body of water that has about 511 acres of surface area. This lake is located in Pittsfield in Berkshire County, the central part of western Massachusetts.
Anglers often catch the following in this lake:
Golden shiner
Rock bass
Yellow bullhead
Northern pike
Tiger muskies
Wildlife agencies stock the lake with trout in the spring and fall. Yet, most people come to the lake to catch the pike and tiger muskies when they're available.
Overall, the best fishing lakes in Massachusetts can be found throughout the state. While it may seem that many of them are in Worchester Country, remember that the county is simply huge. Always obey local regulations when fishing in these areas. Always make sure to practice good awareness and safety to avoid confrontations with other wildlife, too.
Summary of the Best Fishing Lakes in Massachusetts.
| Number | Lake | Most Intriguing Fish |
| --- | --- | --- |
| 1 | Webster Lake | Smallmouth and largemouth bass, rainbow trout, and black crappie |
| 2 | Lake Monomonac | Crappie, largemouth bass, and white perch |
| 3 | Quabbin Reservoir | Walleye, lake trout, and landlocked salmon |
| 4 | Lake Cochituate | Yellow perch, black crappie, and bluegill |
| 5 | Norton Reservoir | Tiger muskies, northern pike, and white perch |
| 6 | Wachusett Reservoir | Atlantic salmon, lake trout, and largemouth bass |
| 7 | Lake Quinsigamond | Rock bass, northern pike, and tiger muskies |
| 8 | Pontoosuc Lake | Tiger muskies, northern pike, and golden shiner |
---
The Featured Image
---