Arizona's breathtaking landscapes are no secret, from the iconic Grand Canyon to the striking beauty of the Sonoran Desert. However, there's a hidden gem that has been quietly captivating locals and visitors alike — the relatively new Lake Pleasant. Nestled in the heart of the desert, this reservoir is more than just a body of water. The lake is a testament to Arizona's innovative approach to water management. In this article, we will delve into the fascinating story of Lake Pleasant, its vital role in the region, and why it is becoming an increasingly popular destination for outdoor enthusiasts.
A Brief Introduction to Lake Pleasant
Lake Pleasant is a man-made reservoir located just northwest of Phoenix, Arizona. Part of the Lake Pleasant Regional Park, the lake is situated within the Agua Fria River basin. What's more, it is the storage reservoir of the larger Central Arizona Project (CAP). The lake was created in 1927 following the construction of the Waddell Dam, which spans the Agua Fria River to impound the water and create this reservoir.
Its Vital Role in Water Management
One of the primary purposes of Lake Pleasant is water storage and management. It serves as a crucial component of the CAP, a multi-faceted system designed to transport Colorado River water to central and southern Arizona. The lake's capacity to hold approximately 160,000 acre-feet of water plays a vital role in ensuring a consistent and reliable water supply for the region.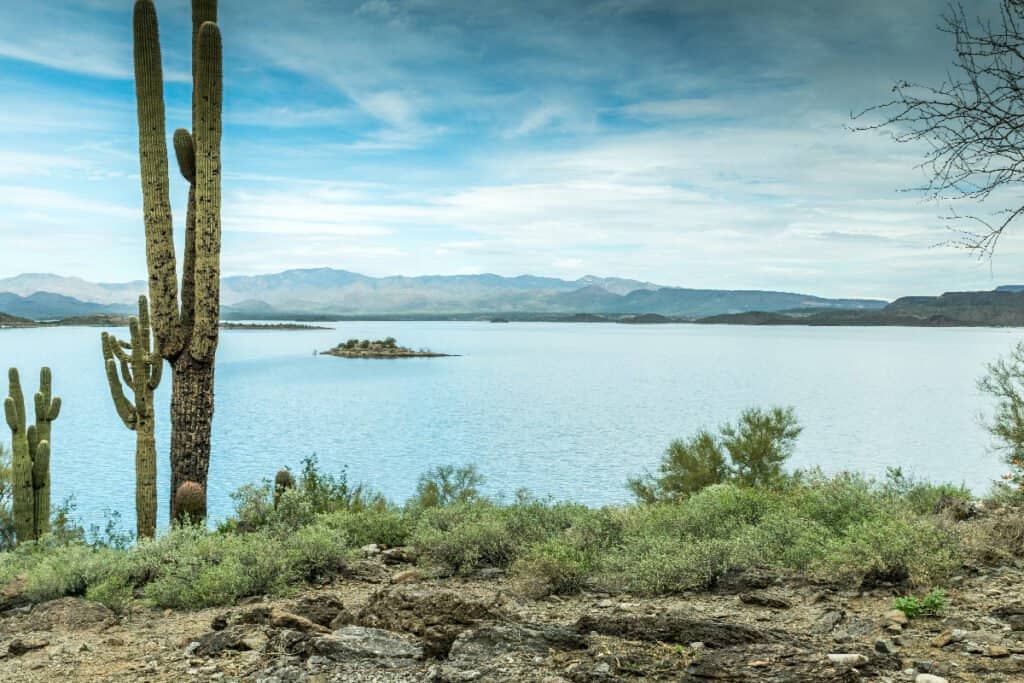 Recreational Opportunities
Furthermore, while its essential role in water management is paramount, Lake Pleasant has also emerged as a recreational paradise for those seeking outdoor adventures in the Arizona desert. Its proximity to the Phoenix metropolitan area, just 35 miles to the northwest, makes it an accessible and appealing destination.
Boating and Water Activities
Lake Pleasant's vast expanse of water offers ample opportunities for boating and water-based activities. Boaters can explore the lake's many coves and inlets, making it an ideal spot for sailing, water skiing, and jet skiing. The lake's clear waters are also inviting for kayaking and paddleboarding. Moreover, rentals are available for those looking to try their hand at these activities.
Fishing
Fishing enthusiasts will find Lake Pleasant well-stocked with a variety of fish species. The lake is known for its population of largemouth bass, as well as catfish, crappie, and white bass. Anglers can try their luck from the shore or embark on fishing expeditions by boat.
Camping and Picnicking
Lake Pleasant Regional Park, which surrounds the reservoir, offers numerous opportunities for camping and picnicking. The park provides a range of camping facilities, from developed campgrounds with RV hookups to more primitive sites. It's an excellent place to enjoy the serenity of the desert and the beauty of the lake under the starry Arizona sky.
Hiking and Trails
For those who prefer to stay on dry land, Lake Pleasant offers an extensive network of hiking trails that cater to various skill levels. These trails offer breathtaking views of the lake and the surrounding Sonoran Desert landscape. The Pipeline Canyon Trail and the Yavapai Point Trail are popular choices for hikers.
Wildlife Viewing
Lake Pleasant is not only a recreational hub but also a wildlife haven. Birdwatchers will delight in spotting a variety of avian species, including eagles, ospreys, and herons. Additionally, the lake is home to a diverse array of desert wildlife, making it an excellent spot for nature enthusiasts.
Development and Infrastructure
Over the years, Lake Pleasant has seen significant development and infrastructure improvements to accommodate the growing number of visitors. The lake offers modern marinas, boat ramps, and facilities, ensuring a comfortable and enjoyable experience for everyone. Furthermore, the expansion of recreational amenities, such as the Lake Pleasant Discovery Center, has enhanced the visitor experience by providing educational resources and interpretive exhibits.
Tourism
Lake Pleasant's evolution from a water management asset to a prominent recreational destination has not gone unnoticed by the tourism industry. It has become a focal point for promoting outdoor tourism in the region, attracting visitors from both within Arizona and beyond.
Economic Impact
The influx of visitors to Lake Pleasant has had a significant economic impact on the surrounding communities. The tourism industry has flourished, creating jobs and stimulating local businesses. The lake has also led to the development of new services, such as boat rentals, guided tours, and waterfront dining establishments.
Environmental Considerations
Despite its positive contributions to the local economy and recreational opportunities, Lake Pleasant also faces environmental challenges. Managing water levels and the delicate balance of ecosystems in and around the lake is an ongoing concern. Conservation efforts are essential to ensure that the lake continues to thrive as both a water source and a natural habitat.
Conclusion
All in all, Lake Pleasant is a testament to human ingenuity and innovation in water management. The lake provides a reliable water source for central and southern Arizona. Moreover, it is also a testament to the beauty and versatility of Arizona's natural landscapes, offering a myriad of recreational opportunities for those seeking outdoor adventures. As Lake Pleasant continues to grow in popularity, it plays an increasingly important role in tourism and economic development. What's more, it effectively highlights the symbiotic relationship between nature and human activity. All in all, with careful stewardship and a commitment to conservation, Lake Pleasant is poised to remain one of Arizona's hidden gems for generations to come.
The photo featured at the top of this post is © Roger Siljander/Shutterstock.com
---