Do you see a small bird in your backyard but are not sure of the species? Can you tell the difference between a finch and a warbler? No worries! Check out this handy guide to the most common types of small birds and discover the name of your feathered friend based on location, appearance, calls, and diet.
Read on to learn more about all these fascinating little birds from around the world!
Woodpeckers
Location and Habitat: With a cosmopolitan distribution, woodpeckers live almost everywhere in the world except Antarctica, Australia, and Madagascar. Most species are arboreal and nonmigratory, living in woodlands, savannas, and scrublands. 
Appearance: Their size and plumage coloration vary based on species type. But many are olive, brown, or pied. They also feature crests and bold patterns. Their long, sharp bills are their most notable feature.
Diet: They feed primarily on insects and other invertebrates that live under tree bark.
Calls: These birds have short high-pitched notes, trills, and rattles.
Fun Fact: Woodpeckers keep trees healthy by preventing mass infestations.
Backyard Tip: Smear peanut butter on trees or offer whole peanuts on a feeder to attract these birds to your yard.
Hummingbirds
Location and Habitat: Hummingbirds are native to North and South America, with most species occurring in tropical and subtropical climates, although several breed in temperate zones. They live in humid forests, but you can find some species in parks and backyards around the United States.
Appearance: These tiny birds measure between 3 and 5 inches and have specialized beaks and tongues for nectar feeding. Their plumage ranges from dull brown to vibrant iridescent red and green.
Diet: The hummingbird consumes insects, like gnats and fruit flies. But it is also known for drinking nectar from specific flowers.
Calls: The emit soft chirps and some buzzing and trilling calls.
Fun Fact: They get their name from the humming noise their beating wings make.
Backyard Tip: Grow plants like honeysuckle and bee balm. They also enjoy red or orange tubular flowers.
Finches
Location and Habitat: Finches have a global distribution; you can find them in North America, South America, Europe, Asia, and Africa. Most live in wooded areas, but some inhabit mountains and deserts. 
Appearance: These birds have strong, stubby beaks and bright yellow or red plumage. However, many feature other colors, such as brown, white, black, and green. Most true finches are sexually dimorphic, with females having duller brown plumage.
Diet: Finches are mainly granivorous, but some species also eat arthropods, berries, and nectar.
Calls: Notice their long, sharp "cheeps" and warbles.
Fun Fact: They have a bouncy flight and are excellent singers.
Backyard Tip: Install a bird bath and provide fresh black seeds to attract these tiny birds.
Chickadees
Location and Habitat: The chickadees are a bird family found in North America and are very common within their range. They live throughout the United States, Canada, and Mexico, where you can find them in forests, parks, woods, thickets, and groves.
Appearance: They are small birds measuring 2 to 5 inches long. Most species have dark crowns and throat patches, which contrast with their lighter-colored bodies. They also have short, thick bills and long tails.
Diet: They eat mainly insects, seeds, and berries, but their diet varies by season.
Calls: Chickadees make alarm calls that sound like "chick-a-dee." They are often raspy sounding, while others are gargled.
Fun Fact: One bird can cache up to 80,000 seeds for the winter.
Backyard Tip: Place suet, peanuts, or black oil sunflower seeds in a tray or hopper feeder.
Warblers
Location and Habitat: The New World warblers are endemic to North and South America, with a significant portion of these species residing in Central America. In their temperate North American homes, they live in marshes, shrubland, old fields, and forests.
Appearance: This type of small bird features a large, round head, a thin bill, and a long tail. Their plumage varies from streaky brown to bright yellow, red, and orange. 
Diet: Insects, such as grasshoppers and wasps, are their primary food sources.
Calls: Listen for short, chip notes and buzzy metallic sounds.
Fun Fact: Most warblers are arboreal, meaning they live in trees.
Backyard Tip: These birds are drawn to birdhouses and mealworm feeders.
Kinglets
Location and Habitat: Kinglets are another bird with major distribution, inhabiting North America, Europe, Africa, and Asia. They live in coniferous forests most of the time. However, during migration, they stop by thickets, scrub, and suburban yards. 
Appearance: They are one of the smallest passerine families, measuring between 3 and 4 inches on average. Their wings and tails are well-proportioned, and their bills are small and pointed. Most species have grayish-green plumage with pale wing bars.
Diet: Kinglets are insectivores that prey mainly on aphids and springtails.
Calls: Long, chattering notes and short, harsh calls are their calling card.
Fun Fact: These birds have a rapid metabolism and can starve within an hour if they lose access to food!
Backyard Tip: Place mealworms, suet, and peanut hearts in a platform feeder.
Wrens
Location and Habitat: The wrens are a New World family (native to North and South America), and their heaviest concentration resides in the neotropics. They inhabit a variety of environments, from dry woodlands to lowland rainforests. 
Appearance: While some wrens are medium-sized, others, like the Eurasian and white-bellied wrens, are tiny. Most species feature dull colors like brown, gray, black, and white. They also have barring on their tails and wings.
Diet: They have a wide-ranging diet that includes insects, spiders, arthropods, small reptiles, seeds, and berries.
Calls: They make harsh churrs, chatters, and rattles.
Fun Fact: To eliminate potential food competitors, some wrens destroy other bird eggs and nestlings.
Backyard Tip: They will love suet, peanut butter, and shelled peanuts in a tray feeder or shallow dish.
Vireos
Location and Habitat: Native to the Americas, the vireo ranges from Canada to northern South America, with 13 species occurring in the United States. They live in forest environments, with each vireo preferring a different level of vegetation density. 
Appearance: They are small to medium-sized passerines with dull-green or yellow plumage. Several species, like the shrike-vireos, have bright green feathers.
Diet: They eat insects, arthropods, and some fruit. And they forage by snatching prey from leaves.
Calls: Most have simple, monotonous songs.
Fun Fact: They construct cup-shaped nests that hang from tree branches.
Backyard Tip: Provide insect suet, mealworms, and cut-up fruit.
Gnatcatchers
Location and Habitat: The gnatcatchers have a large distribution covering most of North and South America. They live in many habitats, including dry scrub, humid forest canopy, bushes, and trees. 
Appearance: The gnatcatcher is another type of small bird with a long tail and a long sharp bill. Most species feature bluish-gray plumage with black head patterns.
Diet: They eat small insects, spiders, and other invertebrates.
Calls: They sing squeaky songs and have fast, sharp calls.
Fun Fact: They weigh less than a penny!
Backyard Tip: These birds do not typically visit backyard feeders. But they may stop by if you have suitable landscaping.
North American Buntings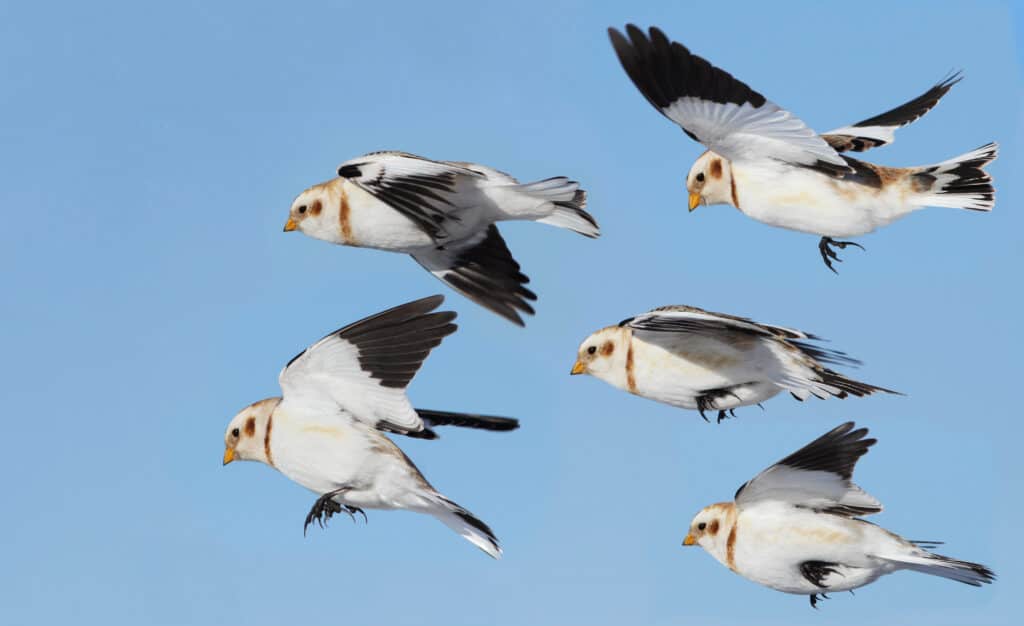 Location and Habitat: North American buntings occur as far north as southern Canada and as far south as Ecuador. You can find these birds in thickets, woodland edges, shrubbery, and many suburban areas.
Appearance: These birds feature bright blue, red, and yellow plumage, but the females are brown with streaking. They also feature thick beaks, long tails, and large eyes with a bright eye ring.
Diet: They feed on insects, spiders, seeds, and berries.
Calls: They sing sweet short high-pitched whistle notes.
Fun Fact: The painted bunting is one of North America's most colorful birds.
Backyard Tip: To attract North American buntings, plant seed-bearing flowers and place small seeds, like millet, nyger, and sunflower hearts, in a feeder.
Summary of 10 Types of Small Birds
| Name of Bird | Location | Habitat |
| --- | --- | --- |
| Woodpecker | Almost everywhere except Antarctica, Australia, and Madagascar. | Woodlands, savannas, and scrublands.  |
| Hummingbird | North and South America. | Humid forests mostly, but other habitats as well. |
| Finch | North America, South America, Europe, Asia, and Africa. | Wooded areas, but also mountains and deserts.  |
| Chickadee | United States, Canada, and Mexico. | Forests, parks, woods, thickets, and groves. |
| Warbler | North and South America, but mostly in Central America. | Marshes, shrubland, old fields, and forests. |
| Kinglet | North America, Europe, Africa, and Asia. | Coniferous forests mostly but during migration in thickets, scrub, and suburban yards.  |
| Wren | North and South America, particularly neotropics. | A variety including dry woodlands and lowland rainforests.  |
| Vireo | Canada to northern South America. | Forest environments. |
| Gnatcatcher | North and South America. | A variety including dry scrub, humid forest canopy, bushes, and trees. |
| North American Bunting | Southern Canada to Ecuador. | Thickets, woodland edges, shrubbery, and many suburban areas. |
---
Sources

IUCN Redlist, Available here: https://www.iucnredlist.org/
Cornell, Available here: https://www.birds.cornell.edu/home/