When someone mentions Massachusetts, what is the first thing you think of? For many, it is Boston, but Massachusetts is known for many other qualities and attractions that give it character. For example, thousands flock to Martha's Vineyard and Cape Cod each year. The state is also home to elite schools like Harvard. And there is nothing more beautiful than New England foliage changing color in the fall. So, what is Massachusetts known for? Below is a list of 13 things Massachusettsans love about themselves.
1. Martha's Vineyard and Nantucket
If you enjoy the relaxed atmosphere of Cape Cod, you will definitely enjoy Martha's Vineyard and Nantucket. These islands offer a mix of New England charm and island life, providing guests with a much-needed break from the hustle and bustle of life. Martha's Vineyard and Nantucket are accessible by ferry from several ports on Cape Cod. Many people prefer to visit in the summer months, and the islands attract celebrities from all over the world. Furthermore, these islands are a favorite among several U.S. presidents.
2. Cape Cod
Massachusetts is known for Cape Cod, also known as The Cape by locals. Once you have crossed the Cape Cod Canal, there's nothing but crab shacks, grassy beaches, and fishing. Many families flock to Cape Cod in the summer to indulge in fresh seafood and soak up the sun on the many gorgeous beaches.
3. Harvard
It's hard not to think of Harvard University when thinking about Massachusetts. This Ivy League University is a beacon of hope for many aspiring students with big dreams. Unfortunately, this school only accepts 5% of undergraduate applicants each year. Harvard is located in Cambridge, MA. Tourists flock to this beautiful school because of its famous reputation. It even has a gift shop!
4. The Boston Accent
One of the things Massachusetts is known for is the Boston accent. Everyone knows what it sounds like, but it is hard to imitate, and Bostonians won't like it if you try.
5. Salem
Massachusetts is teaming with history, especially Salem, which is notorious for its gruesome witch trials during the late 1600s. Over 30 people in this town were accused and found guilty of witchcraft. And unfortunately, 19 were found guilty and killed by public hanging. This historical town is located 20 miles from Boston. Visitors can visit the hanging site at Gallows Hill Park. Other popular attractions include the Salem Witch House and the Salem Witch Museum. Halloween is the best time to visit this spooky town, especially if you like a good scare!
6. The Changing of the Leaves
While Massachusetts has four strong and distinct seasons, many believe fall is the best time to visit the state. Tourists from all over the globe descend on Massachusetts from late September to late October to experience the changing of the leaves, which does not disappoint. You see a spectacular array of oranges, reds, and yellows everywhere you look. It is something everyone should tick off their bucket list.
7. Sports
New England takes their sports very seriously. For example, between 2001 and 2018, the New England Patriots won six Super Bowls. Furthermore, their pride and joy, GOAT quarterback Tom Brady, called the state home from 2000 to 2019. In addition, the oldest NHL team in the United States is the Boston Bruins, who won six Stanley Cups and many other championships. The state is also home to one of the eight original NBA teams, the Boston Celtics. The team is notorious for recruiting some basketball greats and has the most overall wins out of any other team in the league.
8. Plimoth Patuxet
This unique and educational living history museum is located in Plymouth, MA. It provides guests with an incredible experience, showing them what life was like for the first English colonists who arrived in Massachusetts. For example, the museum replicates a pilgrim settlement by hiring actors to live like the pilgrims' did. This personal interaction with guests teaches them as much as it provides entertainment. It is family-friendly and fun for all ages.
9. The Nation's First Library
While there were many early versions of libraries in Massachusetts. New York, and Pennsylvania, Massachusetts was the first state to have a true public library. It is located in Franklin, named after Benjamin Franklin. Due to this incredible honor, Ben Franklin donated an extensive collection of books to the town. Determined to make these books available to the public, the town decided to build a public library.
10. Temperamental Weather
While this state has a desirable climate with four distinct seasons, the weather is temperamental and unpredictable. For example, ideal summer weather can quickly turn into a sweltering oven, with temperatures hitting the 100-degree mark, accompanied by stifling humidity. Furthermore, fall and spring are usually pleasant, but out of nowhere, a snowstorm can drop over a foot of snow, resulting in various power outages.
11. Cranberries
This state is famous for its cranberries, which are native to Massachusetts and its largest agricultural food crop. Massachusetts is second only to Wisconsin in cranberry production. In fact, southeastern Massachusetts and Cape Cod have thousands of acres of cranberries. These berries grow in wetland areas named bogs. The berries look like they are floating, and it is interesting to see them harvested.
12. Turkeys
While many people associate turkeys with the pilgrims, and as a result, in Massachusetts, many don't realize how many turkeys actually reside in the state. These turkeys primarily live in enormous flocks in the woods called rafters. However, they are often spotted in residential areas. Surprisingly, seeing up to 20 turkeys in someone's yard is quite common. Additionally, they love to stand on the road in wooded areas, so don't be surprised when you drive up to a hoard of turkeys that refuse to move. Usually, you won't even get a reaction if you honk your horn.
Interestingly, these large birds were eradicated from Massachusetts in the 1800s. But, 37 turkeys were brought back by biologists and released into the wild. Since then, the population has grown to over 25 000 birds.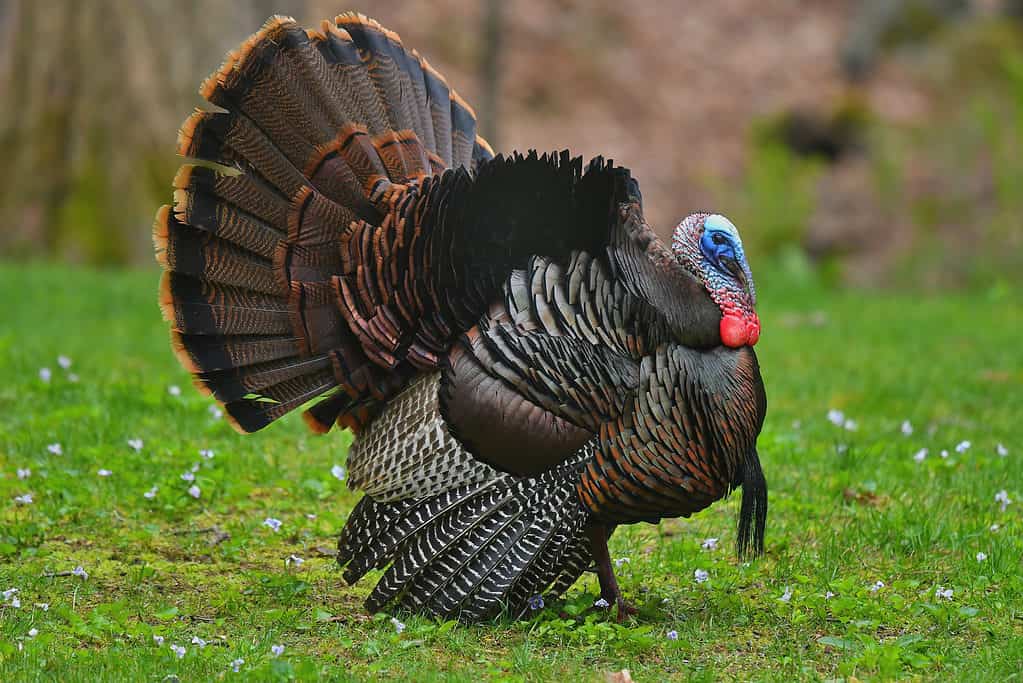 13. Dunkin'
Dunkin' Donuts originated in Massachusetts in the 1950s, and today, it's hard not to find a corner in this state without a Dunkin' Donuts. Customers keep returning not only for the donuts but also for their drink choices. And people also like that they are so easily accessible; they can make it part of their daily routines.
The photo featured at the top of this post is © Doug Lemke/Shutterstock.com
---