Key Points
Spanish explorer Fernando De Soto introduced these creatures to the region in 1539.
Wild boars are present in 45 out of 50 states in the US. There are about 600,000 of these hogs in Georgia, among a total of approximately 6 million in the country.
Hunting season dates and regulations differ between public and private lands.
For centuries, wild boars, also known as feral pigs, have been a familiar sight across the Southern US, including the state of Georgia. Spanish explorer Fernando De Soto introduced these creatures to the region in 1539. Despite being domesticated, some of these wild pigs managed to break free and thrive in the wild. As time passed, more explorers brought hogs to the area. 
In this article, we'll walk you through all the essential information you need to know about hunting boars in Georgia, including their population in the state. We'll cover when and where to hunt, what licenses you need, what weapons are allowed, and which Wildlife Management Areas (WMAs) offer the best hunting opportunities.
What's A Wild Boar?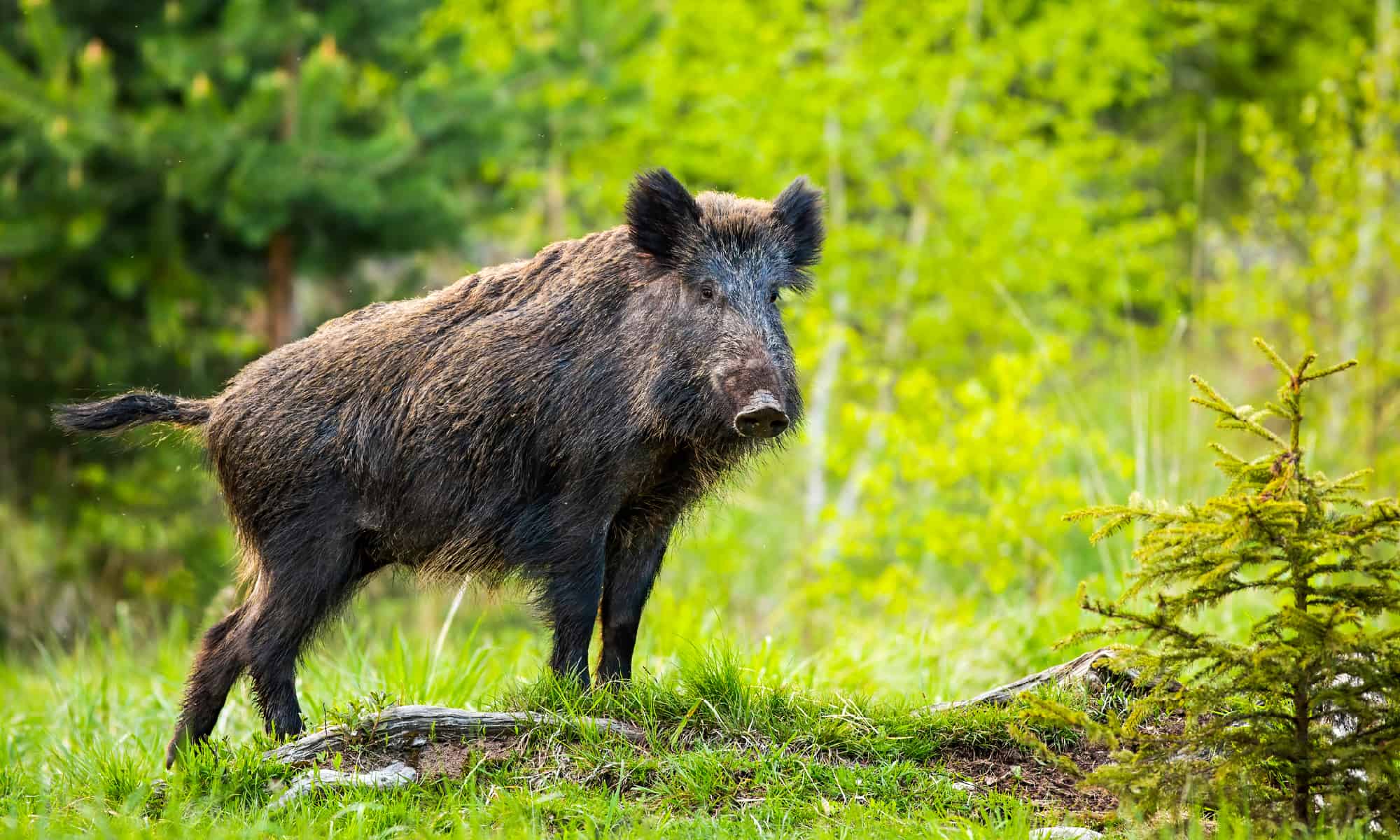 The wild boar commands the title of the most ferocious wild pig. These robust creatures boast coarse hair ranging from brown to black and can stand up to 35 inches tall at the shoulder. Although they typically live in groups, elderly boars often prefer to live alone. Compared to their domesticated cousins, boars have far more developed and powerful tusk-like teeth, which they use for digging and self-defense. 
What Do Boars Eat? 
Boars have a strong appetite and will consume almost anything within reach. They eat both plant and animal-based foods, so they are considered omnivores. Their favorite foods are hickory nuts and acorns, but they also eat:
Snakes
Fungi
Frogs
Insects
Rodents
Tree bark 
Fruits
Eggs
roots
They can even eat unusual things like:
Manure
Newborn livestock
Carrion
Is The Wild Boar's Meat Edible?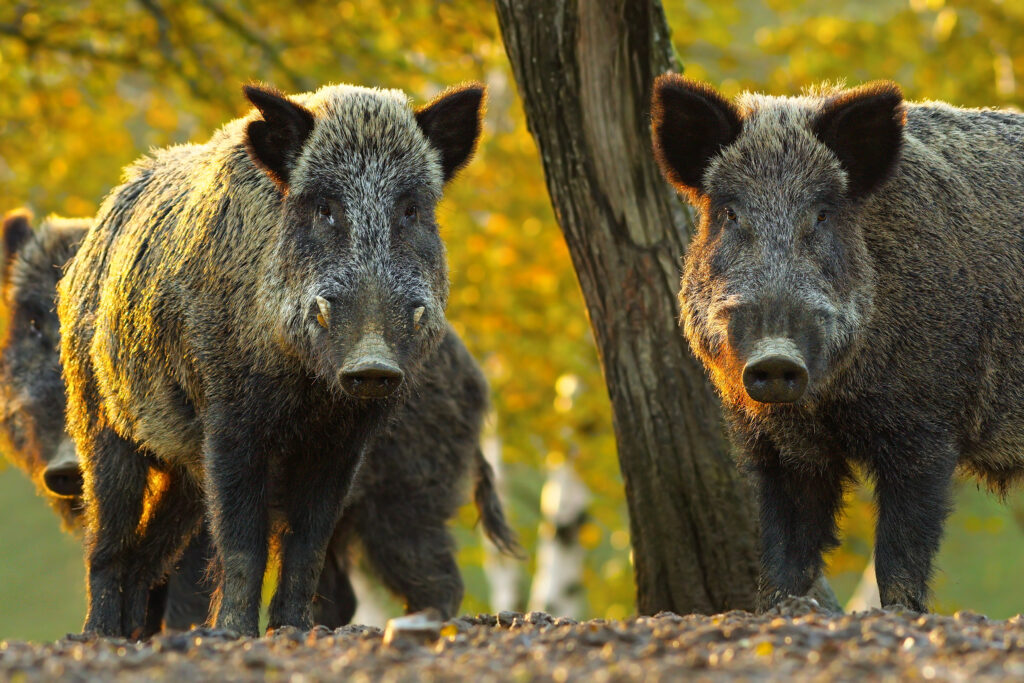 They're usually quite delicious and taste like regular pork, except they have less fat. However, it won't taste good if the boar is older or has been eating spoiled meat. 
How Long Do Boars Live In Georgia?
Wild boars can live for more than two decades. However, young boars are vulnerable to predators such as bobcats, coyotes, and bears. As they grow older, the threat of being hunted decreases. 
What's The Population Of Wild Boars In Georgia? 
Wild boars are present in 45 out of 50 states in the US. There are about 600,000 of these hogs in Georgia, among a total of approximately 6 million in the country.
Boar Hunting Seasons
One important thing to note is that the hunting season dates and regulations differ between public and private lands. We'll break down each section separately to ensure you fully grasp all the details. 
Private Land 
You can go boar hunting on private property without restrictions, but it's not allowed to hunt from a moving vehicle. You must have permission from the landowner before you can hunt on their land.
Public Land 
There are strict rules for hunting feral hogs on public land in Georgia. You can only hunt them during a short period from May 16-31 and in specific Wildlife Management Areas (WMAs). 
You can only hunt them if there is another hunting season for a different animal going on at the same time. During this time, you have to use weapons that are legal for the current season. For example, if it's squirrel season, you can only use small game legal weapons for hunting hogs. If it's archery deer season, you can use archery equipment to hunt hogs in that WMA.
Using bait or hunting at night isn't allowed in national forests or WMAs, but you're welcome to use electronic calls. 
License Requirements 
Residents 
A Georgia Resident is someone who has lived in Georgia for at least three months before getting a license. They need a Georgia driver's license or an official ID card with a Georgia address to prove this. If you're a resident who's 16 or older and wants to hunt or trap feral hogs, you'll need a hunting license. However, you don't need a license if you do it on your or your family's land, where you live together. 
However, there are two exceptions to this rule. The first exception is if you're a member of the military who is on active duty. To show you're in the military, you need to have a military ID. The second exception is if you're a college student not from Georgia but attending a college in Georgia full-time. You must have a student ID from your college to prove you're a student. 
Nonresidents
Georgia requires a nonresident hunting license for those who don't live in the state but want to hunt there. However, if you're an agricultural producer, you may qualify for exemptions with a permit. If you're a nonresident and own land in Georgia or have family members who own land in Georgia but live elsewhere, you still need to get the nonresident hunting license.
Legal Weapons 
You can use longbows, recurve bows, crossbows, and compound bows to hunt feral hogs. 
Legal Boar Hunting Hours 
Private Land 
You can hunt boars on private land 24/7. Some people use special goggles for hunting at night. In South Georgia, hunting at night is popular because the land is flat, and the pigs tend to hang out in fields, which makes them easy to spot.
Public Land 
In Georgia, you can only hunt wild boars on public land during the day. There are numerous regulations that we cannot enumerate here. Reviewing the rules for the WMA you intend to hunt in advance is advisable to identify any additional limitations. 
Do You Need To Take The Hunter Education Course?
If you own or your parent or legal guardian owns the land, you don't have to take a hunter education course to hunt. The same applies to children aged 12-15 who hunt on that land.
Nevertheless, if you want to hunt in public places in Georgia, even if you're a resident, you must complete a hunter-education program. 
Can You Use Dogs To Hunt Boars In Georgia? 
Hunting wild boars with dogs is restricted to private lands, as most WMAs don't permit it. Review the rules carefully to determine if the WMA you're interested in is an exception. 
How Big Are Boars In Georgia? 
Georgia is home to both small domestic-looking hogs and Eurasian wild boars. In certain regions, there exist crossbreeds of these two pigs. A notable instance is a colossal male pig named "Hogzilla." Chris Griffin shot and killed it in Alapaha, Georgia, USA, on June 17, 2004. It was enormous – about 800 pounds and 7-8 feet long.
This specific pig gained much attention after being showcased on National Geographic Channel and becoming one of the first hunting images to gain widespread popularity online. Usually, fully-grown hogs weigh around 150 to 200 pounds.
Boar Hunting Tips 
Boars are fierce and can become agitated if they feel endangered, particularly if you're trespassing on their territory. Here are a few tips to remember to ensure you have a safe and fruitful hunt. 
Know How To Track Boars 
In boar hunting, detecting and tracking boars is essential. Here are some signs to look for: 
Rooting 
Boars use their snouts to search for food in vegetation. This results in uprooted soil, which clearly indicates their presence. 
Wallowing 
Boars dig up land near bodies of water to create mud wallows for cooling down. The mud will have distinct hog footprints around the edges. 
Tracks 
Boar tracks are similar in shape to deer tracks but are wider and rounder. Look for them on the ground as an indication of hog presence. 
Use predator calls 
If you want to lure them out of hiding, try using predator calls. From a sneaky spot, make quick and snappy sounds that mimic predators. Those wild pigs will likely come running out in the open in no time. Just remember to watch out because they can be pretty aggressive. Keep a safe distance if you decide to give this method a go. 
Why Is Hunting Boars In Georgia Necessary?
Hunting wild boars is necessary for several reasons. Here are some examples of why people need to hunt them.
They're Destructive
Wild pigs pose a severe threat to people living close to them. Georgia's agricultural commissioner claims they cause over $100 million in damages to farms and crops annually. These hogs ruin crops and negatively affect the environment by disturbing the soil through their rooting behavior.
It's Difficult To Control Their Reproduction
Pigs can reproduce quickly compared to other animals, but it varies among different groups. Female pigs can have several reproductive cycles in a year. They usually have about 4-6 babies per litter on average.
A sow's typical pregnancy lasts around 115 days. After weaning their offspring about a month after birth, sows can mate again within a week.
To prevent the pig population from getting too big, more people need to hunt them. Hunting is the only way to keep their numbers under control.
They Carry Diseases
Wild pigs can have many diseases that may harm humans. These illnesses include harmful E. coli, salmonella, leptospirosis, brucellosis, swine flu, tuberculosis, pseudorabies virus, and hepatitis.
Best Places To Hunt Boars In Georgia 
The Georgia Association of Conservation Districts reports that feral hogs exist in all 159 counties in the state. Hunting for them is possible throughout Georgia, but their numbers vary across counties. 
They tend to be scattered in different areas and like to move around in big rivers such as the Oconee, Ocmulgee, Flint, and Chattahoochee. Here are a few WMAs to hunt wild boars in Georgia.
Altamaha WMA 
The Altamaha WMA, situated in Townsend, spans a vast area of 30,154 acres, boasting 3,154 acres of waterfowl impoundments and 27,000 acres of lush hardwoods and swamps. It's a hunting paradise for those seeking boars, doves, turkeys, waterfowl, and small game.
Big Hammock WMA 
The wildlife management area spans over 6,000 acres and is located on the scenic Altamaha River. It offers exciting hunting opportunities, including hogs, deer, turkeys, alligators, and small game.
Townsend WMA
Townsend Wildlife Management Area (WMA) consists of four parts: Piney Island, Buck Island, South Townsend, and North Townsend. Situated on the north side of the Altamaha River, between the city of Darien and route 301, this WMA sprawls over 32,000 acres of land.
Beaverdam WMA 
Beaverdam Wildlife Management Area, located about 12.5 miles north of Dublin, is perfect for outdoor enthusiasts. With a vast expanse of 5,500 acres, you can enjoy numerous activities like hunting and camping. The place offers an excellent opportunity to connect with nature and indulge in thrilling adventures.
Chickasawhatchee WMA 
Chickasawhatchee Wildlife Management Area, sprawling over 19,700 acres, is situated 12 miles southwest of Albany. It boasts of a well-managed pine savannah, offering hunters various game options.
Flint River WMA 
The Flint River Wildlife Management Area, located in Dooly County, is a vast expanse of 2,300 acres that offers exciting opportunities for hunting various animals, including doves, turkeys, small game deer, and boars.
Oaky Woods WMA
You can find the Oaky Woods Wildlife Management Area in Houston and Pulaski Counties. This area covers 13,450 acres and is a great place to hunt for feral hogs, deer, coyotes, small game, and turkeys.
Di-Lane WMA
Di-Lane Wildlife Management Area (WMA) encompasses 8,100 acres of federal government-owned land specifically maintained to foster the ideal conditions for bobwhite quail to flourish. In addition to seasonal hunting opportunities, the WMA offers a wide range of outdoor activities for enthusiasts to enjoy. Hunters can choose from various game options, including deer, quail, waterfowl, turkey, feral hog, small game, and furbearers.
Swallow Creek WMA 
Nestled in the heart of Towns County, the Swallow Creek Wildlife Management Area covers a vast 19,000 acres of lush forest and abundant wildlife. The area provides excellent hunting opportunities, including boars, deer, small game, turkey, and bear. For nature enthusiasts, Swallow Creek also boasts an extensive network of hiking trails that spans approximately 25 miles, providing visitors with plenty of opportunities to explore the area's stunning natural beauty.
Tuckahoe WMA
Tuckahoe Wildlife Management Area covers 15,100 acres in Screven County and is situated next to the Savannah River. You can hunt small game, turkey, hogs, and deer there. Camping is only allowed in specific areas.
Cohutta WMA
The Cohutta Wildlife Management Area is a vast expanse of 96,583 acres that stretches across Gilmer, Fannin, and Murray counties. The U.S. Forest Service mainly owns the property, but additional properties are leased yearly for hunting various game, including deer, small game, hogs, and turkey. If you're looking for outdoor adventure, you'll be happy to know that the area boasts over 158 miles of hiking, biking, and horseback riding trails.
Pine Log WMA 
Pine Log Wildlife Management Area, situated in White, GA, is an extensive 14,134-acre area that presents many thrilling hunting opportunities for deer, bear, turkey, small game, and dove. Apart from hunting, visitors can explore the 23 miles of trails on foot, bicycle, or horseback while enjoying the area's scenic beauty. For those interested in fishing, trout streams offer an excellent spot to cast a line.
But, during deer firearms season, the trails are shut down all day. During deer archery and turkey season, the trails are off-limits until 10:00 a.m. It's crucial to remember that ATVs are not allowed on the property, and night hunting is also not allowed.
Hunting Wild Boars In Georgia
Hunting feral hogs in Georgia can be difficult, but it can also be enjoyable and fulfilling. It's an excellent activity to engage in during the off-season, and it's an effective way to improve your ability to spot and stalk prey.
---
The Featured Image
---