Deer season in Florida varies from the southern to the northern areas of the state. For example, Deer season opens in late July in the southern areas but does not open until mid-October in the northern areas. In addition, various season types open at different times depending on the region, and different seasons for bucks and does. It should be noted that it is illegal to hunt key deer in Florida as the are a protected species.
The limits for harvesting deer are currently set at 5 per year, of which two can be antlerless.  Before hunting, you should check the current Florida Fish and Wildlife Conservation Commission (FWC) requirements for zone maps, licenses, supplemental permits, and other requirements.
Hunting License Requirements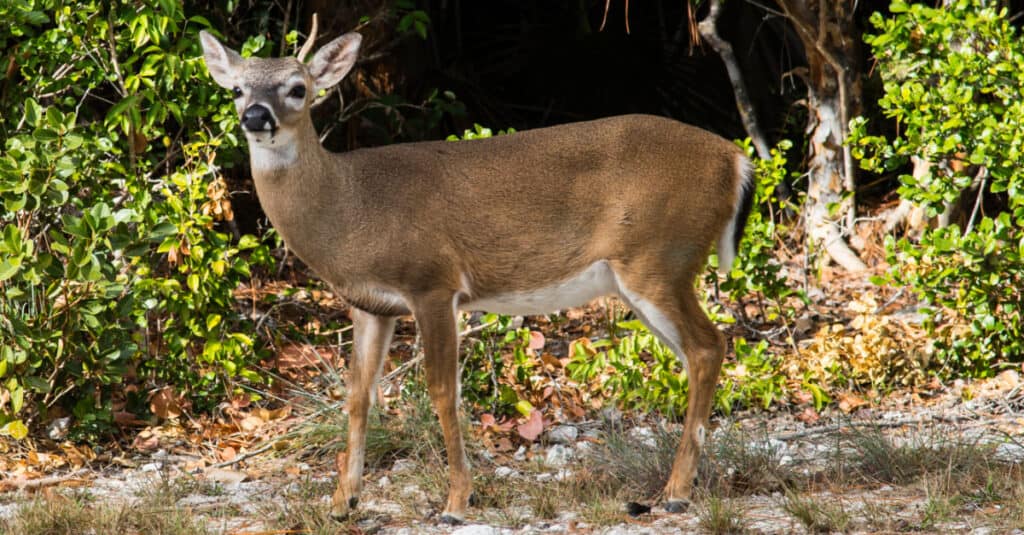 In the state of Florida, everyone wishing to hunt deer is required to obtain a license and at least one supplemental permit.  Licenses and permits can be purchased at GoOutdoorsFlorida.com or by phone.  They can also be purchased at license agent locations, which are typically sporting goods retailers that sell hunting equipment and supplies. 
Hunters that do not live in Florida must purchase an FL Non-Resident Hunting License; a license from your resident state is not valid. To deer hunt, there are also additional permits that must be purchased. These permits depend on the season type that you wish to hunt, and multiple permits can be purchased if you wish to hunt multiple seasons. 
Permits include a general deer permit, archery season permit, a crossbow season permit, and a muzzleloading gun season permit. There are also discounts for combination sportsman licenses, youth licenses, and senior citizens, so check the regulations before you purchase a license. Lifetime licenses are also available, and the cost depends on the individual's age. There are special permits if you want to hunt in a Wildlife Management Area or during a quota hunt.
Anyone that is born after June 1, 1975, must complete a hunter safety course before they can purchase a hunting license. Courses from other states may be accepted for this requirement. You can check MyFWC.com/HunterSafety for details and when the class is offered.
Deer Season Types
Florida has four basic season types for deer hunting: Archery, Crossbow, Muzzleloader, and General Gun.  Archery season starts first and typically lasts for 4 weeks. Crossbow season usually is concurrent with Archery Season. Muzzleloader season opens after Archery season and usually lasts a couple of weeks before the general gun season opens. 
For the most part, Archery equipment may be used through the other seasons. Once the general gun season opens, all hunting devices allowed in the other seasons are available for hunters to hunt with. During the seasons, antlered deer may be harvested. However, there are only particular times when antlerless deer may be taken. Be sure to know which deer you are allowed to harvest on the day you hunt.
During the year, there is usually a weekend where all seasons are closed to adults, and a youth hunt season is open. This particular season is open to youths aged 15 and younger. Any legal hunting method and device may be used, and any deer except a spotted fawn can be harvested. All youths during this season must be supervised by adults at least 18 years old. Keep in mind that it is a state law in Florida that anyone under 16 must be supervised when hunting with an air gun or a firearm.
Season Type Regulations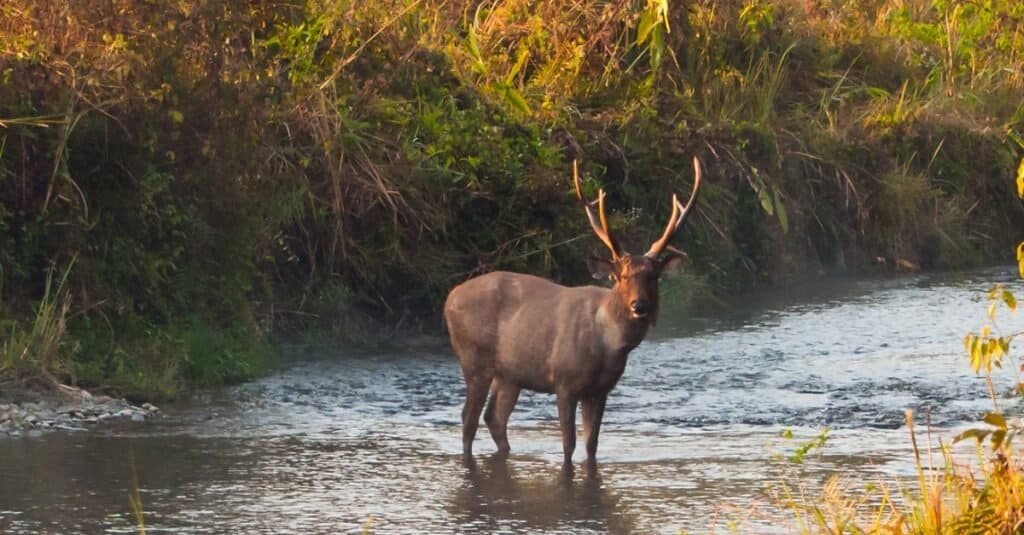 Depending on the season type, hunters must use an approved hunting device that corresponds to their supplemental license during the dates that the season is open.
Archery Season
During archery season, archery equipment that uses an arrow as a projectile, such as compound bows, longbows, and recurve bows, may be used. Crossbows may not be used this season as they have their own season in Florida. Arrows must have broadheads with at least two sharp edges with minimum widths of 7/8 an inch. No firearms may be used during this season. To hunt this season, you must have a Florida hunting license, a deer permit, and an archery season permit.
Crossbow Season
During crossbow season, archery equipment listed above and crossbows may be used. The exact requirements for arrows described above apply. Firearms may not be used during this season.  To hunt this season, you must have a Florida hunting license, a deer permit, and a crossbow season permit.
Muzzleloading Gun Season
Muzzleloading guns are firearms in which the projectile must be loaded from the end of the barrel (muzzle), and the firearm must not allow projectiles to be loaded from the back of the barrel (breech).  These guns must be at least .30 caliber or larger. 
Muzzleloading shotguns that fire two or more balls must be 20 gauge or larger. Muzzleloading guns designed to allow the powder to be loaded at the gun's breech may be used.  Archery equipment and crossbows may be used during this season. However, other types of firearms may not be used. To hunt this season, you must have a Florida hunting license, a deer permit, and a muzzleloading gun season permit.
General Gun Season
Firearms may be used during this season, including centerfire rifles, shotguns, centerfire pistols, and pre-charged pneumatic (PCP) air guns. Semi-automatic rifles with a magazine capacity of more than 5 rounds are not allowed. Also, any nonexpanding entire metal case (military ball) ammunition may not be used.
PCP air guns are guns that are charged from an external high compression source and are commercially manufactured specifically for hunting. PCP air guns must be at least .30 caliber or larger. You must have a Florida hunting license and a deer permit to hunt this season.
Overall Regulations and Safety
While not an extensive list, below are some standard regulations to recognize. The complete FWC hunting guide and regulations should be reviewed before hunting.  
Hunting hours are 30 minutes before sunrise to 30 minutes after sunset.
Shooting from vehicles or boats while they are under power is not allowed. Motors should be shut off or sails furled, and progress should stop before taking the game.
Hunters must wear a minimum of 500 square inches of daylight fluorescent orange as an outer garment. The garment must be above the waistline and can include a head covering. This rule does not apply during an archery-only season.  
The limits on the deer you can harvest are not necessarily males and females, or bucks and does, but rather Antlered and Antlerless. In Florida, what defines an antlered or antlerless deer depends on which Deer Management Unit (DMU) you are hunting in. In general, an antlered deer has at least one antler that is 5 inches or longer but must also have multiple points in some cases. Refer to the FWC hunting guide to ensure what is considered an Antlered deer in the DMU you are hunting in.
Harvesting deer swimming in water or harvesting young spotted fawns is not allowed.
In Florida, using dogs to hunt deer is allowed. However, there are specific restrictions, including dog registration, remote tracking and behavior correction collars, and specific times and locations that they can be used. The requirements are relatively complex, so be sure you understand them before using dogs. If you take a deer that dogs are pursuing, it may be illegal if the dogs are not yours or you don't have permission. If you are unsure, be safe and not harvest the deer.
When firearms are involved, it is always important to handle them with respect and to be sure of your target and, just as important, what is beyond your target.  Always ensure you are shooting at a deer and there is nothing behind it that could be harmed, even another deer.  
Most people believe that most hunting accidents are firearm related. The most considerable hunting injuries come from hunters falling out of tree stands.  If you plan to use a tree stand, understand how to use it properly, and always use a safety strap so that you will not fall if you lose your balance.
Chronic Wasting Disease Concerns in Florida
Chronic Wasting Disease (CWD) is a contagious disease in elk, moose, and other deer species found in much of the United States. Deer will appear to have difficulty moving, followed by weight loss over time.  An infected deer can also appear to be not aware of its surroundings or not afraid of humans. 
Chronic Wasting Disease has not been detected in Florida as of 2022. The FWC requests that if you suspect or see a deer that is abnormally thin or has died of unknown causes to report it.
To help prevent the spread of CWD in Florida, it is illegal to bring into Florida a whole carcass or certain parts of any species of the family Cervidae (elk, moose, caribou, deer) that originated from anywhere outside of Florida.  For details on these requirements and more info on CWD, see MyFWC.com/CWD.
What to do After a Deer is harvested?
Any deer that is harvested in Florida must be reported to the FWC. Once you take a deer, it can be field dressed where it was killed. Before moving the deer, there are two options for reporting it.  If you have a mobile smart device, it can be logged and reported on the FWC Fish/hunt mobile app or online at GoOutdoorsFlorida.com. 
If you do not have a mobile smart device, you can fill out a paper harvest log before moving the deer.  You can then report it online or by phone within 24 hours. Reporting is not completed until you have the confirmation number for the deer. Once reporting is complete, you can transport the deer to your favorite processor and/or taxidermist. Be sure it is tagged with your name, address, and confirmation number before leaving.
Fines for Not Following Regulations
The fine can be significant if a deer is harvested illegally in Florida. The first offense within a 10-year period can result in a $1,000 fine and one year in jail. It can also result in losing all hunting privileges for 3 years. Two convicted violations could result in being permanently ineligible to purchase a hunting license. It is essential to understand all the regulations before hunting. Simply not knowing is not an excuse and could result in stiff penalties.
Up Next
More from A-Z Animals
---
The Featured Image
---
Sources

, Available here: https://myfwc.com/hunting/deer/get-started/
, Available here: https://www.eregulations.com/assets/docs/guides/22FLHD_LR.pdf