Delicious Osiris Beef Flavored Dog Chews feature a water-soluble CBD formula that absorbs quickly so your dog can feel better faster. These high-quality treats include 2 mg of broad-spectrum CBD per chew for convenient, fuss-free dosing.
Our experience with the chews was universally positive. They are the only treat our dog willingly lays down for without being prompted. Given how many pet chews we test, that's remarkable!
Dog owners give their pets CBD for a variety of reasons. There is some research and much anecdotal evidence that CBD reduces arthritis and other inflammatory pain in dogs. It's also purported to reduce seizures in canines. CBD is perhaps most commonly used to alleviate anxiety, including that caused by thunderstorms and fireworks.
Your veterinarian can help you determine whether CBD may help your canine friend. They'll also recommend the proper dosage for your dog. Each Osiris Beef Flavored Dog Chews includes 2mg of CBD in a treat so yummy that he won't realize it's good for him.
Best Dog Chews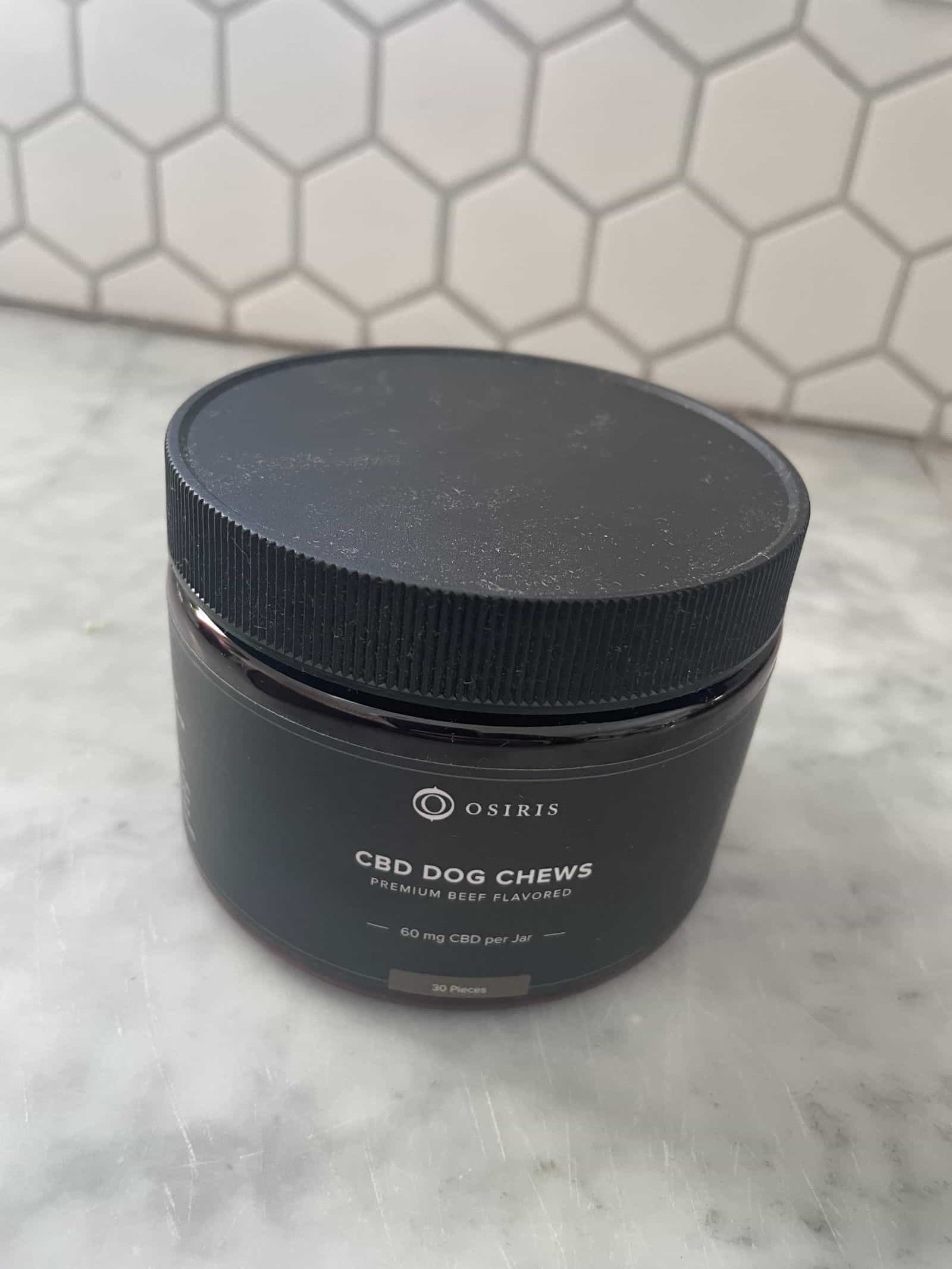 Our Experience: Osiris CBD Chews For Dogs
Our test pup has a chronic rear leg injury that has been plaguing them for months. The veterinarian prescribed low activity and no stairs as a solution. However, they remain very active and continue to re-injure their leg. We tried two braces, but they continued to fall off. The third stayed on better but was such a nuisance the pup chewed it down to shreds in a few days.
As a result, our dog has been experiencing on-again/off-again bouts of pain for months. Enter Osiris Organics CBD Chews and Pet Tincture. We have been giving our dog some combination of these treats for weeks with the following results:
No bouts of pain. Not a single whimper or whine
Eager to consume, sitting patiently without even a single command
Pain relief is really the major benefit in this case. Our dog must rest for months while their ACL heals to avoid surgery. As our pup is prone to bouts of sprinting or excitement, they continue to re-injure themselves and these treats have helped soothe their pain.
Between the Chews and the Tincture, both we and our dog prefer the Chews. They are easier to administer and our dog loves them. The Tincture is equally effective and can be easily applied to any dry or wet dog food, but it does not elicit the same excited response as the Beef Flavored Chews. We prefer the Pet Tincture for travel, and the Chews for all other instances.
How Does CBD Work in Dogs?
All vertebrates create chemicals called endocannabinoids that help keep their bodies in homeostasis (a state of balance). Endocannabinoids bind with endocannabinoid receptors throughout their bodies to send commands such as "relieve pain" where they're needed.
Cannabinoids, including those in CBD, behave the same way that endocannabinoids do. That's how CBD is able to restore your canine friend's body to a state of homeostasis. For example, the cannabinoids in the Osiris Beef Flavored Dog Chews connected with our test dog's endocannabinoid receptors to provide pain relief directly to their injured ACL.
Osiris Beef Flavored Dog Chews: Benefits and Features
Derived from USA-grown hemp
Made from phytocannabinoid-rich CBD, which has more cannabinoids than regular hemp oil
Water-soluble formula absorbs quickly to provide faster results
May provide relief from anxiety and some types of pain
Osiris Beef Flavored Dog Chews: Pros & Cons
| Pros! | Cons! |
| --- | --- |
| Convenient, mess-free dosing – 2 mg of CBD per chew. | If you need to give your dog a larger dose based on your veterinarian's recommendations, 2 mg CBD chews may not be an economical solution. |
| Chews are delicious so your dog will be happy to eat them. | Product claims have not been evaluated by the FDA. |
| Reasonably priced – one-time purchase $39.95 with free shipping. The subscription price is $29.96. | Should not be administered to dogs without veterinary guidance. |
Where Are Osiris Beef Flavored Dog Chews Made?
The founders created Osiris Organics in 2019 after they experienced the benefits of natural products in their own lives. They realized that products that the quality of CBD products on the market varied widely. So they set out to create high-quality natural products that are accessible to everyone, including pets. Their CBD products are made from the manufacturer's proprietary strains of phytocannabinoid-rich hemp in their factory in Colorado. What's more, all of the hemp used in their products is 100% organically grown in the U.S.
Osiris Beef Flavored Dog Chews Ingredients
Osiris Beef Flavored Dog Chews are made from hemp-derived, phytocannabinoid-rich CBD powder that's water-soluble for fast absorption and fast-acting anxiety and pain relief.
Other ingredients include: Water, Dried Brewer's Yeast, Glycerin, Gum Arabic, Sodium Alginate, Beef Liver Powder, Natural Bacon Flavor, Flaxseed Oil, Microcrystalline Cellulose, Organic Sweet Potato Powder, Sunflower Lecithin (Non-GMO), Citrus Pectin, Vitamin E, Sodium Propionate, Calcium Sulfate Dehydrate, Natural Mixed Tocopherols (Natural Preservative) and Dextrin (Corn Derived)
Which Types of Dogs is Osiris Beef Flavored Dog Chews Best Suited for?
These delicious CBD chews are suitable for all dog breeds from Affenpinschers to Yorkshire Terriers. Please consult with your veterinarian to determine the proper dosage, which will be based on your dog's size, metabolism, and general health.
CBD Dosage Chart for Dogs
| Dog's Weight | Low Dose | Medium Dose | High Dose |
| --- | --- | --- | --- |
| About 10 pounds | 1 mg | 3 mg | 5mg |
| About 20 pounds | 2 mg | 6 mg | 10mg |
| About 30 pounds | 3 mg | 9 mg | 15 mg |
| About 40 pounds | 4 mg | 12 mg | 20 mg |
| About 50 pounds | 5 mg | 15 mg | 25 mg |
| About 60 pounds | 6 mg | 18 mg | 30 mg |
| About 70 pounds | 7 mg | 21 mg | 35 mg |
| About 80 pounds | 8 mg | 24 mg | 40 mg |
| About 90 pounds | 9 mg | 27 mg | 45 mg |
| About 100 pounds | 10 mg | 30 mg | 50 mg |
Osiris Beef Flavored Dog Chews: Recalls
As of March 20, 2022, Osiris Dog Chews have never been recalled according to the FDA recall database.
Osiris Beef Flavored Dog Chews: Where to Buy
You can purchase Osiris Dog Chews directly from the manufacturer at:
Best Dog Chews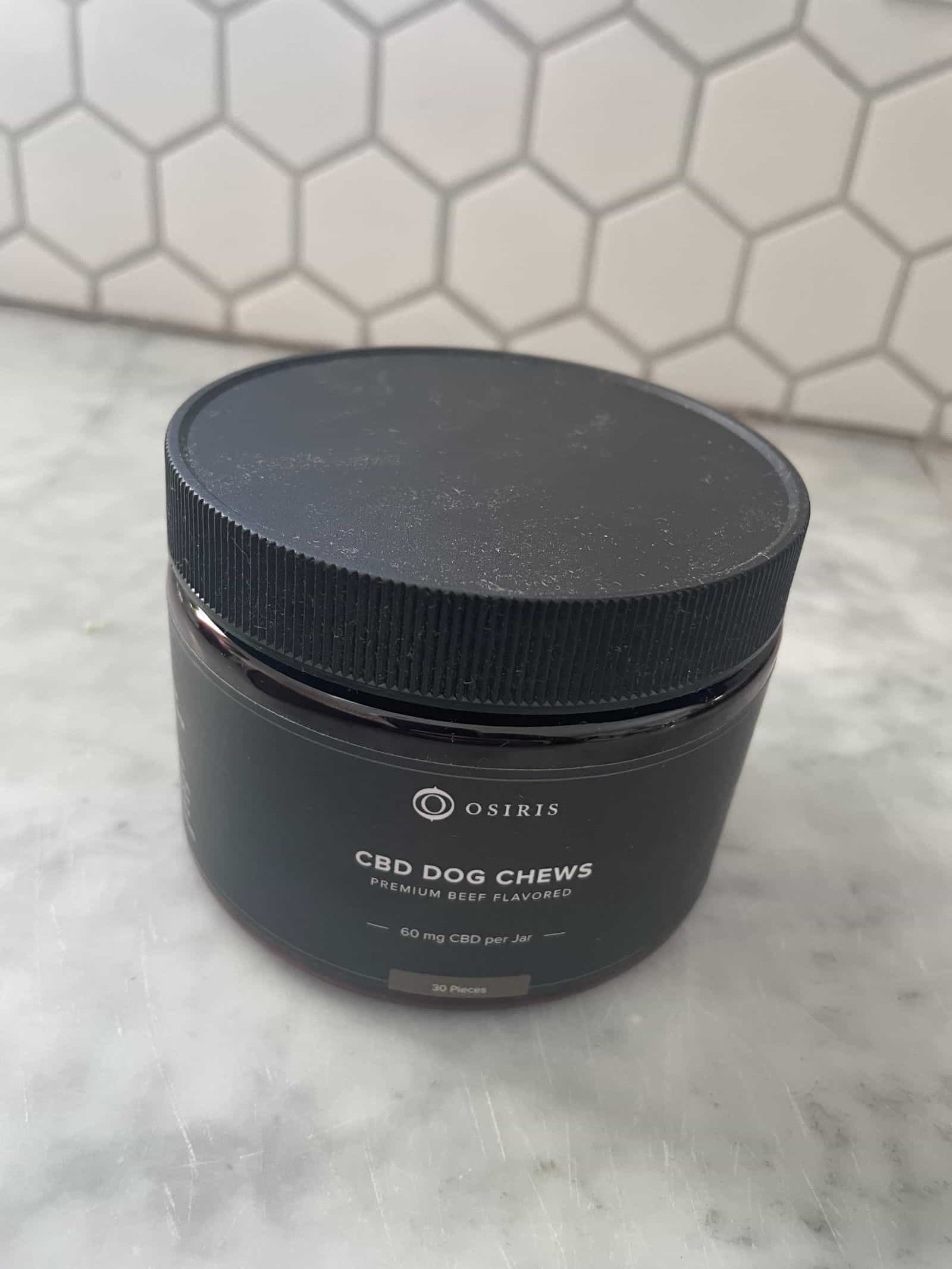 Osiris Beef Flavored Dog Chews Specs
Design
These chews contain 2mg CBD per piece. They are made from water-soluble, hemp-derived, phytocannabinoid-rich CBD that is designed to be absorbed into your dog's system quickly. Each jar contains 30 pieces.
We noticed that Osiris Pet Tincture worked more quickly than the Beef Flavored Chews, which is to be expected. When we gave our test dog Osiris Pet Tincture directly into their mouth (sublingual absorption) it provided pain relief within 20 – 60 minutes. When we administered Osiris Pet Tincture in their food or on a treat, it worked more slowly (45 – 90 minutes) because it had to be absorbed in their stomach. The same was true of the Beef Flavored Chews because the CBD has to be absorbed in their stomach.
Safety
CBD is considered to be safe when administered in veterinarian-recommended dosages. It's important to consult with your veterinarian to determine the proper dosage for your dog.
We appreciate that Osiris Organics is so committed to quality and transparency that they feature lab results for each batch right on their website. The lab reports, which you can access through the batch number at the bottom of your product bottle, includes information like:
Date of manufacture
Attributes such as consistency and color
Potencies
Terpenes
Pesticides
Heavy metals
Solvents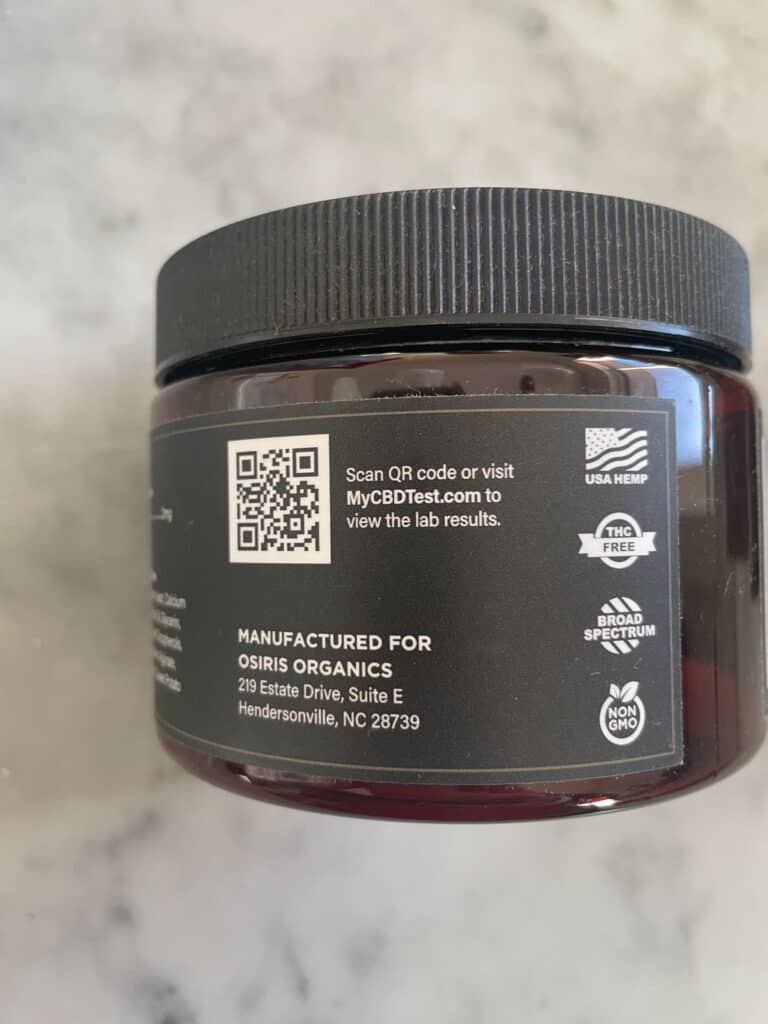 Price
Osiris Dog Chews are available directly from the manufacturer for a one-time purchase price of $39.95 with free shipping. For a $10 savings, the subscription price is $29.96, which is $1.00 per treat.
We feel like both pricing options are reasonable based on our extremely positive experience with the product. A dollar a treat is a bargain when it comes to providing pain and anxiety relief to our beloved furry four-legged family members.
Bottom Line
Osiris Dog Chews are a convenient way to give your dog CBD. Each treat includes 2 mg of water-soluble, full-spectrum CBD for mess-free, accurate dosing. And because these high-quality dog chews are delicious, your dog will eat them eagerly.
Seeing is believing. Because they provided our test dog with such significant pain relief, we plan to keep Osiris Dog Chews on hand at all times for pain relief. We also plan to give them to our dogs during the next thunderstorm or other stressful event for much-needed anxiety relief.
Osiris Beef Flavored Dog Chews: Recalls, Pros & Cons, and More FAQs (Frequently Asked Questions) 
Can I give CBD to my dog?
CBD is safe for pets when administered in the appropriate amount. Your veterinarian will determine what that amount is based on your dog's size, weight, health, metabolism, and activity level.
What does the term "broad-spectrum" mean?
Broad-spectrum CBD contains all of the beneficial compounds found in phytocannabinoid-rich hemp. It does not include any THC.
How long do CBD treats last for dogs?
The effects of CBD treats last a different length of time for each dog. Determining factors are your dog's weight, age, health, and metabolism. Your veterinarian can help you determine how long you should wait between doses.
Where can you buy CBD treats for dogs?
You can buy CBD treats for dogs at your local pet store if your state allows the sale of CBD products. Or you can purchase them online directly from the vendor. We recommend Osiris Organics Beef Flavored Dog Chews with 60mg CBD per jar, 2mg CBD per Chew.
What are CBD treats for dogs
CBD treats are bite-sized, chewy dog treats that include a specified amount of CBD per piece. They are a delicious, convenient, no-mess way to give your dog CBD.