While a dog collar is a necessary accessory, there's no reason why you can't choose form as well as function. Obviously, you'll want one that's both comfortable and stylish. It should be able to properly hold your pup's ID tags. And it should work well with your doggo's leash. With all of those requirements, one thing leaps to mind — a leather dog collar.
Leather dog collars are durable, lightweight, and hypoallergenic. They're pliable and comfortable as well as easy to use. Plus, they're eco-friendly, safe, and make your pup look good. Of course, like all other types of dog collars, there are different leather ones available on the market. There are rolled leather collars, padded ones, and even those that are customizable with a nameplate to boot. There are also handmade collars, ones made in China, and a few that are made in the USA. Finding the right leather collar for your dog is going to take a bit of work. That's where we come in. We can do the testing for you and put together a more manageable list of the best leather dog collars.
Plus our updated list for 2022 includes an extra, new leather dog collar recommendation.
But before we get into the ones we picked, let's first discuss how you can get a leather dog collar that fits your pet perfectly.
Two-toned leather with sheepskin inner lining

Available in colors brown/cream, black/camel, brown/pink, light brown/coral, rust/turquoise, turquoise/beige.

Solid brass buckle and d-ring

Sizes Small - XLarge

Check Amazon

Sizes range on neck measurement from 6"-21"
Comfortable rolled leather

Heavy-duty buckle and D-ring 

Available in multiple colors

Check Chewy Check Amazon

Sizes XSmall - Large
Leather & Alloy collar with nickel-plated hardware and D-ring
5 holes for adjustment
Available in 10 colors




Check Amazon
How to Measure for a Leather Dog Collar
The best dog collar you'll ever get for your pup is one that fits right. To make sure you get the size he needs, you need to measure your dog's neck properly. Get a tape measure and place it around the base of his neck – the ridge of his shoulders all the way around to the top of his chest. Make sure that the fit is snug and then add two fingers between the tape and his neck. The measurement you get is your dog's size. Check the manufacturer's size chart to find what collar length fits your dog best. If his measurement falls between two sizes, go for the larger one. And if you have a small dog or a puppy, make sure to go for a leather dog collar that has a narrow strap, so that it won't be too heavy for them.
Buckle vs. Quick Release
Leather dog collars typically feature either a buckle or a quick-release mechanism. The traditional buckle is one we're all familiar with. It works much like how we fasten our belts. The main benefit to getting a collar with a traditional buckle is that they're very secure. You don't have to worry about the collar accidentally opening or breaking over time. They're also adjustable and won't tighten on your dog's neck when pulled. It's the safer, more secure choice if you plan on walking your dog on a leash or leaving him tied out. However, because of how secure it can be, it's not ideal for an emergency. If it gets caught on something, removing it might take some time which your dog might not have. 
Quick-release collars, on the other hand, are incredibly convenient. It also allows you to quickly remove the collar in case of an emergency such as when your dog's collar gets caught on something. However, it isn't as durable as a buckle. The chances of the clip opening at a less opportune time is higher. 
Take note that both types have their benefits and drawbacks. It's important that you think of which style will work best for your situation and your dog's personality before choosing one over the other. 
The Top Picks for Best Leather Dog Collars: Ranked
#1 Best Overall: Custom Catch Personalized Dog Collar
A quality leather dog collar doesn't have to be a luxury one costing you more than what you can afford. Leather can be both stylish and budget-friendly. At least, that's how Custom Catch makes their personalized dog collar, our first choice for the best leather dog collar.
This dog collar is made out of real leather. Based on our testing, its durability is top-notch. It didn't seem to be something that's easily broken, even when worn by one of our most rambunctious doggos. There was quite a bit of pulling and we never worried that the collar would snap into two. 
Aside from being tough and affordable, we really liked how customizable these collars are. There are several cute collars to choose from (six to be exact). Plus, we loved how you didn't need an ID tag anymore because you can have your pet's name engraved on the strap itself. Who needs a nameplate when you can have it placed on the collar itself? You can even choose the style of the text, what information to include (i.e. phone number, medical information, and even add some designs (i.e.  hearts, bones). Did we mention that the collar is made in the USA? For a leather dog collar, this one definitely checks all of our requirements.
#2 Best Luxury Collar: Soft Touch Collars Luxury Real Leather Padded Dog Collar
Best Luxury Collar
If you don't mind shelling out a bit more for your dog's collar, then we definitely recommend the one offered by Soft Touch. It is luxury at its finest. At least, when it comes to dog collars.
This dog collar is made of real, high-end full-grain leather which makes it the most durable one on our list. The metal parts were made of solid lacquered brass to ensure that they won't be vulnerable to rust.  Not only is it tough, but it also has a padded interior made of sheepskin. It's so soft to the touch and, more importantly, our pets loved it. In our testing, this collar was the fur-vorite paws down.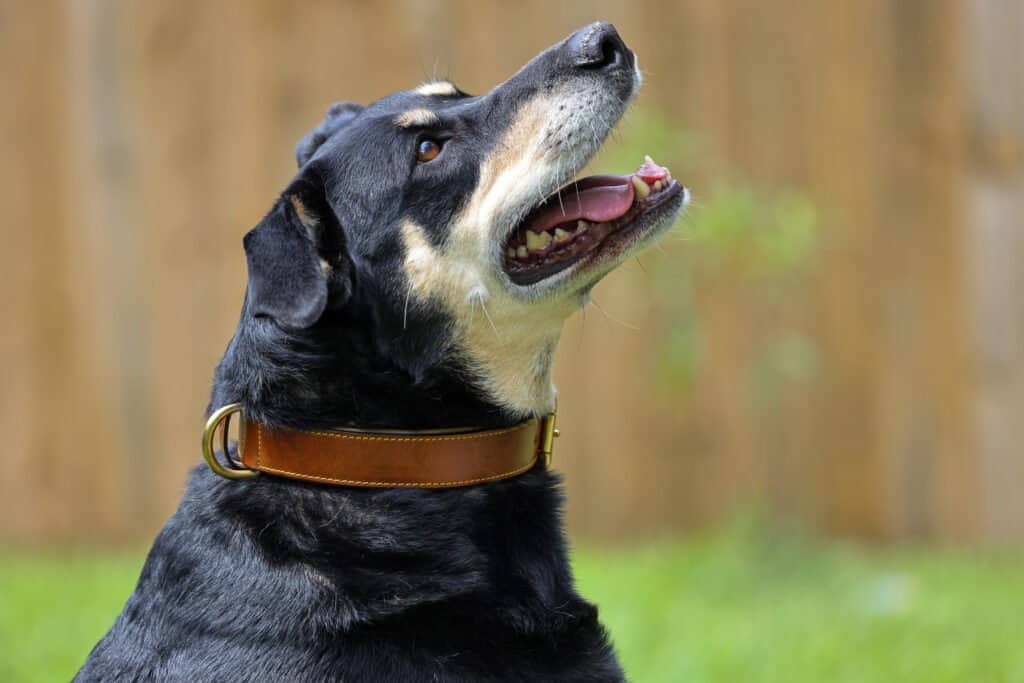 Like our first pick, we appreciated that this one was also made in the USA. Nothing against imported dog collars, but we believe in supporting the local industries. Plus, it comes with a lifetime warranty.
The only reasons we were hesitant to pick this luxury collar as the best overall was because it was not budget-friendly. It'll cost you quite a bit, especially if you have more than one pup in your household. In addition, it doesn't come with a customizable nameplate. The company also doesn't offer collar-leash combos. So, you'll need to shell out more money if you want to have those too. 
On a side note, the collars do come in four sizes, ranging from small to extra large. However, the smallest neck size it can accommodate is 11 inches. This is not a collar for toy dogs. 
#3: Best Rolled Leather Collar: CollarDirect Rolled Leather Dog Collar
Best Rolled Leather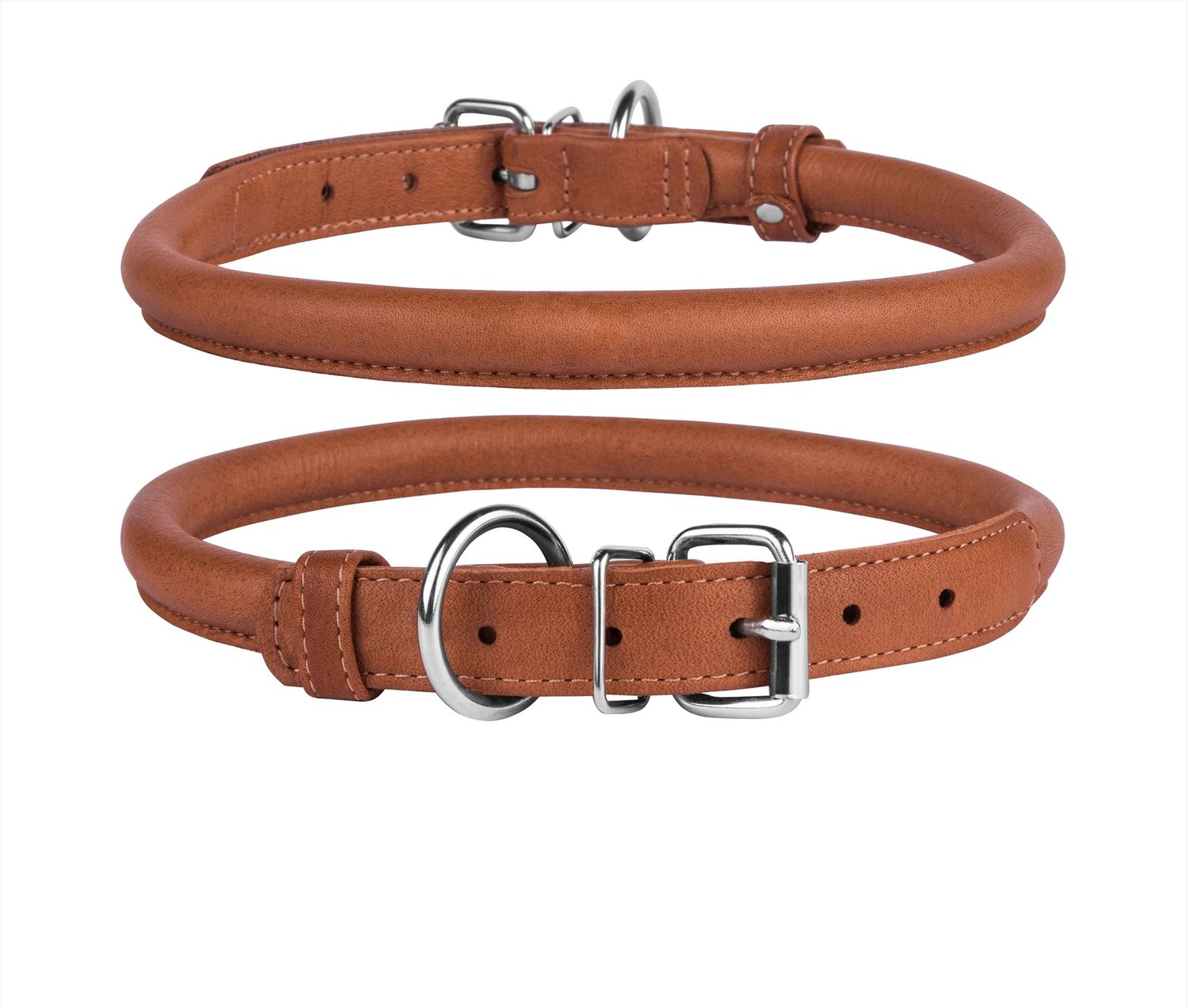 Luxury is perhaps in the feel of the beholder. Because we're pretty sure that this rolled leather collar can be described as such. First off, it's made out of genuine leather. Second, it's handmade. And third, it's very soft. In fact, we tried it on our own skin to see how comfortable it is before testing it out on our hairiest pet. 
Now, the rolled design makes this the ideal choice if your doggo has long-ish hair. Flat collars, even the most comfortable one, can cause matting. It can get snagged on their fur which can be painful. It can also irritate sensitive skin. But that's not going to be a problem with this design. Our Pomeranian's hair didn't knot at all even after wearing it all day long while playing with the other dogs in our team. 
Of course, since the collar is made out of real leather, it was as durable as we expected it to be. It certainly didn't feel flimsy when we tried stretching and pulling it. We were concerned about the belt loop though. It wasn't glued or stitched in place which means it could freely slide along the strap which defeats its purpose. 
In case you're wondering, this collar comes in a variety of colors – a lot of which are bright. It can be used on neck sizes ranging from 6 inches all the way to 21 inches (3XS to XL). Also, the company offers collar-leash combos allowing you to buy both for the price of one which is a steal.
#4: Best for Puppies & Toy Dogs: Aolove Leather Pet Collar
Best for Puppies
You don't have to get a high-end leather collar for your dog to get the very best for your pup or toy dog. Aolove offers a budget-friendly option that should suit your needs perfectly. 
Now, this is a very basic leather collar. It doesn't come with a nameplate or any fancy design. It does come in 10 different colors. It is made out of leather while the metal parts are nickel-plated alloy. Both are durable enough that it will last you a good long while. But it's lightweight enough that it won't burden your Chihuahua or miniature poodle. In our testing, this was the lightest of all the collars we picked which bodes well for small dogs. 
The only thing we were concerned about was that it didn't seem to be an ideal option for our big boys. They could easily chew through it if left unattended. Or snap in half if you got a big doggo who likes to pull.
#5: Best Durable Collar: Tuff Pupper Classic Heavy Duty Dog Collar
Time for our additional fifth leather dog collar to update our list for 2022. The Tuff Pupper Classic Heavy Duty Leather Dog Collar holds up exceptionally well to various elements and weather conditions.
The company backs this collar with a 100% lifetime guarantee. The Tuff Pupper is completely waterproof and withstands substantial exposure to rain, snow, dirt, mud, and even saltwater.
So if you and your pup lead an extra active lifestyle immersed in the outdoors, this heavy-duty leather dog collar is worth considering.
Related Images
Best Leather Dog Collars Summary
| Rank | Best For | Product |
| --- | --- | --- |
| #1 | Overall | Custom Catch Personalized Dog Collar |
| #2 | Quality and Durability | Soft Touch Collars Luxury Real Leather Padded Dog Collar |
| #3 | Comfort | CollarDirect Rolled Leather Dog Collar |
| #4 | Puppies and Toy Breeds | Aolove Leather Pet Collar |
| #5 | The Outdoors | Tuff Pupper Classic Heavy Duty Dog Collar |
Up Next…
Best Leather Dog Harness– Some dogs and some occasions require a safe and durable leather harness.
Best Martingale Dog Collars– Look into a trusted and stylish collar that helps train a tenacious dog to quit pulling.
Best Dog Leash Holders– Your doggo can't wait to go outside with you. A convenient spot to keep the leash and other outside time accessories helps you get out for walkies faster.
We Rounded Up the Best Leather Dog Collars: Updated for 2022 FAQs (Frequently Asked Questions) 
What is the best leather for dog collars?
If you want the best type of leather for your dog's collar, you need to choose high-end, top quality leather which is full-grain. Dog collars can be made of different types of leather. They might all be considered genuine leather. But all that signifies is that the material is "technically" considered real leather. It could be goat leather or pig leather.
Top grain leather is leather that has been altered a little in some way. For example, it might have been sanded down to remove any imperfections on the hide. Corrected grain leather undergoes even more alteration. Aside from sanding, the leather may also be buffed or resurfaced to make it look uniform. However, any alteration (even just a little bit) can affect the durability of the material.
So, if you want the best kind of leather, you need to choose full-grain leather. There is no sanding or any kind of alteration done to the hide. For this reason, the selection of the hide is crucial and so is the tanning process. Only the very best quality will do.
Are leather collars better for dogs?
As we've already mentioned, leather has a lot going for it. Genuine leather is all-natural. It's the better, more environmentally-friendly choice compared to nylon. In addition, it's a better choice for dogs with sensitive skin. In fact, it won't rub your dog's skin too much when wet. 
Real leather is also stronger compared to other materials which makes it more durable. While it is more expensive, it will last longer. More importantly, leather is very comfortable. It won't chafe your dog's neck even if he's a puller. Plus, the oil from your dog's skin will just make the material even more pliable over time. And it definitely doesn't hurt that leather looks more stylish than nylon.
Keep in mind that there are drawbacks to using a leather collar. High quality leather requires proper care to remain as good as new. Whether it's padded, rolled, or braided, you'll need to spend time cleaning it. Otherwise, it'll crack over time, especially when exposed to water. And once it becomes dry, it can chafe your dog's neck. Worse, it can become brittle and break. Leaving you with an unleashed dog who can end up getting hurt or hurting someone.
What is the best material for dog collars?
When it comes to the nylon vs leather collar debate, it's hard to pick a clear winner. Both of these materials offer advantages and disadvantages. Luxury, high-end full-grain leather is not only an attractive material, it's also very durable and can easily outlast any nylon dog collar. However, it does require maintenance to stay durable. You'll need to clean it with soap and water before applying leather conditioner. Plus, you need to make sure that you keep it dry. You also need to keep in mind that leather is an attractive chew toy for dogs. Nylon, on the other hand, is more durable when wet. It's a better choice if you live in an area with a humid climate. Nylon is also much lighter which is something you need to consider when you're looking for a collar for a small dog such as pups or toy breeds.
Both materials can be comfortable, though leather can be "broken in" over time, making it even softer. And for some dogs, it's less likely to cause skin irritations. As for safety, leather is less likely to become entangled when dogs are rough-housing. The same thing cannot be said for nylon which, when caught in another dog's teeth, can cause strangulation. 
Of course, we know that leather is more expensive. However, many believe that its longevity more than makes up for its price. In addition, it definitely looks better on your dog compared to a nylon strap. 
Based on our experience with the various dog collars we've tested and reviewed, leather is the best bet. But nylon isn't chopped liver. It'll all come down to personal preference – yours and your dog's.
Do leather dog collars smell?
Yes, they do. But so does a nylon one. There's no dog collar that won't get stinky when you don't clean it properly. If you want to make sure that your pet's leather collar stays clean and hygienic, you need to make sure that you follow the steps below:
Step 1: wash the collar with warm water and mild soap. Make sure to just dip it in the water and remove any excess water before cleaning the surface using a circular motion.
Step 2: Dry the collar using cloth to remove any moisture.
Step 3: Apply leather conditioner to prolong the life of your dog's collar.
Make sure to keep the leather out of direct sunlight when drying it to prevent the material from cracking. In addition, avoid using bleach as it will damage the leather.