Key Points
The #1 Best Overall wet food for senior dogs is the Blue Buffalo Homestyle Recipe Senior Chicken Dinner.
There are many great benefits to wet food for senior dogs. Keeping your elderly pup hydrated is easier with wet food, which is high in moisture. In contrast to puppies and adults, senior dogs require more protein-rich food as well. Choosing a senior food high in fiber will also help your dog's digestion and bowel movements.
If your senior dog has trouble chewing kibble, wet food will be easier to chew and swallow.
By researching the best wet dog foods for senior dogs, we were able to find the best on the market. A number of important considerations were taken into account, such as the ingredient content, fiber content, and more.
The physical and mental changes that our precious pups undergo with age are similar to those we experience as humans. As dogs age, pet parents may not be aware of what they should do. While changing the environment may be necessary, an important focus needs to be placed on the diet of older dogs. For the most part, man's best friend eats kibble throughout his life before switching to wet food as he gets older. 
There are many benefits to eating wet food. In addition to being easier for older dogs to eat, it has fewer calories to prevent obesity, and it has protein, vitamins, and minerals to keep your senior dog healthy. In addition, soft food has a high water density, so you won't have to worry about dehydration. If you're considering switching to wet food due to its fiber content or just need to conceal your dog's medication, we've got the best four options. Our picks have something for everyone, and we're confident that your dog will enjoy them!
Top Picks: The Best Wet Food for Senior Dogs Today
#1. Best Overall: Blue Buffalo Homestyle Recipe Senior Chicken Dinner
When it comes to the overall best food for older dogs, Blue Buffalo Homestyle Recipe Natural Senior Wet Dog Food is our favorite. You can give it to your dog as a tasty treat, mix it in with their dry food, or feed it as a standalone meal. 
One reason we chose this Blue Buffalo recipe as the best of the best is that it has real deboned chicken as the top ingredient. The order of ingredients is of major importance when choosing dog food and choosing an option with protein from a real source is key. 
Your pooch will love the taste of the chicken and appreciate that there aren't any animal by-products. It's formulated for dogs of all ages and designed in a pâté-style to make it easy to chew and swallow. There are wholesome, hearty grains including brown rice and barley that will give your senior pup plenty of energy. The bits of carrots, sweet potatoes, blueberries, and cranberries add a tasty tang that makes each bite packed with flavor. 
Some customers have complained that they receive dented cans when they order them online. Because of how misshapen the can is, they aren't able to get all of the food inside.
Pros and Cons of the Blue Buffalo Homestyle Recipe Senior Chicken Dinner
| Pros | Cons |
| --- | --- |
| The recipe contains real deboned chicken to help maintain healthy muscles. | In some cases, customers have complained that their cans arrived dented when they ordered them online. |
| You can serve it as a treat, with dry food, or as a dish on its own. | |
| It's filled with healthy fruits and vegetables. | |
Overall Best
2. Best US-Made Wet Food for Senior Dogs: Hill's Science Diet Adult 7+ Beef & Barley
For high-quality dog food made in the United States for older dogs, consider Hill's Science Diet Adult 7+ Beef & Barley. Pet parents love that it's made in US-based facilities. However, it is important to note that the ingredients are sourced worldwide.
One reason older dogs can benefit from this wet food from Hill's Science is because of the powerful blend of antioxidants. All the ingredients in it are natural and even veterinarians recommend it. 
There is high-quality protein to keep your dog full for longer and help build strong muscle mass. Hill's Science also added Omega-6 fatty acids and vitamin E to keep your pooch's hair, skin, joints, and vision in good health. Made with chicken, brown rice, beef, and barely, this food has all the nutrients your dog will need. It's easily digestible and the taste is unbeatable. Some customers have noted that the dish, however, is high in carbohydrates. So this may not be the best option for overweight dogs.
It is also important to note, however, that Hill's voluntarily recalled certain canned dog foods, including this one, on January 31, 2019. Since then, no recalls have been issued for this product.
Pros and Cons of the Hill's Science Diet Adult 7+ Beef & Barley
| Pros | Cons |
| --- | --- |
| The recipe is made in US-based facilities. | The recipe is high in carbohydrates. |
| Fruits and vegetables in this recipe provide a powerful antioxidant blend. | |
| The recipe is veterinarian recommended. | |
Best US-Made
3. Best Value Wet Food for Senior Dogs: Iams ProActive Healthy Aging Senior Wet Dog Food
Feed your senior dog Iams ProActive Healthy Aging Senior Wet Dog Food if you want the best value without sacrificing quality.
It doesn't seem necessary to spend more than you have to on wet dog food for your senior dog, does it? The Iams ProActive is the perfect budget-friendly option because of this. This is one of the best foods for older dogs because the chicken and rice were slow-cooked to bring out all of the scrumptious flavors. Senior dogs find this food and its formula easy to chew and swallow.
Like others on this list, this recipe is made using omega fatty acids that are beneficial to your dog's coat, skin, eyes, and joints. If you have younger pups as well, you can feed them this IAMS wet food as long as they're older than a year!
There are multiple flavors to choose from, including chicken, lamb, and beef. There are wholesome grains to keep your dog's energy high and the added vitamins and minerals support the overall health of your pup. However, some reviewers complained that the dog food made their pup gassy.
Pros and Cons of the Iams ProActive Healthy Aging Senior Wet Dog Food
| Pros | Cons |
| --- | --- |
| The recipe contains omega-3 fatty acids that promote cardiovascular health, skin health, and joint health. | There were some reviews mentioning that the dog food made their dog gassy. |
| Even the pickiest dog can find something he likes among the variety of flavors. | |
| It boosts energy and promotes immune health thanks to its unique blend of ingredients. | |
Best Value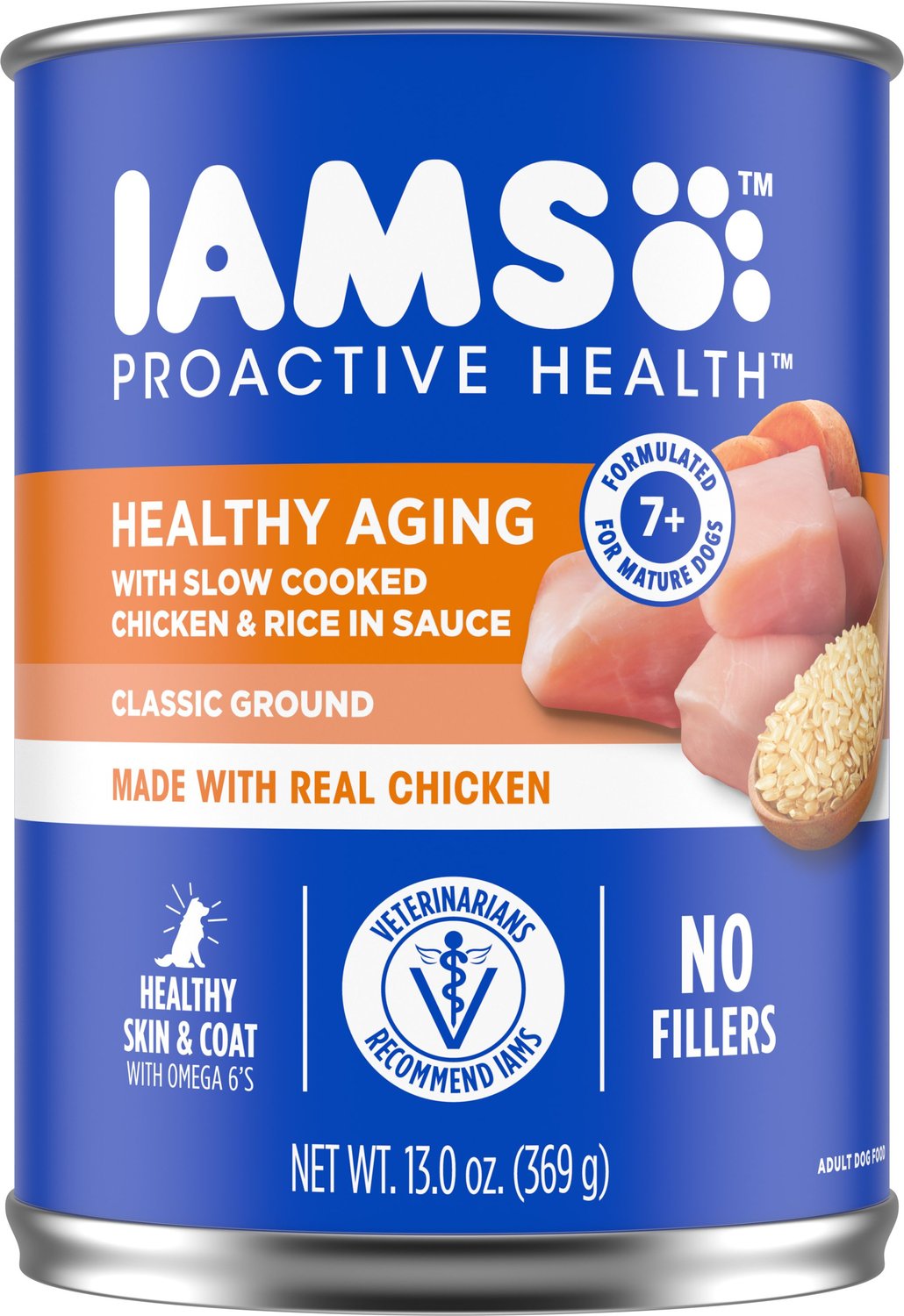 4. Best Wet Food for Senior Dogs in Gravy: Purina Pro Plan Senior Beef & Rice Entree
There is no doubt that your dog will love the Purina Pro Plan Senior Beef & Rice Entree if they are a big fan of gravy.
Who doesn't love a bit of gravy? When it comes to the best food for older dogs, the Purina Pro Plan takes our fourth and final spot. It's designed for dogs that are at least seven years of age. While it's available in several different flavors, the senior beef and rice entree seems to be the favorite of most canines.
Your dog will benefit from real beef and high-quality grains to keep them healthy. It's not uncommon for senior dogs to struggle with digestion and this food is known for being easily digestible. Pet owners love that there aren't any added artificial dyes or preservatives. On the other hand, the 23 essential vitamins and minerals are something dog parents can't get enough of! There were some reviewers, however, who noted that their dogs did not like the change in formula and would no longer eat the dog food.
Pros and Cons of the Purina Pro Plan Senior Beef & Rice Entree
| Pros | Cons |
| --- | --- |
| This is a great wet food option for dogs that enjoy gravy. | A change in the formula caused some reviewers' dogs to stop eating it. |
| This recipe is very easily digestible, which is great for senior dogs. | |
| There are no artificial flavors or dyes added to the recipe. | |
Best Food in Gravy
What to Look For in the Best Wet Food for Senior Dogs
Here are a few things you need to consider before you choose a wet dog food for your older pet. It's not a decision to take lightly, as the dog food you choose can have a profound impact on your dog's attitude, health, and overall quality of life. 
When comparing different dog food brands, keep these factors in mind: 
Protein 
Fiber 
Calories 
Fatty acids 
Overall ingredients 
Moisture content 
Texture 
In the following section, each of these factors will be discussed in more detail:
Protein
As carnivores, dogs require a lot of protein to meet their nutritional needs. Senior dogs, on the other hand, require even more protein than adult dogs. Your pup needs protein to build and repair compromised tissue in the body. Amino acids are a form of protein that helps the muscles repair themselves when the dog is not utilizing them. Senior dogs ingest more protein than pups or adult dogs, implying that they require more protein to function in daily life. The more protein your senior dog consumes, the better his or her body can heal.
Fiber
The fiber in your senior dog's diet will help manage their digestive tract and bowel movements, making potty trips easier and less unpleasant for them. Changes in this area might be concerning for dogs who aren't aware of what's going on, so increasing their fiber intake is essential when choosing a wet food for your older dog. 
Having said that, you should continue to keep an eye on your dog while altering its fiber intake. If you increase the volume of fiber in their diet and they start to have digestive problems or loose stools, you should gradually reduce the amount of fiber until you achieve the proper balance.
Calories
Obesity is common in senior dogs because they become tired faster and do not move as much. It is common for senior dogs to rest more and take a break from running after a ball. As a result, calorie tracking is another responsibility for older dog owners. 
In addition, the number of calories your elderly dog needs to sustain its weight is determined by their present weight and the level of exercise they get. When in doubt, look for help from your veterinarian. As a general guideline, give your dog half a can of for every ten pounds they weigh.
Fatty Acids
A diet rich in Omega-3s and Omega-6s can help your older dog avoid cardiac issues, which is one of the primary concerns people have. In senior dog food, fatty acids and antioxidants work together to keep their minds sharp and active.
Maintaining your dog's mental activity can help them avoid the indications of aging and cherish their golden years. No one wants to see their pet's mental health degrade over time, so check for fatty acids and antioxidants in the ingredient list.
Overall Ingredients
Natural ingredients are always the safest for dogs, regardless of their age. This usually means fewer calories and no unnecessary filler items for your dog's diet. Dogs, like people, should eat a diverse diet in order to receive the most benefits from it. Natural ingredients will provide your dog with more minerals and vitamins, which will make them feel more energetic, improve their cognition and brain function, and avoid health concerns that will damage their quality of life. Grains like rice are frequently included in dog food to thicken the consistency and virtually always increase the number of carbs in each serving.
Moisture Content
Canned wet food contains 75% moisture and is the most costly type of dog food. Canned food is the most appetizing senior dog food for canines since it resembles fresh meats the most. The greatest shelf life is found in unopened canned foods, however, any opened cans must be chilled to extend their life.
Texture
In the event that your elderly dog's gums and teeth are bothering him, he might need a softer wet dog food than he is used to. This might be in the shape of a mousse, pâté, or little meat bits. All of the canned foods described above have textures that are easy to consume and digest.
What are the Best Dry Foods for Senior Dogs?
Though wet food is generally considered to be a better option for older dogs, some pickier pooches simply don't want anything but dry food. This is no reason to disdain, as there are many reputable brands that provide nutritious dry kibble options especially catered to dogs in their golden years.
| | |
| --- | --- |
| Senior Dog Food | Price |
| Nutro Ultra Senior Dry Dog Food | $54.98 (15 lb bag) |
| VICTOR Senior Healthy Weight Dry Dog Food | $33.99 (15 lb bag) |
| Blue Buffalo Life Protection Formula Senior Dry Dog Food | $36.47 (15 lb bag) |
| Nutro Wholesome Essentials Senior Dry Dog Food | $37.98 (13 lb bag) |
| Iams ProActive Health Mature Adult Dry Dog Food | $29.98 (15 lb bag) |
| Diamond Naturals Senior Formula Dry Dog Food | $31.99 (18 lb bag) |
Up Next
The Best Wet Food for Senior Dogs FAQs (Frequently Asked Questions) 
Should senior dogs eat wet food?
Your dog may benefit from switching to wet food as he ages for a few reasons. Generally, wet foods are more easily digestible than kibble. Plus many of them contain relatively few carbohydrates or fillers. As dog's age, they are more likely to gain weight, so the fewer fillers and carbs the better. In comparison with dry kibble, wet food also has a higher moisture content. Senior dogs who have urinary-tract issues or need to stay more hydrated may benefit from canned wet dog food.
At what age is my dog considered a senior?
Dog breeds of large size tend to age more rapidly than those of small size. Large and giant breeds are considered senior dogs around six to seven years of age, while small breeds are considered senior dogs around 10-12 years old.
Can I give my dog wet food every day?
Yes, dogs can eat wet food every day. Compared with kibble, wet diets are also less processed and less expensive. In contrast to popular beliefs, wet entrees don't upset your dog's stomach, especially if you stick with high-quality brands.