Key Points:
While grains in dog food provide healthy carbohydrates, some dogs may have grain allergies or sensitivity. Luckily, there are many grain-free options to choose from.
Protein is what each type of grain-free option is built upon by Fromm, ranging from animal proteins such as chicken, red meat, duck, and fish.
Ingredients to replace grains are vitamin-rich vegetables , such as lentils, potatoes, and peas. While veggies are great for humans, some may contribute to heart conditions in dogs. Pay attention to what veggies are in the food, and weigh the benefits with the possible consequences.
Consider your budget when deciding on the best dog food. Cuisine with the healthiest ingredients made in small batches may put be a small dent in the piggy bank.
Over the last decade or so, grains have gotten a bad reputation. There has been an advertising campaign by many dog food companies that grains are not good for dogs for one reason or another. However, this is largely untrue. Dogs have evolved to eat grains over the last hundreds of years as they lived next to people.
When used in moderation, grains are a good source of carbohydrates, which is an essential source of energy for our dogs. Some dogs do need fewer carbohydrates, especially if they are less active. However, choosing grain-free food is not enough to ensure that the food is low-carb.
However, some dogs are allergic or sensitive to grains. They may experience allergies when they eat grains, while others may experience stomach issues. While these allergies are rare, they can occur in some cases.
If your dog has an allergy, it is often best to choose a grain-free food to avoid that allergen as much as possible. For this purpose, we have reviewed six of Fromm's best grain-free dog foods. Fromm is one of the premium dog foods widely on the market, and their grain-free foods live up to expectations.
A-Z-Top Picks for Fromm Grain Free Dog Food
Choosing the Best: What to Look For
When choosing a grain-free food for your sensitive canine, there are several factors that you need to keep in mind. These include protein sources, ingredients, and price. We'll take a look at each of these factors below:
Protein Source
The main difference between one Fromm grain-free dog food and the next is the main protein source. Each dog food has one or two main protein sources that the rest of the food is built on. While there are usually other protein sources (for completeness), they will have less of an effect on the food than other sources.
You'll see a lot of advertising about different protein sources. However, we'll here to tell you that they really don't matter as long as they are animal-based. You don't want peas as your main protein, but any sort of animal is completely okay for most dogs.
Of course, if your dog has specific allergies, you'll want to avoid their allergen. The most common allergies are chicken and beef, which are common dog food ingredients.
Some proteins also have added health benefits, like the increased omega fatty acid content in fish. For this reason, you should also consider your dog's other health needs when considering what food to choose.
Ingredients
There are several ingredients you need to consider when choosing dog food for your canine. However, when you're selecting a grain-free food, you typically only have to worry about the veggies (after the meat, of course).
While pretty much all veggies are healthy for us, that is not true for our dogs. Some veggies are absolutely better than others. Despite, this most grain-free foods include peas, potatoes, or lentils high on the ingredient list. While these ingredients aren't necessarily bad, they are associated with some heart conditions.
Therefore, you may want to avoid them when possible.
However, they are also high in a number of amino acids, which are important for your dog's health. Therefore, in this way, handling the veggies in your dog's food is a bit of a balancing act.
Price
While we would all love for the price to not be a factor, it typically is. For this reason, you need to consider your budget before you go out and choose dog food.
With that said, comparing the price of dog food can be a bit complicated. Not only do you need to look at the price per ounce, but you also need to consider how much your dog needs to eat. If food is cheaper but less calorie-dense, you may actually end up spending more money on it.
The Different Types of Fromm Grain-Free Dog Food: Pros and Cons Compared
Technically, there are tons of different types of dog food out there. However, Fromm does not provide grain-free options for all types of dog food. In fact, you're only able to choose between dry and wet dog food. Below, we'll take a look at these two types and compare them.
Dry Dog Food – Most people feed their dog dry dog food, since it easier to provide and has a stable shelf life. Plus, there are lots of different dry dog foods as well.
Wet Dog Food – For dogs that need extra moisture, wet dog food is a good option. It is often tastier as well, due to the added moisture.
Before we move on, let's look at the pros and cons of both of these.
Dry Dog Food
Pros:
Lots of options
Easy to feed
Shelf-stable
Cons:
Wet Dog Food
Pros:
High moisture content
Tasty
Cons:
Cannot be left out
Expensive
Our Criteria: How We Chose the Best
When ranking Fromm's grain-free options, we were impressed by the host of healthy nutrients from the prime ingredients. Our dogs took to this brand and loved the variety of flavors. Grain-free seemed easy on their stomachs, helping to eliminate digestion issues. Another thing we noticed and liked is that the food is made in small batches, which guarantees freshness.
One thing we noticed is some have complained about toughness of the kibble and price. While the kibble complaints could be due to a storage problem, it is something to consider. The expensive price may make this brand inaccessible for some dog owners. We, however, feel the benefits outweigh the cost.
#1 Fromm Four Star Grain-Free Game Bird Recipe Dry Dog Food – Best Overall
For many canines, you may want to consider this formula, our best overall choice. It features turkey as the first ingredient, followed by both duck meal and turkey broth. Because turkey broth is included instead of water, this formula is extra-tasty and includes extra nutrients. Broth is simply more nutritious than water. There are also a variety of other meat products, like turkey liver, chicken meal, goose, chicken, pheasant, and quail.
With so many different kinds of meat, this food is quite high in protein and fat. Plus, the variety of animal proteins helps ensure that your dog consumes a rich and complete diet.
Like many premium dog foods, this option does include flaxseed, which improves the omega fat content of this food. Omega fatty acids are helpful for many different dogs, as it improves coat, skin, and joint health.
Of course, there are also a variety of fruits and veggies to add antioxidants and nutrients to the mix. Antioxidants are vital to avoid oxidative stress, which is associated with a variety of different illnesses.
This formula also includes probiotics, which help your dog's digestive health. Probiotics are also helpful for immune health since much of the immune system is in the gut. There are other helpful ingredients as well, such as pumpkin, which can improve digestive health.
Best Overall
#2 Fromm FourStar Dog Food Beef Dog Food – Best Chicken-Free Dog Food
Chicken is one of the most common causes of allergies and sensitivities. If your dog is allergic to chicken, you may want to try this formula. It is free from grain and chicken, making it a solid option for dogs with lots of sensitives.
The ingredient list is pretty simple, featuring beef as the primary protein. However, pork meat meal also appears pretty early on the ingredient list, contributing to the protein content of the food.
With that said, much of the protein content is also contributed from peas and pea protein, which appear extremely early in the ingredient list. While veggie protein isn't necessarily bad, it is more difficult for dogs to absorb than animal protein. For this reason, the protein in this food likely isn't as absorbable as other options out there.
Furthermore, peas have been associated with an increase in DCM, which is a serious heart condition in dogs.
Like most Fromm foods, this dog food features probiotics, which help improve your dog's overall health. It also includes yucca schidigera, which is an ingredient shown to assist in GI function.
Best Chicken-Free
#3 Fromm FourStar Salmon Tunalini Dog Food – Best for Skin Health
With salmon as the first ingredient, this food is very high in omega fatty acids. Therefore, this food is very nourishing for the skin and coat of your canine. It may also improve joint health, which may be particularly vital for some larger dogs.
This food also includes some other forms of protein, including sardines. The majority of the food is made out of fish of some sort, though the chicken liver is included further down.
A variety of veggies are also included. Peas appear very early in the ingredient list, for instance, and appear in multiple forms throughout the ingredient list. Peas are not necessarily a bad option for our dogs, though they have been associated with DCM, an often deadly heart condition. Therefore, unless your dog really needs the omega fatty acids, you may want to choose a separate option.
This food includes other veggies as well, including carrots, lettuce, and tomatoes. All of these veggies help add to the overall nutritional content of the food.
Probiotics are added as the last ingredient to help maintain your dog's digestive health. In many cases, probiotics can also help with a dog's immune system.
Best for Skin Health
#4 Fromm FourStar Chicken Au Frommage Dog Food – Best Budget Option
For the most part, this Fromm dog food contains chicken as the primary protein. For this reason, it is one of the cheaper options, since chicken is typically considered to be the cheapest protein that you can buy. This food is a bit less expensive than other options, so it is great for those who are on a budget.
As you might guess from the name, this food features chicken as the first ingredient followed by chicken meal. Chicken liver and chicken fat are both included further down the list, but chicken does appear to be the only animal protein source.
With that said, there are a few veggies that are high in protein, including chickpeas, lentils, peas, potatoes, and sweet potatoes. All of these veggies are higher in protein than other veggies and fruits, so they do add quite a bit to the overall protein content of this food. However, this protein is lower-quality, since it isn't from an animal source.
This recipe contains salmon oil, which provides extra omega fatty acids. These fatty acids are vital for your dog's skin and coat health. While all dogs can benefit from added omegas, those with skin and coat problems will likely benefit the most.
You'll also find high amounts of fruit with high levels of antioxidants in this dog food. antioxidants fight oxidative damage on your dog's cells, which can lead to diseases.
Of course, the food includes probiotics too, which help with digestive health. Probiotics support your canine's immune system as well since many microbes enter your dog's bloodstream through their digestive tract.
Best Budget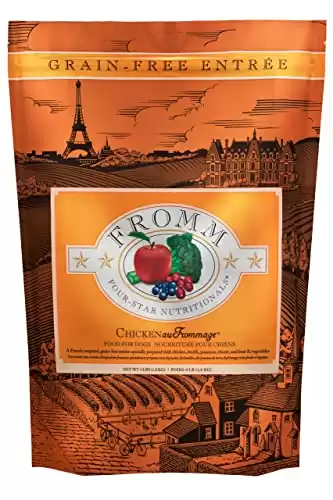 Fromm Dog Four Star Chicken AU FROMMAGE
Contains chicken as the primary protein
Include vegetables like chickpeas, lentils, peas, potatoes, and sweet potatoes
Contains salmon oil, which provides extra omega fatty acids
Features high levels of antioxidants
Check Amazon
#5 Fromm FourStar Surf and Turf Dog Food – Best Protein Variety
Most foods on this list feature only a few proteins. However, some dogs benefit from a variety of different proteins. For instance, more protein sources typically mean that the protein is more digestible, which can help more active dogs maintain their muscle mass. In some cases, a variety of protein sources can also prevent allergies.
If your dog falls into any of these categories, they may benefit from this dog food. It includes many different sources of protein, including salmon, chicken, duck, and herring. With so many different sources, this food is extremely nutritionally complete and a bit higher in protein than other options.
There are also a few plant-based protein sources included. For instance, this food features lentils, chickpeas, and peas. While these dogs add protein, they are less digestible than many meat-based sources. Therefore, they aren't necessarily the best option for your dog.
Plus, peas are associated with a specific heart condition in dogs, so they aren't the best option for most. However, they are a common additive in most grain-free foods.
The AAFCO has okayed this food for all life stages, including larger breeds. Therefore, it is suitable for practically any dog, though some small breeds may have a hard time with the larger kibble.
Best Novel Proteins
#6 Fromm Hasen Duckenpfeffer Dry Dog Food – Best Novel Proteins
In some cases, your dog may benefit from a novel protein – which is simply a protein that is "new". Often, your dog needs these proteins when they develop allergies, though you may also want to use a novel protein to avoid allergies to common dog food ingredients, like chicken.
The main ingredients in this dog food are rabbit, duck, and pork. These proteins are pretty rare in dog food, so the odds of your dog being allergic to them are quite low. Plus, they may also help keep the flavor interesting for pickier dogs.
Like most grain-free diets, peas, potatoes, and chickpeas are also included in pretty high amounts. While this is to be expected to some extent, peas and similar ingredients have been linked to DCM, a serious heart condition in dogs. Therefore, you may only want to feed this food if your dog really needs it.
Luckily, this food also includes a variety of other veggies, like celery and carrots. These provide nutrients in their natural form, which helps with digestibility. Some dogs are sensitive to the artificial nutrients that are often added to dog food, so the use of natural sources is always a plus.
Best Novel Proteins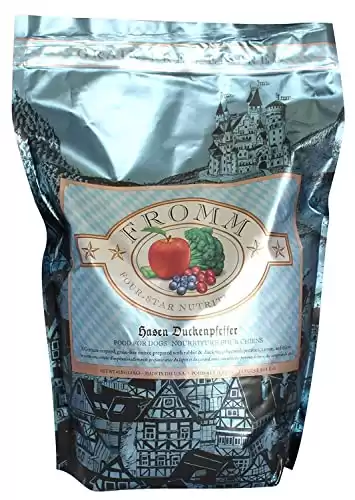 Summary of the Best Fromm Grain Free Dog Food
| Rank | Best For | Product |
| --- | --- | --- |
| 1 | Overall | Fromm Four Star Grain-Free Game Bird Recipe |
| 2 | Chicken-free | Fromm FourStar Beef |
| 3 | Skin Health | Fromm FourStar Salmon Tunalini |
| 4 | Budget | Fromm FourStar Chicken Au Frommage |
| 5 | Protein Variety | Fromm FourStar Surf and Turf |
| 6 | Novel Proteins | Fromm Hasen Duckenpfeffer Dry Dog Food |
Related Images
Up Next
More from A-Z Animals