Just Right pet food has developed a personalized system for your dog unlike any other. You start by taking an easy quiz during which you describe your dog's breed, size, age, health, and ingredient preferences. An expert from Just Right dog food gets to work immediately to use your dog's details and build a customized feeding plan (including a tailored price!). With Just Right dog food, you can enjoy regular monthly deliveries. The subscription is flexible, meaning you can adjust or cancel it at any time.
We tested Just Right dog food for 45 days with an aging pit bull mix. The dog had previously been on Blue Buffalo food with success for years, but started to experience dry skin and a thinning coat as they aged. We needed a specific formula for their age, size, and breed mix, and Just Right dog food delivered.
Just Right has earned the Good Housekeeping Institute seal, which is only afforded to companies that meet rigorous testing and evaluation protocols. With this seal, Just Right proves that its products are high-quality and that the company is committed to helping pet owners make smart purchasing decisions. Our own experience confirms this. Just Right personalizes everything down to the packaging. You can expect to see your favorite furry pal's name and photo on the packaging of his custom blend. You get custom amounts and feeding instructions along with a free measuring cup too!
We will discuss these details more in-depth, including the key features that set this brand apart, the type of dog breeds these recipes are best suited for, where you can purchase them, and our own personal experience! We also delve a bit further to uncover any recalls and controversies related to the brand or products — it's not a well-rounded review if we skip this part! We finish off this article with answers to some of your most important questions, so you walk away feeling well-informed about Just Right dog food and its products.
Why Just Right Pet Food Personalizes Dog Food?
With Just Right, there are thousands of possibilities for the perfect meal plan. With personalization, you don't have to decide on available products at your local pet store. Instead, you can supply your dog's details and get a customized blend that delivers the nutrition your pup needs to thrive. Your dog gets the best of the best and you can rest easy with a flexible subscription that delivers the custom feeding plan for your dog every month — straight to your front door.
Life gets in the way sometimes — why wait until you reach into your dog's food bag and there are only a few bits left? Just Right helps you take the guesswork and the hassle out of feeding your pup the best. No more trips to the store last minute or scraps from the fridge. With Just Right, you always have the food your dog needs and craves on hand.
As your dog gets older, his nutritional requirements and taste for flavors change. With Just Right, you have the support you need to keep up to date with your pup. They make themselves available so you can keep updating your dog's details and have a new personalized blend created that meets your pup's needs. This is not the kind of support you get from a pet store — most of the time, you're walking through aisles, researching on your phone, and making the best decision you can. With Just Right, you not only get the best food for your pup, but you also get the support he needs along the way.
Just Right Pet Food Key Features
Start with a simple, five-minute quiz
Personalized blend and feeding plan
Monthly delivery
100% satisfaction guaranteed
Always free shipping
With Just Right, the process is simple, and you get all the healthful ingredients your dog needs to live a long, happy life. Each custom blend is made with all high-quality components tailored specifically to your dog's unique dietary needs and preferences. Just Right never incorporates artificial colors, flavors, or fillers in their blends. Each custom blend is crafted in the USA and is approved by nutritionists. Below, we list some of the proteins, carbohydrates, fats, oils, minerals, vitamins, and amino acids included to support your dog's overall health. Each of these is uniquely blended so your dog has a custom meal plan he enjoys!
Protein
Lamb
Chicken
Salmon
Beef
Pea protein
Potato protein
Soybean flour
Canola meal
Corn germ meal
Corn gluten meal
Dried egg product
Chicken by-product meal
Carbohydrates
Barley
Whole wheat
Pea starch
Pea fiber
Oatmeal
Cassava root flour
Dried beet pulp
Lentil flour
Corn
Wheat bran aleurone
Fats and Oils
Beef fat
Fish oil
Sunflower oil
Soybean oil
Vegetable oil
Minerals
Calcium carbonate
Calcium iodate
Copper sulfate
Ferrous sulfate
Manganese sulfate
Tricalcium phosphate
Potassium chloride
Potassium citrate
Salt
Sodium selenite
Zinc sulfate
Vitamins
Biotin
Calcium pantothenate
Choline chloride
Folic acid
Vitamin C
Vitamin K
Niacin
Vitamin B6
Riboflavin supplement
Thiamin mononitrate
And more
Amino Acids
L-lysine monohydrochloride
L-threonine
D, L-methionine
Taurine
Taste Preferences (for flavor and texture)
Dehydrated carrots
Dehydrates peas
Meaty pieces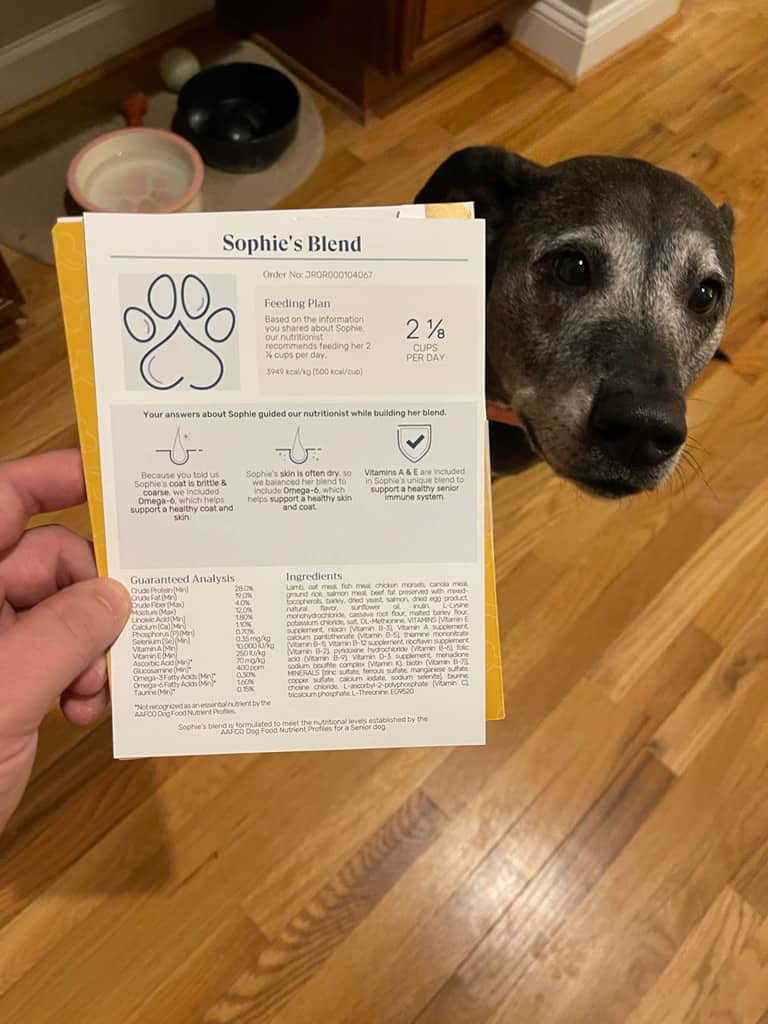 How Just Right Pet Food Works
There are three simple steps required to get your dog started on a Just Right pet food diet. The first step is to take the five-minute quiz on the Just Right website. Here, you're asked specifics about your dog's breed and size. You can also answer any questions related to his health and ingredient preferences. Since dogs of different ages have different nutritional requirements, you'll be asked to share your dog's age as well.
Once you have completed the quiz, your dog's information will be shared with Just Right experts so they can build a custom blend for your pup. They also create a feeding plan during this time and give you a quote for each delivery. The final step is to enjoy a flexible subscription! Your dog's custom blend is delivered every month unless you adjust your delivery preferences or cancel.
With each custom blend, your dog's name and photo arrive on the packaging, a wonderful personal touch that shows how Just Right goes above and beyond. The packaging itself is resealable so that your dog's food always stays fresh. On the packaging label, you'll see the feeding instructions and you'll also be provided with your own measuring scoop at no cost to you.
Pricing varies depending on your dog's unique nutritional requirements and preferences but Just Right does provide you with an approximate monthly cost based on breed size. With toy breeds, you can expect to pay around $24.58 per month. Medium breeds have an approximate cost of $48.37 per month while extra-large breeds may have an approximate cost of $80.39 per month. Remember, these are averages and may vary based on the nutritional needs of your unique pup.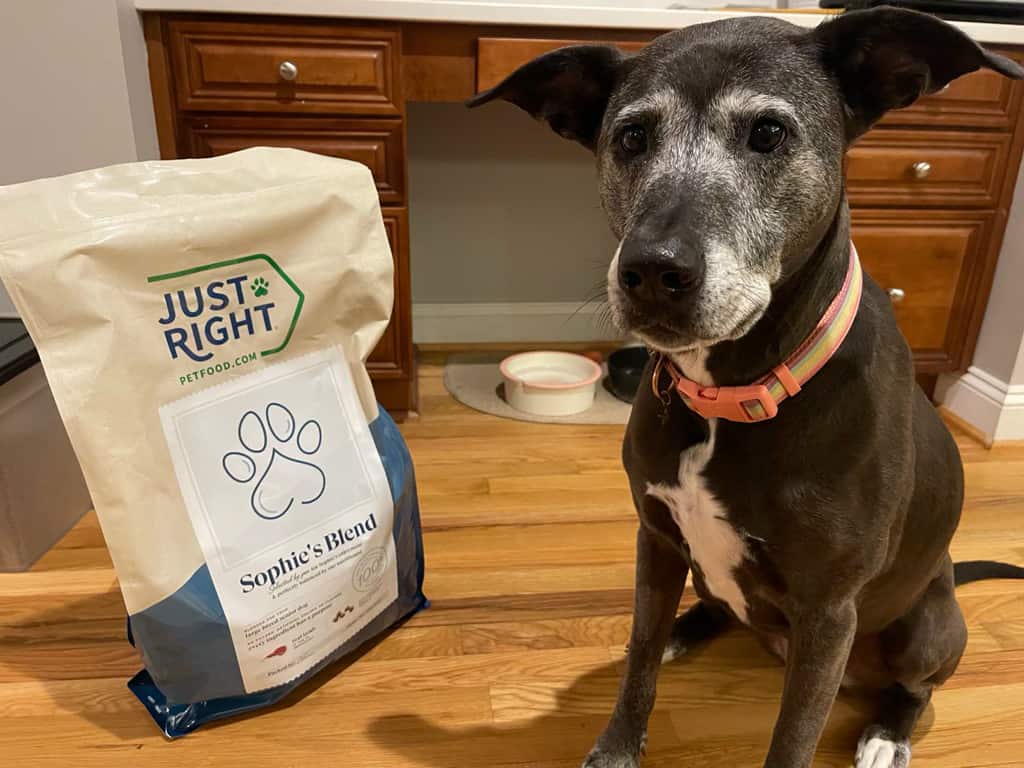 Verified Review: Our Personal Experience
We have to say this is a top pick for us. Sophie, a seven-year-old mixed breed pit bull has always been very active and energetic. For years she ate Blue Buffalo dog food (eventually switching to an option for seniors) without issue. However as she aged, her skin became unexpectedly dry and flaky, and her coat was noticeably thinner than before. We knew we needed to tailor her diet, and the ability to customize our dog's food with Just Right makes it a no-brainer.
It's so tough trying to find the right foods for dogs and there is so much information out there! As our dogs age, like Sophie, their nutritional requirements change. Sometimes their tastes for specific flavors change out of the blue too! With Sophie, we were able to sample Just Right for 45 days. After a two-week period of transitioning her from the original food to Just Right, the results were noticeable! Her dry, flaky skin had improved significantly. While it did not go away entirely, it was night and day from before. If we combined it with a good dog shampoo for allergies it may be completely eliminated.
Additionally, her coat had noticeably more sheen and was thicker than before. It seems she turned back the aging clock a few years. With any sort of custom, high-end dog food like Just Right we were concerned that the portions would be more expensive per meal than her original Blue Buffalo mix. However, this was not the case. Just Right was actually the exact same cost per serving as her regular dog food. The monthly deliveries are convenient, and it's easy to portion control based on your dog's size and appetite.
Overall, we give Just Right a 10/10 and will be keeping Sophie on her new "best for you" diet for the foreseeable future.
What Type of Breeds is Just Right Pet Food Best Suited For?
This is the beauty of Just Right — they don't cater to a specific breed. Rather, they are invested in the health and wellness of all dog breeds. In fact, they personalize blends for dogs of different ages and with different nutritional requirements as well. You are privy to the ingredients they use, which means you can make special requests to include some ingredients and exclude others. You and your vet know your pet best — when answering the questions in the five-minute quiz, be sure to include any specific preferences. Those preferences could be related to health conditions and dietary requirements or flavors! If your dog is more into salmon than chicken, just say the word.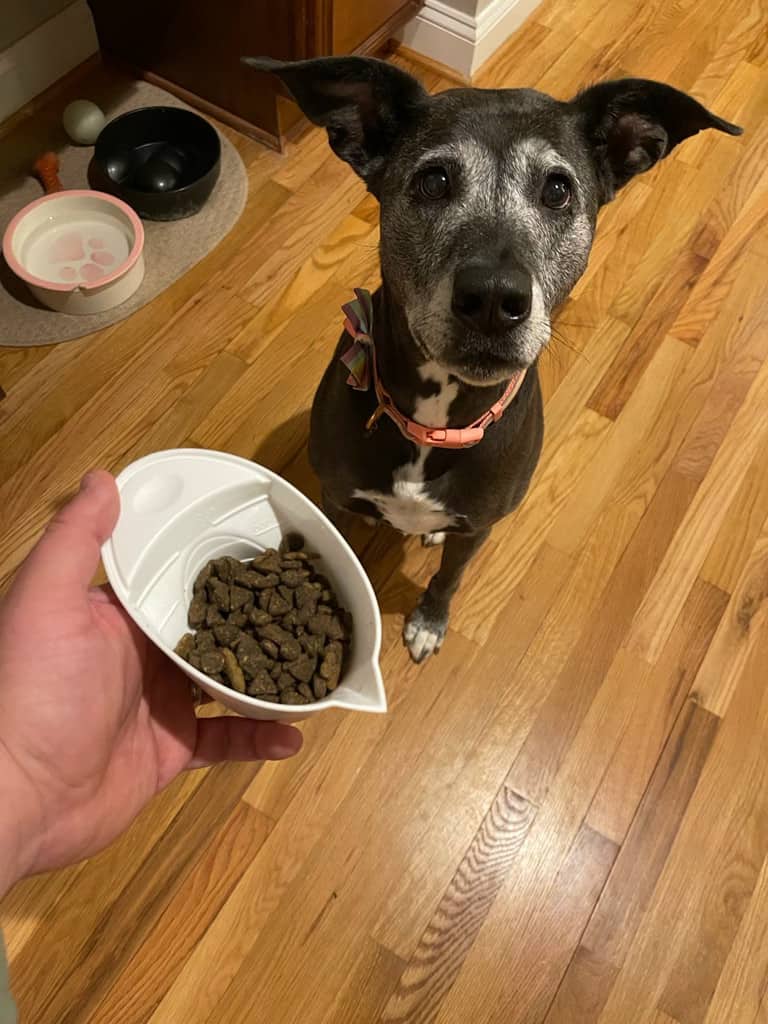 Just Right Pet Food: Where to Buy
Since Just Right pet food products require the special attention of experts who know how to create custom formulas, you can only purchase through Just Right directly.
Just Right Pet Food: Recalls & Controversies
As of the date this article is written, the U.S. Food and Drug Administration has no record of recalls on their website for Just Right pet food. There are also no controversies relating to Just Right pet food products. They have a FAQ section on their website where they address customer concerns and they also offer a 100% satisfaction guarantee.
Alternatives to Just Right Pet Food
While it's clear that Just Right is an excellent dog food and it costs about the same as other high-quality dog food, there are reasons that you may choose not to purchase this brand.
First, as described above, Just Right customizes a meal plan for your dog based on their health concerns, food allergies, weight maintenance, size, sex, age, and other factors. If your dog is healthy and is thriving on their current dog food, a personalized formula may be completely unnecessary.
Second, Just Right dog food is available by subscription only directly from the manufacturer. Some people may appreciate the convenience of this delivery model. Others, however, may prefer being able to comparison shop and purchase their dog food from multiple vendors, including online retailers, and local pet stores.
If either of these reasons resonate with you, we recommend Blue Buffalo as an alternative. Blue Buffalo is a high-quality dog food line that's available in a wide variety of dry (kibble) and wet (canned) recipes based on dogs' stage of life, allergies, weight maintenance, skin and stomach issues, and more.
Our top pick for the best overall Blue Buffalo recipe is Blue Buffalo Life Protection Formula Adult Chicken & Brown Rice, which contains no animal by-products, is made entirely from natural ingredients, and is free from artificial flavors and preservatives. Plus, this formula, like all dry Blue Buffalo dog foods, contains the company's proprietary LifeSource Bits, smaller, darker kibble that includes the precise vitamins, minerals, and antioxidants your dog needs to flourish.
Bottom Line
With Just Right, you can count on your dog's lifelong nutritional requirements being met. You can do more for your dog by doing less — you answer a few simple questions, and your dog gets the customized meal plan along with the feeding instructions he deserves. You can count on high-quality ingredients and a customer support team that's always invested in your pup's overall wellbeing. Whenever you need to make an adjustment to your dog's diet, Just Right experts have you covered.
Just Right Pet Food Review: Our Hands-On Experience FAQs (Frequently Asked Questions) 
Is Just Right dog food good for dogs?
Absolutely! This is a fantastic dry food option for dogs that's custom formulated to meet their specific needs. Although these custom blends may be slightly more expensive than some of your other dry dog food options, they're worth it. Your dog gets a custom meal plan, and the customized formula can be altered as your dog ages (or whenever his dietary needs require adjustment). Instead of feeding the same product throughout your dog's lifetime, with Just Right, you're always getting perfectly tailored meals for your dog's best health.
Has Just Right dog food ever had a recall?
No, there are no recalls identified on the US Food and Drug Administration website for Just Right pet food.
Why Does Just Right contain animal by-products?
Animal by-products deliver essential protein, vitamins, and minerals. However, with all Just Right custom formulas, the first ingredient is always real meat. When Just Right incorporates animal by-products, they only include liver, kidneys, and other clean organs (the parts of animals your dog would naturally eat in a wild environment). When they use animal by-products, they focus on keeping safe, nutritious ingredients from going to waste (since humans typically avoid these). They're good for pups, so they're included in each custom blend.
How to transition a pet to Just Right food?
Whenever you need to switch your dog over to a new type of dog food, it's always best to transition slowly. With Just Right, it's no different. They suggest making a gradual transition over the course of seven to 10 days. Start by adding a little bit of the new custom blend to your dog's existing diet. As each day passes, add a little bit more of the new blend and less of the old dog food. Slowly, you completely replace their old dog food with the new custom blend. This way, your dog's digestive system has plenty of time to adjust to the new set of ingredients. If your dog has any sensitivities, it's best to incorporate your veterinarian's expertise when transitioning to the Just Right blend.
Can Just Right help my dog achieve a healthy weight?
Yes, part of what makes Just Right so attractive to dog owners is the ability to customize meal plans. If your dog is overweight and your goal is weight loss, you can include that information during the quick quiz and Just Right experts get to work to ensure the personalized feeding plan includes the appropriate calorie count. Whatever your dog needs, just say it, and Just Right experts know how to prepare a plan that supports your pup on his journey.
Are treats and wet food accounted for in the feeding instructions?
No, since every dog owner has a different approach when it comes to treats and wet food, neither has been accounted for in your dog's personally feeding instructions. To make sure that you're not overfeeding or underfeeding your dog, make sure you take any treats, wet food, or toppers into account on your own.
Can you build a personalized blend for my dog without grain?
Yes, if you prefer your dog to eat food without any grains, Just Right can accommodate you. Generally, they do formulate the majority of their products with grains because they deliver important nutrients for a dog's balanced diet. Nevertheless, Just Right recognizes that some parents prefer a grain-free diet for their pets, so they offer the option to exclude grains from your dog's custom blend.
What ingredients do you use instead of grain?
When you request a grain-free custom blend, Just Right uses alternative sources of carbohydrates, including cassava flour and pea starch.