Key Points:
To safely give your dog medication, a pill popper is a must.
Chances are, your furry friend will dislike the pill popper, so it is imperative you choose one that is durable enough to withstand some bites.
Find a gentle dispenser made with a silicone or rubber tip to protect your dog's throat from chafing.
Medications come come in varying sizes, so it's important to pick a popper that is versatile.
At some point in their life, most dogs are going to need medication. However, giving your dog pills is often easier said than done. Thankfully, a pill popper for dogs can help make your job a bit easier.
These small devices are designed to help you dispense your pet's pill into the back of their mouth, which ensures that they swallow it. It is much safer than trying to shove your hand in their mouth and much less frustrating than trying to hide pills in their treats.
Plus, they also help ensure that the pills get consumed un-chewed which is essential for some medications.
With that said, not all pill poppers are made equal. We'll take a look at five of the best pill poppers on the market, which should help you find the best option for your canine.
A-Z-Animals Top Pick For Pill Popper for Dogs
Choosing the Best: What to Look For
At first glance, choosing a pill popper for dogs may seem quite simple. However, there are actually several things that you need to keep in mind when selecting an option. We recommend looking at durability, gentleness, and versatility when choosing a pill popper.
Durability
A pill popper for dogs is likely going to be getting a lot of abuse. If you're looking at these items, it's likely that your dog doesn't take well to taking pills. Therefore, they probably aren't going to like the pill popper, either. Instead, they'll probably be going to bite it and try to do some damage.
Therefore, it is vital that it is durable and can withstand a bit of abuse. The last thing you need is fractured plastic in your dog's mouth, after all.
Gentleness
Pill poppers with rough edges can easily cut up the inside of your dog's mouth while they're fighting against you. The last thing you need is for your dog to have cuts all over its throat. Luckily, many companies have designed for their pill poppers to be as gentle as possible. For instance, many of them come with silicone tips, which bend easily.
Choose a pill popper that is designed with comfort in mind. Otherwise, you may accidentally hurt your canine.
Versatility
You never know what size pill you're going to need to give your canine. Therefore, it is vital that you choose a pill popper that can be used with many different-sized pills. For this reason, most on this list are designed to be flexible, which allows them to hold most sized pills.
Some pill poppers can even hold liquids as well. Not only does this allow you to give liquid medicine to your canine, but it lets you add liquid to their pill doses, which makes them go down much easier.
Our Criteria: How We Chose the Best
After looking over many products and using our own hands-on experience, we selected dog pill poppers that made the process less stressful for you and your dog. We liked poppers with a soft, rubber or silicone end to protect your pup's throat from chafing. Our favorites were reusable but came with more than one in a pack in case the popper became lost or damaged. Another feature we loved was a dispenser that could be used with a liquid to help the medicine go down smoothly.
In our experiences, the main problem with pill poppers for dogs is that they don't hold onto the pill very well. It can be very frustrating when even the smallest bump can send the pill flying. There is probably going to be some struggle, so it is vital that the device is designed to hold onto the pill well.
Otherwise, it's going to make the whole process more of a struggle than it needs to be.
The next issue is that many pill poppers can't hold all sizes of pills. Therefore, while we recommend one that can hold most pills for most users, those with extra-large pills will likely need to purchase a pill popper for dogs specifically designed to hold those larger pills. A pack of poppers with a variety of sizes is helpful.
#1 Best Overall Pill Popper for Dogs: LXNOAP Pet Pill Gun
In our review, we found that the best overall pill popper for dogs is the LXNOAP Pet Pill Gun. This slender pill gun is designed for pills of all shapes and sizes. It is extremely easy to use and allows you to safely shove pills into the back of your dog's throat without risking any of your fingers. The rubber design is made to be durable but soft. Therefore, your dog won't be able to ruin the rubber-like they would your hands- and the pill gun will be as gentle as possible inside your dog's mouth.
You can use each pill gun as many times as you'd like. In between uses, simply rinse with water and allow the gun to airdry. Pull the plunger out when not in use to prevent warping and similar wear.
You get two pill guns with your order, just in case one gets lost or messed up. Detailed instructions are also provided with the pill gun to ensure that the process is as easy and painless as possible for both you and your dog. The whole process is extremely fast, so many dogs don't even realize what's happening.
We also liked the quality customer service that backs this product, allowing you to ask questions about the product as needed.
Best Overall
Lxnoap Pet Pill Gun
Designed for pills of all shapes and sizes
Made from rubber that is durable but soft
Re-usable and washable
Detailed instructions are provided
Check Amazon
#2 Best Budget Pill Popper: Lixit Pill Popper
The Lixit Pill Popper is specifically designed for pets that have to take pills regularly. It has a very durable design and is made to last a while, though it is also much cheaper than other options out there.
The unique design can handle both dry and soft pills. The applicator tip is very soft and doesn't feature any rough edges, which prevents it from potentially injuring parts of your dog's mouth. Plus, it is flexible enough to fit pills of most sizes. You can even use it to insert pills alongside a liquid, which may make it easier for your dog to chock down.
Cleaning is pretty easy and straightforward. All you need to do is rinse the tube with warm water and then squirt it out. Repeat until the tube is free from any possible residue.
Best Budget
#3 Best Pill Popper for Liquid Medications: Nuanchu Pill Dispenser
Like most pill dispensers on this list, this one by Nuanchu is specifically designed to make giving your pet pills much easier. It also works with liquids, so you can add liquids to the dispenser to make the pills a bit easier to get down your dog's throat.
These pill dispensers come with silicone tips, which are safe and durable. Not only will they stand up to your pet's teeth, but they're also too soft to scratch the inside of your pet's throat. Simply clean them between uses, and they are completely reusable.
This particular pack comes with two different dispensers: one for pills and one for liquids. Therefore, if you have to give your canine liquid medications, this set is probably your best option. It is one of the few medication dispensers for dogs that are specifically designed for liquids and not just pills.
Best for Liquid Medications
Nuanchu 2 Pieces Pill Dispenser
Come with safe and durable silicone tips
Completely reusable and cleanable
Comes with two different dispensers: one for pills and one for liquids
You can add liquid to make pill go down easier
Check Amazon
#4 Best Set of Pill Poppers: 4-Piece Pill Shooter for Dogs
While most pill poppers claim to fit all pill sizes, some may still struggle with extra large and extra small pills. That's not even mentioning liquid medications. Therefore, a set of dispensers is often a good idea, especially if your dog is on a lot of different medications.
This set includes many different pill shooters that are completely reusable. Each of the four dispensers is specifically designed with a certain type of medication in mind, so you'll find something to easily dispense just about any type of medication in this set. There is even a dispenser for liquids.
Plus, the dispensers are made with completely safe materials, including silicone tips that are soft on your dog's gums. Clean each dispenser shortly after use, and they should stay usable for years in the future. They can take a few bites from your dog without cracking.
Best Set
#5 Best for Larger Pills: Bullseye Pillgun
If your canine takes multiple tablets, you may want to consider this gun. It is a bit more expensive than other options out there, but it is best suited for heavy use. It does not have a rubber tip. When you pull the plunger back, it opens the claw shape at the end of the plunger. Therefore, the more you pull the plunger, the bigger the pill you can fit.
For small pills, you don't have to pull it very much at all, for instance. However, for larger pills, you do have to pull it quite far.
This pill gun was designed to be particularly well-built and strong. It can withstand more than a few bites from your canine, which makes it effective if you need to give pills a lot.
With that said, this option does work best for larger pills. The end is bigger than other options out there, so it can hold larger pills than the typical pill dispenser. However, it is so big that some very small pills may just slip through. Therefore, we highly recommend that you choose a different pill popper for ultra-small pills.
Best for Larger Pills
Summary of the Best Pill Poppers for Dogs
| Rank | Best For | Product |
| --- | --- | --- |
| 1 | Overall | LXNOAP Pet Pill Gun |
| 2 | Budget | Lixit Pill Popper |
| 3 | Liquid Medications | Nuanchu Pill Dispenser |
| 4 | Set | 4-Piece Pill Shooter for Dogs |
| 5 | Larger Pills | Bullseye Pillgun |
Related Images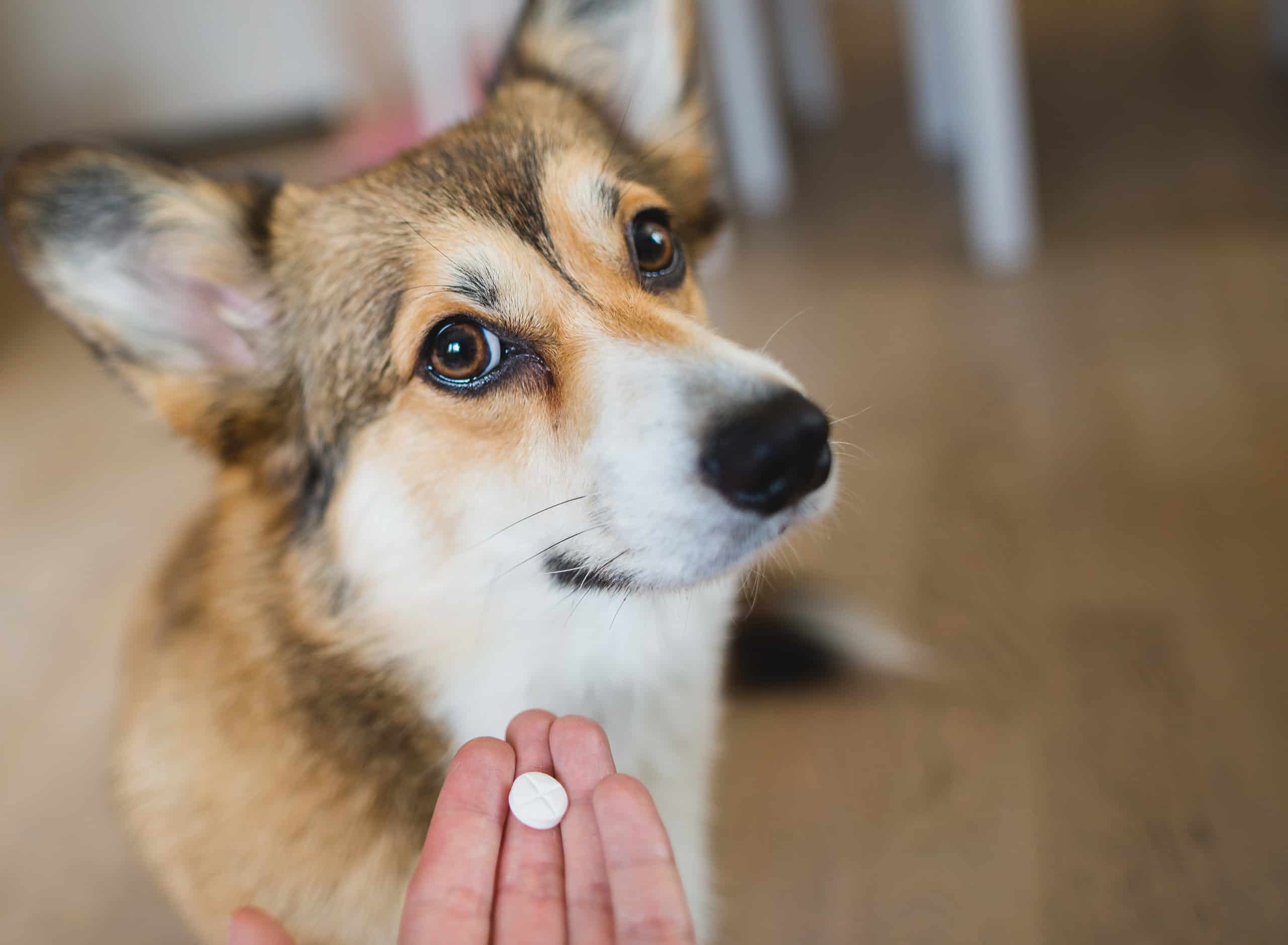 Up Next
The Best Pill Popper for Dogs for 2022 – Reviewed and Ranked FAQs (Frequently Asked Questions) 
How To Use a Pill Popper for Dogs?
To successfully use a pill popper, you should always check the directions that came with the product. While most pill poppers are designed to be used similarly, you should always check with exactly how the designers intended their specific product to be used.
However, if no directions were included, here is a quick overview of what to do:
Insert the pill into the popper. First, add the pill to the popper by inserting it into the split rubber end. You do not remove the plunger and insert it into that end. Instead, you insert the capsule into the end that goes into your dog's mouth.
Slide the pill popper into your animal's mouth. Instead of trying to go through the front of their mouth, it is often easies to insert it into the side of their mouth and then get the tip behind their back teeth. This provides access to the back of their throat without needing to open their mouth wide.
Push the plunger. Keep in mind that most pill poppers don't shoot out the pill. Instead, it just slides off the end. Therefore, be careful to only push the plunger when it is in the exact position you want it.
Withdraw the plunger. Close your dog's mouth as quickly as possible. Watch for them to spit the pill back out. However, if you have used the pill plunger correctly, they shouldn't cough the pill back up.