Dog hoodies can be used to keep your dog warm, reduce anxiety, and to give your canine a stylish look while out and about.
A quality dog hoodie should be made of breathable fabrics that are safe for your dog's skin, durable, and preferably machine-washable.
A well-made dog hoodie will have functional features like leaving the leaving the lower underbelly uncovered to allow urination without soiling the garment. Another needed feature is an indiscreet hole on the back to allow hook-up for a lead.
For humans, hoodies provide a level of comfort, security, and "coolness." Whether you're out hiking on a chill day, watching your favorite sports team in an outdoor stadium, or taking a trip to the gym and back, hoodies have become a staple clothing item in almost everyone's modern wardrobe. So of course, dog owners want to share the love of this popular clothing item with their beloved pets! So we decided to review some great dog hoodie choices to get your dog stylin'.
If you're reading this, you have probably been searching for "what are the best dog hoodies?" Hoodies for large dogs and small dogs can serve a variety of purposes. They can be used for warmth, anxiety, and even just for fashion purposes. Some dog hoodies are also funny and can let you and your dog make a real statement. If you've started looking at dog hoodies, then you've probably noticed that there are many different options out there.
We're here to help you narrow down those options and help you find the best dog hoody for your pup. We've put together some recommendations including some lightweight, durable, reversible, and fashionable hoodies. Read through our picks to find the right dog hoody for your special pup.
Soft pullover dog hoodie

65% Polyester, 35% Cotton material

Machine washable & line dry
Available in 10 varied colors
Sizes XS-2XL

Check Amazon

Anxiety head wrap calms dogs from high pressure air and loud noise
Reduces noise when placed over dog's ears
Made of cotton, nylon and elastic blend
Sizes Small, Medium, and Large

Check Chewy Check Amazon

Colorful plaid pullover style dog hoodie

Made of Polyester, Spandex, Wool, Nylon

Size XS-XXL

Available in 3 patterns

Check Amazon
How to Choose the Right Dog Hoodie
If you're ready to shop for the best dog hoodie, slow down for just a second. You want to take a few minutes to really prioritize what features you're looking for. Do you want a windproof hoodie? Is finding something funny or stylish most important for you? Are you shopping for small dogs or for large dogs?
Thinking about questions like this will help you zero in on the features that are most important to you. In the next few sections, we'll outline some of the most important features to consider as you shop.
Size and Fit
The first thing you'll need to check is that the dog hoodie you are interested in comes in the right size to fit your pup. To do this, you'll need to check the sizing guide from the manufacturer and compare it with your dog's measurements. Dog hoodies should be snug, but not overly tight.
Hoodies are available both for large dogs and for small dogs. However, every hoodie that you look at may not offer a full range of sizes, so you'll want to have your dog's measurements handy while shopping.
Warmth and Materials
Next, consider the materials used to make the hoodie and whether they will feel comfortable for your pup. You should also think about how warm the materials are, especially if your purpose for shopping for a hoodie is to keep your dog warmer outside.
If you live in a windy area, searching for a windproof hoodie is also a good idea. These hoodies for small dogs and large dogs will offer protection against the wind to keep your dog from getting too cold outside.
Quality and Durability
As with any products you purchase for your pup, you should look for a durable and high-quality hoodie. Consider the different fabrics used to make it and any other accessories that may be included. You want to make sure that the hoodie will last to help you get your money's worth.
Design
Finally, consider the design of the hoodie, both in terms of function and style. Regarding function, think about how easy it will be for your pup to go to the bathroom without getting their hoodie dirty. If you plan on having your dog wear their hoodie on a walk, you will also want to look for one that allows you to hook up a dog's leash or has a hole to let you access its harness or collar.
For fashion, consider how stylish, cute, or funny the hoodie is. You will also want to evaluate the different colors that are available. You'll want to find a hoodie that will look good against your dog's coat and one in a color that you enjoy.
Our Criteria and Experience: How We Chose the Best
In making our recommendations for the best dog hoodies, we researched popular brands in search of those that are the most trusted in producing quality pet garments. We put certain qualities in the garments at the top of our list: durability, functionality, comfort and warmth, and aesthetics.
The Zack & Zoey hoodie is an excellent product, and earned a lot of praise from reviewers for it's softness, quality construction, affordability, and overall fit. With 10 different colors to choose from, it's the best we found for a plain hoodie.
The Happy Hoodie is actually designed by pet groomers for groomers. While it is used on dogs at the parlor for nail trimming, bathing, clipping, and to calm aggressive dogs, it's also useful to calm your dog when encountering loud noises from fireworks, thunder, and vacuum cleaners.
As with most all pet clothing items, fit can be an issue. With our #3 choice, however, there were few complaints on that score, and reviewers found this hoodie to deliver on warmth when their dogs were out on cold days. Aesthetically, we were happy with our #4 recommendation, but there were complaints about it running 1-2 sizes small, so take that into account if plaid is the choice you're leaning towards for your dog.
The Top Picks for the Best Dog Hoodie: Ranked
#1: Best Overall —Zack & Zoey Basic Hoodie for Dogs
Best Overall Dog Hoodie
If you're shopping for fashion and comfort, take a look at the Zack & Zoey Basic Hoodie for Dogs, our choice for the overall best. This simple, yet stylish pick is available in 10 different attractive colors, including gray, jet black, nautical blue, parrot green, raspberry sorbet, and ultraviolet.
You will also appreciate the high-quality and durable design of this hoodie. The fabric is a 65% polyester/35% cotton blend that will hold up well to multiple washes and uses. Additionally, your pup is also certain to find the fabric comfortable and cozy.
There are six different size options to choose from. These six sizes are designed to fit a range of dog breeds as small as a Chihuahua to as large as a Great Dane. You can consult the manufacturer's sizing chart to determine the right size for your pup.
#2 Best for Anxiety:The Original Happy Hoodie for Anxiety Relief
Best for Anxiety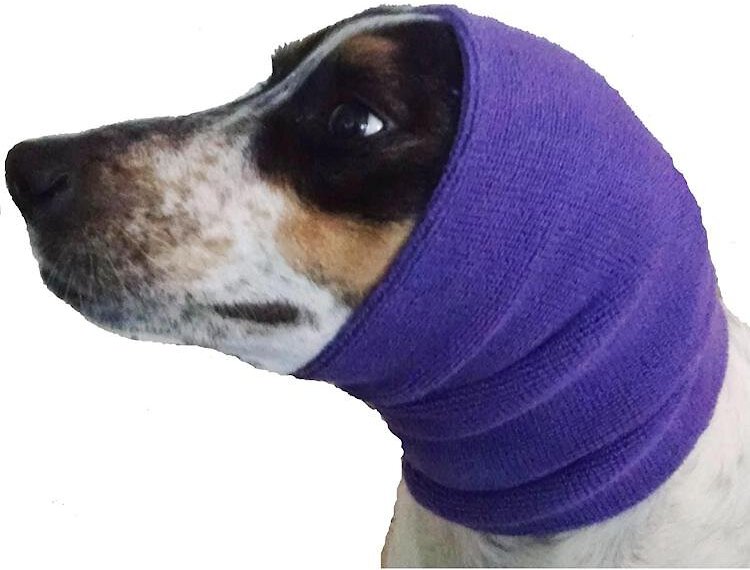 If your dog suffers from anxiety caused by loud noises, consider trying the Original Happy Hoodie. This special hoodie was designed by groomers to keep dogs calm around all the loud grooming tools. However, it offers a variety of other uses, such as keeping dogs calm around fireworks, vacuums, visits to the vet, and more.
The hoodie goes over a dog's ears and wraps around its head. It helps to reduce the noises they hear, while also providing calming pressure.
This pack includes two different hoodies: one small and one large. You can choose from four different color choices: purple, black, pink, and white.
#3 Best Plaid: Fitwarm Knitted Dog Sweater Hoodie Pullover
Best with Plaid
What hoodie collection would be complete without a classic plaid hoodie? This hoodie by Fitwarm sports a dark charcoal hood and front leg design, with a stylish red/white/black plaid for the body. The second design is a khaki hood and legs with a plaid that combines white and olive-green shades. There's also a white/black option. It is easy to pull on and off, and is made of a combination of multiple comfortable fabrics: the backside is a combination of soft felted cloth, while the trim, hood, sleeves, and chest are a soft stretchy knit. Fabrics include wool, synthetic, acrylic, polyester, nylon, and spandex. It's machine washable.
Fitwarm added a leash hole to make it easy to take your dog for a walk. There are eight different sizes available that are designed to fit dogs with a back length of 8″-18″ and a chest girth of 12″-23″.
While most customers had rave reviews of this hoodie, the overall negative complaint was the sizing. These hoodies tend to run small. It would be advised to order up at least one size, if not two depending on the body type of your dog.
Looking for a hoodie for warmth for your dog? Take a look at the Canada Pooch Spacedye Hero Hoodie. This hoodie has a stylish pullover design.
The interior fleece lining and snug-fitting design work together to keep dogs warm and cozy. The exterior of the coat is made from a polyester/rayon blend that is both stretchy and durable.
You can adjust the fit of this hoodie around your dog's neck using the zipper. A fleece protector covers the zipper to prevent your dog from getting injured or scratched by it.
This dog hoodie comes in an attractive gray color with black trim. There are 10 different sizes to ensure a perfect fit for dogs with a back length up to 28 inches and a chest girth up to 39 inches.
Summary of the 4 Best Dog Hoodies
| Rank | Best For | Product |
| --- | --- | --- |
| 1 | Overall | Zack & Zoey Basic Hoodie for Dogs |
| 2 | Anxiety | The Original Happy Hoodie for Anxiety Relief |
| 3 | Warmth | Fitwarm Knitted Dog Sweater Hoodie Sweatshirts Pullover |
| 4 | Plaid | Canada Pooch Spacedye Hero Dog Hoodie |
Related Images
Up Next…
The 4 Best Dog Hoodies: Reviewed for 2022 FAQs (Frequently Asked Questions) 
Do dogs like wearing hoodies?
Every dog is different. Some will find wearing a hoodie to be very comfortable and enjoyable, while others will not like having clothes put on their body. If you're not sure whether your dog will enjoy wearing a hoodie, you may just have to give it a try. Hoodies can be good for a variety of reasons, including offering windproof designs to keep your dog warm, coming in a variety of colors and designs, and be made of lightweight and comfortable materials.
How do you measure a dog for clothes?
Before measuring your dog, check with the sizing guide for the specific piece of clothing you're looking to buy. The manufacturer will list the specific measurements needed to ensure a proper fit (such as neck girth, check girth, height, or length). Then, use a flexible tape measure to find and record the measurement needed for the specific clothing item.
How tight should a dog hoodie be?
A dog hoody should fit snugly enough that it won't get caught on things when your dog walks. However, you don't want it to be too tight that it constricts their breathing in any way.
Do hoodies help dogs with anxiety?
Yes, in some cases, a hoodie can be good for anxiety. Wearing snug-fitting clothing helps some anxious dogs to calm down. There are also special hoodies designed specifically for anxiety. These hoodies have a different design and are designed to reduce noises and help dogs feel safe and protected.