Key Points:
A dog doorbell is a smart way for your dog to communicate when she needs to go potty.
Among some of the different types, there are traditional bells that hang from a strap, electronic dog bells that a dog taps with his foot to create a noise, and even a doormat dog doorbell. Consider the height of your dog and location for the dog doorbell in making your decision for the perfect style.
For the tech savvy dog parents, there are even dog doorbells that sync with an app and smartwatch.
What is the best dog doorbell? The best dog doorbell for one family may be used for potty training their dog. The best dog doorbell for the family next door is one that lets them know their dogs want to go outside to play. Today, there's a dog doorbell to meet the unique needs of every household.
The features of dog doorbells vary among brands. Some of the most useful features include adjustable volume, a selection of ringing sounds, a waterproof design, and lights.
An owner can choose a dog doorbell with an app that sends a message to their phone when the dog rings the doorbell. Others are more traditional and simply alert an owner via jingling bells. From a simple dog doorbell mat to a wall mounted device, an owner can choose what works best for their household.
Browse the unique features of our picks for best dog doorbells.
How to Choose the Right Doorbell for Your Dog
There are three main considerations when choosing the right dog doorbell:
• Location
• Style
• Sound Level
Location
When choosing the best dog doorbell, it's necessary to consider where you're going to put it. If you want a dog doorbell to use outside, it needs to be waterproof and able to endure the elements. Alternatively, if you want a dog doorbell for indoors, it needs to be durable, but not necessarily waterproof.
Style
Dog doorbells are available in different styles. Some attach to walls or doors while others are made to sit on the floor. When selecting a style, think about which type would be most effective for your puppies or dog. If you have a golden retriever, a smart dog doorbell attached to a wall or door would be more suited to a dog of this height. A floor style dog doorbell or a dog doorbell mat would be easier for a small dog to reach.
Sound Level
Choosing a dog doorbell button or dog doorbell mat with an adjustable volume and different ringing sounds is essential. Some dogs are sensitive to loud or harsh sounds. So, it's best to have the options offered with an adjustable smart dog doorbell.
The Best Dog Doorbell: Pros and Cons Wall and Floor Designs Compared
Wall design dog bell
| | |
| --- | --- |
| PROS | CONS |
| Leaves more floor space | May not adhere to all wall surfaces |
| Convenient for large breed dogs | May hang out of reach for small dogs |
| Won't cause issues with vacuums | Frequent scratching can damage walls |
Floor design dog bells
| | |
| --- | --- |
| PROS | CONS |
| Easy for small dogs | Takes up floor space |
| Easily moved to another location | Can cause issues with robotic vacuums |
| No wall damage | Easily lost or kicked under furniture |
Our Criteria and Experience: How We Chose the Best
After extensive research, we felt Mighty Paw Smart Bell 2.0, Dog Potty Communication Doorbell was a great choice due to its versatility. Just find a wall outlet within reach of your furry friend, plug it in, and you are all set! We love that there are 38 different doorbell sounds, so you can personalize it. We did find, however, that this dog doorbell wasn't quite as durable against puppy wear and tear, but the waterproof capabilities make it one of the best for indoor and outdoor use.
We chose a dog doorbell that is easy to install and waterproof with Pet Doorbell Mat System. Reviewers felt the mat was extremely easy to install, and the aesthetic of a typical doormat is appealing. We love the large range of doorbell chimes for personalization. On the flipside, since the mat will react to such a large variety of weight ranges, there could be many false alarms.
When looking for the coolest tech option, we went with the Paws2Go Dog DoorBell Potty Training Device for its capabilities to alert you anytime anywhere through your smart devices. We love how you can be notified of your dog's needs as long as you are wearing your device. Plus, one thing we felt set this dog doorbell apart is that you can record personal messages using your own voice.
We chose Caldwell's Potty Bells Original Dog Doorbell for its simplicity and low price. We think its easy installation and design make it a great choice, especially if you would like to avoid another gadget in your home. We love the variety of colors to match the aesthetics of your home. We noted, however, that a large dog could eventually chew through the strap, and any dog with enough persistence could knock it off the door handle.
The Top Picks for Dog Doorbells Ranked
1. Best Overall Dog Doorbell: Mighty Paw Smart Bell 2.0, Dog Potty Communication Doorbell
Our pick for the best overall dog doorbell is Mighty Paw's Smart Bell 2.0. It has a variety of features useful for owners who want one for potty training or as a way to know when their pup wants to go outside to play.
This dog doorbell is waterproof and can be used outside and indoors. Our testing revealed the device is very easy to set up. The dog doorbell receiver plugs into a typical outlet. The activators require no batteries and attach to a door, wall or even the floor via a safe 3M adhesive. Owners can choose one activator or two. The receiver and activator send signals to one another up to 1,000 feet.
Our reviewers appreciated the 38 ring sounds for this dog doorbell along with its adjustable volume. This bright white dog doorbell button emits a ringing sound with a light touch or .75 pounds of pressure. It's suitable for a chihuahua, a golden retriever and any breed in-between.
In our tests, we found the 3M adhesive on the activator isn't always strong enough to endure rough treatment. It may not be for puppies with especially playful paws!
This dog doorbell button is made in the USA.
Best Dog Door Bell
2. Outdoor Doorbell for Dogs: Pet Doorbell Mat System
This dog doorbell mat is waterproof and suitable for use inside and outside. Its dimensions are 14in x 12in x 1/2in. This makes it a smart option for dogs of all sizes. Its simple design and black color give it the appearance of a typical door mat. Our reviewers noted a selection of 52 chiming sounds to suit the preferences of a household.
This dog doorbell mat is easy to set up. The chiming device plugs into a standard outlet and it has a range of 100 feet. Its wireless transmitter operates on a 12-volt battery. The dog doorbell mat reacts to pressure from two to 300 pounds.
We liked that this dog doorbell mat can be useful to a household with a dog that doesn't bark when it wants to get inside. The chime lets its family know it's waiting at the door. Alternatively, this dog doorbell mat can be used for potty training by alerting family members it needs to go out to relieve itself.
One downside of this product is dogs and cats can trigger the chime by simply walking across the mat without needing to come inside or go outside.
Best Outdoor Dog Door Bell
3. Dog Doorbell with Phone App: Paws2Go Dog DoorBell Potty Training Device
Convenience is one of the most valuable features of this dog doorbell with phone app made by Paws2Go.
When a dog puts a paw onto the device it lights up. The device is square shaped and is 5.75 in x 5.75 in., so it takes up very little space near a front or back door. Our tests showed it only took a light step to trigger its sensors. Then, with the app, the device sends a message to a phone, Apple watch, or other mobile technology to let you know the dog wants to go out. With the app you're alerted right away when the dog rings the doorbell so you can get to it before it has an accident.
Our reviewers appreciated the personalized nature of this dog doorbell. An owner is able to record their voice to give the dog a message when it touches a paw to the doorbell. So, when a dog puts its paw on the dog doorbell, it may hear its name, 'good dog,' or whatever positive feedback an owner wants to deliver for potty training or to teach the dog to signal its desire to go outside.
This device needs three AAA batteries to operate and works with an app that sends a message to a phone. We noted the device is for indoor use only.
4. Dog Doorbell for Best Value: Caldwell's Potty Bells Original Dog Doorbell
Our pick for the dog doorbell with the best value is designed for potty training but could be used as a signal to go outside for any reason. This dog doorbell requires no technology, electricity, or batteries.
It's a 26-inch-long nylon strap made to snap securely around a door knob or handle. It features six nickel plated bells. We noted the bells have a gentle jingle as opposed to a harsh, loud sound. Though the strap is made of durable nylon, a large dog or even a small, persistent pup may be able to chew it or even pull it down.
When used for potty training for puppies or older dogs, an owner provides a reward each time the dog rings the doorbell.
Our reviewers liked the choice of attractive colors including blue, red, green, yellow, gray, black and white.
Best Value Dog Door Bell
Summary of the Best Dog Doorbells
Related Images: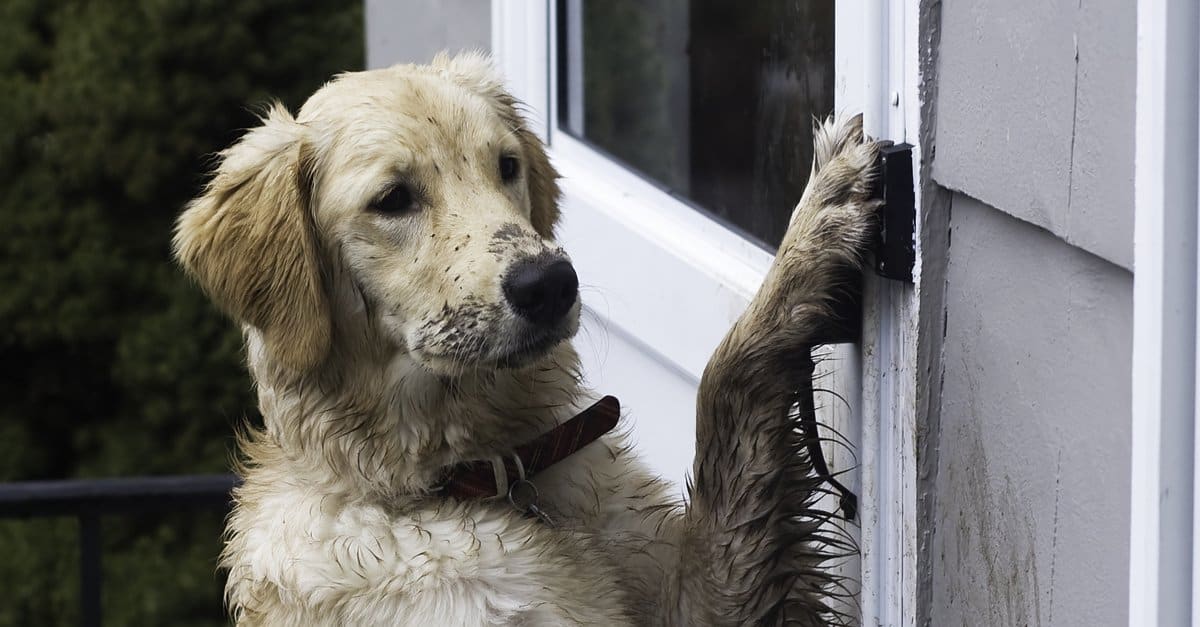 Up Next:
The Best Dog Doorbell: Reviewed for 2022 FAQs (Frequently Asked Questions) 
What is the best doggie doorbell?
From help with potty training to allowing a dog to go outside to exercise, the best smart dog doorbell is one that fulfills all of the expectations of an owner.
How do you train a dog to use a doorbell?
Every time a dog uses the dog doorbell and goes outside in time to relieve itself, it gets a treat. This is effective when done consistently.
Do puppy doorbells work?
Yes, with the proper reinforcement in the form of delicious treats almost any dog can learn how to use a dog doorbell.
What is the best bell for potty training a puppy?
The best dog doorbell for potty training a puppy is one that's durable and sits on the floor or low on a wall. This style gives a puppy easy access to the device.