Key Points:
A dog proof trash can is essential to prevent messes and to protect your dog.
There are a variety to choose from, so find the best height and size for your kitchen or bathroom.
Mechanisms for operating dog proof trash cans vary from automatic locks to push button or pedals. There are pros and cons to each kind, so research to find what works best for you.
Price is something to consider; a higher priced dog proof trash can will ensure fewer accidents.
Dogs may be known as man's best friend but we've all had those moments when our "best friend" made a pretty big mess. When that mess involves a trash can, it can get smelly very quickly. Some dogs love to get into the trash to dig for treasures while others are just so rambunctious that nearby open trash can become a disaster scene.
Finding the right dog-proof trash can is essential for homes with curious dogs. By properly securing your trash can, you can spend more time enjoying time with your dog and less time grumbling about the mess that they create. Over time, a dog-proof trash can may even discourage your dog from digging in the trash at all. This helps keep your home clean as well as ensures that your dog doesn't get into anything that could hurt them.
Trash cans come in many shapes and sizes, which can work for rooms like your kitchen or bathroom. The best dog-proof trash cans have a locking mechanism on the top to keep any pups out of the trash. Other features that may work for you can include odor-absorbing technology or automatic operation. Because trash cans can be quite expensive, it's important to consider your needs and budget before making your pick.
We've reviewed the top-recommended trash cans that pet owners love and highlighted the best options to keep every room of your home tidy and your four-legged friend out of the garbage.
A-Z-Animals Top Pick For Dog Proof Trash Cans
Choosing the Best Dog Proof Trash Can: What to Look For
When choosing the right dog-proof trash can for your home, consider the price, operation, and size.
Here is what you need to know about each:
Price
Trash cans are surprisingly expensive, with the higher-end models often having features like touchless opening or stainless steel exteriors. You can find a budget-friendly option that still locks to keep your dog out. When looking at the overall price, consider if you will need to purchase separate liners, cans, or filters. All of these costs can add up over time.
Operation
Trash cans often come with touchless opening mechanisms, either a sensor or a foot pedal. This is a great feature for many users who want to be able to open the trashcan even if their hands are full. Make sure that your dog is unable to operate the trash can to keep them out of the garbage. A great feature to look for is a locking lid that will keep your dog out but is able to be opened by you, their owner when needed.
Size
There are plenty of sizes of trash cans available and the best size for you will depend on your space available and how much trash you expect to generate. Bathroom trash cans tend to be the smallest, followed by kitchen trash cans and garage trash cans as the largest options. Check to see which size you need and make sure that you can find trash bags or liners to fit that size.
The Different Types of Dog Proof Trash Cans: Pros and Cons Compared
Trash cans designed with pets in mind can be automatic or manually operated. These styles are often available in multiple sizes that can be used in just about any room in your house. Each has its pros and cons, which will help you decide which is right for your home.
Automatic Dog Proof Trash Cans – Because they are hands-free, these trash cans are often more sanitary and have a sleek design. However, they do cost more and with their moving parts, are more prone to breaking over time.

Manual Dog Proof Trash Cans – These simply operated trash cans are easy to use and affordable, although they don't offer the clean hands-free experience. This can make them difficult to operate if your hands are full or dirty.
Our Criteria and Experience: How We Chose the Best
After trying many of the different options, we deemed the locking lid as the most desirable feature in a dog-proof trash can. This helps both large and small dogs from nosing their way into the garbage and making a mess. We did note that this can make it hard to keep the trash can open as you work. We prefer an opening mechanism that was human-controlled, such as a foot pedal. Our top recommended dog-proof trash can has a sturdy enough foot pedal to keep dogs from stepping on it to lift the lid.
We felt bathroom trash cans tended to be the hardest to keep animals away from, mostly due to their smaller size and accessibility closer to the dog's level. If you opt for a small trash can that is lower to the ground, make sure that it has a locking lid or a way to operate that will not be easily triggered by dogs. A small opening can also help reduce the actual space available for a dog to get into in the first place.
#1 Best Overall Dog Proof Trash Can: SimpleHuman 15.3 Gallon Dual Compartment Trash Can
In our review, the best overall dog-proof trash can is the SimpleHuman 15.3 Gallon Dual Compartment Trash Can. If you want to keep your dog out of the trash, one of the first things you can do is reduce the number of trash cans for them to get into in the first place. This sizeable trash can from SimpleHuman has two compartments for you to use. Many users set them up for recycling and trash, although some opted for compost and trash based on their needs.
The lid on this trash can is very sturdy and will prevent most dogs from nosing their way inside. The foot pedal is rated to last for 150,000 steps and is extra-wide. This means that even large dogs won't be able to trigger the trash can to open by stepping on the pedal.
We recommend using the specially-designed liners for the best fit and to reduce potential spills inside the trash can, which can lead to odors. They do add to the overall cost of this already pricey option but most testers said that they were well worth the added expense. If you do want to save money, you can choose a generic kitchen trash bag.
SimpleHuman does have a similar trash can available with a touchless sensor. This is a great option for those with smaller dogs that are not tall enough to trigger the sensor. For those with larger or taller dogs, the step-pedal offers the same hands-free opening option but is sturdy enough to keep from being opened by your dog.
Best Overall
#2 Best on a Budget: Doggy Dare Trash Can Lock
If you want something that will work with a variety of trash cans, consider separate trash can lock. The Doggy Dare trash can lock fits over the top of a 33-gallon trash can to keep your dog from getting inside. For just a fraction of the cost of a locking trash can, you can use the can that you already have and make sure that it is dog-proof. Fitting it over the lid is easy. Simply fit the bungees over each side and buckle in the middle to secure it. You will need to reverse these steps to open your trash can, which some users said was inconvenient for an indoor trash can that they use often.
If you are in the market for a new trash can, this may not end up being the most economical or convenient solution when you consider that you will need to purchase a trash can separately. You are better off looking for a quality locking trash can that is easy to use and has the locking mechanism included. A sturdy trash can lock like this one from Doggy Dare is the best option if you have a trash can that you already love that you want to make dog-proof or are looking for something to secure your outdoor or garage trash cans.
Best on a Budget
#3 Best for Kitchen: iTouchless 13 Gallon Pet Proof Trash Can with AbsorbX Odor Filter System
The last thing that you want in your kitchen is unpleasant odors. Whether your trash can's odors come from pet waste or other household items, this trash can from iTouchless will keep them contained. The odor-absorbing system includes a natural activated carbon odor filter on the top of the can. This absorbs odors rather than lets them escape into your home. Just make sure to replace the filter when needed with replacement filters sold separately.
This trash can comes in a variety of sizes and options but makes sure to opt for the Pet Guard model for one that will keep your furry friend out of the trash. It has a sensor to open the trash can that can easily be triggered, especially by larger dogs. The Pet Guard locks the top mechanism so that your dog can't open the trash can no matter how much they may try. Just undo the lock before you start cooking and you can use the touchless opening mechanism while you work.
This trash can is also available in an 8-gallon option for something smaller and cheaper. Other sizes are available but do not have the necessary Pet Guard locking top.
Best for Kitchen
iTouchless 13 Gallon Pet-Proof Sensor Trash Can
Odor-absorbing system includes a natural activated carbon odor filter on the top of the can
Comes in a variety of sizes and options
The Pet Guard locks the top mechanism so that your dog can't open the trash can
Also available in an 8-gallon option
Check Amazon
#4 Best for Bathrooms: JOYBOS Dogproof Wastebasket with Press Type Lid
This 3.7-gallon trash can is the perfect size for the bathroom and will hold all of your waste with style.  It comes in two-liner colors but the main exterior is a neutral white. The main opening on the top of this trash can is small. This creates less actual space for your dog to get into, resulting in fewer visits to the trash can in the first place. It also uses a press mechanism to open. Unless your dog is very coordinated, they'll have trouble pressing in the right place to open the trash can.
Many users liked the narrow profile, saying that it fits perfectly even in small bathroom spaces. The budget-friendly price and compatibility with standard trash bags, which are usually less expensive than custom-fit liners, made many purchases very happy. Some people noted that the pin closure at the back of the lid is a bit flimsy and may come undone over time. One of the best ways to prevent this is to always open and close it as recommended using the press opening.
Best for Bathrooms
Summary of the Best Dog Proof Trash Cans
| Rank | Best For | Product |
| --- | --- | --- |
| 1 | Overall | SimpleHuman 15.3 Gallon Dual Compartment Trash Can |
| 2 | Budget | Doggy Dare Trash Can Lock |
| 3 | Kitchen | iTouchless 13 Gallon Pet Proof Trash Can with AbsorbX Odor Filter System |
| 4 | Bathrooms | JOYBOS Dogproof Wastebasket with Press Type Lid |
Related Images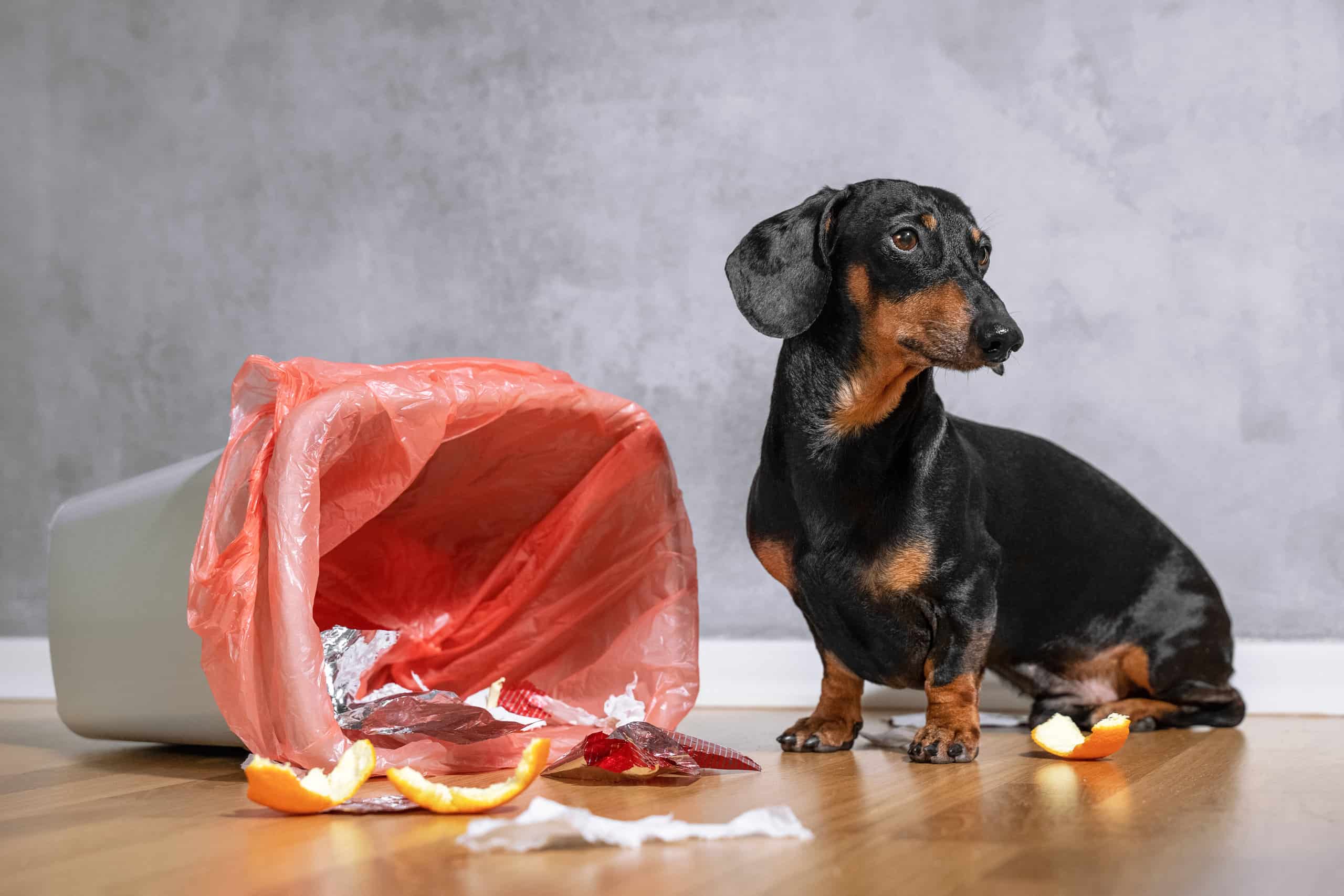 Up Next