Iams dog food provides those on a strict budget with suitable food for their pets. Often, people consider this dog food to be extremely cheap – more so than other options on the market.
However, this food still remains pretty high-quality. Most recipes include high levels of meat, making them great for most dogs. Still, they do cut some corners by including higher-than-average levels of grain, as this helps keep production costs down.
Still, if you're looking for budget dog food, you can't get much better than Iams. For everything you need to know about this dog food, keep reading below.
1. Best Overall: Iams Adult MiniChuncks High Protein Dry Dog Food
For most dogs, we highly recommend this Iams recipe. As you'd expect from this brand, the company priced this food far lower than most of the competition. However, chicken remains the primary ingredient, providing your canine with lean protein and all the amino acids they need to thrive.
Beyond that, this food also includes high levels of whole grains. These whole grains provide extra fiber, as well as other nutrients.
This food features a smaller kibble size, which makes it suitable for dogs with dental problems. However, it remains a good option for just about any small or medium dog. We like that it includes high levels of antioxidants, which reduce oxidative damage.
Best Dry Food
2. Best for Large Breeds: Iams Adult Large Breed Dry Dog Food
Large breed dogs need both bigger kibble and different nutrition than smaller dogs. For this reason, you should feed large breeds specialized dog food made specifically for them, and this food fits that bill.
It features chicken as the first ingredient. Most dogs do great on chicken, as it is digestible, easy on the stomach, and full of amino acids. The company also added whole grains to this formula, including whole-grain barley, whole grain corn, and whole-grain sorghum.
While refined grains aren't always the best choice for dogs, whole grains provide fiber and other nutrients.
The company made this formula specifically to improve bone and joint support. If you have an active, larger dog, this extra support remains vital to prevent arthritis and similar problems.
Best for Large Breeds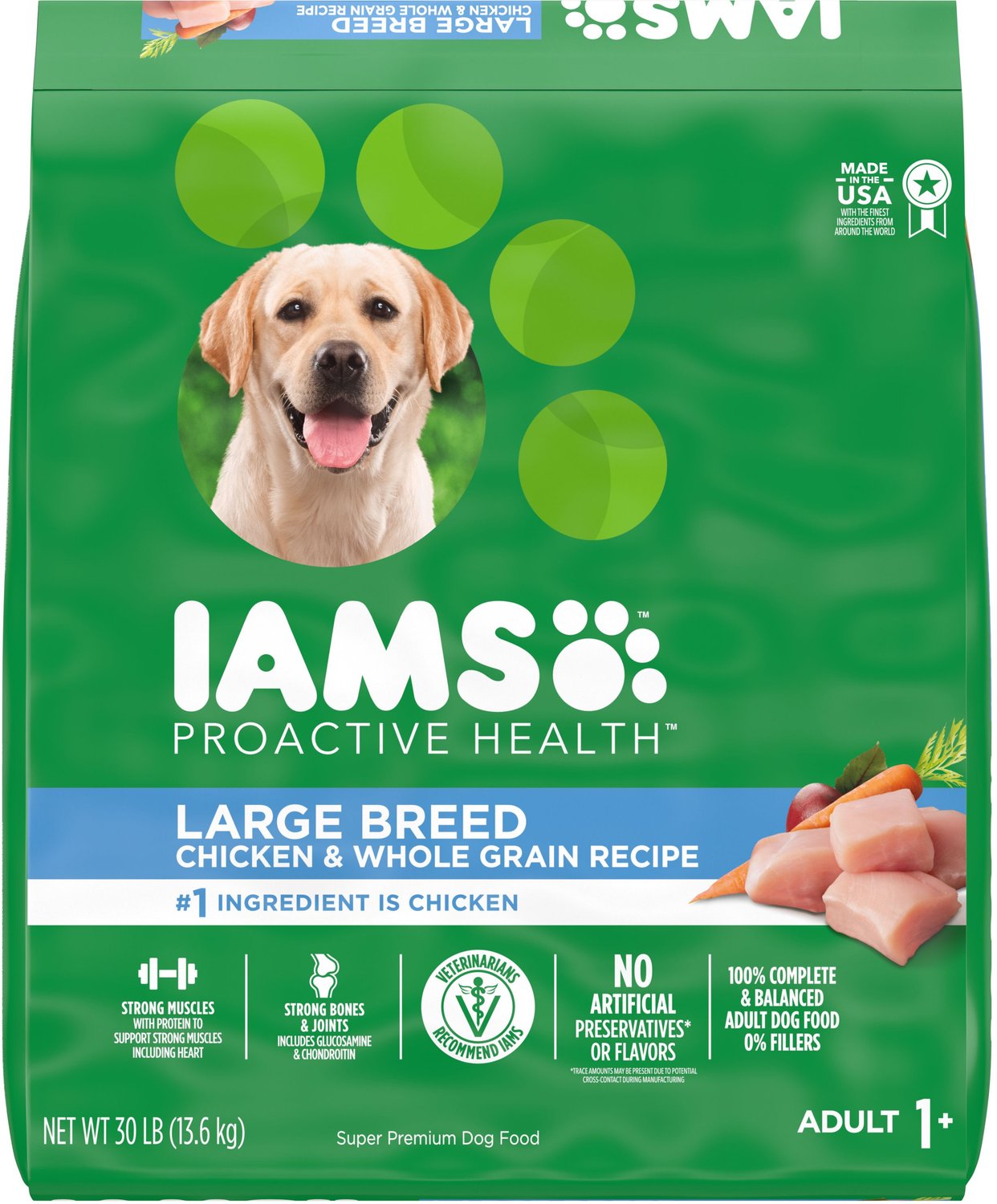 3. Best for Small Dogs: Iams Adult Small & Toy Breed Dog Food
While small dogs don't need the same kind of specialized nutrition that larger breeds do, they still require a smaller kibble size. If you have a toy breed, then we recommend this Iams formula, as it is specifically designed to meet their needs.
Like most recipes on this list, the ingredient list includes chicken as the primary ingredient. Chicken costs much less than other protein sources. However, it provides the protein and amino acids that your dog needs.
The company added antioxidants to this food for immune support, as these can prevent oxidative stress. Plus, the omega fatty acids added also promote skin and coat health, which is a common point of contention with small dogs.
Best Dry Dog Food
4. Best for Weight Loss: Iams ProActive Adult Healthy Weight Dry Dog Food
Sadly, many dogs today gain more weight than they should. Excessive weight gain may lead to all sorts of health problems, which can be a serious issue for many dogs. If your canine has a hard time staying a healthy weight, we recommend Iams Proactive Healthy Weight.
This formula includes chicken to provide lean protein and plenty of amino acids. This food contains a high level of whole grains, which provide extra fiber. This fiber may help keep your dog full, which can lower the number of calories your dog eats.
Iams added L-carnitine to this food, which may improve your dog's metabolism. While this won't help them lose tons of weight, it can provide some encouragement for very overweight dogs.
Best for Weight Loss
5. Best for Sensitive Stomachs: Iams Advanced Health Healthy Digestion Dog Food
Overall, this formula contains very similar ingredients to the other formulas on this list. For instance, the ingredient list includes chicken first. This animal protein provides all the amino acids your dog needs, while also being extremely digestible. Therefore, chicken remains a great option for dogs with sensitive stomachs.
Whole grains provide plenty of fiber and other nutrients. This fiber may improve your dog's digestive health, as it works to regulate the digestive system. Plus, Iams has also added antioxidants, improving your dog's immune health.
Due to the high digestibility and plain nature of this diet, we recommend this dog food primarily for dogs that can't handle anything exciting.
Best for Sensitive Stomachs
6. Best for Large Breed Puppies: Iams ProActive Puppy Large Breed Dry Dog Food
All puppies require special nutrition to thrive. However, large breed puppies specifically need special nutrition, or they can develop heart and joint conditions later on. Specifically, the calories large breed puppies consume must be controlled, or they may grow too fast for their joints.
Like practically every dog food on this list, this formula includes chicken as the first ingredient. It provides lean protein for your puppy, which helps them grow the muscles they need. Plus, it includes all of the 22 key nutrients that your puppy needs.
Plus, omega-3 fatty acids have been added, as well. This DHA helps improve your dog's brain and eye health, especially as they are growing.
Best for Large Breed Puppies
Iams ProActive Health Puppy Large Breed
Provides the special nutrition large-breed puppies need to help prevent heart and joint conditions later
Calories are controlled so they don't grow too fast for their joints
Chicken is the first ingredient and provides lean protein for healthy muscle growth
Contains all 22 key nutrients your puppy needs
Also includes omega-3 fatty acid, a DHA that improves brain and eye health, especially in developing puppies
Check Chewy
Check Amazon
7. Best Small-Breed Puppy Food: Iams ProActive Puppy Small & Toy Breed Dog Food
Extremely small dogs have extremely small mouths. Therefore, they need very small pieces of kibble. Otherwise, eating can be a challenge. Luckily, this food features very small pieces of kibble – exactly what your small dog needs.
With chicken as the first ingredient, this dog food provides lots of lean protein and a variety of amino acids. As a grain-inclusive food, this dog food also includes a variety of whole grains, including ground whole grain corn. These ingredients increase the fiber content, which is vital for a functioning digestive system.
Of course, this formula includes a variety of nutrients that puppies specifically need. Omega-3s are added, for instance. DHA improves the cognition of your canine, promoting healthy brain growth.
Best for Small-Breed Puppies
Iams ProActive Health Puppy Small & Toy Breed
Features small kibble designed for tiny mouths
Chicken is the fist ingredient for lean protein and amino acids
Includes a variety of whole grains for fiber and a healthier digestive system
Provides nutrients that puppies need, including omega-3 fatty acids and DHA, which improves healthy brain development
Check Chewy
Check Amazon
8. Best Wet Food: Iams ProActive Health Lamb & Rice Pate Canned Dog Food
Lots of dogs simply do better when eating wet dog food. In these cases, this wet food by Iams is a good option. This formula includes natural ingredients that the company cooks slowly in a real broth. For instance, the ingredient list includes chicken, chicken by-products, and lamb as the first few ingredients.
Iams has also added brown rice to this food, which adds carbohydrates and fiber to the formula. Whole grains actually include a variety of nutrients, which your dog will likely benefit from.
This food is also quite high in flaxseed. This ingredient provides extra omega fatty acids to the wet food, which may improve your dog's skin and coat health.
Best Wet Food
Choosing the Best: What to Look For
While Iams dog food may all look rather similar on the shelf, it does have a few key differences. When deciding what food to get your canine, keeping these ingredients in mind is vital.
You should consider each food's price, protein source, grain inclusion, and added ingredients. Let's take a look at these key points below:
Price
Most dog owners are on a specific budget. While we would all like to ignore pricing, our financial situations usually don't allow this.
Luckily, Iams prices their dog food lower than most options out there. Therefore, we recommend it for owners on a budget. Still, different formulas cost different amounts, so be sure to always look at the price of the specific formula you're considering.
Protein Source
Dogs are not obligate carnivores like cats. However, they still need to eat plenty of protein, which is usually added to food through meat sources. Most Iams dog food includes chicken as the primary protein source.
Usually, dogs do fine on chicken, though it can be a common allergen. If your dog is allergic to chicken, you will obviously need to find a chicken-free formula.
Grain Inclusion
Grains remain a bit of a controversial subject among dog owners. However, science has discovered that dogs have evolved to consume grain. Furthermore, the FDA is currently researching grain-free foods and their potential associated with certain health conditions.
Therefore, we typically recommend a grain-inclusive formula for most dogs. The only exception to this recommendation is dogs with grain sensitivities, though these are rare.
Added Ingredients
Many dog foods have a purpose. While Iams does make generalized dog foods, most have added ingredients that make them better for certain dogs. For instance, their weight management formula includes specific nutrients that can help dogs lose weight.
For this reason, you'll need to consider these added ingredients when choosing the best food for your dog.
The Different Types of Iams Dog Food: Pros and Cons Compared
Iams dog food does make a few different types of dog food. Primarily, these are dry dog food and wet dog food. Let's take a look at each of these types, in turn, to help you choose an option for your dog.
Dry dog food – Most dog owners feed their canines kibble, as it is easy to feed and has a long shelf life.
Wet dog food – Many dogs benefit from wet dog food because of its increased moisture content.
Dry Dog Food
| Pros | Cons |
| --- | --- |
| Inexpensive | Often higher in carbohydrates |
| Available in most stores | Can contain a lot of filler ingredients |
| Long shelf life | Less smell to entice picky dogs |
| Wide range of formulas available | Must consider kibble size |
| Can be left out | Can be hard for some dogs to eat |
| Dental benefits | |
| Doesn't create a mess | |
Wet Dog Food
| Pros | Cons |
| --- | --- |
| Easier to eat | Expensive |
| Smells to entice picky dogs | Can cause digestive problems for some animals |
| Often tastier | Cannot be left out |
| Higher fat and protein content | |
Verified Reviews: Users' Experiences
Usually, most customers praise this company due to their lower pricing. Compared to other dog food brands, Iams costs much less. Therefore, they are a great option for those on a budget.
Furthermore, most owners found that this food keeps their dog perfectly healthy. One poodle owner reported that the mini chunks recipe kept their dog's coat shiny and looking well cared for.
Many owners also liked that this food was made in the U.S.A. They seemed more inclined to choose any Iams recipe for this reason.
Most complaints involved the grain-heavy ingredient list. While there are some dogs that are sensitive to grain, this is quite rare.
Products for This Review