If you've seen a bird with long, skinny legs standing in shallow water, moving methodically through aquatic vegetation, you were most likely looking at a wading bird. Waders, or shorebirds, are often found near the shoreline or at the edge of a marsh or pond. Most spend their days moving slowly through the water, picking up crustaceans, fish, and aquatic insects. Discover many types of wading birds in North America and learn about their habitats, appearance, and behavior.
Cattle Egret
The cattle egret is native to Africa but somehow found its way to the southern tip of South America and slowly made its way up as far north as the Central United States. They mainly breed in the Southeast, but some populations live year-round in Florida and around the Gulf of Mexico. They live in marshes, coastal islands, swamps, and lakes and forage in agricultural fields near livestock. These small, compact herons have snow-white plumage with golden plumes on their head, breast, and back. They also feature yellow bills and yellow legs. 
American Flamingo
American flamingos are large bright pink wading birds native to the neotropics. They live in Mexico, the West Indies, and South America. But some populations inhabit South Florida and the Keys year-round. You can find these unmistakable birds in lagoons, mudflats, and shallow brackish lakes. They are closely related to the greater flamingo but smaller. It is also the only flamingo that naturally inhabits North America. These birds are often monogamous and found in flocks, wading in shallow water and producing geese-like honking.
Great Blue Heron
The great blue heron is a common sight across American rivers and shores. But it never gets old seeing them silently standing in slow-moving water, waiting for a fish to swim past. They are majestic creatures with grayish-blue plumage and a prominent black stripe over their eyes. These birds are permanent residents throughout most of the United States. But populations that breed in the most northern regions migrate to Mexico, Central America, and South America for the winter. You will find them in freshwater and saltwater habitats, such as swamps, lakes, ponds, marshes, and shorelines. 
Glossy Ibis
Look for this deep maroon wading bird along the coasts of the Southeast. The glossy ibis is a social bird, often seen in flocks while foraging and nesting. You can find them primarily in open freshwater marshes, but they also inhabit saltwater marshes, mangrove swamps, wet fields, lakes, ponds, and slow-moving rivers. This species lives permanently in the Southeast, with breeding populations in the Northeast migrating to the West Indies and the Yucatan Peninsula. You can identify this bird by its glossy black and deep maroon plumage.
Black-Crowned Night Heron
Black-crowned night herons are stocky types of wading birds well known for their nightly feeding activities. They are a familiar sight in American wetlands during the evenings; listen for their choking squawks as they propel themselves through the night air. These birds breed throughout most of the United States, with some populations living year-round along the coasts. They also inhabit most of South America and winter in Mexico and Central America. You can spot them in most aquatic habitats, including freshwater and saltwater. 
Roseate Spoonbill
The roseate spoonbill is a remarkable and easy-to-identify species. They live permanently in Southern Florida and along the Gulf of Mexico, where they frequent shallow waters in freshwater and saltwater habitats, such as bays, mangroves, and forested swamps. This large Barbie pink bird is named after its long, spoon-shaped bill, which it uses to sweep up crustaceans from the water. They nest on islands with other wading birds, like herons, egrets, and ibises.
Wood Stork
The wood stork is a hefty bird with mile-long legs and a heavy body. And while they can be a pretty imposing figure in their wetland habitats, they are slightly smaller than the great blue heron. These birds have all-white plumage with black flight feathers and tails. You can find them in swamps, ponds, and marshes (both fresh and salt) in the Southeastern United States during winter, except for Florida, where it lives year-round. 
American Oystercatcher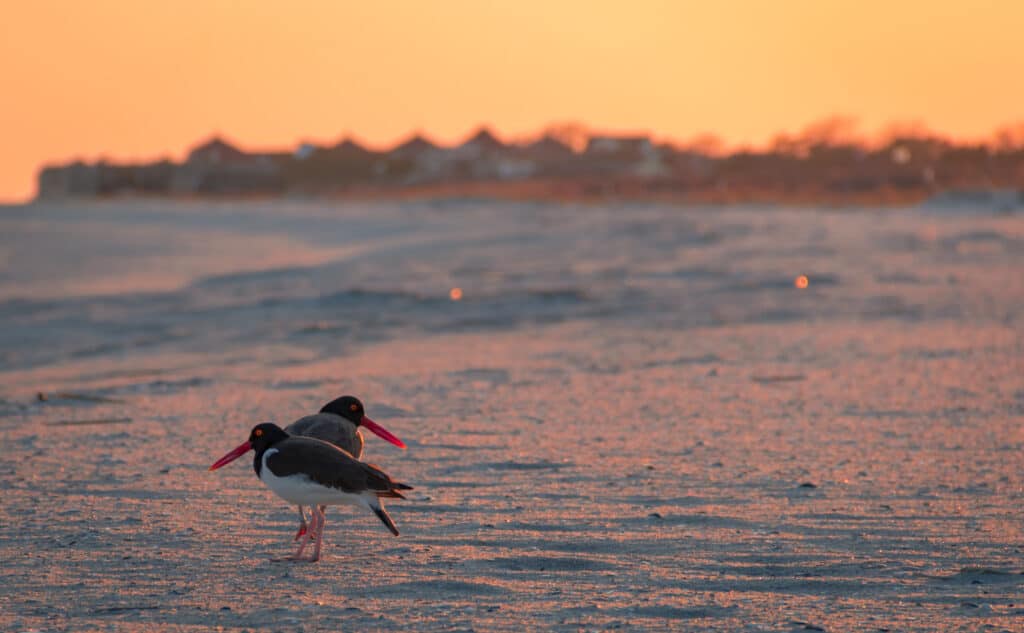 The American oystercatcher is smaller than the other wading birds on this list but bigger than many shorebirds. They have long, bright red bills and thick necks. Their eyes are bright red and yellow, a prominent feature of this bird. You can find them on beaches and intertidal areas, where they walk slowly through oyster reefs. This species lives permanently along the United States' east coast and the Gulf of Mexico. You will also find them in Mexico, the West Indies, Central America, and South America.
Long-Billed Curlew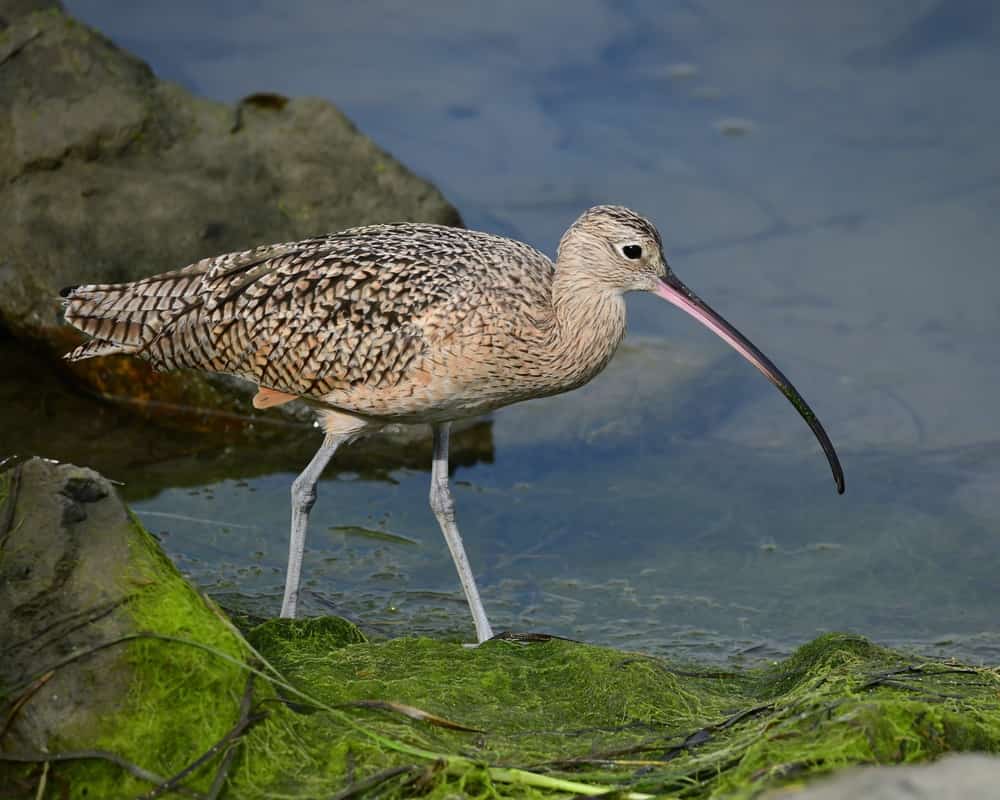 The long-billed curlew is the largest shorebird in North America. They feature an incredibly long, curved bill (hence the name), long legs, and mottled brown plumage. You will find them in the Northwestern United States during spring and summer and along the southern coasts during winter. They live in wet pastures, tidal mudflats, tidal estuaries, flooded fields, and beaches. They use their long beaks to find bottom-dwelling marine invertebrates.
Stilt Sandpiper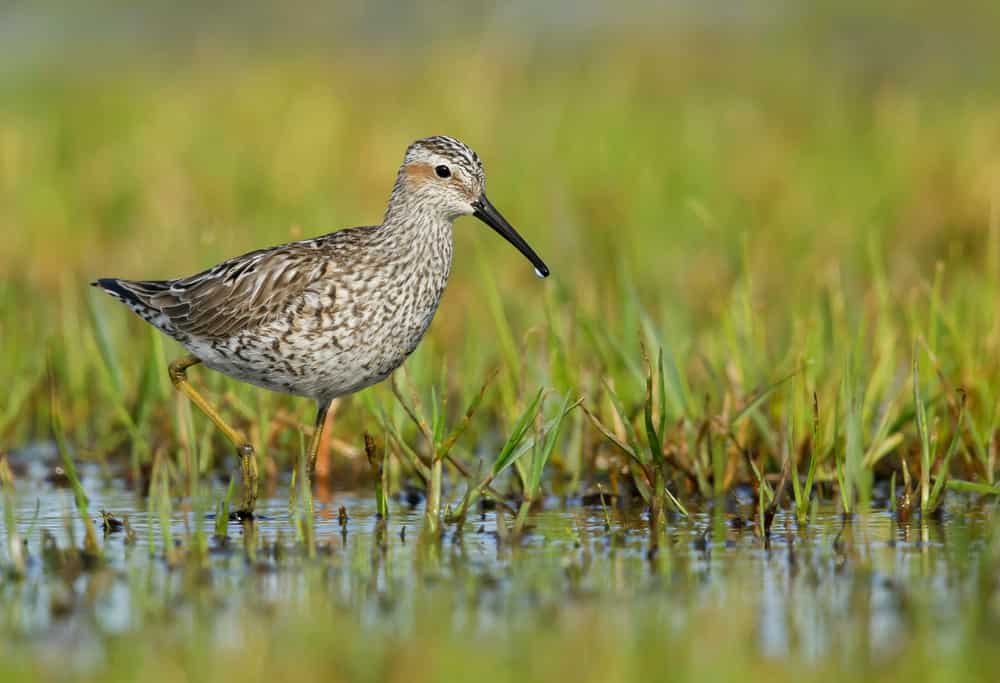 The stilt sandpiper has a plump body with stilt-like legs and long, thin bills. Their plumage is mottled dark brown and white, with chestnut cheeks and crowns. They nest in moist meadows and subarctic tundra. But during migration and winter, they use freshwater marshes, ponds, swamps, and rainwater pools. They use their long beaks to probe for aquatic food in shallow muddy water. They breed in the Arctic, migrate through Canada and the Eastern United States, and winter in Central and South America.
Wilson's Snipe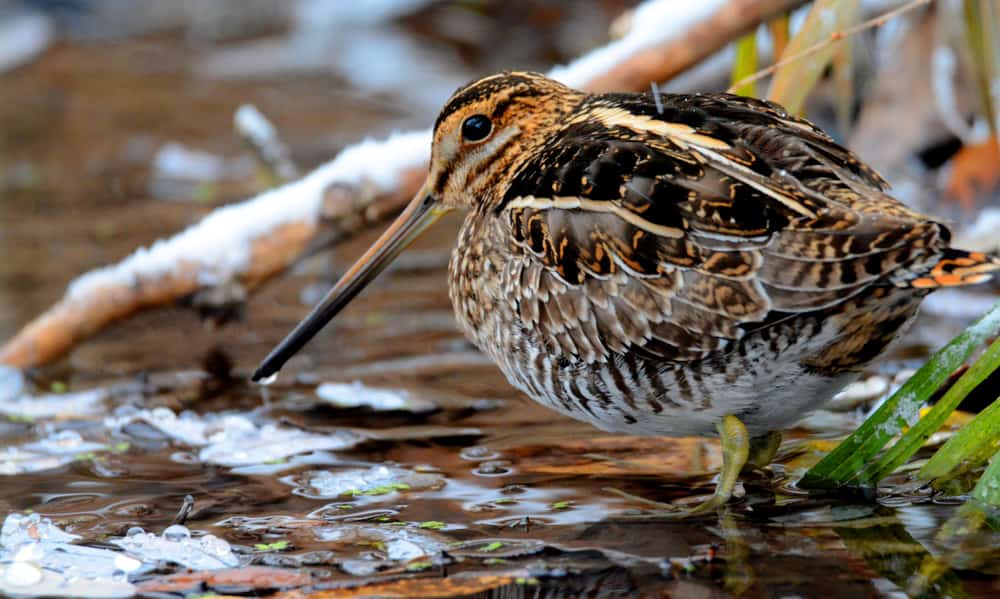 The Wilson's snipe is a plump shorebird with long legs, a long bill, and heavily streaked brown plumage. They breed throughout Canada and Alaska and winter in the United States, Mexico, Central America, and South America. You can also find year-round residents in the Pacific Northwest. This species lives in many aquatic settings, such as marshes, bogs, swamps, wet meadows, ponds, and rivers.
---
The Featured Image
---