Louisiana residents are no strangers to the American alligator. After all, the state has the largest alligator population, well over two million. But those alligators are typically found around bodies of water and don't often wander into towns. So, you can imagine the surprise of unsuspecting Dollar General employees in Plaquemines Parish when they arrived to open the store one morning and found an alligator at the door. 
Employees quickly contacted the Plaquemines Parish Sheriff's Office to report the unusual find. When deputies arrived, they spotted the large predator patiently hanging out at the front door. Deputy Tony Palmisano was able to snap a picture that captured the unique experience. The department shared it in an official Facebook post.
Authorities estimated that the alligator was roughly ten feet long. And it appears to have picked the right day to go for a walkabout. The local alligator hunting season opened the day after the reptile wandered into town. So, had it arrived the next day, it certainly may not have gotten home. Thankfully, officials safely relocated the alligator to a nearby body of water.
Alligator Population: How Many Are Left in the World?
American alligators (Alligator mississippiensis) are a reptile that lives exclusively in the United States. Their range runs from Texas to North Carolina. Ten states have documented sizable populations of alligators. They used to be on the endangered species list. However, after significant conservation efforts, officials removed the American alligator from the endangered species list. They are now officially considered in the "Least Concern" category. 
There are well over three million alligators living in the wild today. And their population continues to climb.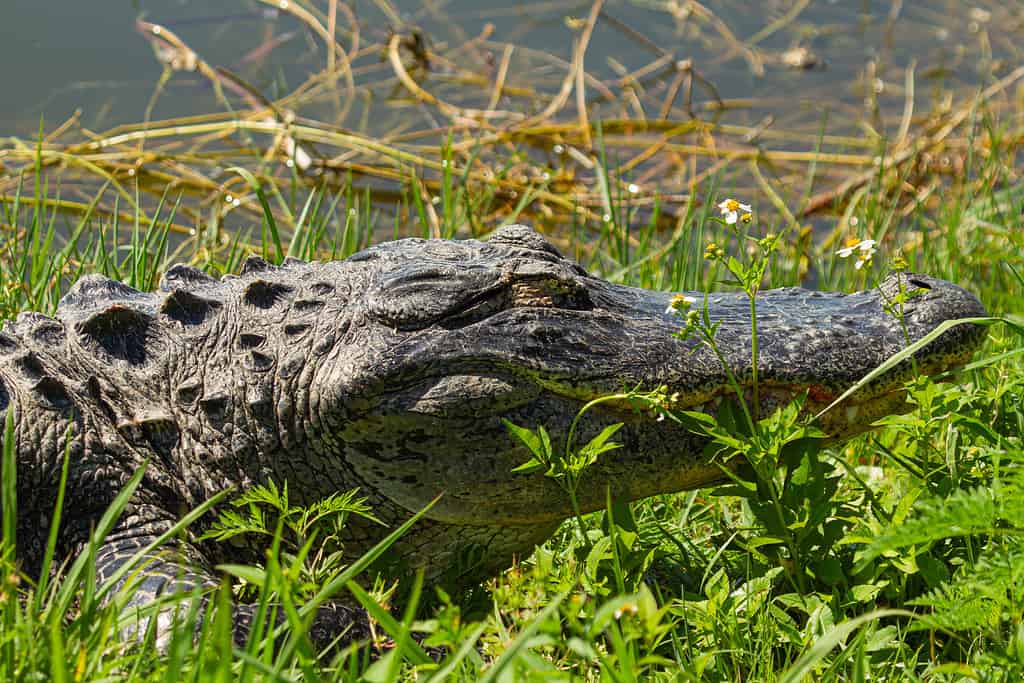 What Do Alligators Normally Eat?
The American alligator is a large apex predator. These opportunistic hunters will feed on animals on land or in the water. Since they spend a significant amount of time in freshwater areas, including slow-moving rivers, swamps, and lakes, a large part of their diet consists of animals that frequent those areas. Alligators love to feast on snakes, fish, and turtles. When they are on land, they have no problems snagging an unsuspecting small mammal or pet that strayed too close to the water's edge.
While they don't often target humans, an alligator will attack if one gets too close to their powerful jaws.
The photo featured at the top of this post is © Benjamin Klinger/Shutterstock.com
---