If you want to go ice fishing in the United States, Maine is easily one of the best places you can go. There are many great ice fishing opportunities in Maine, and they have some of the easiest ice fishing regulations to follow. While the state is smaller than most, there are still many lakes to choose from.
Plus, there are many different species you can catch. While they aren't always present in every lake, there is often enough variety to keep you busy.
Here are some of the best lakes for ice fishing in Maine. Whether you're completely new to ice fishing in the state or just looking to spice things up this year, we'll have something for you below.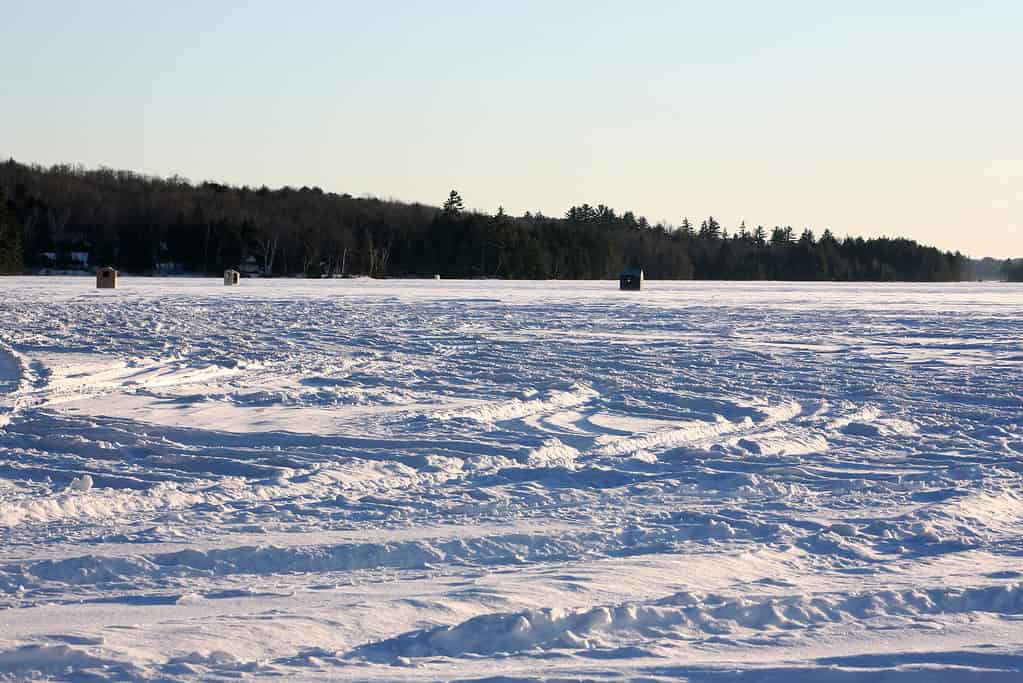 Sebago Lake
Sebago Lake is large and deep. It covers around 28,000 acres and is 316 feet deep in some areas. Both of these factors combine to make it one of the most popular ice fishing destinations.
You can catch many different species. Smallmouth bass, brook trout, lake trout, and landlocked salmon are all plentiful in the lake. Most of these species are plentiful, but lake trout seem to be the most abundant species. There are some reports of fishermen catching as many as 50 lake trout in a single day.
There are many access points onto this lake, as well. Much of the surrounding area is publicly accessible.
Moosehead Lake
Compared to other lakes, Moosehead Lake is absolutely huge. It covers more than 75,000 acres, so there is plenty of room to find a spot on the ice. Once ice fishing season opens, there are often tons of fishermen on this lake. However, thanks to its giant size, you would never know.
This huge lake is home to brook trout, lake trout, and landlocked salmon. You can also find populations of burbot. Lake trout are particularly plentiful, and there are several state initiatives to help control the population. For instance, there is a derby each year in which fishermen compete for sporting tickets and cash prices.
With that said, some other species have harvest restrictions. Therefore, while you can harvest many lake trout, you can't just go ham.
This lake is accessible via public roadways. Due to the traffic, the roads tend to stay easily accessible, too.
East Grand Lake
If you're willing to head to the Canadian border, you can enjoy fishing at East Grand Lake. This lake is over 16,000 acres and boosts tons of forage and structure. Therefore, it is able to host a range of different species, including lake trout, landlocked salmon, and smallmouth bass.
While other lakes are known for their trout, this lake is known for its salmon. In fact, it has one of the strongest populations of landlocked salmon in the state. Therefore, for salmon-lovers, the long driver north may be worth it.
On top of the more priced species, you'll also find whitefish, cusk, and smelt. Smelt are a popular bait fish, as they are a plentiful species in the lake.
Rangeley Lake
While this lake isn't one of the most popular, it does host a healthy population of brook trout, lake trout, and salmon. Therefore, for those in the western part of the state, this lake that has a surface area of 6,302 acres may be an accessible place to ice fish.
You can easily access this lake through the state park of the same name. The whole area is public, so it is probably one of the easiest lakes to gain access to.
Allagash Lake
If you're willing to go off the beaten path, we highly recommend Allagash Lake. It is for those that want a more secluded experience and don't mind a bit of a hike. Much of the lake has a few of Mount Katahdin, and the shoreline is mostly pristine forest. It's a great spot for those that want to enjoy the view while fishing for lake trout (often called togue in Maine) and brook trout.
There is a special regulation on Allagash Lake that prevents anglers from using a motor on the trail leading to the lake. Therefore, you must hike. However, you can leave a vehicle at the ranger station at the corner of the lake. In this way, you can shorten your hike by a bit.
Many people may find this hike to be not exactly what they were looking for in a day of ice fishing. However, for those looking for a wilderness experience, fishing on this lake is a lot different than fishing elsewhere.
Long Lake
Long Lake is home to the annual Long Lake Ice Fishing Derby, which hosts a substantial cash prize. This derby is not-for-profit and goes to support cancer research. You can actually fish in multiple lakes during this derby. However, Long Lake is one of the most popular options.
This lake hosts similar species as others we've discussed. However, its lake trout are known for being some of the biggest around. There are many reports of lake trout of over ten pounds being found in the lake, which covers 5,295 acres.
There are many access points. There are public picnic areas and boat launches on either side of the lake. Therefore, this is one of the easier lakes to access.
Rangeley Lake
Rangeley Lake is a very popular destination for outdoorsmen of all sorts. It has a healthy population of fish, as well, making it perfect for ice fishing. You can find a sizable population of lake trout, landlocked salmon, and brook trout.
The lake, which has an area of 6,000 acres, is part of the larger Rangeley Lakes State Park. Therefore, there are many amenities and access is quite simple. If you're in the western part of the state and are looking for an easy fishing trip, this lake should be on your list.
Square Pond
Despite its name, Square Pond is more of a lake than a pond. It has many fish species within it, but it is stocked with brown trout. These trout are known to get over ten pounds in size, with many large fish being reported each year. Therefore, many people visit this lake for its brown trout population.
Fishing through the ice is allowed on this 910-acre lake, and this pond tends to freeze pretty easily. You can access the lake via West Shore Drive, which is on the western bank.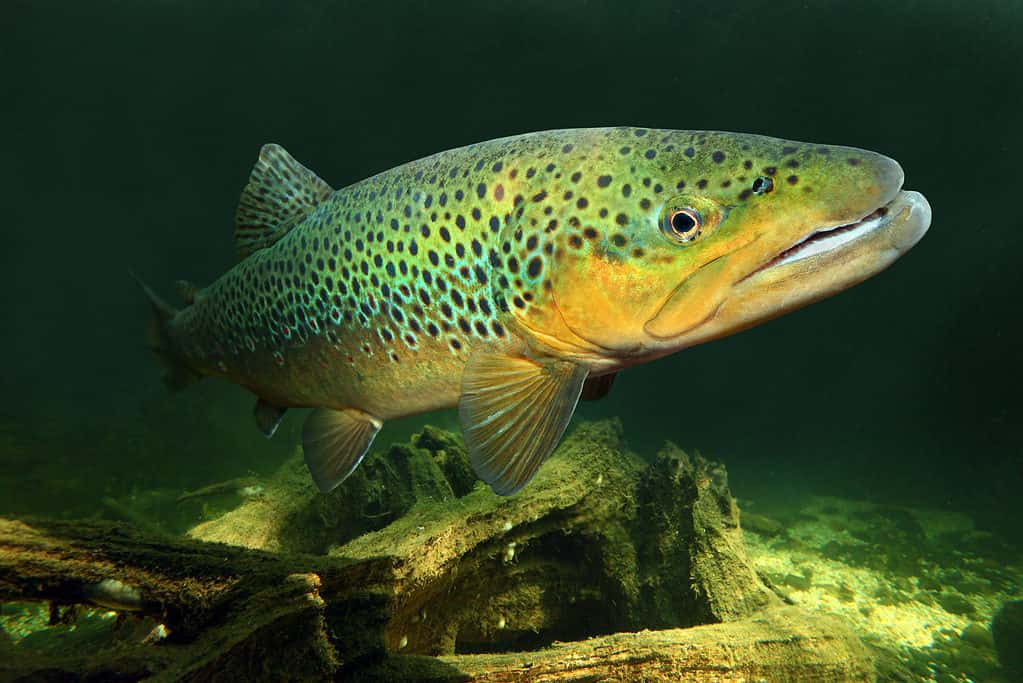 Little Ossipee Pond
This lake is more of a pond than a lake. It's perimeter is only 12.7 miles long and its area is 564 acres. Therefore, you could walk around the whole thing in a day pretty easily. However, it isn't very popular, so there is often still plenty of room on the lake. There is even a lake beach that provides easy access to the water, though you will have to hike on a short trail.
The Little Ossipee Pond has many different species. You can find largemouth bass, smallmouth bass, brook trout, salmon, and even pickerel. Therefore, it's a great spot for those looking for harder-to-find species or who just want a variety.
Because this lake is smaller, it typically freezes earlier in the season. Therefore, it's great for those that want to get on the ice early.
Sabattus Pond
Sabattus Pond is extremely shallow. It only reaches about 20 feet at the deepest spot. This does restrict the species and fish population. However, it also means that all of the fish are pretty close to the surface at all times. Many fishermen prefer to know that all fish are within jigging range, even if the population is smaller.
This pond is also well-known for being very easy to access. You simply use the road on the southwestern side of the pond to drive right up close to the water. This ease of access makes this pond great for those who aren't looking to hike.
The main draw species are crappie, pickerel, northern pike, and bass.
Summary of the 10 Best Lakes for Ice Fishing in Maine
Here is the list of the 10 best lakes for ice fishing in the state of Maine:
Rank
Lake
Size
Types of Fish
1
Sebago Lake
28,000 acres
Smallmouth bass, brook trout,
lake trout, and landlocked salmon
2
Moosehead Lake
More than 75,000 acres
Brook trout, lake trout,
and landlocked salmon
3
East Grand Lake
More than 16,000 acres
Lake trout, landlocked salmon,
smallmouth bass, whitefish,
cusk, and smelt
4
Rangeley Lake
6,302 acres
Brook trout, lake trout,
and salmon
5
Allagash Lake
4,260 acres
Lake trout and brook trout
6
Long Lake
5,295 acres
Lake trout
7
Rangeley Lake
6,000 acres
Lake trout, landlocked
salmon, and brook trout
8
Square Pond
910 acres
Brown trout
9
Little Ossipee Pond
564 acres
Largemouth bass, smallmouth bass,
brook trout, salmon, and pickerel
10
Sabattus Pond
1,962 acres
Crappie, pickerel,
northern pike, and bass
Up Next
More from A-Z Animals
---
The Featured Image
---
Sources

Wikipedia, Available here: https://en.wikipedia.org/wiki/Sebago_Lake
Best Fishing in America, Available here: https://www.bestfishinginamerica.com/maine-ice-fishing.html
East Grand Lake, Available here: https://eastgrandlake.com/salmon-fishing-vacation-on-east-grand-lake/
Piscataquis Observer, Available here: http://observer-me.com/2020/02/23/living/allagash-lake-ice-fishing-changes/
The Fisherman, Available here: https://www.thefisherman.com/hot-spot/sabattus-pond-me/