It can be pretty concerning when you see a bug on your head or body that looks like a louse, but that may not always be true. Many other bugs might be mistaken for lice and may look incredibly similar at first glance. So, if you see a bug and are unsure if it's a louse, don't grab a bottle of lice shampoo right away! It might be something else altogether. Here we will discuss bugs that may commonly be mistaken for lice and how to tell the difference.
Lice (Phthiraptera)
First, let's discuss what lice are. Lice are tiny insects that live on the scalps of humans. They feed on human blood and lay their eggs in the hair. Lice are usually spread through close contact with someone who already has them.
There are three main types of lice: head lice, body lice, and pubic lice. Head lice are the most common type of lice. They live on the scalp and lay their eggs in the hair shafts. Body lice live on clothing and lay their eggs in seams or folds of fabric. Pubic lice live in pubic hair and lay eggs in the hair shafts.
Lice can cause itching and irritation but do not commonly spread disease. If you think you have lice, it's always best to see a doctor or pharmacist for treatment options and advice. 
1. Bugs That Look Like Lice: Bed Bugs (Cimicidae)
A bug that may commonly be mistaken for lice is the bed bug. While bed bugs can be intimidating in their own right due to how difficult they can be to get rid of, they are not lice.
People don't always feel it when bed bugs bite them, so it may take a while to notice they are present. Bed bugs also feed on blood which may cause itching and irritation at the bite site. 
These pests can be brought into your home in several unsuspecting ways, such as buying used furniture, latching onto suitcases you used at hotels, clothing, etc. Fortunately, you can get rid of a bed bug infestation in many ways, such as by using specialist sprays, spray bombs, and even hiring a professional to complete the job.
How To Tell The Difference
A way to tell the difference between a bed bug and a louse is by their appearance, size, and location. Bed bugs are usually brown in appearance with an oval-shaped body, approximately 4 to 7 mm or 3/16 to 1/4 inch in length. Bed bugs do not jump or fly and can generally be seen in the seams of your mattress or carpet rather than in your hair like a louse will be.
2. Dust Mites (Dermatophagoides farinae)
Another bug that is similar in appearance to a louse is the dust mite, but the human eye can rarely see dust mites. Dust mites can cause allergies in some people and often feed on dead skin, mold, house dust, food, and fungal spores. These tiny bugs are commonly found in carpets, bedding, mattresses, and furniture. There are many ways to eliminate a dust mite infestation, including washing clothes and bedding in hot water and placing the items in a hot dryer afterward. Alternatively, you can put the clothes and bedding in a black plastic bag underneath the hot sun.
How To Tell The Difference
While lice can be hard to see sometimes, dust mites are usually impossible to see without a microscope handy. This means the best way to tell the difference between a louse and a dust mite is that you can usually see a louse with the human eye.
3. Bugs That Look Like Lice: Fleas (Siphonaptera)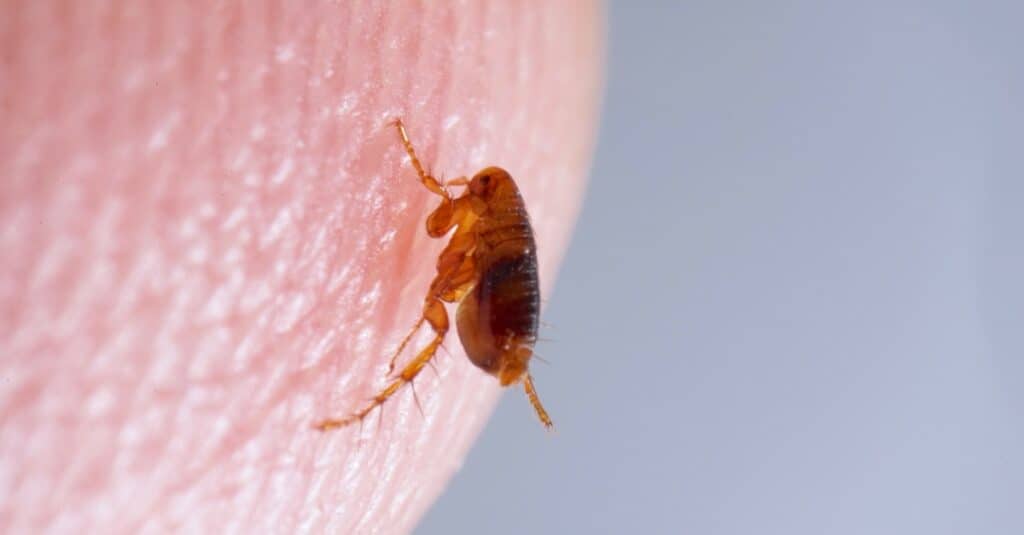 Fleas can also resemble lice, especially if you find them in your hair! You may mistake fleas for lice because they are tiny creatures that may bite humans, leaving itchy marks on the skin. But unlike lice, fleas usually live on animals in your home, such as dogs or cats. While fleas don't typically live on humans, they can jump on us from time to time and leave a few bites.
Luckily, you can easily find many ways to get rid of fleas. You may start by washing your pets with an anti-flea medicated shampoo and washing your bedding and clothing in hot water. Spray and professional services are also available if you have a more severe infestation.
How To Tell The Difference
Fleas are typically rounder than lice, while lice can be lighter in color with a more slender and long body. Fleas are usually brown and about 3 mm or 1/8 inch long. They are also powerful jumpers and tend to move around a lot more than lice, which usually stay in one spot and may move more slowly.
4. Thrips (Thysanoptera)
Though they may look similar, thrips are a different type of animal altogether from lice. Thrips live and feed on plants. They puncture the plant's surface with their mouth and suck up its juices. This can damage the plant, causing it to become stunted or discolored, which can be a sign of infestation.
Thrips are tiny insects that may be carried inside your clothing or live on indoor plants. They are usually 0.5 to 14 mm (0.02 to 0.55 in) long and appear dark in color. They can generally be found on plant leaves outside or pupating in the leaf litter layer in the soil itself.
How To Tell The Difference
Lice are slightly smaller, and thrips are usually longer and darker. Thrips also have wings, while lice are wingless creatures. Furthermore, the most noteworthy difference between these two bugs is that thrips are generally found on plants, while lice are typically found hiding in human hair.
5. Bugs That Look Like Lice: Springtails (Collembola)
This is another bug that may look similar to lice. Springtails are small, wingless insects (just like lice), usually less than 1/8 of an inch long. They can have a particular appendage on their abdomen that allows them to jump long distances. Springtails are found in damp environments such as soil, leaf litter, and decaying wood. They feed on mold and other decaying organic matter. Unlike lice, springtails do not live on humans and don't cause any harm or irritation when they come into contact with humans.
How To Tell The Difference
Lice are small, wingless insects that live on the scalps of humans. On the other hand, springtails are tiny creatures resembling miniature shrimp. Both lice and springtails can be found in homes. However, lice are more likely to be found in homes with children, as they can quickly spread through close contact with others. Springtails, however, are more likely to be found in damp or humid areas such as bathrooms or basements and do not cause harm or irritation.
6. Bugs That Look Like Lice: Booklice (Psocoptera)
Booklice are small, wingless insects commonly found in humid environments such as libraries, greenhouses, and stored grains. They range in size but are usually 0.2 inches long and are typically pale in color. Booklice feed on paper, glue, mold, and fungus, often found near damp books or paper products. While booklice are not known to transmit disease, they can be annoying if they infest your home. If you suspect you have an infestation, it is best to contact a professional pest control company for assistance and advice.
How To Tell The Difference
One of the most significant differences between booklice and human lice is their diet; booklice feed primarily on paper, glue, or mold, while lice feed on human blood. Another big difference is their habitat; booklice are often found in places like libraries, bookshelves, basements, or bathrooms, while lice are found primarily on the head or bodies of humans.
When it comes to appearance, booklice are usually grayer in color than head lice, and booklice also may have tiny wings on the sides of their bodies, although they are too small to allow flight.
7. Gnats (Nematocera)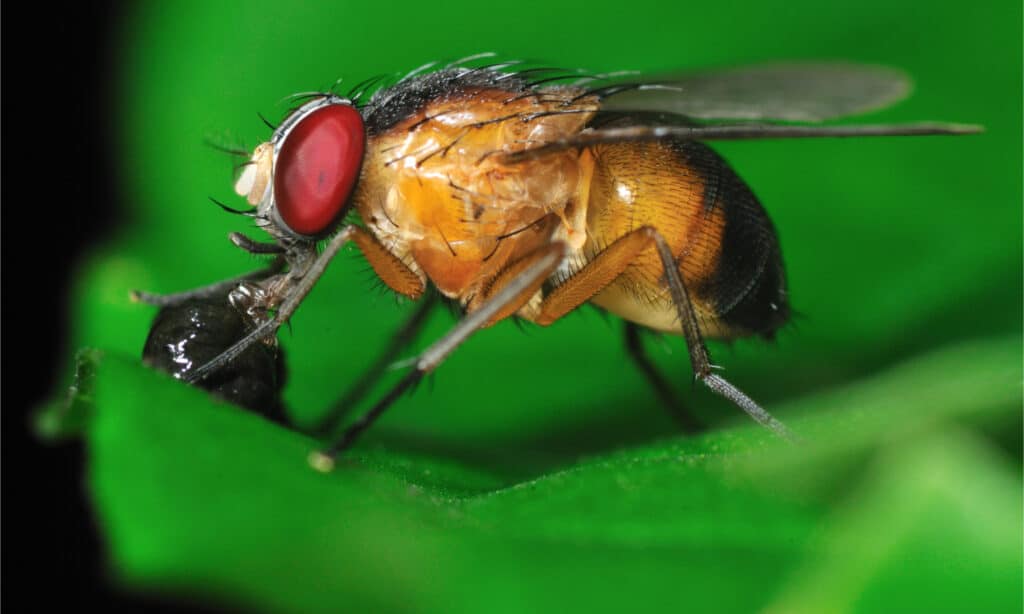 Gnats are small, winged insects that can be found in many different environments all around the world. They typically have dark-colored bodies and long, thin legs. Gnats usually eat plant matter or other small insects, but they can also become nuisances for people when they swarm around food or invade homes.
There are many different species of gnats, and they can vary in size and appearance. Some gnats are attracted to light, while others are more active at night. However, all gnats prefer humid conditions and usually avoid dry areas.
Gnats can bite if they're feeling threatened. If you have a gnat problem, the best thing to do is to try to remove any sources of standing water near your home (like old tires or buckets) and use insecticide sprays or traps to kill them.
How To Tell The Difference
These two insects can be very similar in appearance, but there are some key differences that you can look for. Gnats are small, fly-like insects that are attracted to moisture. They are often found near water sources, such as drains or puddles. Gnats also feed on plant nectar, often seen near flowers or other plants. In contrast, lice are parasitic insects that feed on human blood. They are usually found in the hair or on clothing. As both gnats and lice look pretty similar and can be difficult to distinguish due to their tiny size, the main thing to look out for is flight. If the tiny louse-like bug can fly, it is likely a gnat.
8. Ticks (Ixodida)
Similar to lice, ticks are tiny, parasitic creatures that feed on the blood of animals and humans. They are typically found in grassy or wooded areas and can attach themselves to people and animals. Ticks can be difficult to spot because of their small size, but they are usually dark brown or black. They have a hard outer shell, and their bodies are divided into two sections: the head and the body.
Ticks insert their mouth into their host's skin and swell up as they feed on blood. This can cause irritation and sometimes even pain at the site of the bite. Ticks can transmit diseases like Lyme disease to people and animals, so it is vital to be aware of them if you live in a familiar area.
If you find a tick on your body, remove it carefully with tweezers or a similar tool. Grip the tick as close to the skin as possible and pull it straight up; do not twist or jerk it, as this may cause its mouth to break off and remain in your skin. After removing the tick, clean the bite site with soap and water.
How To Tell The Difference
Lice are small, wingless insects that live on human heads. They feed on blood and can cause irritation and itchiness, which may be similar to how ticks behave. Lice are usually spread through close contact with someone who has them. Ticks, on the other hand, are parasitic arachnids that attach themselves to the skin of their host, usually after being outdoors. While lice tend to spend their entire lives with their host, ticks detach themselves after they have had their fill of blood.
Up Next:
More from A-Z Animals
---
The Featured Image
---