When cherry blossoms appear each spring, many people immediately think of Washington, D.C. This is because the U.S. capital features a spring display of cherry blossoms that is known around the world. But that doesn't mean it's the only place in the United States where you can view this annual wonder. North Carolina, for example, features its own spectacular cherry blossom display every spring.
The cherry trees that we adore each spring are native to Japan. There is a tradition in Japanese culture known as hanami, which literally means "flower viewing." When the cherry blossoms appear in the spring, many Japanese people will pause for hanami. Here are some lovely places where you can follow their lead in the Tar Heel State.
Asheville
Asheville looks like a postcard virtually any time of the year, and spring is no exception. The cherry blossoms paint the landscape of this town nestled in the Smoky Mountains with lovely hues of pink and white. When you're in Asheville, here are a few different places to view some of the most spectacular cherry blossoms.
Biltmore Estate
Biltmore Estate in Asheville is one of the most famous sites in the state for flower viewing. The 8,000 acres at Biltmore provide visitors with stunning beauty all year, and springtime is no exception.
It starts at the beginning of April when daffodils and some early tulips bloom alongside a marvelous display of cherry blossoms.
North Carolina Arboretum
While in Asheville, be sure to stop by the North Carolina Arboretum. Not only is it gorgeous, but admission is also free (aside from a parking fee).
Each spring, the North Carolina Arboretum bursts into a dazzling floral display. Along with daffodils and magnolias, cherry blossoms are among the first flowers to appear in early spring. The walking paths underneath these blooms offer an unmatched springtime tranquility. 
University of North Carolina Asheville Campus
This college campus sits in an idyllic setting. When spring arrives, the UNCA campus bursts with color from the forsythia, phlox, and cherry blossoms. Set aside time to take a springtime stroll across these lovely grounds.
Sarah P. Duke Gardens
The Sarah P. Duke Gardens, located right in the heart of Duke University in Durham, is a floral treasure that should not be missed. The 55 acres of this facility are stunning any time of year, but spring is simply breathtaking.
The Yoshino cherry blossoms are an early herald of spring. The walking paths underneath these blooms offer an unmatched springtime tranquility. 
Duke University requires a small parking fee, but admission to Sarah P. Duke Gardens is free of charge.
Raleigh
Raleigh is another wonderful city to explore in the Triangle. Springtime only increases its luster when cherry blossoms are in full bloom.
In the Village District of downtown Raleigh, you can stroll the streets that are lined with the iconic pink blooms. Do some shopping. Grab a bite to eat. It's a splendid way to spend a spring day. Nash Square is a greenspace downtown with a small but lovely collection of cherry trees.
Leesville Rd. Community Park in north Raleigh and Pullen Park in west Raleigh also feature lovely springtime cherry blossoms, plus lots of fun activities for children and young families.
Airlie Gardens
Wilmington is unquestionably one of the loveliest cities in North Carolina, and it contains a hidden gem that you need to visit: Airlie Gardens.
It takes 1-2 hours to fully explore Airlie Gardens, but walking through the grounds in the spring seems to make time stand still. Airlie Gardens is most known for its 60,000 bulbs and 75,000 azaleas that bloom each spring, but there are also gorgeous cherry blossoms that complete the spring display.
Oh, and while you're there, be sure to pay a visit to Airlie Oak, a 500-year-old live oak tree located on the grounds of Airlie Gardens. It is believed to be the oldest living oak tree in the state.
Admission is relatively inexpensive, while the serenity is priceless. Strolling through Airlie Gardens is an annual springtime ritual for many Wilmington residents. One visit and you'll see why.
Charlotte
The parks and greenspaces of Charlotte feature some stunning cherry blossoms each spring.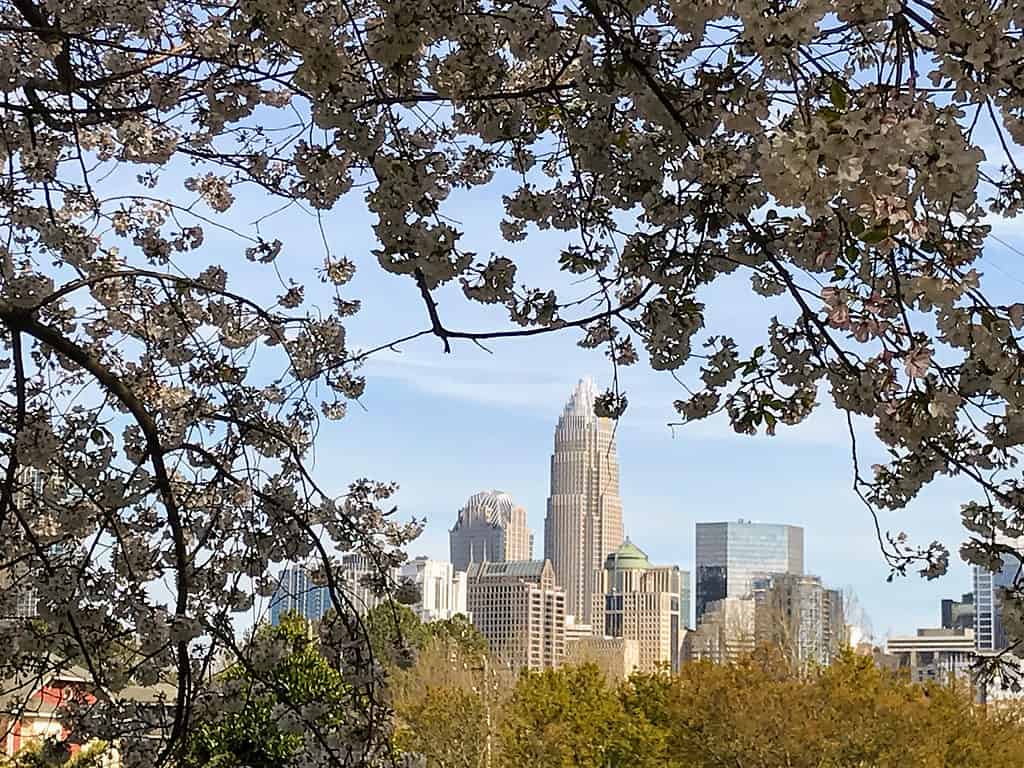 Romare Bearden Park in the Uptown area has a lovely cherry blossom display. The park boasts two gardens, numerous waterfalls, as well as playgrounds for the kids. In addition, it's within walking distance of Truist Field, home to Charlotte's minor league baseball team.
Freedom Park and the Rose Garden at Independence Park are also idyllic settings to spend a spring afternoon admiring the cherry blossoms.
Cherryville
No discussion of cherry blossoms in North Carolina would be complete without including Cherryville, a small city literally named for its cherry trees.
Cherryville is less than an hour's drive from Charlotte. So if you're looking for a place to slow down and bask in the beauty of spring cherry blossoms, this quaint little town is just what you're looking for.
Cherryville even hosts an annual Cherry Blossom Festival, featuring concerts, an antique car show, carnival rides, games, and, of course, lots and lots of cherry desserts.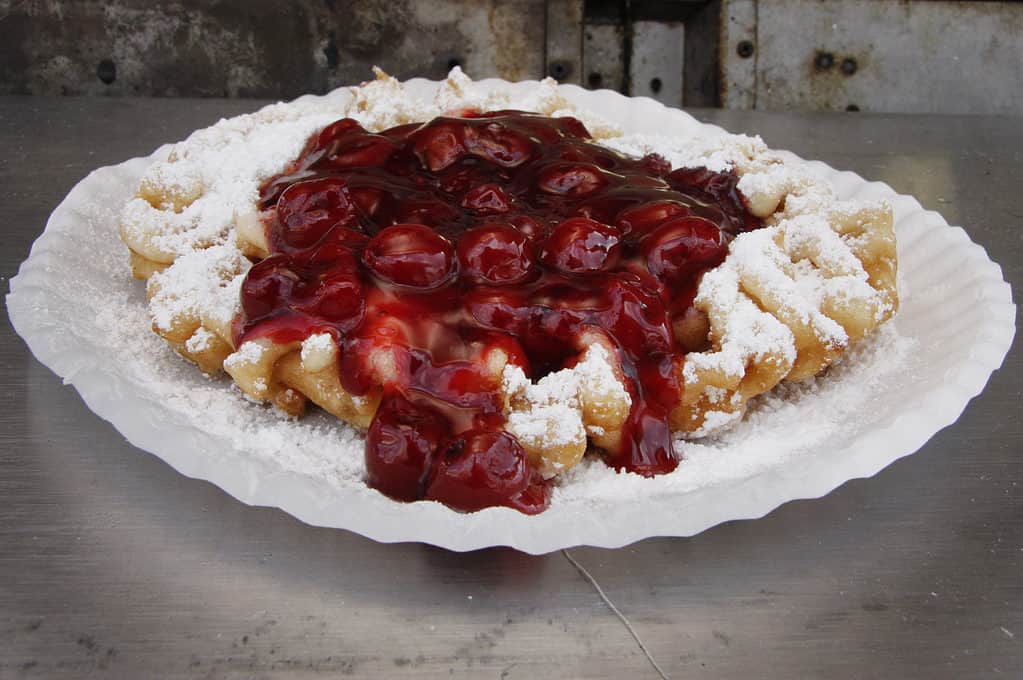 When to View the Blooms
The timing of North Carolina's peak cherry blossom bloom varies from year to year. The bloom will generally occur earlier in the south and a few days/weeks later as you look further north.
On average, cherry trees in the state will fully bloom between early March and mid-April. But again, that's just a yearly average. The timing can shift fairly dramatically based on the weather conditions in a particular year. In 2020, for example, many of the cherry blossoms in Raleigh were blooming in the middle of January!
And then, sadly, when the blossoms do reach their peak, it's a short-lived spectacle. Just like the timing of the peak blooms, the duration of the blooming season will vary from year to year. Cherry blossoms usually bloom for about a week or so. If the weather stays calm and relatively cool, they may hang on for as long as two weeks. Rainy, windy conditions can also cut the season quite short. You'll want to act quickly when peak bloom season arrives so you don't miss it!
Monitor the weather conditions and listen to the guidance of local horticulture experts. That will give you the best possible chance to catch these spring beauties at their magnificent peak.
Springtime in North Carolina is magical. That all-too-short season between winter's drear and summer's heat and humidity is something to savor. So be sure to make time on your calendar for some Tar Heel hanami in the spring.
The photo featured at the top of this post is © iStock.com/Sean Pavone
---