Key Points
Clever and highly adaptable, coyotes have become an urban fixture in several towns and cities.
Opportunistic feeders like the coyote are not above helping themselves to poultry or even a pet.
Because their droppings can contain dangerous microbes, protective gloves and clothing must be worn to remove them. Afterwards, droppings must be burnt, and clothing washed.
Coyotes are one of North America's most problematic creatures. They are smaller than the gray wolf and other wolves like the red wolf but have migrated to more urban areas – making them a menace to cats and small dogs.
If you want to know if there are coyotes in your region, keep an eye out for coyote feces (called scat or droppings). Coyote scat indicates coyote presence in the vicinity.
The main issue with finding coyote poop is identifying it. Continue reading to learn how to spot coyote scat.
How to Tell if a Coyote Pooped in Your Yard
Coyote droppings resemble a knotted rope with multiple pieces. They're big and tubular. Coyote droppings are usually 3/4 to 1-1/2 inches in diameter and 3 to 5 inches long.
Male coyote poo is larger than female coyote poo, measuring 6 to 12 inches in length depending on the coyote's size. Their poop has long curly tapering ends, which distinguishes it from other scats.
Coyote feces may contain hair and bones from prey such as rodents, shrews, and rabbits. You may also find seeds, grass, nuts, fruits, and berries that they eat to get rid of intestinal worms.
Is Coyote Scat Dangerous?
Does it indicate something bad to have a coyote scat in your yard? Coyote scat is a sure sign of the animal's presence. If this is the case, you should take the required precautions because coyotes are known to attack smaller animals such as chickens, dogs, cats, rabbits, and others.
Coyote Scat Risks
Coyote scat identification is vital since their poop is quite contagious. It carries viruses and germs harmful to other animals and humans.
How to Get Rid of Coyote Scat
Coyote poop includes tiny particles that can be harmful to humans. So, when cleaning up feces in your yard, you must follow simple safety precautions.
In no case should you remove the poop with your bare hands. Don't sniff it or put it near your face or open skin either. Remove it with gloves, shovels, and bags.
Here's a step-by-step guide:
Put on gloves and a mask. You may also wear rubber boots or cover your footwear.
If the feces are dry, wet with warm water.
Remove the excrement using a shovel then torch it. The flames will destroy any tapeworms.
The area should be cleaned with hot water and disinfectant.
Remove gloves and wash hands in hot soapy water.
Also, wash your clothes separately.
How to Keep Coyotes Off Your Property
Coyotes can be deterred from the area in several ways including:
Make Sure Your Property Is Well Kept
Use a Coyote Repellent Spray
Use a Water Sprinkler That Is Motion Activated
Dealing with Coyotes and Their Poop Through Pest Control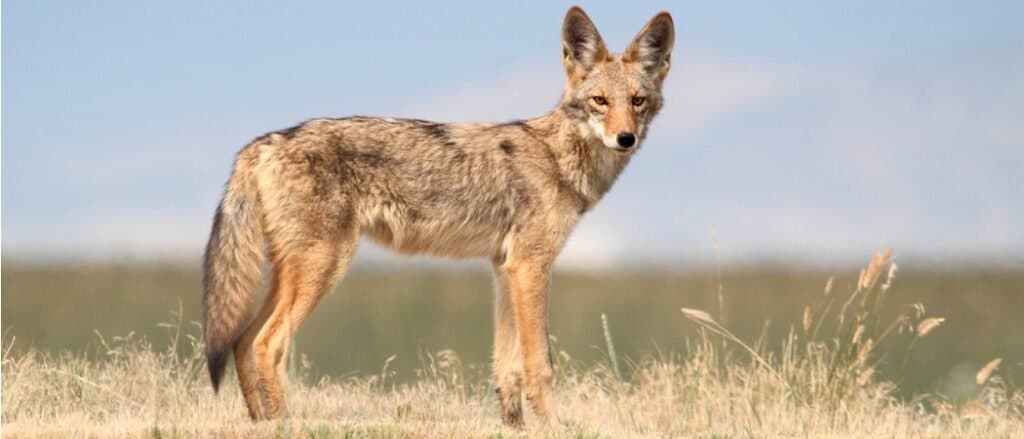 If you're reading this article, it's likely that you've seen signs of coyotes (such as their excrement) on your property. If it's a rare occurrence, you may be able to manage it on your own without the assistance of others. However, it's always a clever idea to seek the advice of a trained professional.
Conclusion
By keeping this information in mind, you'll easily be able to distinguish coyote scat from that of other animals. Hopefully, the information in this post has helped you identify coyote droppings. After finding their excrement in your yard, it's time to take the proper precautions to ensure they don't return to your property again.
Because coyotes have a reputation for attacking smaller animals and pets, it's important to be cautious and take preventative actions to ensure they don't become regular visitors to your property.
The photo featured at the top of this post is © Josef Pittner/Shutterstock.com
---