Deer season in Maryland is open in the winter and fall, starting early September until early February. The Maryland Department of Natural Resources (MDNR) controls the deer population by establishing hunting seasons. The state contains two deer management regions: a western A region and an eastern B region.
In Zone B, around the urban areas, there are a few special zones with different antlerless deer bag limits and restrictions on firearms. The two regions generally have similar deer seasons and open dates, but some differences exist. Bag limits are different in each region, for instance.
In the sections below, we will review the seasons, licenses and stamps, and the rules for hunting in Maryland.
Hunting License Requirements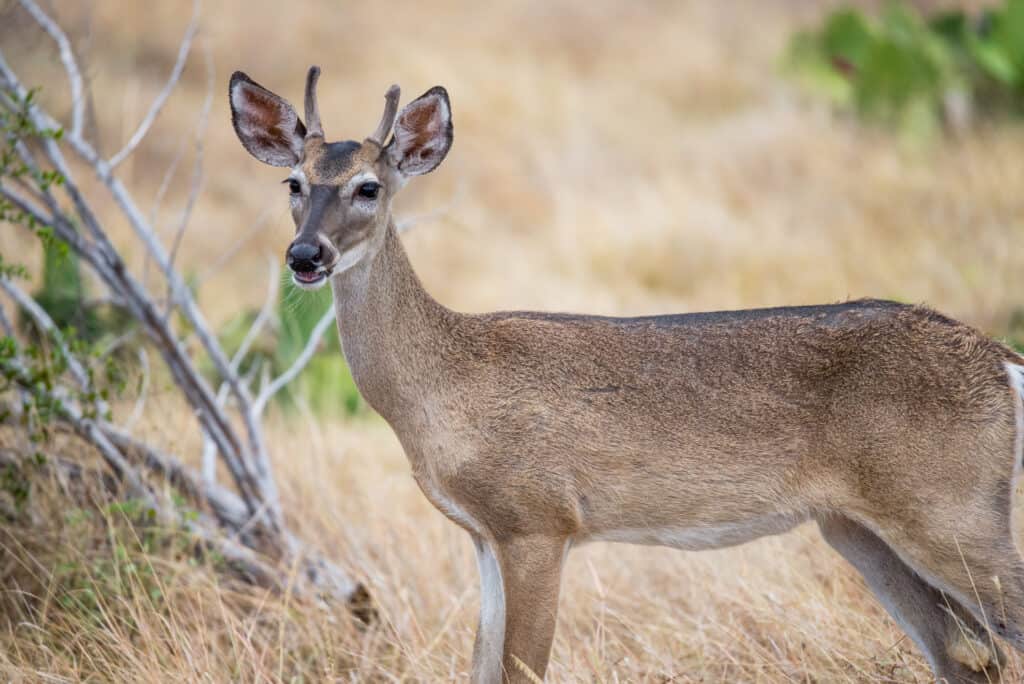 The MDNR requires every hunter to purchase a hunting license. Sometimes, other special permits are needed, too. However, there are some exceptions for landowners who are hunting on their own land.
Maryland residents that are between the ages of 16 and 64 must have a Resident Regular Hunting License. Youth hunters under the age of 16 must purchase a Resident Junior Hunting License, while hunters 65 and older must purchase a Resident Senior Hunting License.
Hunters who are not Maryland residents but would like to go to the state to hunt must purchase a Maryland Nonresident license. The age groups for nonresident licenses are similar to the resident licenses. Nonresidents between the ages of 16 and 64 must buy a Nonresident Hunting License. Hunters younger than the age of 16 must purchase a Nonresident Junior Hunting License. Hunters that are 65 and older must purchase a Nonresident Senior Hunting License.
All licenses are valid starting from when they are purchased to the next July 31st, with the valid period being August 1st through July 31st of the following year. All hunters should have a paper or electronic copy of their hunting license in their possession while hunting.
Permits and Stamps
In addition to the hunting license, some stamps are required in some cases. Often, these are tied to each season. An Archery Stamp must be purchased for anyone wishing to hunt during archery season. A Muzzleloader Stamp must be purchased for hunters who would like to hunt during muzzleloader season.
A Bonus Antlered Deer stamp is available for purchase that allows hunting license holders to take one additional antlered white-tailed deer during one of the hunting seasons. There are both resident and nonresident versions available for each of these stamps.
For hunting on some public lands, hunters must obtain a Hunting Permit. These permits are available free of charge but must be applied for.
Maryland Hunter Safety Course
In Maryland, the state law requires a level of education to purchase a hunting license that the individual must successfully complete a hunting safety course.
There are a few exceptions to this rule:
1. Hunters that can show proof that they had a hunting license that was issued before July 1, 1977.
2. Certification that the hunter hunted before July 1, 1977, and was exempt from purchasing a hunting license for one reason or another.
The course can be taken in an in-person classroom format. For those 13 and older, you can take an online course that requires a mandatory one-day hunter education field day workshop.
Once they complete the hunter education course, resident hunters under 16 are given a free hunting license, archery stamp, and muzzleloader stamp.
First-time hunters who have not finished the course may purchase an Apprentice Hunting License. This license is available to everyone who has never purchased a hunting license before and can only be purchased once. Hunters who purchase an apprentice license must complete an online hunter safety course and purchase the required stamps to deer hunt.
Furthermore, a Maryland resident who is over 18 and has a valid Maryland hunting license must supervise them at all times. Both hunters must remain nearby while hunting so the mentor can take instant control of the hunting device if needed.
All Deer Season Types in Maryland
Maryland has three types of deer seasons: Archery, Muzzleloader, and Firearm. There is also a Junior hunt weekend only for youth hunters that is held the second weekend in November.
The seasons also differ depending on the type of deer. For white-tailed deer, the Archery season opens the second weekend in September and is also open for various periods through early February.
Muzzleloader season opens on the third Thursday in October for three days and opens again on the third Saturday in December through the end of the year. Firearms season opens the Saturday after Thanksgiving and is open until the second Saturday in December.
There is also a Primitive hunt season that is open the first three days of February.
Hunting on Sundays is prohibited in some areas; some are only open until 10:30 am on Sundays, and others are open all day on Sundays.
Since the dates the seasons are open and even the time of day can vary, be sure to review the exact dates and times in the Maryland Hunting guide. If you plan to hunt white-tailed deer or sika deer does, the dates are similar to these but have some differences.
Regulations for Specific Seasons
Each deer season type has varying regulations on which equipment and hunting methods you can use. Below is a summary of each, including special rules and weapon requirements:
Archery Season
Archery equipment that can be used during archery season, including crossbows.
Vertical bows should have a pull weight of 30 pounds or higher and a full draw. All crossbows need to have a draw weight of 75 pounds minimum and a safety.
Arrows and bolts must have sharpened broadheads with metal points. They must be a minimum width of 7/8″. Arrows tipped with poison, or explosives are not allowed. Furthermore, firearms are banned during archery season for obvious reasons.
In Region A, hunters may carry a handgun to use for protective purposes, especially against bears. The handgun must have less than a six-inch barrel length, can not be equipped with a telescopic sight or any aiming device powered by electricity, and cannot be used in hunting deer.
Muzzleloader Season
In this season, muzzleloading shotguns, rifles, and handguns can be used during muzzleloader season. For these firearms to count as muzzleloading, you must load them through the end of the gun.
Flintlock, inline ignition, and percussion cap muzzleloaders are allowed. Rifles and shotguns must be .40 caliber at least and use at least 60 grains of black powder (or an equivalent powder). Handguns must be .40 caliber at least, have a six-inch barrel, and use at least 40 grains of black powder. Only single projectiles that are lead alloy, all-lead, or copper soft-nosed or expanding type can be used.
Muzzleloaders that use smokeless powder are allowed and must also have the minimum powder loads described above. Firearms that use modern cartridges are not allowed.
Firearm Season
Modern firearms such as handguns, rifles, shotguns, and air guns can be used during firearm season. Firearms can be used in all counties if they fire straight-walled cartridges, while firearms that fire bottle-neck cartridges may only be used in certain counties.
Firearms may not have more than eight cartridges and cannot be capable of automatic fire. Rifles must have ammunition capable of 1,200 foot-pounds of muzzle energy at least. Shotguns must be at least 28 gauge or bigger and fire a solid projectile. However, there is an exception in Dorchester County. There you may use #1 buckshot.
Handguns are required to have a barrel of at least six inches long. The ammunition must have a muzzle energy of at least 700-foot pounds. Air guns must use compressed air/gas and fire one .40 caliber bullet that generates at least 400 foot-pounds of muzzle energy. Alternatively, they can use an arrow that is at least 18″ in length. It must also have 300 feet per second of minimum speed.
The bolt must have a sharp broadhead and metal points with a width of at least 7/8″. Archery and muzzleloading firearms can be used in this season.
Junior Hunt Day
This season is available only for Junior hunters aged 16 and younger. Any of the legal equipment described for the Archery, Muzzleloader, and Firearm season can be used. Junior hunters must go with an adult 21 or older with a valid Maryland hunting license.
Primitive Deer Hunt Days
In this season, only weapons that are deemed "primitive" can be used. Typically, only archery equipment and muzzleloaders fall into this category. Compound bows, crossbows, and bows with draw locks or release aids are not allowed. Muzzleloading rifles and handguns must be either flintlock or side lock percussion ignition, muzzleloading revolvers are not allowed.
Telescopes or other electronic aiming devices are also not allowed.
To hunt this season, hunters using bows must have an Archery Stamp, and hunters using muzzleloaders must have a muzzleloader stamp.
Bag Limits and Antler Point Restrictions
Antlered white-tailed deer in Maryland is defined as a deer with two or more points on one antler or a deer with one antler three or more inches long. Bag limits for antlered white-tailed deer are the same statewide.
Two antlered white-tailed deer can be harvested in all seasons combined, with only one of them coming from each season. A third antlered whitetail may be harvested in Region B if a Bonus Antlered Deer Stamp is purchased.
There is also a statewide Antler Point restriction on antlered white-tailed deer of three points that are at least one inch long on one antler. Only one of the antlered deer out of the total annual bag limit can be harvested that does not meet this restriction.
For white-tailed does, the bag limits differ for Region A and Region B. In Region A, two antlerless deer can be harvested in the Archery, Muzzleloader, and Firearms seasons combined, with only one coming from each season. A third antlerless deer can be harvested during Primitive deer hunt days.
In Region B, 15 White-tailed does can be harvested during archery season and an unlimited amount in the Suburban Deer management zone that includes Anne Arundel, Baltimore, Howard, Montgomery, and Prince George's counties. A total of ten antlerless deer can be harvested during Muzzleloader season and ten during Firearms season.
Sika deer have separate bag limits from white-tailed deer. An antlered sika deer has at least one antler that is visible above the hairline. During Archery, Muzzleloader, and Firearm seasons, three deer can be harvested with no more than one of them antlered for each season.
Key Regulations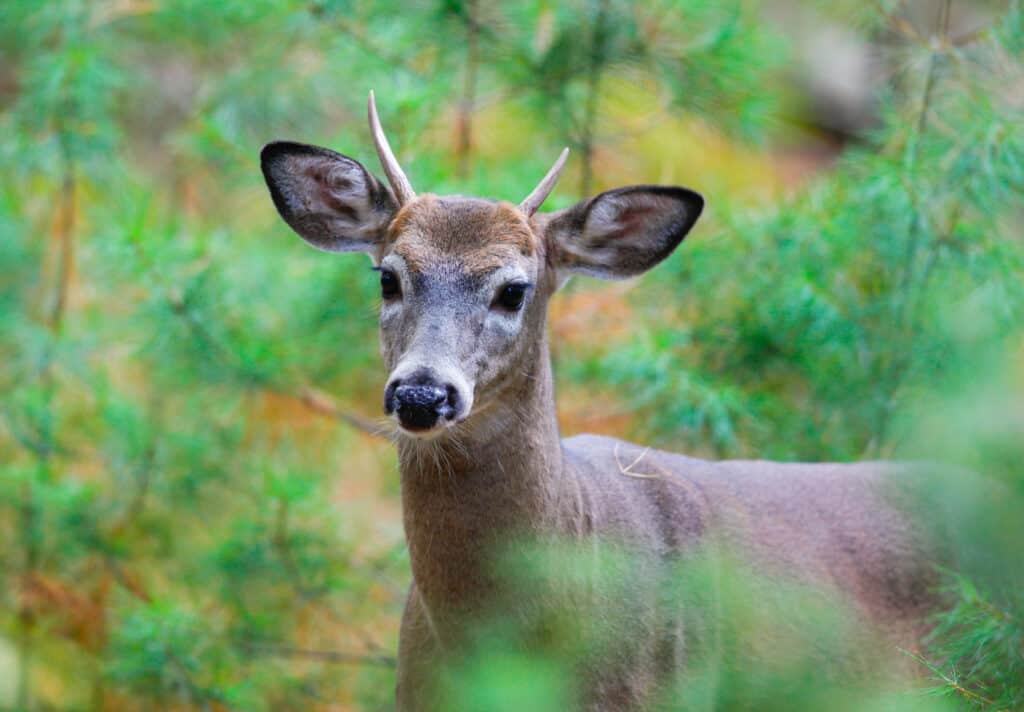 Everyone should keep several regulations in mind while deer hunting in Maryland. The list below contains some of the most notable ones.
While hunting, hunters must carry photo identification and a printed paper copy or electronic version of their hunting license.
Casting rays of artificial light into an area where wildlife may be while possessing a hunting device is not allowed. Hunting or shooting within 150 yards of any occupied building or camp without permission from the occupant is illegal. For Archery devices, this distance is reduced in certain counties. This distance is 300 yards around schools when they are in session or occupied.
Hunters must have written permission from the property owner while hunting on private land. Anyone accompanying a hunter and hunters themselves must wear daylight fluorescent orange or pink. This requirement does not apply during archery season if a firearm season is not also open.
Hunters are allowed to hunt one-half hour before sunrise to one-half hour after the "official" sunset except in certain counties on some Sundays.
Using electronically recorded or electrically amplified calls or sounds is not allowed. Dogs cannot be used to assist in hunting deer. Tracking dogs can be used to help find dead or wounded deer but must remain under the control of the dog handler at all times. Deer cannot be taken while they are swimming or in water.
Using bait to attract deer is allowed except on state-owned or controlled property. Anyone who intentionally wounds or kills a deer must reasonably attempt to retrieve and use the deer. Shooting on, from, or across any public road is also illegal.
CWD in Maryland
Chronic Wasting Disease (CWD) is a contagious disease that affects the nervous system of the deer family (Cervidae). It has been found in the US and Canada in mule deer, elk, moose, and white-tailed deer.
It is caused by a contagious spongiform encephalopathy that forms small legions on the brains of cervids that eventually causes death. This disease was first noticed in Maryland in November 2010 and is considered a part of an outbreak that was noticed nearby in West Virginia in 2005. As of 2022, 133 infected deer have been found in the area.
While CWD has not been seen to affect humans, it is recommended that everyone handling deer carcasses take certain precautions.
Finally, never eat meat from a deer that tests positive for CWD.
The MDNR has established several regulations to prevent the unintentional spread of CWD in Maryland or other states. A CWD management area has been established in Washington and Allegany counties. Whole deer carcasses or certain deer parts cannot be transported out of the CWD management area except for very specific parts of the animal that are already processed.
Similarly, importing a deer carcass or parts that do not meet the above criteria from areas outside of the state where CWD has been detected has been banned.
Tagging and Transporting
Once a deer is harvested, hunters must complete a deer field tag in ink at the site of the kill and attach it to the deer. Once the deer is tagged, it can be field dressed and moved. The field tags are available in the Maryland guide to hunting and trapping. Alternatively, the hunter can make a tag with their name, DNR ID number, county of harvest, and harvest date.
Within 24 of harvesting a deer, hunters must register their deer with the MDNR. This can be done in three ways:
by using the Compass portal website (compass.dnr.maryland.gov)
by calling the Maryland Big Game Registration phone line at 888-800-0121
by using the MDNR official mobile app (AccessDNR).
Once registration is complete, the hunter will provide a confirmation number to certify that the deer has been registered. This number should be written on the deer tag and also on the Big Game Harvest Record that is provided with the hunting license. The tag should remain attached to the deer until it is processed by the hunter for consumption, disposed of by a processing facility, or left with a taxidermist.
Fines and Commonly Broken Laws
Not following wildlife laws in Maryland may result in fines, loss of hunting privileges, and sometimes even jail time.
Trespassing on private land that is posted is a crime and is punishable under Maryland law. Sadly, it is a common violation for those hunting. The first offense can result in imprisonment of up to 90 days and/or a fine not exceeding $500.
Harvesting deer without the proper licenses can also result in large fines. In 2021, a Pennsylvania man was found to be hunting on private land without permission, possessing a loaded firearm on an ATV, using a rifle without using straight-walled cartridges, and obtaining a hunting license by providing false information. He faces up to $1,500 in fines, and his rifle was confiscated.
Another Maryland resident was hunting under a special crop damage permit. However, he harvested more deer than was allowed with the permit. He was charged with multiple hunting violations, including hunting without an archery permit, failing to report the harvest of the deer to the MDNR, and failing to tag deer before moving them. He also faces up to $1,500 in fines.
These fines do not include any court costs or lawyer fees. If the cases go to court, these fees will be added on top of the fines.
Violating the wildlife laws in Maryland, even if unintentional, can have serious consequences. Before each season, be sure to read and understand the regulations. Spend the necessary time reading all the regulations to avoid fines and other penalties.
Up Next
The photo featured at the top of this post is © WildMedia/Shutterstock.com
---