Whether you're a chicken enthusiast or just a fan of chickens, you may be interested to discover the five different types of chicken you never knew existed. While there is much debate about how many chicken breeds there are worldwide, the American Poultry Association (APA) estimates around 500 different breeds. However, the Poultry Club of Great Britain recognizes more than that.
With so many chicken breeds, you might be surprised to learn about unique-looking chickens. Without further ado, let's discover the five different types of chicken you never knew existed.
5 Different Types of Chicken You Never Heard Of
The most well-known chicken breeds are Rhode Island Red, Leghorn, and Plymouth Rock in the United States. However, even the chicken enthusiast may not know about the breeds we will discuss. If you're interested in these unique breeds, keep reading. We will help you discover the five chicken types most people don't know exist.
1. Houdan Chicken – The Five-Toed Fowl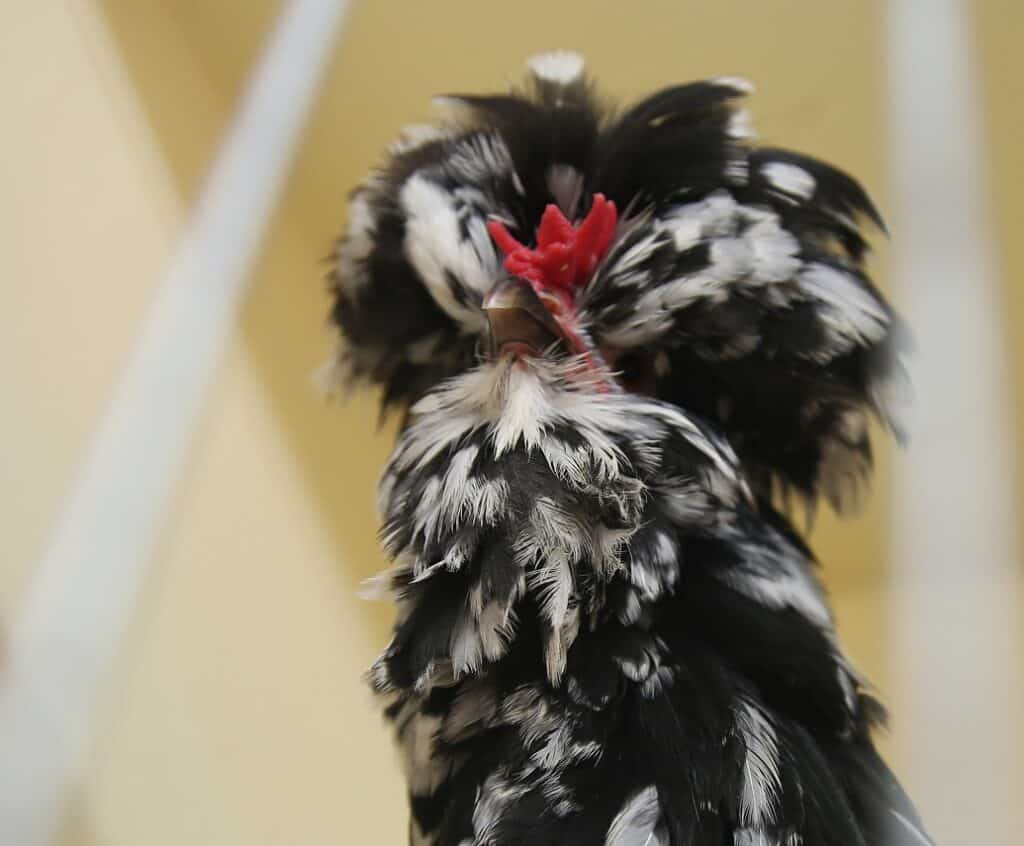 The Houdan chicken is a unique breed with a rich history and is a favorite in Europe. While less common in other areas of the world, this breed has a distinctive appearance and gentle temperament.
Origins of the Houdan Chicken
The Houdan breed originated from Houdan, France, in the 19th century. However, ancestors of the breed were noted to have Polish and Crevecoeur chicken descent. The breed first popped up in Houdan, as they were bred to handle the cold climate of the town. Due to their ability to survive low temperatures and provide medium-sized eggs, they soon became a region's favorite.
Houdan Chicken Temperment
Even with their funny appearance, Houdan chickens are very loveable and friendly. Unlike other chicken breeds, they actually enjoy being held and can make great companions. Aside from that, they also aren't territorial. This makes them the perfect choice for backyard flocks, and their producing abilities make them perfect commercial pets.
Houdan Chicken Appearance
Houdan chickens may look funny, as they have a prominent crest of features on top of their head. The feathers curve into what seems like a pom-pom, an endearing trait of the breed. They also include feathered shanks on their feet, providing warmth.
2. Japanese Bantam Chicken – The "Chabo" Chicken
Another of the five types of chickens to discover is the Japanese Bantam. While the Japanese Bantam may be a shocking breed due to its tiny stature, they are one of the best pets for backyard flocks. They aren't suitable for egg production or meat, but they make excellent pets and can be entered into poultry shows. Namely, these chickens are known as the "Chabo" chicken, which means "dwarf" in Japanese.
Origins of the Bantam Chicken
As you may have guessed, Japanese Bantam chicken originated in Japan during the 17th century. While they were not the result of breeding, this unique small breed resulted from junglefowl chickens. Their compact size made it easy for them to survive in Japan's climate, but even more popular to keep in backyard flocks.
Japanese Bantam Chicken Temperament
The Japanese Bantam Chicken is known for being docile and friendly, making them excellent pets. Many Japanese keep them in their backyard flocks, as they don't take up that much space.
However, their small size makes them a tad skittish and prone to flight. Due to this, they require safe housing and areas where they can hide if they feel startled.
Japanese Bantam Chicken Appearance
In terms of appearance, the Japanese Bantam is typically 18 to 26 ounces. Their bodies are short and wide, while their legs are stout and featured. A unique distinction is that they have round crests on their heads, making them easily identifiable.
3. Hamburg Chicken – The Everlayer
Due to their egg-laying abilities, Hamburg chickens are a favorite amongst breeders worldwide. The breed generally lays four to five white eggs weekly. However, they are also bred for meat production. Their sturdy build makes them perfect for a wide variety of climates.
Origins of the Hamburg Chicken
The Hamburg chicken originated in Germany in the 14th century. Initially, they were bred for egg-laying in Hamburg, Germany. However, in the 19th century, they were brought to the United States and shared with other European countries. This increased their popularity.
Hamburg Chicken Temperament
In terms of temperament, Hamburg is a more active breed. Unlike other backyard chickens, Hamburg is alert and anxious and may fly if startled. These tiny birds are excellent foragers and love the outdoors. They tend to prefer living in a backyard and being able to roam rather than being confined to a coop.
Hamburg Chicken Apperance
The Hamburg breed of chicken is medium-sized and weighs up to four to six pounds depending on gender. Notable features of the breed include elongated necks and tails and unfeathered shanks and toes. Due to their heritage, they have many color varieties, including:
Black
White
Silver
Golden
Citron
4. Modern Game Chicken – The Game Fowl
The Modern Game chicken was mainly favored for its use in cockfights and is another of the five different types of chicken to discover. Today, it's mostly used as an ornamental backyard bird or for exhibitions. Their unique look and friendly temperament make them ideal for shows.
Origins of the Modern Game Chicken
The Modern Game Chicken originated in the 19th century in England. The breed wasn't used for any farming or commercial use but instead was used for show. Their sleek look seemed elegant and was much different from other hens and roosters in the area.
Modern Game Chicken Temperament
Due to the chickens being more for show, the breed is known to have a gentle temperament. However, they do have anxiety and are vigilant animals. While they are affectionate with their owners, they do not enjoy the company of other animals or people.
Modern Game Chicken Appearance
Modern Game chickens are much different from the other breeds that were mentioned. This is due to their athletic and hearty build. While they tend to be on the plump side, they are also graceful in appearance.
5. Phoenix Chicken – The "Onagadori"
The Phoenix Chicken, or Onagadori (honorable fowl with a long tail), got its name after the famous mythical phoenix bird that is said to rise from its own ashes. The chicken's feathers resemble the Phoenix's bright orange flames, where it got its name. Breeders love the Phoenix chicken because of its rarity and unique appearance.
Phoenix Chicken Origins
The Phoenix Chicken has a bit of a backstory. While they originated in Japan, their heritage is through chickens from China. They were brought to Japan in the 1600s, where the Japanese began breeding them further.
Phoenix Chicken Temperament
As for their temperament, they are generally friendly and docile, unlike other wilder breeds. They also enjoy company, make excellent companion animals, and work well in a farm setting. They are active and love to forage for surrounding bugs, seeds, and plants.
Phoenix Chicken Appearance
One characteristic of Phoenix chickens is their flowing tail feathers. These feathers span three feet long, unique to the chicken species. Aside from that, they have slender bodies and grow to be medium-sized chickens. Standard colors include black, red, silver, and gold feathers. Other characteristics include tiny legs, bright red combs, and wattles.
Discover the 5 Different Types of Chicken Summary
As you can see, there are a handful of chickens that farmers don't commonly breed. With so many existing chicken breeds, a lot of them have unique appearances and different uses. While some are good for egg laying, others are used for show.
Not all of these breeds are good for breeding in the United States, as some of them can only handle certain climates. So, you likely won't see them as much as you do overseas. That being said, hopefully, we've helped you discover the five different types of chicken you never knew existed.
The photo featured at the top of this post is © AGCreations/Shutterstock.com
---