Chimpanzees are a species of great apes that are native to the forests and savannahs of central and western Africa. They are highly intelligent and social animals. They are also one of the closest living relatives of humans. In fact, approximately 98% of their DNA is the same as ours! Many zoos in the USA have had chimpanzees on display for decades. However, due to concerns about the welfare and treatment of these captive primates in the past, changes have been made to the animals' treatment over the years. They are now provided with more naturalistic and comfortable habitats.
You can find chimpanzees at these six stand-out zoos in the USA!
Detroit Zoo
Situated in Royal Oak, Michigan, the Detroit Zoo spans 125 acres. It is home to over 2,000 animals from 245 species, including the popular chimpanzee. The zoo is open from 10 am to 4 pm every day of the week during fall and winter. Their hours extend to 5 pm during the warmer spring and summer months.
The Detroit Zoo has a large chimpanzee habitat called The Great Apes of Harambee. This wonderful habitat is home to a tribe of 12 chimpanzees. It is actually the first in the US to feature bar-less enclosures, providing a more immersive experience. The Great Apes of Harambee was designed and built to mimic the chimps' natural habitat as closely as possible. It contains tall trees, climbing structures, and indoor and outdoor areas for them to explore. The interest in chimpanzees at the Detroit Zoo is part of a broader conservation effort to protect them. The zoo offers many educational options for visitors to learn more about this primate and its natural habitat.
There are many other primates at the Detroit Zoo as well. Gorillas, Japanese macaques, mandrill, and bonobos are just a sample of what you can expect to see when you visit.
Dallas Zoo
Dallas Zoo is located in Marsalis Park in Dallas, Texas. It is a 106-acre zoo home to over 2,000 animals representing 406 species. Dallas Zoo is the oldest and largest zoological park in Texas! This fantastic zoo is open 364 days of the year, closing only on Christmas Day. Opening hours are generally from 9 am to 5 pm. The best time to visit is in the fall, as there are fewer crowds.
One of the amazing animals you can find in this zoo is the chimpanzee. These primates live in the Chimpanzee Forest, where you can observe them from open-air viewing stations or through observation windows. The Chimpanzee Forest is not to be missed! It is a 19,000 sq ft exhibit that features a waterfall, stream, climbing structures, trees, and rocks.
Dallas Zoo houses other primates such as gorillas, mona monkeys, and white-cheeked gibbons. If you're interested in learning about and observing these primates up close, be sure to check out Dallas Zoo.
Los Angeles Zoo
The Los Angeles Zoo is in Griffith Park in Los Angeles, California, and is a popular destination for chimpanzee lovers. In fact, it is home to one of the largest troops of chimpanzees in the USA! This zoo is home to around 1,400 animals from more than 270 different species from all over the world. The zoo is open between 10 am and 5 pm and is closed only during Thanksgiving and Christmas.
At the Los Angeles Zoo, the chimpanzees live in a sizeable realistic habitat called "Chimpanzees of the Mahala Mountains." Much like at other zoos, this enclosure is designed to be as close to their natural habitat as possible. Therefore, it has all of the features the chimps require to maintain their natural behaviors, such as socializing, foraging, and exploring. In addition, the exhibit features an indoor section with a 1500 sq ft chimp penthouse. It is fully equipped with fire hoses and plastic barrels for them to climb on!
The Los Angeles Zoo is committed to providing the very best care for its chimpanzees. The zoo participates in various conservation and research programs to help protect and understand this majestic animal in the wild. They also offer educational programs to teach their visitors all about chimpanzees and their importance to the natural ecosystem.
This zoo is also home to families of bonobos, siamangs, black and white colobus monkeys, and even a pair of titi monkeys.
Oakland Zoo
Oakland Zoo is located in the Grass Valley of Oakland, California. With 100 acres to explore and 850 native and exotic animals to observe, Oakland Zoo is the place to be. The zoo is open every day, but to avoid crowds, it is best to go during the week. General entry is between 10 am and 2 pm, so make sure you get in as early as possible!
The chimpanzees are located in the Tropical Rainforest area of the zoo. This enclosure aims to be as naturalistic as possible, allowing you to observe these great creatures without glass windows. Instead, the public and the chimpanzees are separated by a river. Oakland Zoo also takes part in many conservation programs to ensure wildlife is cared for.
This zoo houses many other primates, including white-handed gibbons, siamangs, and cotton-top tamarins. By visiting the zoo, you are supporting their conservation efforts while enjoying yourself.
Lincoln Park Zoo
Located in Chicago, Illinois is Lincoln Park Zoo. Around 1,100 animals across 200 different species reside on the 35-acre property. The zoo is open every day, generally from 10 am to 5 pm. To avoid the crowds, it would be best to visit in spring or fall during the week.
Lincoln Park Zoo proudly features the Regenstein Center for African Apes. This amazing center is home to chimpanzees and western lowland gorillas. It features naturalistic indoor and outdoor spaces and includes fallen logs, water features, trees, and artificial vines. You will even be able to observe functional termite mounds here!
Caring for the animals is their first and foremost priority. The zoo provides its animals with plenty of opportunities to spend time in secluded, non-visible areas. This really shows the zoo's commitment to care and animal welfare.
Saint Louis Zoo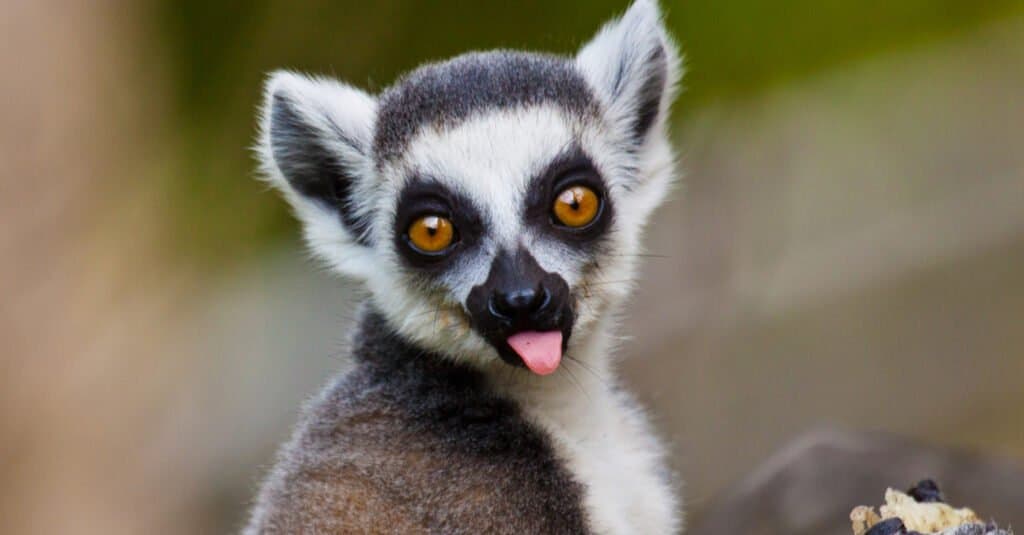 Saint Louis Zoo is one of the most popular zoos in the USA. It is located in Forest Park in St. Louis, Missouri. The zoo is home to over 13,000 animals from more than 600 different species. It is open between 9 am to 4 pm on Saturday to Monday and 10 am to 4 pm for the rest of the week.
The chimpanzee exhibit, the "Primate House," is situated in one of the oldest buildings within the zoo. It was fully renovated in 2002 and now features a more realistic environment with indoor and outdoor sections for the chimps to play in. The outdoor section includes a large moat, trees, and climbing frames, while the indoor area has platforms for the chimpanzees to relax on. As well as chimps, the zoo has a lot of other primates on exhibit, such as gorillas, orangutans, and lemurs.
The Saint Louis Zoo even has a chimpanzee research center, where scientists study the behavior and cognition of the primates. This research center includes a laboratory and a viewing area where visitors can see the scientists at work.
Summary of 6 Amazing U.S. Zoos with Chimpanzees
| Rank | Zoos | Location |
| --- | --- | --- |
| 1 | Detroit Zoo | Royal Oak, Michigan |
| 2 | Dallas Zoo | Dallas, Texas |
| 3 | Los Angeles Zoo | Los Angeles, California |
| 4 | Oakland Zoo | Oakland, California |
| 5 | Lincoln Park Zoo | Chicago, Illinois |
| 6 | Saint Louis Zoo | Saint Louis, Missouri |
Summary Table of 6 Amazing U.S. Zoos with Chimpanzees
---