Located in the Great Lakes region of the upper Midwest, Michigan is a temperate state containing numerous lakes, expansive grasslands, waterfalls, and immense forests. The state's unique geographical arrangement is shared by no other state or political subdivision anywhere in the world. It is composed of two discontinuous peninsulas, connected artificially at the closest point by the Mackinac Bridge.
The Lower Peninsula, which forms the shape of a mitten, borders the states of Indiana and Ohio to the south, while the Upper Peninsula borders Wisconsin to the west. The rest of the state is surrounded by four out of the five Great Lakes: Superior, Michigan, Huron, and Erie. As a result, Michigan has more freshwater coastal dunes than any state in the entire country. The name itself is a French translation of the original Ojibwe word mishigami, which means larger water or large lake.
The lower half of the state contains most of the major cities, including Detroit, Lansing, Ann Arbor, and Grand Rapids. The sparsely populated northern half of the state is rich in all kinds of forest-dwelling wildlife and shorebirds. It also contains most of the state-run parks and wildlife reserves.
The Official Animal of Michigan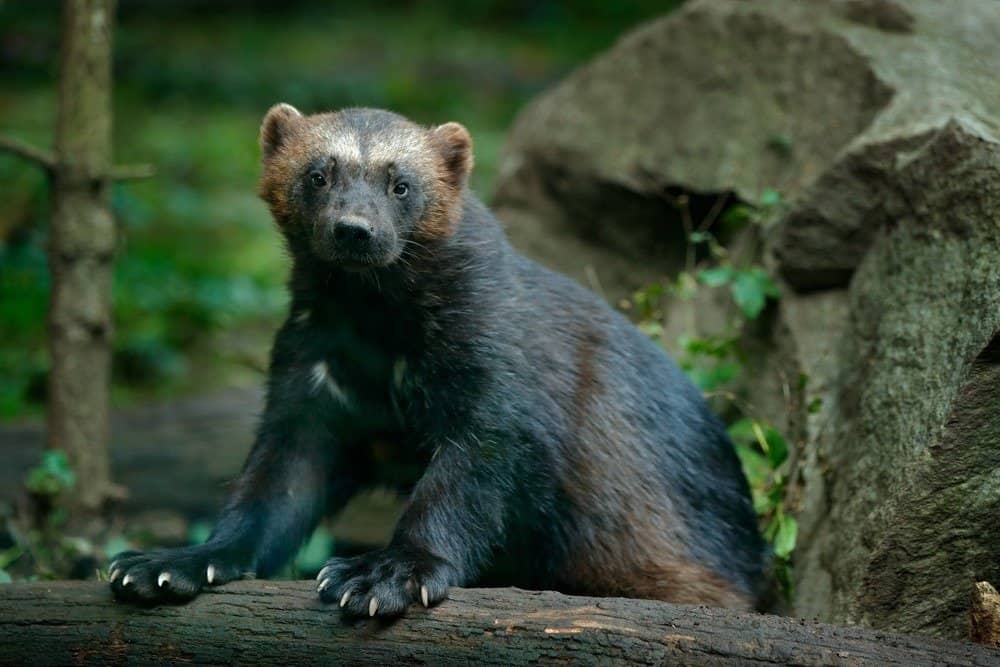 Michigan is represented by several different state animals. The American robin is the official state bird, the brook trout is the state fish, the painted turtle is the state reptile, and the official state game animal is the white-tailed deer. It's estimated that 1.5 to 2 million deer live in the state, making it one of the most popular animals to hunt.
The official flag features three iconic animals; a bald eagle at its center, representing freedom and strength, flanked by an elk on one side, signifying courage and speed, while on the other side, there is a moose representing agility with dignity.
The wolverine is a powerful and fierce predator native to Michigan, making it an ideal choice for the state's nickname. Wolverines were once commonly seen across Michigan, but by the early 1800s, their numbers had decreased significantly due to hunting and habitat loss. Despite this, they have remained an important part of Michigan's history and continue to be celebrated as its official state animal. The Wolverine has become entrenched in the state's culture and pride, with many schools, sports teams, and businesses using it as their mascot or logo. It serves as a reminder of the importance of protecting wild animals so that future generations can enjoy them too.
Where to Find the Top Wild Animals in Michigan
There are many places in Michigan where you can see wildlife. In the Upper Peninsula, visitors can view moose and deer in the Ottawa National Forest or try to spot a glimpse of a timber wolf while exploring Tahquamenon Falls State Park. The Keweenaw Peninsula is home to bald eagles, ospreys, and other raptors that soar over forested areas such as Porcupine Mountains Wilderness State Park.
Moving southward on the Lower Peninsula, people visit Saugatuck Dunes Natural Area for sightings of black bears, river otters, and sandhill cranes. Grand Rapids hosts one of North America's largest concentrations of breeding mute swans at Millennium Park near Reeds Lake. Michigan is also well-known for its waterfowl populations. Pointe Mouillee State Game Area attracts thousands of ducks each year from October through April.
If you're interested in seeing some of Michigan's top wildlife, then you should visit one of the 74 state parks, two national parks, and numerous other forests, refuges, and important sites.
The Most Dangerous Animals in Michigan Today
Michigan is home to a variety of animals, and some can pose a threat to humans. This section will discuss the most dangerous wild animals in Michigan that have direct contact with people. Animals like bears or large cats have been known to attack humans if provoked, so these are certainly included on this list.
Rattlesnakes are the most dangerous type of venomous snake in Michigan. They have a distinctive rattle at the end of their tail which serves as an audible warning sign to alert potential predators and humans alike that they should be avoided. Their bite is highly poisonous and can cause serious injury or even death if not treated immediately with antivenom. Therefore, it is important to be aware of your surroundings when hiking or camping in areas known to contain rattlesnakes and take extra precautions so as not to startle them. If you do come across one, back away slowly without making any sudden movements – this will give both parties time to get out safely!
Even though ticks and mosquitoes may spread diseases like Lyme Disease or West Nile Virus, they do not present an immediate physical danger, so they will not be discussed here.
3 Rarest Animals in Michigan
When it comes to animals, Michigan is home to a wide variety of species. Some of the rarest creatures you might be lucky enough to encounter include the river otter, red-shouldered hawk, and northern bog lemming.
River Otter – The river otter is found in rivers and streams all around Michigan's Great Lakes region.
Red-shouldered Hawk – Red-shouldered hawks are typically seen soaring in wooded areas throughout the state.
Northern Bog Lemming – Northern bog lemmings are small rodents that inhabit wetland habitats like bogs and marshes near lakeshores or wetlands with brushy vegetation.
All these animals have become increasingly rare due to habitat destruction or other human interference, so if you do see any of them on your travels through Michigan, consider yourself very fortunate!
3 Largest Animals in Michigan
Michigan is home to a variety of large animals, including some of the largest in North America. The three biggest animals found in Michigan are the American Bison, White-tailed Deer, and Moose.
The American Bison is an iconic species that was once abundant across much of North America. The bison can reach heights of up to 6 feet at the shoulder and weigh up to 2,000 pounds!
White-tailed deer are another common animal found throughout Michigan's forests and fields. Adult males can reach heights between 3 ½ – 4 ½ feet tall at the shoulder and weigh up to 250 pounds when fully grown.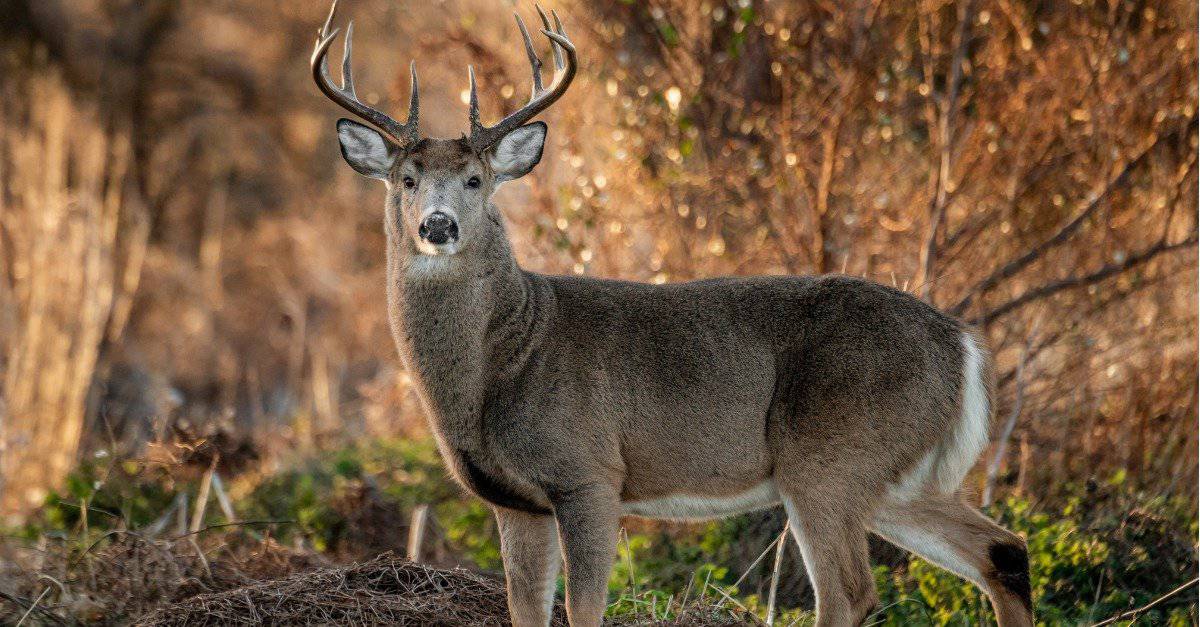 Finally, there is the mighty moose, one of the largest land mammals on earth! These massive creatures stand over 6 feet tall and can weigh as much as 1,800 pounds! Although they prefer more northern climates like Canada or Alaska, small populations still remain in parts of Michigan's Upper Peninsula.
Endangered Animals
Michigan is home to many species of animals, some of which are endangered or threatened. The Endangered Species Act and the Migratory Bird Treaty Act provide protections for these animals, but centuries of unregulated hunting and destruction of natural habitats have caused a decrease in animal populations.
Other reasons why animals may be going extinct or becoming endangered in Michigan include climate change, pollution, the introduction of invasive species, disease outbreaks, and hybridization with other related species.
Human activities such as urban development can also contribute to habitat loss and fragmentation, which reduces available resources for native wildlife. As human population growth continues to increase in Michigan, it's important that we take steps to protect our natural environment so that all creatures can continue to thrive here now and into the future.
Snakes in Michigan
Snakes can be found in a variety of habitats in Michigan, including woodlands, wetlands, meadows, and even urban areas. They enjoy hiding places such as logs or rocks that provide them with warmth and protection from predators.
Many types of snakes are attracted to water sources like ponds and streams. Snakes also like open grassy fields where they can bask in the sunshine during the day. The most common type of snake found in Michigan is the garter snake, which prefers moist environments near bodies of water or damp areas under logs or rocks.
Rat snakes and milk snakes are both common species of snake found in Michigan. Both species tend to prefer dry habitats away from standing water sources, such as woodlands and prairies. However, they can also be found near rocky outcroppings and open fields where there is plenty of covers for them to hide in or around.
There are a total of 18 snakes in Michigan. As noted earlier, only one of these snakes is venomous, which is the eastern massasauga rattlesnake. It ranges across most of the Lower Peninsula of Michigan, so it's important to be aware of what these snakes look like when outdoors in Michigan. Beyond venomous snakes, Michigan also has six water snakes that include:
Kirtlan's snake
Northern water snake
Copperbelly water snake
Eastern massasauga rattlesnake
Northern ribbon
Overall, Michigan has a lower number of snakes than many surrounding states.
Native Plants in Michigan
Michigan's native plant species are incredibly diverse due to the state's unique climate and landscape. The Upper Peninsula is known for its abundance of coniferous forests, while the Lower Peninsula has a variety of deciduous trees such as oaks, maples, and hickories.
In addition to these two environments, Michigan is also bordered by four of the five Great Lakes, which provide distinct habitats for aquatic plants like wild rice, water lilies, and reed grasses.
Regardless of where you live in Michigan, you're sure to find an array of vibrant wildflowers blooming throughout spring and summer. These include trilliums, violets, columbines, daisies, and more, each with its own beauty that adds color and life to our wonderful state!
From the state flower to the only flower completely endemic to the region, read more on the native plants in Michigan.
Michigan State Flag
The state flag of Michigan is one of history, honor, and unique symbolism. If you want to learn more about the meaning behind each detail of the flag, find out more about the flag here.
Beetles in Michigan
There are a lot of beetles in Michigan. From the black carpet beetle, the margined blister beetle, and the big-headed ground beetle, it's common to see unique-looking beetles in Michigan!
More Articles Related to Michigan
Read about:
Michiganian Animals
Michiganian Animals List
Animals in Michigan FAQs (Frequently Asked Questions) 
What animals live in Michigan?
Michigan is home to many common forest-dwelling and freshwater animals. Deer, rodents, bats, foxes, moles, opossums, raccoons, and skunks rank as some of the most common mammals in the state. Hawks, eagles, terns, geese, ducks, owls, crows, quail, and songbirds are particularly common as well. Other common animals include snakes, cockroaches, turtles, frogs, butterflies, crickets and grasshoppers, and all kinds of freshwater fish such as bass and trout.
What animals are most common in Michigan?
Spiders, grasshoppers, crickets, and other invertebrates are probably among the most common animals in the state. When the scope is restricted to vertebrates, however, Michigan also has a lot of rodents like mice, rats, squirrels, and chipmunks. Among larger animals, deer are probably the most common.
What is the biggest animal in Michigan?
The largest animal in Michigan is the black bear. It reaches about 4.5 feet long and weighs up to 660 pounds.
Does Michigan have any wolves?
Yes, the Upper Peninsula has a robust wolf population, numbering more than 600. Many centuries ago, wolves once occupied every single county in the state, but because of human persecution and habitat loss, populations may have completely disappeared from the state by the middle of the 20th century. After state and federal protection was extended to wolves, a few individuals migrated back into Michigan. By 1992, the population was only about 20, which made it one of the rarest mammals in the state, but numbers increased rapidly over the next several years. While it's no longer an endangered species, there is currently a dispute of whether the wolves should still be protected by the federal government.
What is the most dangerous mammal in Michigan?
The most dangerous mammals in Michigan, or just any predators in general, are probably wolves and black bears. While not as aggressive as their reputation suggests, these two species are quite large and could easily kill a person if provoked. They are unlikely to be encountered by the average person, however.
What aquariums are in Michigan?
Michigan is home to a number of aquariums. They include:
Belle Isle Aquarium in Detroit
John Ball Zoological Gardens in Grand Rapids
Michigan Sea Life Aquarium in Auburn Hills