If you've ever had the pleasure of living or visiting Chicago, then you know the city is a hub for architecture, food, culture, art, and nightlife. But there are also dapples of nature escapes nearby, like parks, conservatories, and tranquil pools. And, of course, the Great Lakes. Are there other lakes nearby deeper than Lake Michigan? Discover the deepest lake in the Chicago area, including other notable bodies of water.
What's the Deepest Lake in the Chicago Area?
The deepest lake in the Chicago area is Lake Michigan, with an average depth of 279 feet and a maximum depth of 925 feet. The deepest part of the lake is in the Chippewa Basin, which was once a prehistoric proglacial lake formed over 10,000 years ago. At a depth of over 900 feet, the water is nearly a constant 39 degrees. But some creatures still find a way to thrive in its depths, such as amphipods, worms, and mollusks. Check out this article about what lives at the bottom of Lake Michigan. 
What's So Special About Lake Michigan?
Lake Michigan is an impressive body of water. When standing on its sandy shores, it's hard to believe you are not looking out over an ocean. It is the fifth-largest lake (fourth-largest freshwater) in the world, with over 22,000 square miles. And its watershed population is over 12 million people. Not to mention the millions of tourists that visit every year. Lake Michigan also has the largest freshwater sand dunes in the world, with the tallest standing 450 feet above the shore.
The lake is even more spectacular after you spend time at Chicago's many city attractions. You can come and unwind in nature while still being blocks away from a cultural hub. Lake Michigan offers activities like fishing, boating, hiking, biking, and swimming. Or you can just relax on the sandy shore and take in the magnificent view.
Where Is Lake Michigan Located on a Map?
Lake Michigan encompasses four U.S states: bordered by Michigan on the east and north, by Illinois southwest, by Indiana southeast, and by Wisconsin on the west. At the most southwestern part of the lake is Chicago. Ports include Gary in Indiana, Milwaukee and Green Bay in Wisconsin, and Muskegon in Michigan.
Can You Swim in Lake Michigan?
Yes, you can swim in Lake Michigan. But you should use caution. Lake Michigan is the deadliest Great Lake and one of the most dangerous in the nation. In 2022, 105 people died in the Great Lakes, and at least 43 of those were in Lake Michigan waters. Drowning is the number one cause of death. The sandy shore around Chicago attracts more people than the other lakes, leading to a higher fatality rate. But they all pose a risk to swimmers and recreators. 
Lake Michigan contains two types of currents: rip currents and longshore currents. Rip currents are fast and narrow, traveling away from the shoreline, and longshore currents run parallel to the shore. Longshore currents can be very dangerous as they can push people against structures like piers. Some areas of the beach do not have lifeguards, so it's essential to know proper beach safety.
Don't swim alone
Keep a close watch over children
Place life jackets on inexperienced swimmers
Don't jump off boardwalks or swim near piers, and vice versa
Avoid the water during harsh weather. Always check local weather reports and lake conditions.
In an emergency, throw a life-saving device and call 911.
Interesting Facts About Lake Michigan
Lake Michigan is nicknamed the "third coast" of the United States. The lake is so huge you may actually forget that it's not an ocean.
The lake is shared by four states: Illinois, Wisconsin, Michigan, and Indiana.
It is the only Great Lake entirely located within the United States
Lake Michigan and Lake Huron are connected by the Straits of Mackinac. Hydrologically, they are one lake. With these two bodies of water combined, it would be the largest lake in the world.
Lake Michigan has over 1,600 miles of shoreline, the longest freshwater coastline in the country.
You can ride dune buggies on the freshwater sand dunes. 
There is a statue of Christ submerged in the lake, which you can view when the lake is frozen. The marble figure is near Petoskey.
What's the Largest Man-Made Lake in Illinois?
Carlyle Lake is the largest man-made lake in Illinois and the largest entirely contained within the state, covering 25,000 acres. It is located in Clinton, Bond, and Fayette counties, 278 miles south of Chicago.
Up Next:
More from A-Z Animals
---
The Featured Image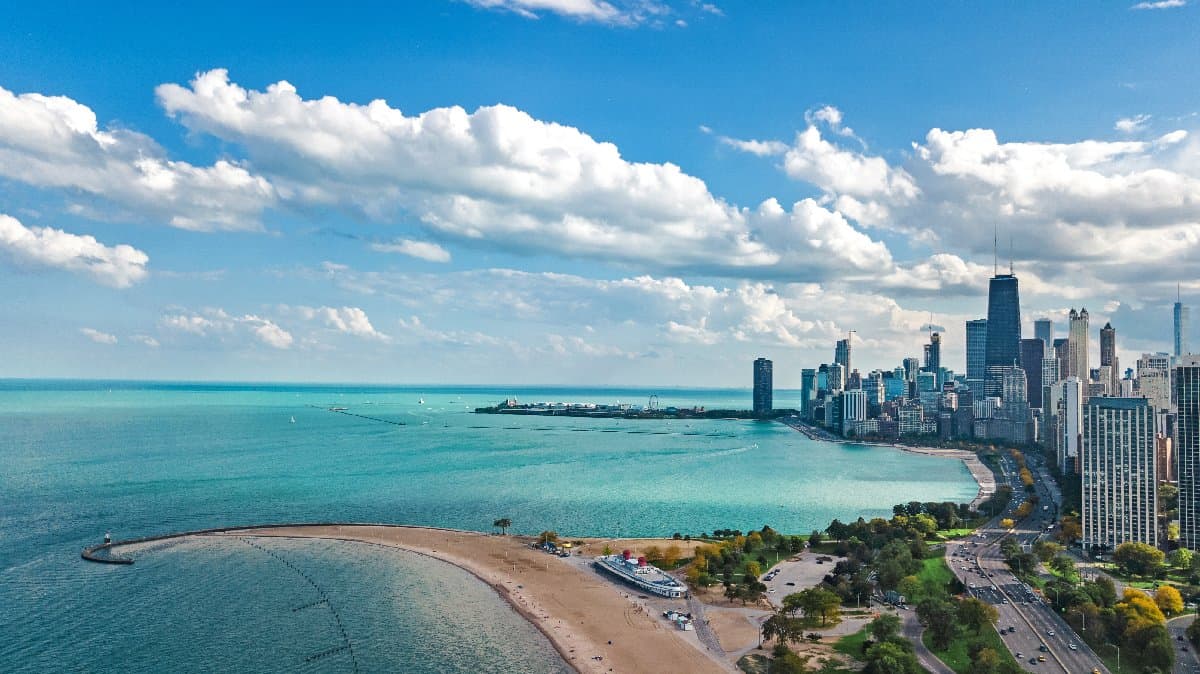 ---
Sources

WGN9, Available here: https://wgntv.com/weather/where-is-the-deepest-part-of-lake-michigan-and-what-is-the-water-temperature/
Wikipedia, Available here: https://en.wikipedia.org/wiki/Lake_Chippewa
Great Lakes Guide, Available here: https://greatlakes.guide/watersheds/michigan
National Drowning Prevention Alliance, Available here: https://glsrp.org/statistics/
ABC57, Available here: https://www.abc57.com/news/lake-michigan-is-considered-the-deadliest-great-lake-heres-why
Watershed Council, Available here: https://www.watershedcouncil.org/lake-huron.html