Missouri is rich with miles of streams and other bodies of water where anglers can find a variety of catfish. Blue catfish inhabit the eastern and central parts of the state along the Mississippi, Osage, and Missouri Rivers. Blue cats thrive best in large rivers with quick-moving chutes and silt-free environments. These game fish deliver the type of adrenaline rush adventurous anglers look for. They put up a good fight! In some cases, this tough fish may require more than one angler to reel it in. That was the case for a Florissant man who still holds the record for the largest blue catfish ever caught in Missouri.
What Is A Blue Catfish?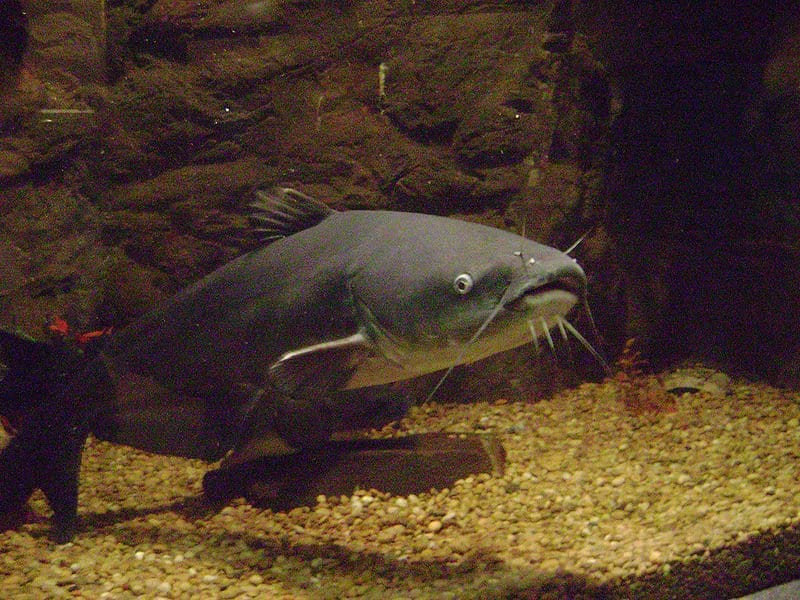 Blue catfish get their name because of their silvery-blue color. Their bellies are white, their tails are forked, and their dorsal fins are flat. Around their mouths, they appear almost to have whiskers. These are actually their barbels. Unlike many other fish, blue catfish don't have scales. Their skin is smooth. Adult blue catfish, on average, grow to about 2 feet long. However, some grow to be about 5 feet long and weigh well over 100 pounds.
These fish are extremely productive, reproducing in abundance with every cycle. They are native to several areas, including the Rio Grande River basins, Mississippi, Ohio, and, of course, Missouri. They've also been introduced to other areas, including several river basins in Virginia. They are known as bottom dwellers and generally have a preference for sandy environments where the currents are fast and the channels run deep. They're popular with anglers because they put up a good fight and make for tasty, nutrient-dense meals. Plus, considering they're quite invasive, catching blue catfish isn't harmful to the ecosystem.
Blue Catfish Fishing Basics
Anglers know that if they're going for mass, blue catfish are a great option. To successfully catch these fish, you have to first consider the best conditions. For instance, tributaries with sizable holes and channels fed by tidal creeks are a great place to start. The holes should be at minimum 10 feet deep but if you find greater depths, you're in a better position. You can also find blue catfish in lake environments, but keep in mind that they don't dwell in all lakes. Be sure to check ahead, not only for their available population, but also to ensure they're safe for consumption.
The more stinky the bait, the better for blue catfish (think cut herring and menhaden). Anglers may develop their own preferences, sometimes using commercial options. Either way, keep the bait where the blue catfish roam — the bottom of the water source. Circle hooks are ideal for these fish, with a size between 8/10 and 10/0. When a blue cat moves in on the bait, slowly apply tension to make sure the hook works as intended. You may also want to set out several rods to increase your chances of reeling these big fish in.
Record-Breaking Catch In St. Louis County, MO
It was just another fishing evening for Florissant angler, Greg Bernal when he set out onto the Missouri River with his companion, Janet Momphard from St. Charles. But during the wee hours of Tuesday, July 20, 2010, Bernal set a state record. He brought in a 130-pound blue catfish! Bernal and Momphard set out the night prior, setting up and in place by around 9 PM that Monday night. There were storms approaching and they had already decided they'd end their evening by 1 AM. However, just 15 minutes before they decided to pack up and head back, Bernal felt his line tighten.
He had been using cut silver carp as bait. When he first felt the line tense up, he didn't even realize it was a fish. However, soon after, the fight started. Bernal admitted it was a challenging battle, but he felt confident about his advantage. It took a good 15 minutes before Bernal was able to lug this monster blue cat up toward his boat. For another 30 minutes, he and Momphard wrestled with the giant fish, finally getting it onto the boat. That morning, they went to the Missouri Department of Conservation's Regional Office. Later, the blue cat was taken to the Straatmann Feed Store for an official weigh-in. The fish was a total of 57 inches long and its girth measured 45 inches. It was estimated to be somewhere between 20 and 30 years old. Bernal was over the moon and pumped with adrenaline when the media frenzy began. The previous state record was from 1991, when Clarence Kerr of Fairfax caught a blue cat weighing 103 pounds.
Where Is Missouri Located On A Map?
St. Louis County is located in the eastern-central area of Missouri which is located in the mid-west region of the United States. It is bordered by Nebraska to the northwest, Iowa to the north, Illinois to the east, Kentucky to the southeast, Tennesee and Arkansas to the south, Oklahoma to the southwest, and Kansas to the west. St. Louis is in the eastern portion of the state and lies on the west bank of the Mississippi River.
The photo featured at the top of this post is © M Huston/Shutterstock.com
---