In the arid state of Arizona, you may not find rolling tides from the vast ocean. What you will find is a handful of amazing lakes. In fact, Arizona has some of the best lakes in the country! Whether you're looking for somewhere to fish, swim, or kayak, below you will find the 14 largest lakes in Arizona. 
Now all that's left to do is pack a boatload of sunscreen and hit the road!
1. Lake Powell
We can't have a list of lakes in Arizona without mentioning Lake Powell. The most famous lake in the state is surrounded by the deep gorges, rugged peaks, and breathtaking landscape of Glen Canyon National Recreation Area.
The 186-mile-long, rather narrow expanse of water has a surface area of 162,600 acres and approximately 2,000 miles of winding shoreline. Lake Powell is the ideal location for fishing, taking pictures, water-based sports, and other outdoor activities.
The Lees Ferry Historic Site, among other points of interest, makes Lake Powell a must-visit destination for outdoor explorers. Get ready for an adrenaline-packed excursion here. Whether you want to wakeboard, jetski, or go tubing, there's endless fun on the water.
You can unwind at your campsite or settle into your rental houseboat at the completion of an exhausting day in the great outdoors. Don't forget to watch the sunset before stargazing into the wee morning hours.
2. Lake Mead
Lake Mead is a desert paradise that exists because of the Hoover Dam. The biggest reservoir in the country is Lake Mead. This place has 700 miles of shoreline and a lot of water. It's so large that this lake is also in Nevada!
Visiting here allows you to experience outdoor adventures without feeling overcrowded on the water. Sailing, fishing, building sand castles, and sunbathing are just a few of the enjoyable activities here.
When you're done playing in the water, there are many opportunities for hiking, observing wildlife, and taking pictures all around the lake.
3. Lake Mohave
The weather is fantastic, the water activities are exciting, and the fishing is phenomenal! Lake Mohave is a portion of the Colorado River on the boundary between Arizona and Nevada. This popular lake is less than 50 miles from Kingman.
Beyond thrilling outdoor activities, Lake Mohave offers breathtaking views. Most of the lake is within steep valleys, which are encircled by mountains. Petroglyphs can be seen on boulders and the sides of cliffs if you look upwards.
Take a dip in the refreshing water, launch the boat, and try kayaking, wakeboarding, or floating in a tube while you're here. A must-do in this location is fishing. There are plenty of largemouth bass waiting for you to cast a reel.
Have a picnic, go on an off-road excursion, or just unwind and take in the scenery in this beautiful region of Arizona.
4. Lake Roosevelt
The oldest man-made reservoir in Arizona, Theodore Roosevelt Lake was created by building a masonry dam on the Salt River in the early 1900s. Regardless of being relatively close to Phoenix, the Apache Trail is the fastest path to the reservoir.
If you're willing to take the hike, this means you'll enjoy a more private afternoon in the great outdoors. Fewer people visit Lake Roosevelt because they're searching for something convenient.
The reservoir is a popular destination for fishing, sailing, camping, and taking vacations. Theodore Roosevelt Lake's summertime water temperatures can get above 90 degrees. In these circumstances, a lot of sandy beaches are available, offering great camping possibilities near the water, however in some locations heavy mud makes driving challenging.
5. San Carlos Lake
San Carlos Lake has 158 miles of shoreline and averages 19,500 acres of water in its peak season. This is among the largest lakes in Arizona when there isn't a drought. Deep turquoise waters are silhouetted by bare, rugged, cactus-dotted mountains.
When visiting, make an effort to stop by this watery haven. It is a blessing that there are so many natural treasures in this part of Arizona, particularly wildlife.
6. Lake Havasu
There's no need to travel to California to enjoy a day at the beach. Lake Havasu has more than 400 miles of shoreline encircling its crystal-clear, azure waters. You might think that beach-goers would have it tough in a landlocked, predominantly arid state like Arizona.
However, the lovely sandy lake beaches of Lake Havasu, a popular attraction of Arizona's west coast, are pleasant for swimming throughout the majority of the year. The beaches of Lake Havasu are ideal places for people to unwind while enjoying the soft sand or the clean, blue-green lake with little to no surf.
The Bridgewater Channel is the only area of Lake Havasu that is not swimmable. Wading in the waterway and remaining close to the beach are acceptable. However, because of the risks involved with swimmers and moving vessels, crossing the channel by swimming is prohibited at all times.
7. Lake Pleasant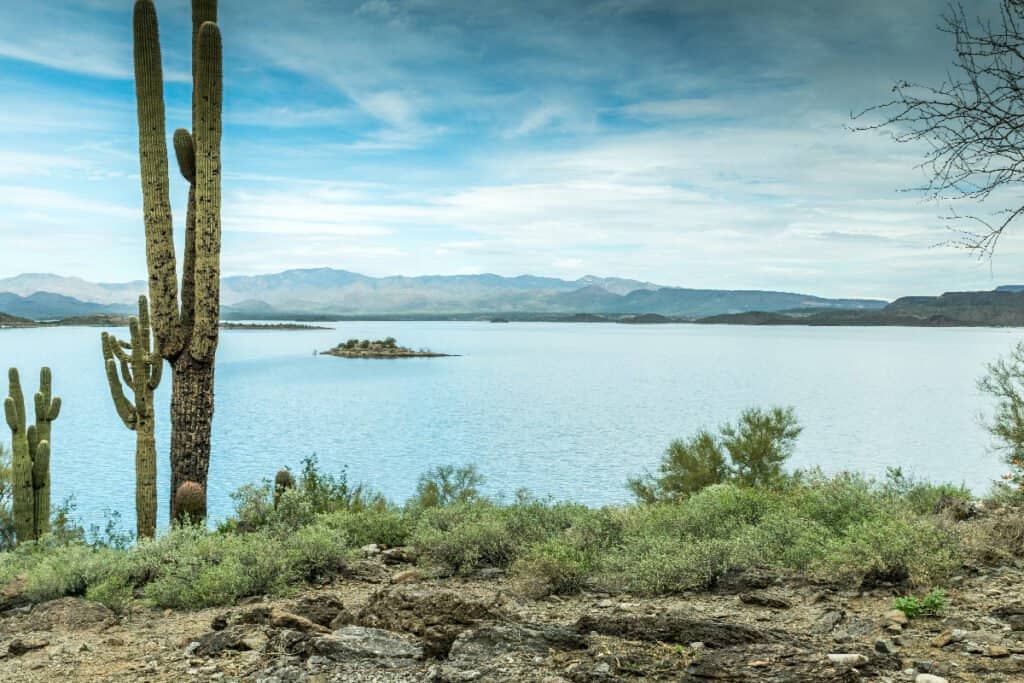 If you're a nature lover, this next location will blow your mind! With regions for relaxing and exploring, Lake Pleasant is one of the largest lakes in Arizona waiting for you to visit! One of the most picturesque leisure locations in the Valley, Lake Pleasant has over 23,000 acres of water and a stunning, pristine desert terrain.
Canoeing, fishing, scuba diving, camping, viewing stars, and even hunting scorpions are among the numerous activities available. To see Lake Pleasant and Waddell Dam in person, go outside onto the balcony that surrounds the Nature Center.
Visitors who choose to relax can do so from a watercraft or a picnic area along the shoreline thanks to the spectacular views. The lake is a popular location for outdoor pleasure, drawing many tourists yearly.
8. Imperial Reservoir
Imperial Dam is a water delivery diverting structure for the river, All-American Canal, and Gila Canal, servicing southeast California, Arizona, and Mexico. Imperial Dam is situated approximately 20 miles north of Yuma, AZ.
The Imperial Diversion Dam was built to create the artificial lake known as the Imperial Reservoir. There is a campground area with a size of about 3,500 acres, flat terrain, and scant vegetation including Creosote bushes and Palo Verde trees.
As with the other largest lakes in Arizona, people enjoy taking a dip at the Imperial Reservoir to beat the summertime heat.
​​9. Alamo Lake
Alamo Lake is one of the best places in the state to go bass fishing, so get ready to cast a line! Alamo Lake State Park, about 40 miles southeast of Lake Havasu City, is a quiet retreat where you may unwind, go fishing, and observe the skies for bald or golden eagles without being bothered.
Kids will adore it here as well. They may become junior rangers here in addition to enjoying the wonderful outdoor activities. Fantastic fishing is just one aspect of the area. Ride a bicycle off-trail to see the region, play about in the lake, paddle around in a canoe or kayak, and bring your binoculars for endless animal viewing.
10. Bartlett Lake
Bartlett Lake is a haven for those who love the outdoors. It's located in the Tonto National Forest. The Verde River's first dam to be constructed was Bartlett Dam. Bartlett Lake, a hidden sanctuary less than an hour from Phoenix's downtown, provides a range of leisure options.
2,815 acres of Bartlett Lake's surface are suitable for boats. You can set up camp right on the water's edge to experience the best of both worlds: gently dipping beachfronts and breathtaking mountain views.
You are able to rent an array of watercraft that include stand-up paddle boards, kayaks, and canoes. Anglers have loved fishing in this lake. Bass, bluegill, crappie, and catfish are all catchable here.
11. Apache Lake
One of Arizona's most beautiful roads, the Apache Trail, runs along Apache Lake. Apache Lake. The road is 17 miles long and the lake sits about 65 miles northeast of Phoenix. As one of the largest lakes in Arizona, Apache Lake is a wonderful place for fishing, sailing, water skiing, exploring, and camping.
Javelina, deer, and a wide variety of other desert species can be found in the lake's hidden coves and colorful canyon hillsides. You can fish from the shore or start up the bass fishing boat to reel in a fresh catch!
The Apache Lake Marina and Resort provides amenities and conveniences. This includes a motel, cafe, supply store, gas station, and more. If you're looking to camp, consider the Burnt Corral Recreation Site.
This place has 17 sites for trailers that are under 17 feet long. The location provides boat launching options and is open all year long.
12. Horseshoe Lake
Horseshoe Lake is the least accessible and likely the least well-known of the lakes that encircle Phoenix. All of this contributes to making this tucked-away area of Tonto National Park a good place to get away from the throng and take in the splendor of the Sonoran Desert.
One of the numerous water bodies in the Phoenix metro region is Horseshoe Lake, a man-made lake. Fish of all kinds can be found in Horseshoe Lake. Naturally, as Horseshoe is located on Tonto National Forest property, you must make certain that you possess the necessary fishing licenses.
A ramp is accessible if you can carry a small vessel onto the lake. Camping options abound close to Horseshoe Lake. This lake is relatively distant from the bustle of city life, providing campers with some much-needed rest and relaxation.
13. Saguaro Lake
Although not massive, Saguaro Lake is still one of the largest lakes in Arizona. The 10-mile-long, 1,200-acre lake is a whopping 110 feet deep! There are granite crags, ravine walls, wetlands, and desert vegetation along its 22 miles of shoreline.
A gorgeous and instructive riverboat trip is available at Saguaro Lake, which also offers a number of recreational opportunities. Saguaro Lake provides chances for sailing, kayaking, canoeing, floating, yachting, waterskiing, and jet skiing for those looking for more vigorous water sports.
The lake is a well-liked fishing spot. Although largemouth bass are its most well-known inhabitants, other bass species such as walleye, and catfish can also be found there. Rainbow trout are stocked by the Fish and Game Department of Arizona.
14. Canyon Lake
Unwind in this Salt River lake 45 minutes east of Phoenix for a nice break from the busy metropolis. Visitors can take part in several different activities when visiting the 900-acre Canyon Lake. Everything from sailing to paddle boarding to hiking is available here!
Visitors might spot bighorn sheep on the nearby red-rock canyon walls when the weather is just right!
Summary of the Largest Lakes in Arizona
| Rank | Lake | Size |
| --- | --- | --- |
| 1 | Lake Powell | 161,390 acres |
| 2 | Lake Mead | 158,100 acres |
| 3 | Lake Mohave | 26,500 acres |
| 4 | Lake Roosevelt | 21,500 acres |
| 5 | San Carlos Lake | 19,500 |
| 6 | Lake Havasu | 19,300 acres |
| 7 | Lake Pleasant | 7,500 acres |
| 8 | Imperial Reservoir | 6,919 acres |
| 9 | Alamo Lake | 3,500 acres |
| 10 | Bartlett Lake | 2,815 acres |
| 11 | Horseshoe Lake | 2,800 acres |
| 12 | Apache Lake | 2,568 acres |
| 13 | Saguaro Lake | 1,264 acres |
| 14 | Canyon Lake | 950 acres |
The photo featured at the top of this post is © Steve Lagreca/Shutterstock.com
---