Despite its long history, Arizona didn't become a state until 1912. Today, Arizona is home to over seven million people, including 27 Native American tribes. Arizona makes up the southwesternmost state of the Four Corners region; its lands include both the Grand Canyon and Petrified Forest National Park. This state is famously made up of basin and range landforms, alternating between lower elevation deserts and higher elevation mountain ridges. Arizona is home to a wide and striking variety of animals, including the elusive mountain lion. But, just how big is the largest mountain lion ever caught in Arizona?
Read on to learn more about mountain lions in this southwestern state.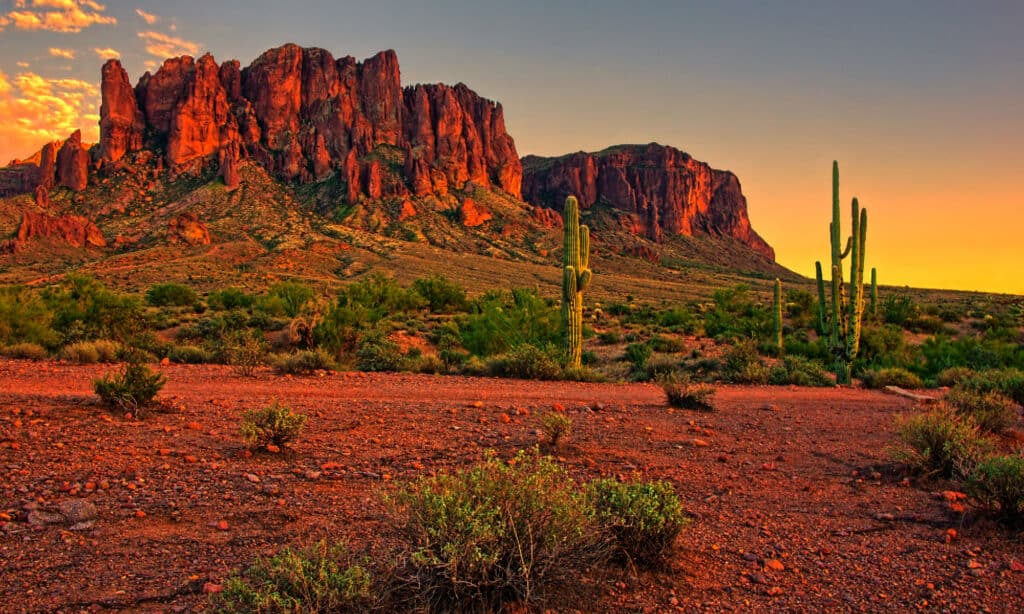 Species Profile: Mountain Lion
Mountain lions are the largest cats in North America. They're rarely seen by humans, and occasionally come into conflict with residential areas encroaching on their native lands. For some, mountain lions are a source of fear, for others, of beauty and respect.
Appearance and Size
The largest mountain lion ever caught in Arizona was truly huge, but most mountain lions (also known as cougars, panthers, or pumas) don't get quite so big. Males are easily bigger than females, topping out around 220 pounds. Females grow up to around 140 pounds, and bear full responsibility for raising litters of kittens. 
Mountain lions are tawny in color, ranging from a light sand color to a darker reddish tan. They have muscular bodies with large paws equipped with retracting claws. Their ears are rounded, and, like all predators, their eyes face forward. To aid with balance, they have long tails that typically end in a darker tuft of fur. Because of their ability to blend in, humans rarely notice mountain lions — even if they're close by.
Habitat and Range
Mountain lions are able to adapt to an incredible variety of habitats and climates. Because of this, they're found as far north as Canada's Yukon, and as far south as the southern tip of South America. Mountain lions have been verified in at least 15 U.S. states, as well as large parts of Central and South America. 
Mountain lions only need a few things to succeed in any given environment; shelter, prey, and available water. These secretive predators may be present in forested ranges, deserts, and even wetlands. However, unlike herbivores, which have relatively high population densities, mountain lions are solo hunters. This means that, like tigers, one mountain lion usually controls a large territory, keeping all other lions away.
The Largest Mountain Lion Ever Caught in Arizona
Discovering the size of the largest mountain lion ever caught in Arizona is no straightforward task. However, it's easy to see just how big these cats can get in this desert state. According to one listing, the largest mountain lion ever killed by a bowhunter had a skull that scored 15 7/16 — that's nearly as large as the largest mountain lion ever recorded. According to still more listings, it seems that the biggest cats taken in any given year score between 14 and 15. 
But just how are these scores derived? Official mountain lion scoring is based on adding the total skull length to the total skull width. This makes for an accurate measure of just how big the mountain lion was when it was killed. The largest mountain lions rarely exceed 200 pounds. But, the largest mountain lion on record far outweighed any other. Let's learn more.
What's the Biggest Mountain Lion Ever Recorded?
The largest mountain lions ever caught in Arizona might seem big, but they're still not the biggest ever. The largest mountain lion ever recorded by Boone and Crockett had a skull measurement of 16 4/16. It was killed in British Columbia in 1979. Previous to that, the largest mountain lion ever killed came from Garfield County, Utah, with a score of 16. Still further reports indicate that the largest mountain lion ever killed weighed in at 276 pounds, an extraordinary weight for North America's largest cat.
Are Mountain Lions Endangered?
Mountain lions have long been a source contention and division among land owners, residents, and conservationists. Like other large predators — like wolves and bears — mountain lions have long been vilified by ranchers and farmers. For decades, they were hunted mercilessly, even as their habitat and prey resources declined severely. Today, mountain lions are still commonly hunted in their few remaining strongholds, much to the ire of those who would protect them.
For many, the mountain lion has become emblematic of a wild nature that is best protected and respected. Yet, for many more, mountain lions are nothing more than a threat to livestock, pets, and even children. Though there is no clear answer in terms of whether or not mountain lions should be killed by hunters, it is always important to conserve. Thanks to careful conservation and protection, mountain lions are not endangered.
Up Next
---
The Featured Image
---