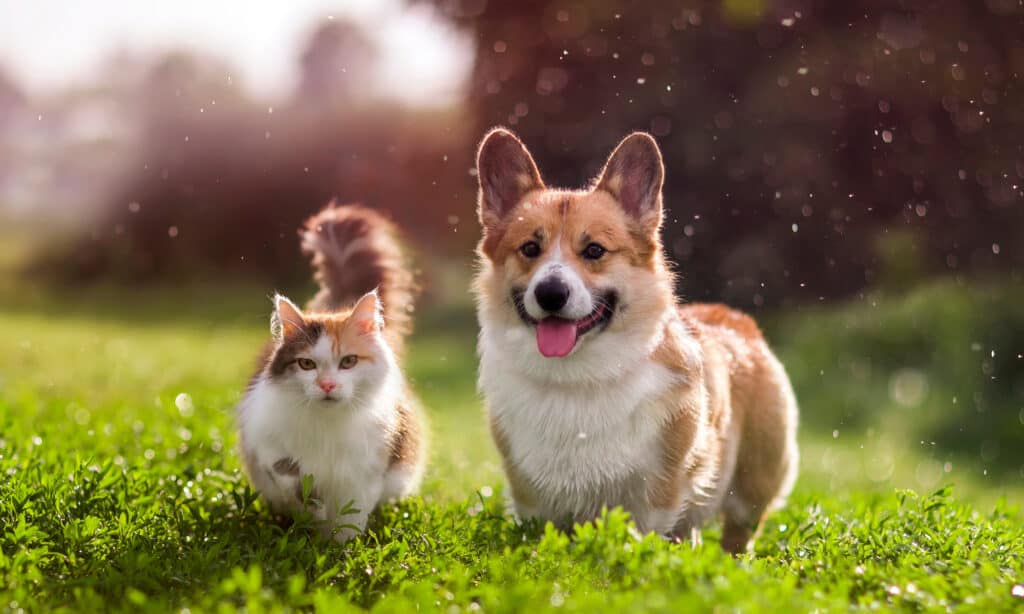 We've all heard the phrase "fighting like cats and dogs" which might lead you to believe that the two just don't mix. That's not necessarily the case. While some cat breeds wouldn't co-exist well with dogs, there are many dog-friendly cat breeds out there. Cats make wonderful companions, but if you're looking to bring one into a home with a dog, it's important to do your research. Some are better suited for homes with puppies and younger dogs, while others are better with more mature dogs who aren't quite as rambunctious. If you're wondering what breed of cat gets along best with your dog, keep reading to find out!
The Best Dog-Friendly Cat Breeds
1. Burmilla
Burmillas are a relatively new breed, originating in England in the 1980s. The first Burmilla kittens were the result of an accidental crossing between a silver Chinchilla male and a platinum European Burmese female. The owners combined the two breeds' names: "bur" from "Burmese" and "illa" from "Chinchilla.
Playful, social, and loving, Burmillas will love to interact with your canine friends. While some cat breeds like Siamese are known for being talkative, Burmillas are just the opposite and renowned for their quiet nature. So you won't have to worry about your new Burmilla adding to the noise level of the house.
2. Domestic Medium Hair
This playful relative of American Shorthairs and domestic longhairs has a unique trait that gives its fur a lush soft feel. Interestingly: these cats are not technically a breed all their own since they're a cross between longhairs and shorthairs. Social and fun-loving, domestic medium hairs generally get along with dogs, children, and other pets, especially if you adopt one as a kitten and socialize it into the family.
3. Manx
Originating on the Isle of Man in the UK, Manx cats are a striking breed. Extremely sweet and social, Manx cats prefer not to be left alone all day, so they'll appreciate having a pupper friend to play with while you're away at work. Additionally, this dog-friendly cat breed loves to spend time outdoors, so don't be surprised if your new Manx buddy wants to romp in the yard with your dog.
Manx are quite adept at handling a full household – so long as it's the same people and animals. If you frequently have newcomers to your home, your Manx may not like it. They may withdraw to a quieter part of the house. When you first bring your Manx home from the shelter, they take a day or two to warm up to everyone. Once they get accustomed to their new family, you won't find a more devoted cat.
4. Munchkin
Cats have a reputation for sleeping many hours a day, but Munchkins throw that out the window. Colloquially known as the Dachshunds of the cat world – due to their unusually short limbs – what Munchkins lack in jumping they make up for in speed. When they're not cuddling on your lap, they'll likely be racing or wrestling with your dog or other pets. And since their short legs make them poor jumpers, they'll remain on ground level with your dogs, where they'll likely give them a run for their money. Don't be surprised if your puppy taps out before your Munchkin does! This devoted, extroverted, and dog-friendly cat breed will make a great companion to high-energy dog households.
5. Cymric
Cymrics have a shared ancestry with Manx cats – the main difference is their longer coat. Like Manx, they are intensely social and playful, though slightly less energetic than their cousins. As such, they would do well in a home with mature dogs that are past the boundless puppy-energy phase. If you're wondering where all their toys have gone, check the couch cushions – Cymrics will bury their toys just like their dog friends!
6. Ragdoll
Perhaps the most affectionate breed of cats, Ragdolls are famous for their laidback, sweet personality. Unlike some breeds that require a long period of socialization, Ragdolls adapt quickly to new environments, which makes them one of the most dog-friendly breeds – you won't have to worry about fur flying! Like Munchkins, they tend to be floor cats, though it's not from lack of legs but lack of energy. Ragdolls are extremely tolerant of other pets, including dogs, and many will even deign to put up with wearing clothes! So when Halloween comes around, you can have fun creating matching cat-dog costumes!
7. Toyger
Toygers are easygoing kitties who get along well with dogs. In addition to climbing trees, they love being outside, and – believe it or not – they can be trained to do many of the same activities your dog loves! With a bit of schooling, your Toyger can go for walks on a leash or learn to play fetch!
8. York Chocolate
York Chocolates work hard and play hard. Originally bred from barnyard cats, they love physical activity as much as they love cuddles. They get along well with dogs, though you might want to keep them in separate rooms for a few days so they can adjust to their new home.
9. Maine Coon
Often known as "gentle giants," Maine coons are one of – if not the most – laid-back cat breeds. As such, Maine coons are a great dog-friendly cat breed because they're not likely to get frightened, put off, or annoyed with your dog. They may take some time to warm up to their new environment, but once they're established, prepare yourself for a loyal companion. Interestingly, Maine coons are considered "doglike" and can even be trained – definitely not something you'll find in every cat breed.
Did you know: Maine coons are the official State Cat of Maine!
10. American Shorthair
If you're a dog owner looking to add a kitty to the mix, you can't go wrong with an American shorthair. Known for their loving nature and friendliness towards dogs, kids, and other pets, American shorthairs will quickly become part of the family. They adapt well to households of all shapes and sizes, and they enjoy playtime as much as nap time. American shorthairs are also excellent at keeping themselves entertained, which is a great trait to have in a multi-pet household. If your dog wants to play with them, they're down. If your dog would rather nap, they'll likely join in the cuddle puddle.
Summary of Dog-friendly Cat Breeds
| | |
| --- | --- |
| | Dog-Friendly Cat Breeds |
| 1. | Burmilla |
| 2. | Domestic Medium Hair |
| 3. | Manx |
| 4. | Munchkin |
| 5. | Cymric |
| 6. | Ragdoll |
| 7. | Toyger |
| 8. | York Chocolate |
| 9. | Maine Coon |
| 10. | American Shorthair |
The photo featured at the top of this post is © iStock.com/Eriklam
Protect Your Beloved Kitty: Get Pet Insurance!
Did you know some emergency surgeries for cats can run upwards of $5,000? Don't put your cat or your wallet at risk! Click the button below to get a free and instant quote on a comprehensive plan for your cat.
A-Z Animals may earn a small commission from using this service.
---