Bordering four of the five Great Lakes and located in the Mississippi Flyway you can imagine duck hunting in Michigan is abundant. Having the right gear, knowing when to go and choosing a great spot all play into a successful hunt. Whether you plan to hunt along the Shiawassee River, in Saginaw Bay or around Harsens Island, you need to know the season dates, bag limits and best duck hunting tips. Here is everything you need to know about duck hunting season in Michigan including season dates, bag limits and more!
What Kinds of Ducks are in Michigan?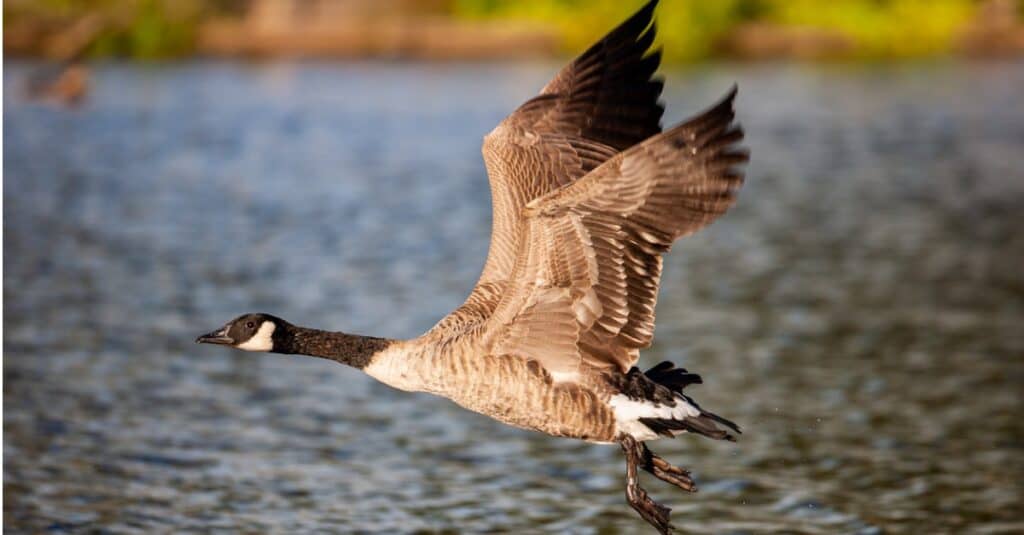 In Michigan there are a wide range of duck species as well as waterfowl. Depending on the time of year you may a large population of birds migrating through or spending the summer. In Michigan the ducks and waterfowl that can be hunted include:
Ducks
Coots
Mergansers
Canada Geese
White-fronted Geese
Brant
Snow Geese
Blue Geese
Ross' Geese
Blue-winged Teal
Green-winged Teal
Wilson's Snipe
Virginia Rail
Sora Rail
Common Gallinules
Where can you Duck Hunt in Michigan?
There is excellent duck hunting in both lower and upper Michigan. There are seven Managed waterfowl hunt areas, called "Wetland Wonders" where you can enter a daily drawing to earn an opportunity to hunt in these areas. The Wetland Wonders include Fennville Farm, Fish Point, Muskegon County Resource Recovery Center, Nayanquing Point, Shiawassee River, Pointe Mouillee and the Saint Claire Flats.
In Michigan you can enter a drawing to hunt in one of the 2022 Reserved Waterfowl Hunt locations including:
Harsens Island
Shiawassee River
Fish Point
Nayanquing Point
Pointe Mouillee
What are the Hunting Zones in Michigan?
Michigan is divided into four hunting zones, the North Zone (all of the Upper Peninsula), the Middle Zone and South Zone which split lower Michigan about in half. There are also two Goose Management Units in Allegan and Muskegon Counties.
Duck Hunting Season Dates in Michigan
| | | |
| --- | --- | --- |
| Species | Zone | Season Dates |
| Ducks | North | Sept. 24-Nov. 20 and Nov. 26-27 |
|   | Middle | Oct. 8-Dec. 4 and Dec. 17-18 |
|   | South | Oct. 15-Dec. 11 and Dec. 31-Jan. 1 |
| Coots | North | Sept. 24-Nov. 20 and Nov. 26-27 |
|   | Middle | Oct. 8-Dec. 4 and Dec. 17-18 |
|   | South | Oct. 15-Dec. 11 and Dec. 31-Jan. 1 |
| Mergansers | North | Sept. 24-Nov. 20 and Nov. 26-27 |
|   | Middle | Oct. 8-Dec. 4 and Dec. 17-18 |
|   | South | Oct. 15-Dec. 11 and Dec. 31-Jan. 1 |
| Dark Geese (Canada, Brant, White-Fronted) | North | Sept. 1-Dec. 16 |
|   | Middle | Sept. 1-30 and Oct. 8-Dec. 23 |
|   | South | Sept. 1-30, Oct. 15 – Dec. 11, Dec. 31 – Jan. 8 and Feb. 4-13, excluding some GMUs |
| Light Geese (Snow, Blue, Ross') | North | Sept. 1-Dec. 16 |
|   | Middle | Sept. 1-30 and Oct. 8-Dec. 23 |
|   | South | Sept. 1-30, Oct. 15 – Dec. 11, Dec. 31 – Jan. 8 and Feb. 4-13, excluding some GMUs |
| Early Teal | Statewide | Sept. 1-16 |
| Wilson's Snipe | Statewide | Sept. 1-Nov. 9 |
| Virginia and Sora Rail | Statewide | Sept. 1-Nov. 9 |
| Common gallinules | Statewide | Sept. 1-Nov. 9 |
Other Season Dates
| | |
| --- | --- |
| Youth Waterfowl Hunting Weekend | Sept. 17-18 |
| Youth Hunting Dates | Fennville Farm: Dec. 17, Dec. 31 (nonreserved) Fish Point: Oct. 8 (reserved), Nov. 5 (nonreserved) Muskegon County: Oct. 29 (nonreserved) Nayanquing Point: Oct. 8 (reserved) Oct. 22 (nonreserved) Pointe Mouillee: Oct. 15 (reserved) Nov. 6 (nonreserved) Shiawassee River: Oct. 15 (reserved) Nov. 5 (nonreserved) St. Claire Flats: Oct. 15 (reserved) Nov. 4 (nonreserved) Shiawassee National Wildlife Refuge: Oct. 29 (nonreserved |
| Veterans and Active-Duty U.S. Military Personnel Waterfowl Hunting Days | Sept. 17-18 |
| Veterans Preference Drawings at Managed Waterfowl Hunt Areas   | Fish Point – Nov. 11 Harsens Island – Nov. 11 Muskegon County Resource Recovery Center – Nov. 10 Nayanquing Point – Nov. 11 Pointe Mouillee – Nov. 10 Shiawassee River – Nov. 11 Shiawassee National Wildlife Refuge – Nov. 10 |
Bag Limits and Possession Limits for Duck Hunting in Michigan
The daily bag limit for ducks is 6 in Michigan. The regulations also state the following rule:
"No more than four may be mallards (no more than two of which may be hens), no more than three wood ducks, two redheads, two canvasbacks, two black ducks, one pintail, and one or two scaup (depending on season)." Here are the bag limits and possession limits for all the migratory game birds:
| | | |
| --- | --- | --- |
| Species | Bag Limits | Possession Limits |
| Ducks | 6 | 18 |
| Coot | 15 | 45 |
| Mergansers (limit 2 hooded) | 5 | 15 |
| Dark Geese | 5 | 15 |
| Light Geese | 20 | 60 |
| Early Teal | 6 | 18 |
| Wilson's Snipe | 8 | 24 |
| Virginia and Sora Rail | 25 | 75 |
| Common gallinules | 1 | 3 |
What are Shooting Hours?
Shooting hours in Michigan are ½ hour before sunrise to sunset. However the state is divided into four hunting time zones in addition to the North, Middle and South. The time zones go from east to west with Zone A in the eastern side of Michigan then Zone B, C and D with Zone D the most west. Start times are staggered by 6 minutes with Zone A being the standard, Zone B +6 minutes, Zone C +12 minutes and Zone D + 18. All of the specific hunting hours broken down by day and zone can be found in the 2022 Michigan Waterfowl Hunting Digest.
Gear Up! What Gear do you Need for Duck Hunting Season in Michigan?
The right gear can make a big difference between a miserable cold, wet, duckless day and a well prepared exciting day of meeting your bag limit. There is a fair amount of gear needed for duck hunting but as you get more experienced you will learn what is really needed and what you can leave at home.
Here are some of the essentials most duck hunters recommend:
Shotgun of choice, usually a 12 gauge or 20 gauge
Gun case or bag to keep moisture away from your gun
The right shells, typically 3" shells are the standard
Duck blind or boat blind: You can use a boat/blind combination or create a blind on the shore. It all depends on the kind of experience you want to have. Some hunters prefer to hunt from shore with just a blind while others like taking a kayak or canoe out. There really is a wide range of options with online tutorials of all kinds showing you the best set up for your blind. The best rule of thumb is more is better…more covering to make sure you blend in with your surroundings is always better.
Life vest or PFD: If you do decide to hunt from a boat, canoe or kayak you will want to wear a comfortable life vest or PFD. Look for one that does not have foam in the shoulders so you have freer movement.
Decoys: To switch up your hunt, experiment with your decoy spread. A dozen decoys should do, but look for lightweight ones with realistic features. You can choose floaters or a realistic battery-driven mover. There are also remote controlled mojo's (decoys on a pole that are placed above the water and have moving wings to mimic a duck landing). Duck hunters from all over Michigan will chime-in about the ultimate decoy spread, but see what works best for you.  
Camo: When choosing your location be sure to make note of the surrounding foliage and trees. You will want to choose camouflage that closely matches the area and the season. For the best success everything should be camouflaged from your gear like your gun to your face covering.
Duck callers: Practice your duck calls and whistles before you get on the water. It does make a difference. You may want to have several callers on one line so that you are ready for what shows up. Remember that electronic callers are not allowed in Michigan.
Waders: Whether you get lucky and draw a spot on the Shiawassee River or you have a lucky spot on your private land, you are going to need some reliable waders to keep dry for the hunt. You can choose from a one-piece wader with built-in boots or a separate stocking foot waders paired with boots. As you know, duck hunting in 60° weather in September is very different from a brisk sunrise morning in December. Plan ahead when choosing your waders to leave room for layers.
Dog (optional of course): Many duck hunters in Michigan hunt with their dogs. Common dog breeds used in hunting are retrievers, pointers and spaniels. It can be very rewarding to see your well trained dog enjoying retrieval. When packing for your trip be sure to have all the necessities your dog will need for the trip as well. Bringing extra food, a leash for transitions and some basic first aid equipment are helpful.
Thermacell: If you are hunting earlier in the season you will want a plan to deal with mosquitoes and other insects that enjoy warm moist conditions. Many hunters recommend a Thermacell to keep these pesky insects away.
First Aid Kit: You know the bottoms of lakes, rivers and streams are covered in debris, fallen logs, garbage and tires from an old Chevy. First off be aware of the dangers of wading into unknown water and secondly, bring a first aid kit with you so you are ready if there is an accident.
Factors for Success
Some of the most important factors to consider when duck hunting are your location, the setup of your decoys and the weather for your hunt.
Blind: Choosing the kind of blind and the location of your blind is key to success. Do your homework so you know what the weekly duck reports are and follow the migration predictors. Make time to scout out your location a few days before your hunt to get a feel for the ducks rhythms. Note any patterns you see and then choose a location for your blind or an area you want to start looking by boat.
Decoy Spread: You don't always need an expensive or expansive decoy spread. Sometimes just a dozen well placed decoys does the trick. Experiment with different setups and see what works and what needs to be tweaked.
Weather: Plan ahead for the weather. You do not want to be wet and chilled to the bone. Typically hunters will wear layers to have options as the temperature changes as the day goes on. You don't have control over the weather but you can plan ahead. Most duck hunters prefer a cool, wet morning with overcast skies.
Where are the Best Places to Duck Hunt in Michigan?
Some of the best hunting in Michigan is in the "Wetland Wonders" the Managed Waterfowl Areas in Michigan. That is why there is a need for a drawing due to the popularity of these areas. Saginaw Bay records some of the highest numbers of ducks and geese for the state. There are other areas throughout the state with excellent hunting including some State Parks and some Recreational Areas. Check the regulations at each park before going because some parks do not allow any waterfowl hunting anytime.
Meet the Species: 3 of the Most Common Ducks in Michigan
Mallards: Probably the most popular duck species around, the male mallards (drakes) have an emerald green head and a yellow bill. Their bodies are black and white with green tail feathers.
Wood Duck: The Wood Ducks is a bit flashy and has an iridescent green head with a red patched eye and orange behind their beak. The rest of their bodies are a mix of brown chest, black wings and a gray belly.
Bufflehead: These unique looking ducks have a white spot on the back and side of their heads and a beautiful green that fades to blue that fades to purple coloration on their face. Their backs are black and they have white bellies.
Up Next
---
The Featured Image
---
FAQs (Frequently Asked Questions) 
Can you duck hunt in Michigan?
Yes, duck hunting is allowed in Michigan. Waterfowl hunters must have a hunting license, Federal Duck Stamp and HIP certification.
When does duck hunting season start in Michigan?
September 1st is the first day of hunting for Early Teal, Wilson's snipe, Virginia and Sora rail, Common gallinules, Light goose, and Dark Goose. The first day of duck hunting is Sept. 24, 2022.
What are the most common ducks in Michigan?
The most common ducks hunted in Michigan are mallards, wood ducks and bufflehead.
What is the bag limit for mallard ducks in Michigan?
The daily bag limit for mallard ducks is 6.
How does Michigan rank in the country for duck harvest numbers?
Michigan is ranked 13th in duck harvest (a 10-year average).
Sources

2022 Michigan Waterfowl Digest, Available here: https://www.michigan.gov/dnr/-/media/Project/Websites/dnr/Documents/LED/digests/waterfowl_hunting_digest.pdf?rev=53c29b912d0b4454aa303330e9e02d3b&hash=B0EE88A06AB50CFA2B8E96AE4DC1E34E
eRegulations / Michigan Hunting, Available here: https://www.eregulations.com/michigan/hunting/waterfowl-hunting-seasons
The Cornell Lab / All About Birds, Available here: https://www.allaboutbirds.org/guide/Bufflehead
NATIONAL MIGRATORY BIRD HARVEST SURVEY, Available here: https://fws.gov/harvestsurvey/harvest-vis